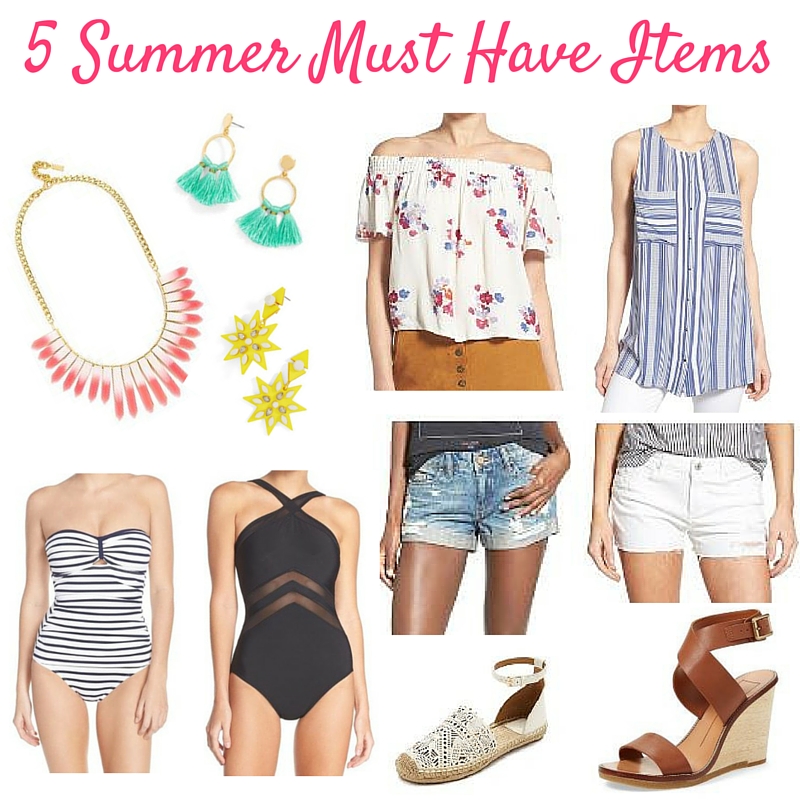 CUTE TOPS – Off The Shoulder, Embroidered, Lace, or Just a Basic Tee
Whenever my friends and I ask "What are you wearing", if its not a dress, it is jeans and a cute top!  Whether you want something on trend like off the shoulder or a classic silhouette tank and tee, cute tops are top of my must buy list this summer!

SHORTS – White Denim, Distressed Denim, Linen, and Black Cotton
This summer I 100% plan on buying some white jean shorts.  I wear my white jeans so often that I feel like shorts are the next obvious step.  I also want another distressed pair.  My current pair was on major clearance because they are 4th of July themed aka the pockets that peek out have stars and stripes.  I'd like a regular pair too.  Also, I wear my black cotton shorts tons, so I highly recommend a pair.

ONE PIECE SWIMSUITS – They're back!  Two straps, one shoulder, or strapless
Move over bikinis, the "it" swimsuit this summer is the one piece!  I just did a quick browse and found dozens I liked. This one is top of my list! I plan on buying two this summer.  I want one that is strapless for the beach because I hate tan lines, and one for my river trip at the end of the summer.  For that one, I want something with straps because I want the added protection from slip-ups on our tubing adventure.  I also don't want that one to be white because river water is not the cleanest.  I did find that some of the strapless ones did come with a strap to add on, so maybe I can find just one.

FLATS & WEDGES – Go to for adventures and nights out on the town
Of course shoes are on my must have list.  They are on all my must have lists.  For summer, I like to add flats and wedges.  I just purchased these to wear this summer for long-walking days.  I can't wait to wear them out!!  I also can never have enough wedges! I'm always on the lookout for a cute new pair.

COLORFUL JEWELRY – Fringe, Neon, and Bold Statements
The color of the season is white, so colorful jewelry is a must for summer.  I love how it pops against a white top or dress.  You know I love my color mixing too, so I would definitely pair these pieces with bright tops and dresses too.  If you are wearing a print, I like to match my jewelry to one of the non-dominant colors of the print.  So if it is a pink floral print, but there is the slightest yellow shading on the flower. I will reach for some fun yellow earrings to bring out that yellow.

If I added a sixth it would be casual dresses, I listed a bunch under $50 in my last post.  What items are on your summer must-have list??