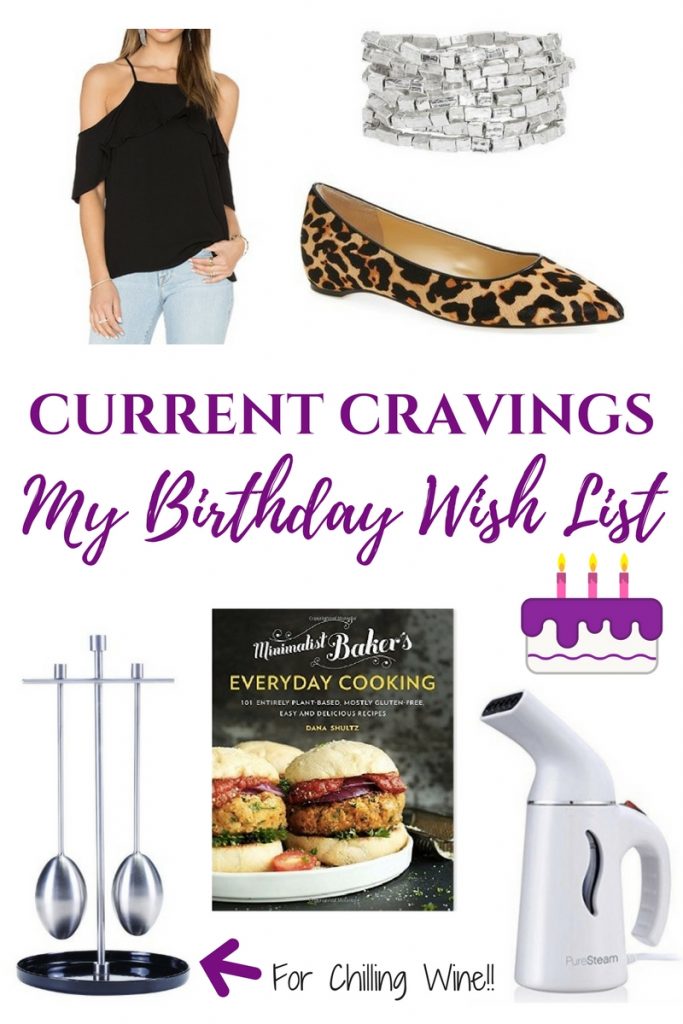 | DETAILS |
Black Cold Shoulder Top  | Silver Bracelet Stack  | Leopard Flats
Individual Wine Chillers  | Minimalist Baker Cookbook  |  Wardrobe Steamer
I could not be more excited the weekend is finally here!!  For starters,  I have a fun dinner planned tonight with 10 of my girlfriends!  Yeah we have a big girl squad.  I can't wait to see them all and catch up over some yummy food and prosecco!  The past week and half has been super non-stop busy, so I am also really excited to have some relaxation time this weekend.  I have so many things to do around the house, plus watch some Olympics.  Women's gymnastics is my jam right now, they are killing it!!  I cannot wait to stay at home all weekend.  Well minus a few of our restaurant week reservations.
August is one of my favorite months because at the end of it is MY BIRTHDAY!!  My family has already started asking what I want, so I decided to share with you guys too.  I don't often put clothes on my birthday list, just because I want the option to exchange/return easily.  Typically, I ask for a gift card to my favorite store Nordstrom or any other store I may have found a few things, but I included one top on this list because it's so cute.
I just adore this cute little ruffle cold shoulder top.  It comes in a few colors, but I love the black of course.  Plus, the black is on sale.  I think it would be a cute top to wear in fall when it's still a little warm.  Ya'll I own zero leopard items, so I have leopard flats on my list.  I have wanted a pair of leopard flats for awhile, but I'm super picky about how the print looks.  These are pretty close to what I'm looking for, and I like the pointy toe.  These bracelets have been on my wish list for awhile.  They are almost $100, so I haven't made the splurge yet, so I decided to add to my birthday list.
Most of my list consists of non-fashion things like a travel charger for my phone, and these cute little wine chillers.  I saw them a few weeks ago on tv.  You keep them in the freezer, and they will chill an individual glass of wine super quick.  I drink lots of white wine, and I never remember to chill it.
So I think I have talked about how I try to eat a plant-based diet.  I primarily stick to fruits, veggies, nuts, and whole grains with limited amounts of meat, dairy, and sugar.  Minimalist Baker is one of my favorite food blogs for vegan recipes.  Her recipes are quick, simple and always delicious!!!  If you follow on pinterest, I am ALWAYS pinning her recipes.  THIS RECIPE is my hands down favorite one!  It helps with my extreme love of mexican food.  She put out a book recently, and it is top of my list!!
I just added this steamer to the list.  My blogger friend and blog conference roomie Kim brought this steamer to the conference last weekend.  I have never used a steamer, and I fell in love with one swipe!  It heats up quick and was so easy to use.  Of all the things on my birthday list, this and the cookbook will be items I 100% buy on my own if I don't get them as gifts.
I also shared a few more items on my wish list below in the little picture widget.  I am so in "countdown til I can do nothing mode" right now.  If you follow me on snapchat, warning I am going to be soooooo boring this weekend.  It's going to be my little dog, a little meal prep, and probably some yummy restaurant food snaps.  Ya'll have a good weekend, and I will see you back here Monday for a look at what I wore at my conference in Charleston!
SHOP THE POST

Love this post? You may also love: