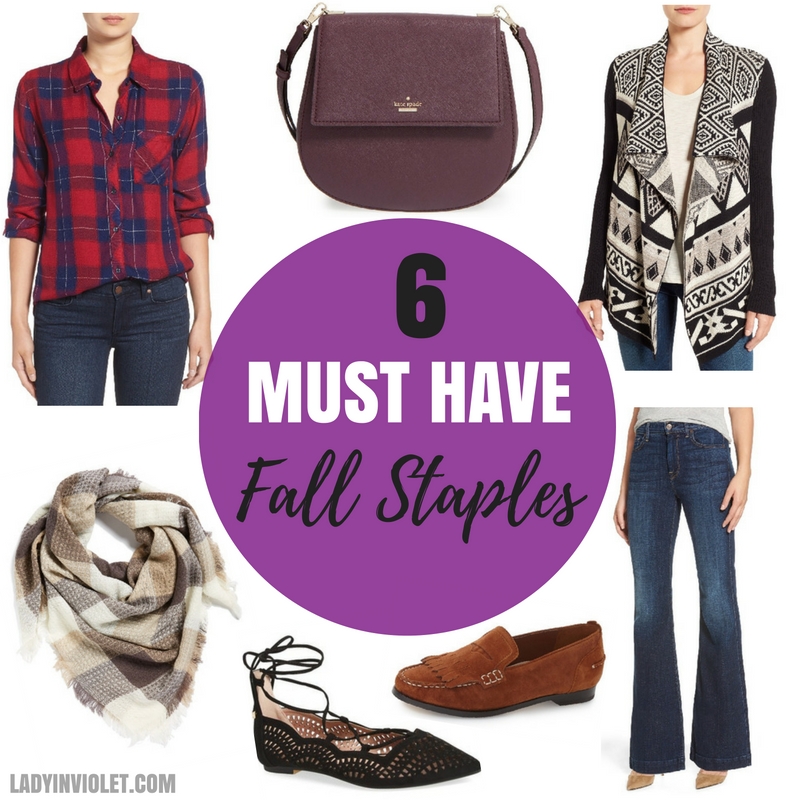 | DETAILS |
Plaid Shirt  | Crossbody Bag  | Lightweight Outerwear  | Scarf  | Loafers  & Lace Up Flats  | Flared Jeans
Oh Hey There Mid-September!! I mean seriously were we not just shopping the Nordstrom Anniversary Sale in mid-July like last week?!?!?  While our temperatures are no where near cool fall weather here, the stores all filling with everything fall and  even winter.  I wanted to share six of my fall wardrobe essentials.  These are not only items that I consider closet staples for fall, but almost all of them are also quick sellers.  Even picking items for this post was already hard with many items only having limited sizes left.  I did try and pick things that had multiple to almost all sizes though, so you don't find something you love only to click through and see it's only available in one random size or color option.
PLAID SHIRT
Hands down probably one of the first fall items to go!  If you find a plaid you like, do not pass it up.  Plaids and flannels are great to layer underneath jackets, pair with both skinny and flared jeans, and I even pair mine with skirts for work.  You can dress them up or down with your accessories and shoes.  I really want a black and red plaid this year.  I currently have my eye on this one.

FLATS
I probably wear flats the most in fall and winter.  I LOVE a great pair of lace up flats.  They come in pretty much every color now too.  You also can't go wrong with  a basic ballet flat.  I saw these dark pink ones in store and fell in love.  I think they would be cute paired with navy or dark green or to add a fun pop of color to an all white or black look.  Loafers are making a comeback this year too.  So if you have an old pair, it's time to dust them off.

LIGHTWEIGHT OUTERWEAR
For most of fall and winter in Houston,  lightweight outerwear is really all you need.   I tend to own more long cardigans than anything else.  My favorite style is the circle or cocoon cardigan.  I think it looks so chic.  Utility jackets are also pretty popular and come in a variety of colors to easily compliment your wardrobe.  You can also never go wrong with a great denim jacket.  All three of these can work really well in both work and weekend outfits.  Long cardigans are always a quick sell out, so this is one that if you love it buy it now.  Utility and denim jackets do tend to be around a little longer, but I would definitely purchase these by end of October.

CROSSBODY BAG
Ok I think crossbody bags are year round essesntials, but I like my bags to match the season.  Tan brown/cognac is really popular for fall and available at pretty much every price point. If you want a color, I would go with a burgundy bag.  One of the most popular styles right now is definitely the saddle bag.

FLARED JEANS
Flared jeans are the jean style for fall!  They come in a crop and full length.  If you want to try the crop out, I recommend styling it with a cute flat or a great heel.  I think flared jeans are flattering on many body types and can be styled with a wide variety of tops.  Think oversized short sweaters, a tucked in plaid shirt, a cute off the shoulder top like from my last post.  I have never stopped wearing this jean style, so I am happy to see it officially back on trend.  These are the one item that most likely will not sell out.  Even if your size goes out, jeans tend to be restocked constantly.

SCARVES
I definitely see scarves as a quick seller for fall.  Many of the ones I found are already on backorder.  I love neutral scarves that can be intermixed with many colors.

There you go, my six fall wardrobe essentials.  Be sure to start stocking up now, because many of these might be gone or almost gone by October.   I hope everyone has a great weekend, and see you back here on Monday!
xo – Karen
Love this post? You may also love: