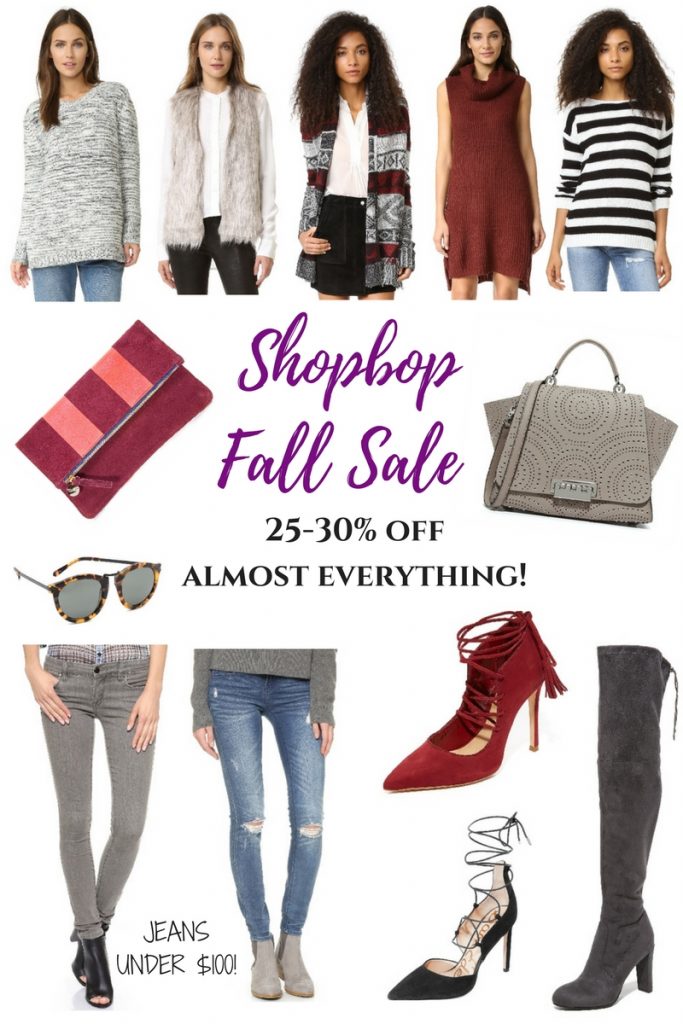 | DETAILS |
gray sweater  |  faux fur vest  | long cardigan  | sweater dress  | striped sweater
pink clutch  |  sunglasses  |  satchel
gray jeans  | distressed jeans  | red heels  | black heels  | gray over the knee boots
Good Morning! Your eyes are not deceiving you, I am posting off schedule.  I originally planned on sharing my favorites from the BIG Shopbop Fall Sale on Friday.  But when I started putting this post together, many items were already gone or limited quantities.   I didn't want to put a post up with a bunch of out of stock items, especially since I found some great deals under $100!
While the Nordstrom Anniversary Sale will always be my #1, the Shopbop sales run high in the rankings for top sales of the year.  This one is buy more save more, so spend under $500 save 25% and over $500 save 30%.  I usually partner with my bestie on this sale, so that we can get that 30% off.  One of us orders everything, and then the other pays them back their share.  (shh my little secret!)
THE MAIN THING TO REMEMBER is to use code MAINEVENT16  at checkout to score the discount.  There are exclusions like Kate Spade and some Karen Walker sunnies, but Shopbop has made it so easy this year.  All items included have the MainEvent16 item listed on their description and when you are scrolling through all the things.  I really liked that they did this, because I always end up with one thing in my cart that's not included.
Below are a few of my favorites from the sale, some great under $100 deals, some great splurge items,  and a few items that you've seen here on the blog.  The prices shown are the pre-discount prices.  Remember items and sizes go fast, and the sale ends Friday night!  Happy shopping and Happy almost Weekend Ya'll!
TOPS UNDER $100

JEANS

HEELS, BOOTS & MORE SHOES

DRESSES

OUTERWEAR

JEWELRY

SUNGLASSES

PURSES

Love this post? You may also love: