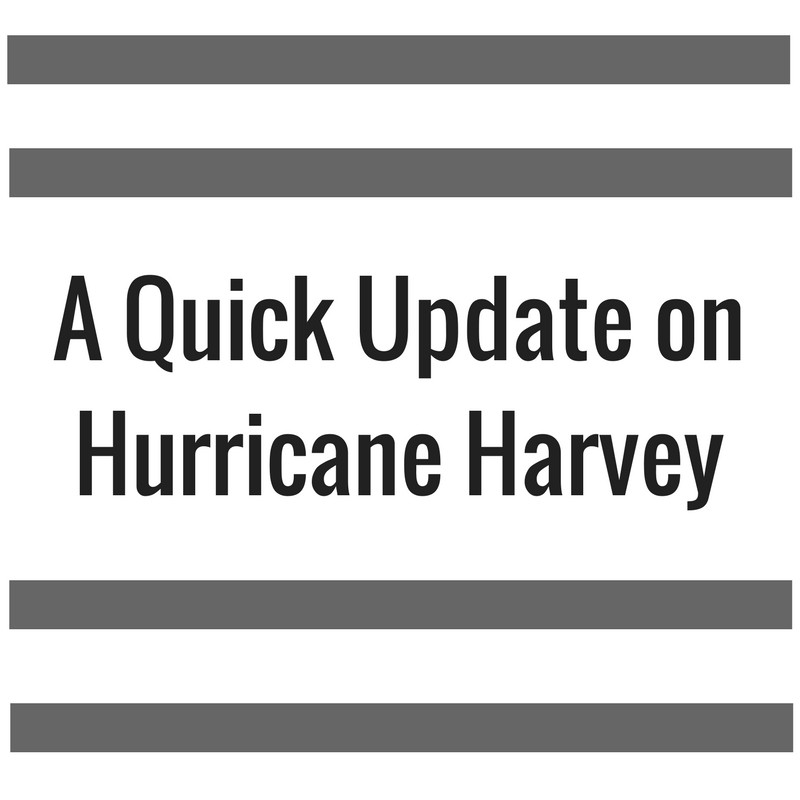 Good Morning from Houston.  Well, you have probably heard we have had MAJOR flooding in our city from Hurricane Harvey.  Once I arrived home Friday, I chose to stay put and catch up on blog work, house cleaning, and book reading until everything was clear.  While I was prepared for a flooding event and being cooped up all weekend, I don't think I was really prepared for what would happen over the next few days.  I am extremely blessed to be sitting in a dry home with a street that so far has only filled with water twice overnight before receding during the day.  Most of the city is or was under water at some point.  Businesses were shut down on Monday and many still today, and school districts have canceled school for the week.   Both of our major airports have shut down completely.  Some Houstonians had to be rescued from their homes by boat or a Coast Guard helicopter, the national guard is here helping with rescues.  It's heartbreaking to watch the news right now, and it's still raining!
I will say it has been heartwarming to see our city and state come together to help each other out.  People pulling out their boats to help with rescues, opening up homes to friends and even strangers needing to evacuate, and checking in on neighbors.  They are calling it one of the worst floods in Houston history, but I know my city.  We will come back, we will clean up, rebuild, and support each other all along the way.  We have survived hurricanes before and we will do it again.  If you would like to donate to Hurricane Harvey recovery for Houston and all cities affected especially those near Corpus Christi where the hurricane made landfall, please donate to the Red Cross.  The Houston Mayor also set up a donation site to help support Houston after the storm, you can donate here.  To find more ways to help out, I found a list with a variety of options here too.
Thank you for your thoughts and your prayers for all of us on the Gulf Coast!