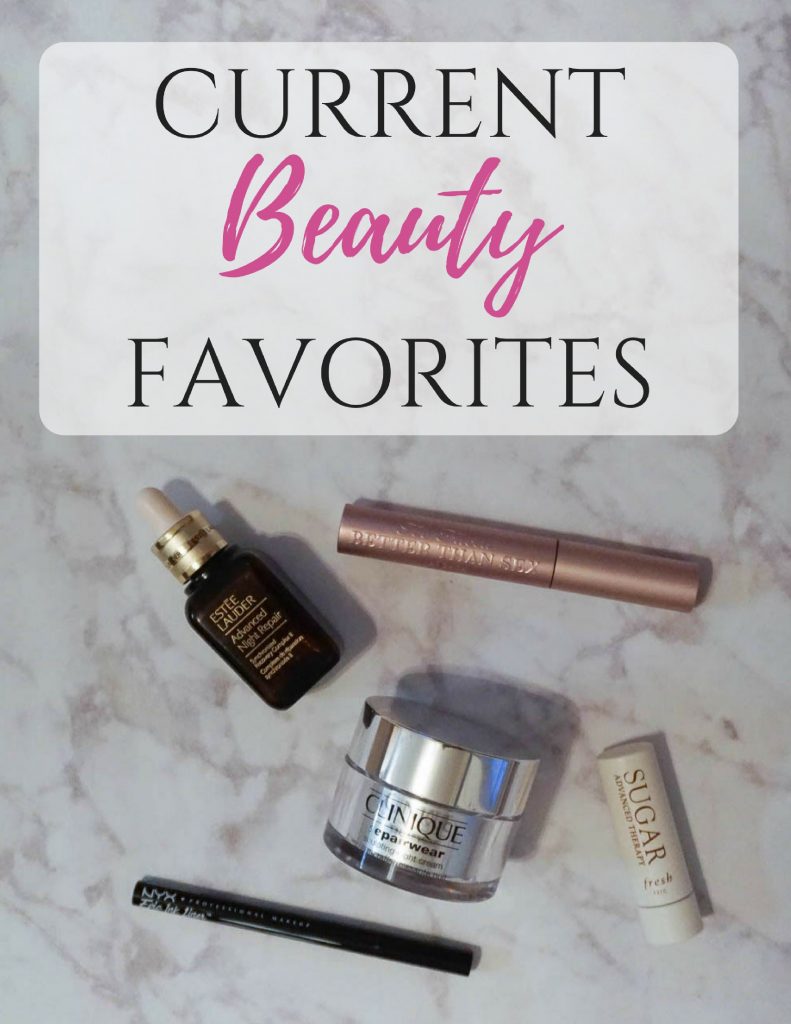 Happy Friday!!  I wanted to share a few of my current beauty favorites with you guys today.  All products are new to me over the past few months, and all have become regulars in my daily beauty routines.  It's a mix of makeup and skincare, so grab your coffee or wine if you are a nighttime reader and enjoy a look at some of my latest beauty faves.
Estée Lauder Advanced Night Repair – I have heard rave reviews about this product, and I have been dying to try it.  I order most of my beauty products from Nordstrom and with those orders I always get a few beauty samples to try out.  I was pumped to try a sample of this product out and was amazed by the results.  I noticed a difference in my skin with like 15-20 minutes after I applied.  My skin looked more hydrated and awake.  The next morning, my skin looked hydrated and glowing. I immediately ordered a bottle.  This product will definitely be a keeper in my nighttime skincare routine.  After over a month of use, I definitely can see this improving the tone and texture of my skin.
Too Faced Better Than Sex Mascara – I picked up this mascara because so many people rave about how fabulous it is.  I definitely went into this a little skeptical, but I really do love this mascara.  I use Rodan & Fields Lash Boost which help my lashes grow, but this product really enhances my lashes.  They look longer and bit fuller after I apply this mascara. My favorite thing about this mascara, after 3 months of use, I still have no clumping.  I have found some fabulous mascaras that add dramatic length and volume, but clump so easily after just a few months.  I want my mascara to enhance my lashes and make them look like they are naturally this fabulous, and clumps not so cute.  I definitely plan to keep this product in stock and a regular in my makeup routine.
Clinique Repairwear Night Sculpting Routine – This product was another beauty sample I received when I purchased a few other Clinique products.  I have really great results with Clinique's skincare products, so I was excited to try this one out.  I read about how many people use this on their neck and chest area with great results, so I gave it a try.  My chest area was starting to show signs of aging from way too much time in the sun.  After using this product for several months, I don't see any of that aging in the skin on my chest anymore.   It has really toned and firmed up the skin on both my chest and neck.  I loved the results so much, I ordered a full size of it.  I haven't used it on my face yet, but I'm planning on giving it a go in a few weeks when I run out of my current moisturizer.  It will definitely be a staple for my neck and chest area, regardless of how it works on my face.
Fresh Sugar Lip Treatment – I have heard so many good things about the Fresh brand of lip products, and I picked this one up during the Nordstrom Anniversary Sale last year.  I wear chapstick to work everyday over lipstick because I don't want to get lipstick all over my coffee mug and water cup that I use everyday.  I have so many tubes of chapstick lying around that it took me a few months to getting around to consistently using this one.  This product is definitely a keeper over my others.  It is pricey, but I only apply it once a day and it keep my lips feeling hydrated and soft all day.  My other chapstick products have to be reapplied multiple times throughout the day for those same results.
NYX Epic Ink Liner – I always say in my family my sister is more of the beauty guru and I'm the fashion girl.  She is always trying out new makeup products and sends me pics of her faves, and I pretty much always buy what she recommends.  She sent me this eyeliner one day because she was excited to find a dupe for her favorite Anastasia eye liner.  This NYX one comes in at about $8 at Ulta.  I was living in my gel pot world and so over liquid liner, but for $8 I decided to give it a try.  I'm currently on my second tube.  This liner goes on so easily and dries pretty quickly for a liquid liner.  It lasts all day and has even survived a few semi-sweaty workout sessions. Plus, I have had no issues with it rubbing off on my eyelid crease throughout the day.
I hope if you are in the market for any of these beauty products, you find the reviews helpful.  All of these products are amazing and have made their way into my regular beauty buys.   I hope all of you have a wonderful Easter weekend, and thank you so much for stopping by!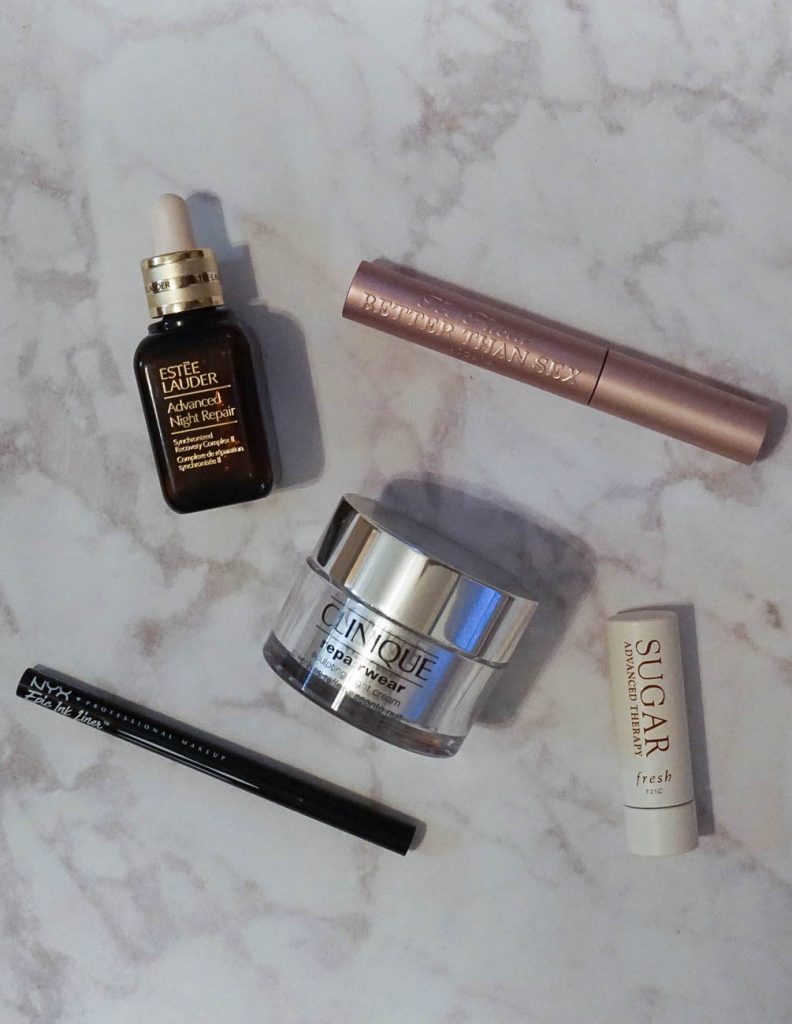 SHOP THE PRODUCTS


Love this post? You may also love: