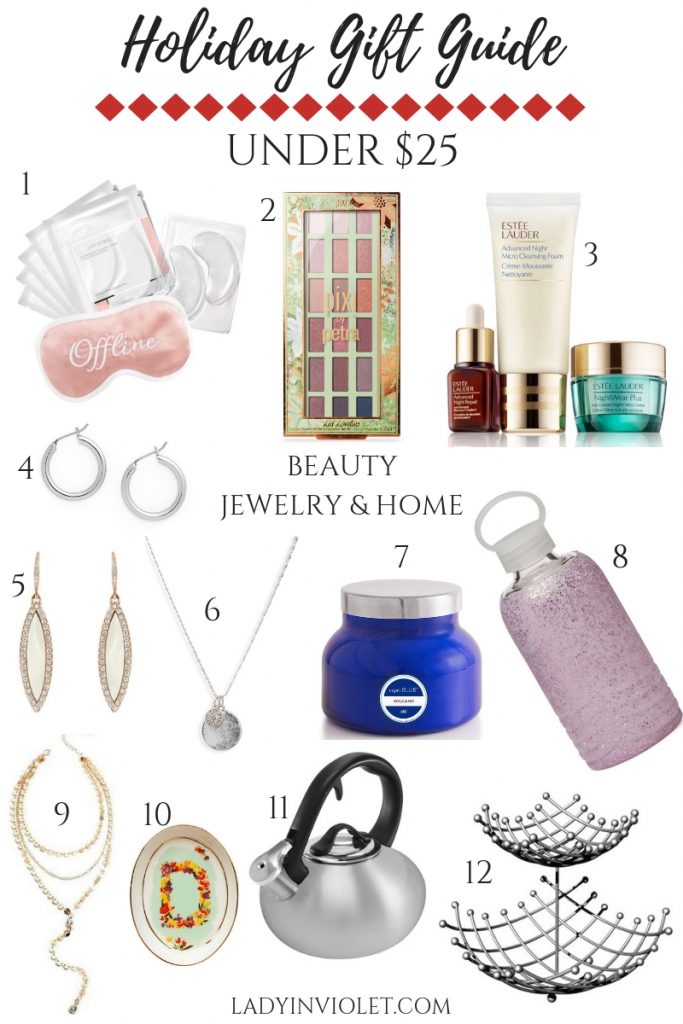 Hello Ya'll! I can't believe how close we are to Christmas!  I'm sharing my final gift guide of the holiday shopping season, and it feels like I was just sharing my first one.  Many of my holiday parties are gift exchanges with a $20-$25 limit, so I wanted to share a few ideas in case any of you are needing some ideas in the lower price range.
When shopping for gifts under $25, I like to head to Target or Nordstrom Rack.  Target has all the cute things, and Nordstrom Rack carries many of the same brands as the normal Nordstrom for a fraction of the cost.  Both are great options to find everything from jewelry, beauty, and home.  I also included a few items from Nordstrom, because I found a few cute under $25 gift ideas there too.  During the holidays, brands will put out gift sets closer to the $25 range.
If you plan to order online, I would highly recommend ordering today.  I know some places give you a few more days, but I like to be safe and order a few days before that deadline.  I will be wrapping up my final online gift order today, so I'm not stressing about my packages arriving on time.  Also, if you need a cute gift wrapping idea, I shared a simple gift wrapping tutorial yesterday.  You can check it out HERE.  Alright ya'll, good luck with all your holiday shopping and thanks for using me this season for a gift ideas resource!
SHOP THE GIFTS

Love this post? You may also love: