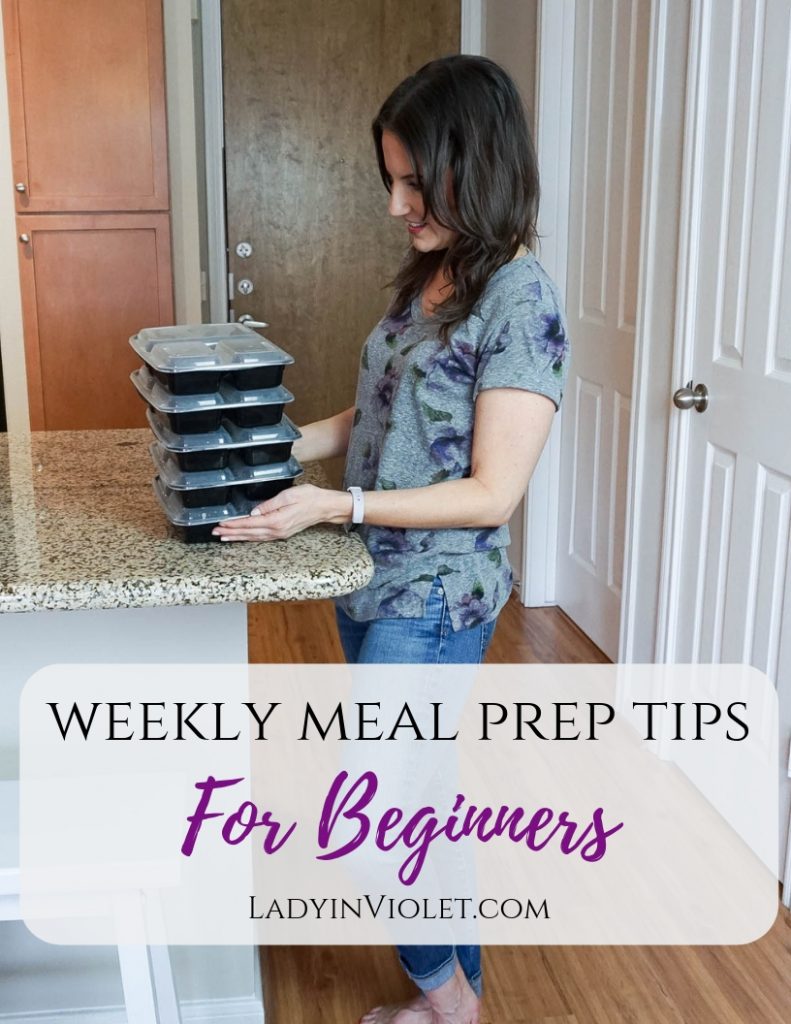 Hello Friends!!!  I'm so excited to share today's post. It's a little follow up to my post about What I Eat in a Week.  I talked about how I do some meal prep each week, and today I wanted to share some of my tips.  These are perfect meal prep tips for beginners, and a closer look at how I plan and prepare my meals for the week.
TIP #1 – PLAN, PREPARE, & SHOP – Every week, usually Friday afternoon or Saturday morning, I sit down with Pinterest and my recipe books and make a meal plan for the week.  I make a plan for 3 meals for the next 7 days.  I then use this plan to create my shopping list.  At the store, I try to stay as close to my list as possible and avoid temptation aisles, I'm talking to you chip and dip aisle.
As you will learn in a later tip, I don't meal prep every single meal.  I do like having a plan for every meal though.  For dinners, I usually plan 2-3 different meals for the week and decide day of what I am in the mood to eat.  I make note on my meal plan of which nights I have plans to eat out too.  I also account for snack time and buy a few healthy snacks to keep in my fridge at work.
Keeping your meal plan in view during the week can help you stay on track.  After a long day at work, I love being able to look at my dinner list on the fridge and pick one to cook.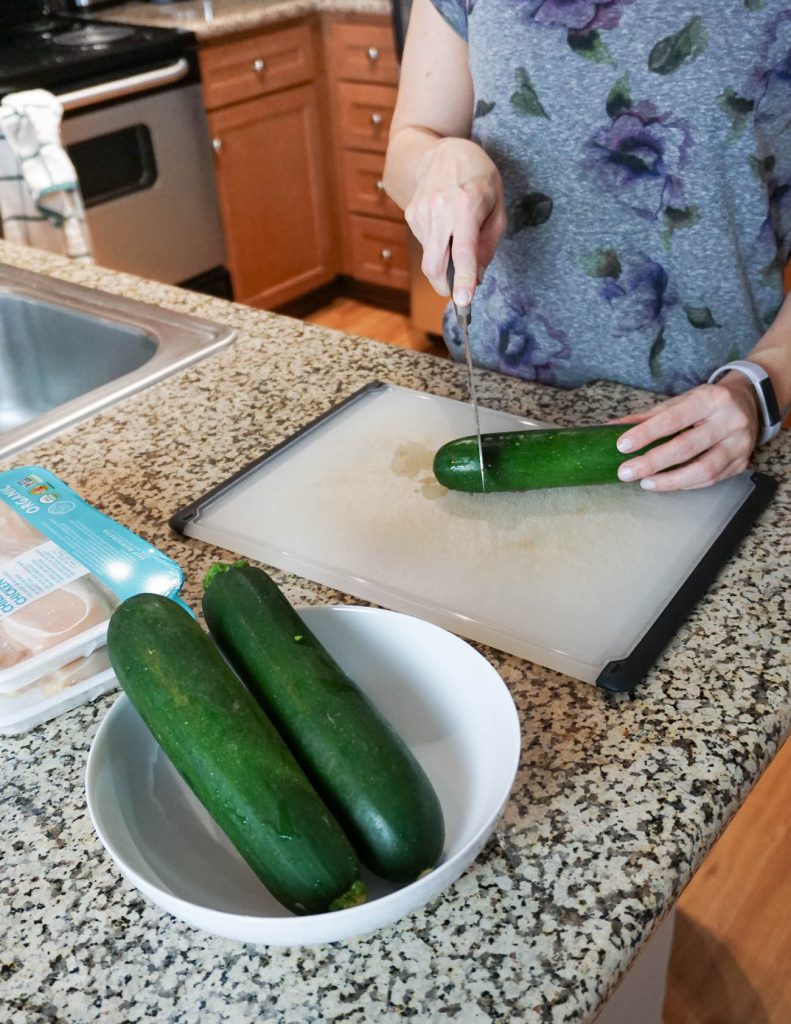 TIP #2 – SET A SCHEDULE – Set a time when you plan to do your meal prep and stick to it.  I usually meal prep every Sunday night.  It's become routine for me.  If I know I will not be home at that time, I set aside another time either earlier in the day or on Saturday.  Cooking is relaxing to me, so meal prepping on Sunday night is perfect for me to wind down from my weekend and set up for a new week.
In addition to setting a time to meal prep, set a schedule for your actual meal prep.  Look at your recipes, so you know how much time you need to cook each item. If something takes an hour to cook, start with that first and then work on the items that only need 15-20 minutes. Make sure anything that needs to marinate or soak is set up in time for your official meal prep time.  I like to set up marinades Saturday when I get home from the store.  For anything that soaks like nuts, I set it up Sunday morning.
TIP #3 – PREP & COOK IN BULK – Whether you meal prep all your meals or just one set of meals, bulk cooking is key!  I mainly bake items, so I cook everything at once that needs a specific oven temperature setting.  Occasionally on busy weeks, I will roast extra veggies for my dinners when I cook my lunch veggies.  Another time saver is to pre-chop my dinner time veggies when I'm prepping my lunch vegetables.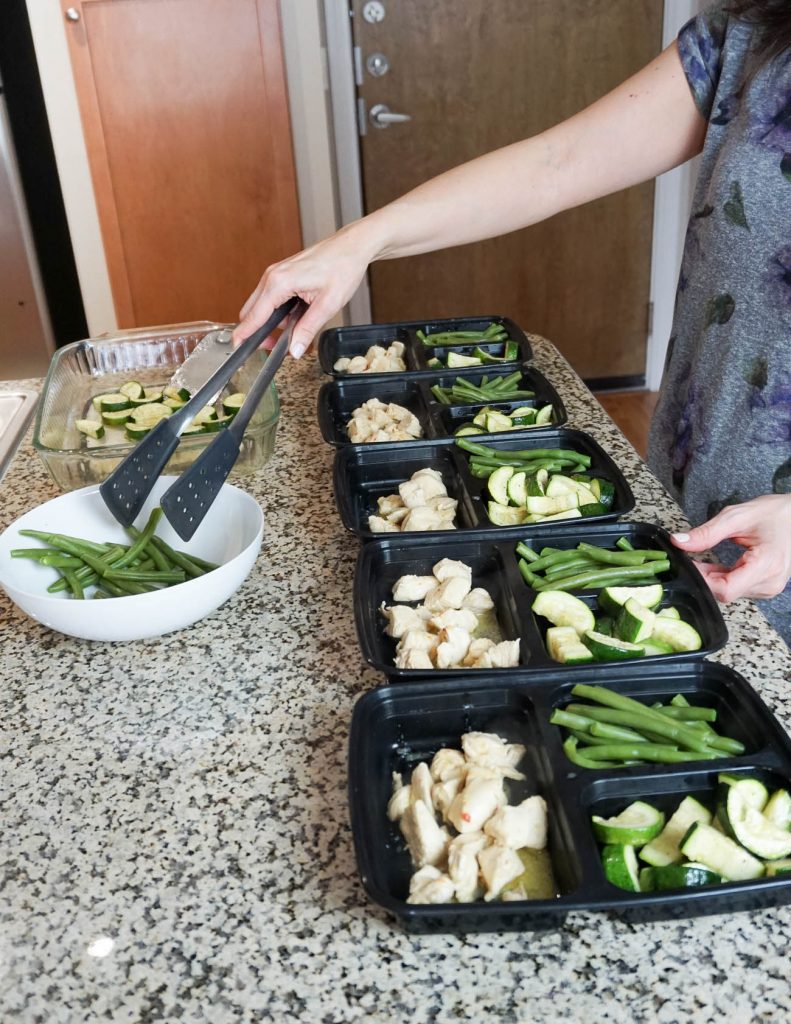 TIP #4 – GET YOUR CONTAINERS READY! – The first item to purchase before you start meal prepping is the right containers.  Think about what kinds of meals you plan to prepare and how many you plan to prepare, so you know which style container to buy and what quantity.  I like these 3 section ones for 1 meat and 2 sides.  I also use 1 section Rubbermaid containers for bowl type dishes or pre-chopped vegetables for dinners, and I just purchased these 2 section ones to try out.  I also have small Rubbermaid containers for any breakfast meal prep or snacks.
TIP #5 – START SMALL – If the thought of meal prepping all your meals in one day sounds overwhelming then just start with one meal.  Most weeks I only meal prep my lunch.  When I did Whole 30, I also meal prepped a scrambled egg breakfast for each day.  Just like with starting a new workout routine, easing yourself into the habit of meal prep is ok.  Start with one meal and once you have that down, add another if you would like.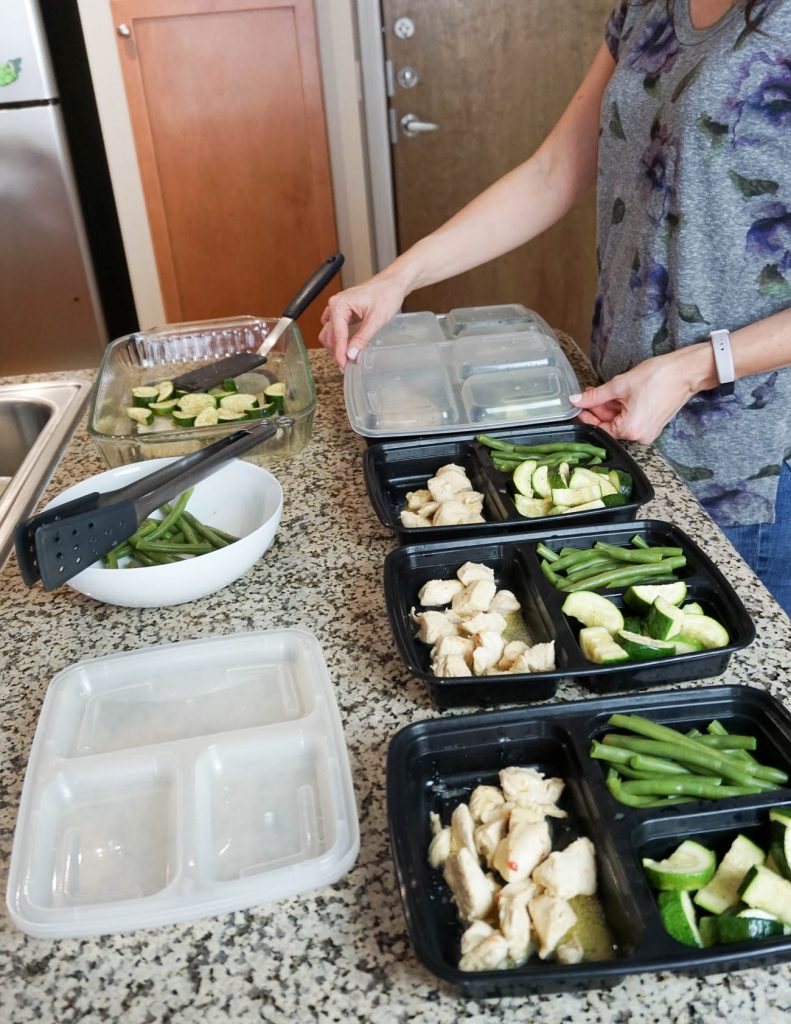 TIP #6 – MEAL PREP 2-3 WEEKS AT ONCE TO ADD VARIETY TO EACH WEEK – This weekend, I am venturing into the multi-week lunch meal prep.  I had the idea after talking to a friend about meal prep.  They said they couldn't eat the same thing everyday, and I suggested doing 3-4 meals that would last for the month. This way you can have a different lunch almost everyday of the week.  With my weekends starting to get a little busier, I decided to give this a try.  I plan to freeze all the meals after my meal prep and take out my 5 picks each week.
If you like the idea of monthly meal prep to weekly, Once A Month Meals is a great place to learn more about monthly meal prep!  Years and years ago, this is where I first learned about meal prepping.  Back then, it was called once a month mom and was free.  For the amount of help and info she gives you, I think it's worth the price.  She creates monthly meal plans for like 7 different types of diets from Vegetarian to Whole30 to Quick & Easy.  She gives you the recipes, a shopping list, and a meal prep day schedule.  If meal prepping scares you and you want more guided help, this is a great place to start.
TIP #7 – KNOW YOUR WHY – Ok maybe not the most common tip you will see for meal prepping, but I think it's important.  I do have Sundays when I just don't want to spend an hour or 2 cooking.  I want to sit on my couch and be lazy.  These are the days, I remember my why.  For me, meal prepping my lunch keeps from ending up at restaurants and fast food lines.  It gives me a healthy lunch option and saves me money so I can buy more important things like shoes. 😉  I don't like wasting food.  If I have a meal ready to go in my work fridge, I will pass on lunch out because I don't want that meal to possibly not be eaten and go to waste.
On busy weeks, I do a little bit more meal prep for my dinners and breakfast to ensure I'm not tempted by a quick fast food fix.  If I know I have something waiting for me at home that requires little work, I will pass by the drive thru lanes.
(Featured Meal: Lemon Ginger Chicken with Boiled Green Beans and Baked Zucchini)
I hope these meal prep tips will help any of you looking to start prepping your meals or gave you a few ideas if you already meal prep.  If you want to see a little more of what types of meal I eat each week, you can check out my post about it HERE.
Thanks for stopping by and have a fabulous weekend!
SHOP THE PRODUCTS


Love this post? You may also love: