Happy Thanksgiving Week and Black Friday Sales Week!  I feel like all the sales have already started this year.  It's time to start crossing off my Christmas list!  Do you have anything in particular you are looking for during the sales?  Other than gifts, I'll be looking for a new Christmas tree, and a few items for the house.
If you are looking for a comfy and dressy pair of pants to mix into your holiday and office wardrobe, look no farther than these leopard print pants!  They have an elastic smock waist and super flowy material to make them so comfy!  The cut of these pants and material help keep them a bit dressy.  Heads up, these are cropped pants.  On my petite height, these fit perfectly like ankle pants.  If you are taller than me, these may have a more cropped look.
Trying to figure out what to wear with leopard print pants may seem like a pretty big task.  Don't let the print scare you!  I have a variety of both casual and work outfits put together for you featuring all different kinds of tops.  Check them out and let me know in the comments which is your favorite outfit!
Seven Ways to Wear Leopard Print Pants
WITH A SHORT BOXY SWEATER
A light colored top is a great way to tone down the bold print. This slightly boxy ivory sweater was the perfect shade to pair with this leopard print.  I opted for the shorter sweater since both my top and bottom have a bit of volume.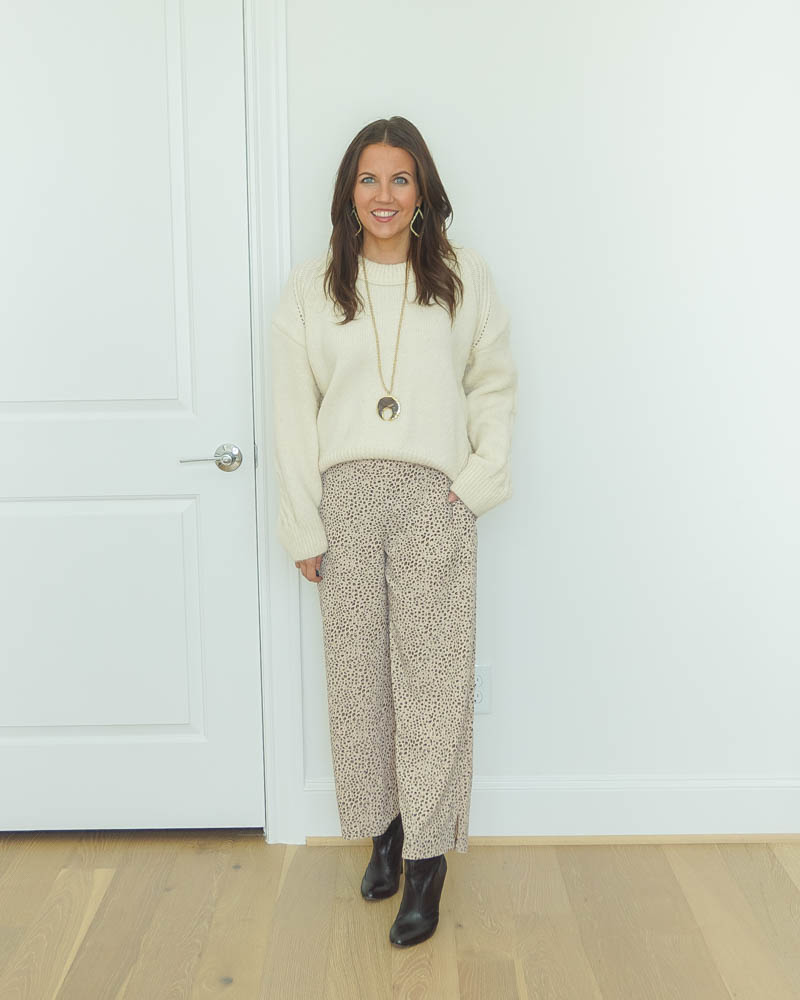 similar sweater | leopard print pants | similar booties | similar necklace | earrings
WITH A FITTED LONG SWEATER
If you are worried about boxy making you look to well boxy, a long fitted sweater will help define your shape a little.  I opted for a black sweater to help make the dark color in the print really pop.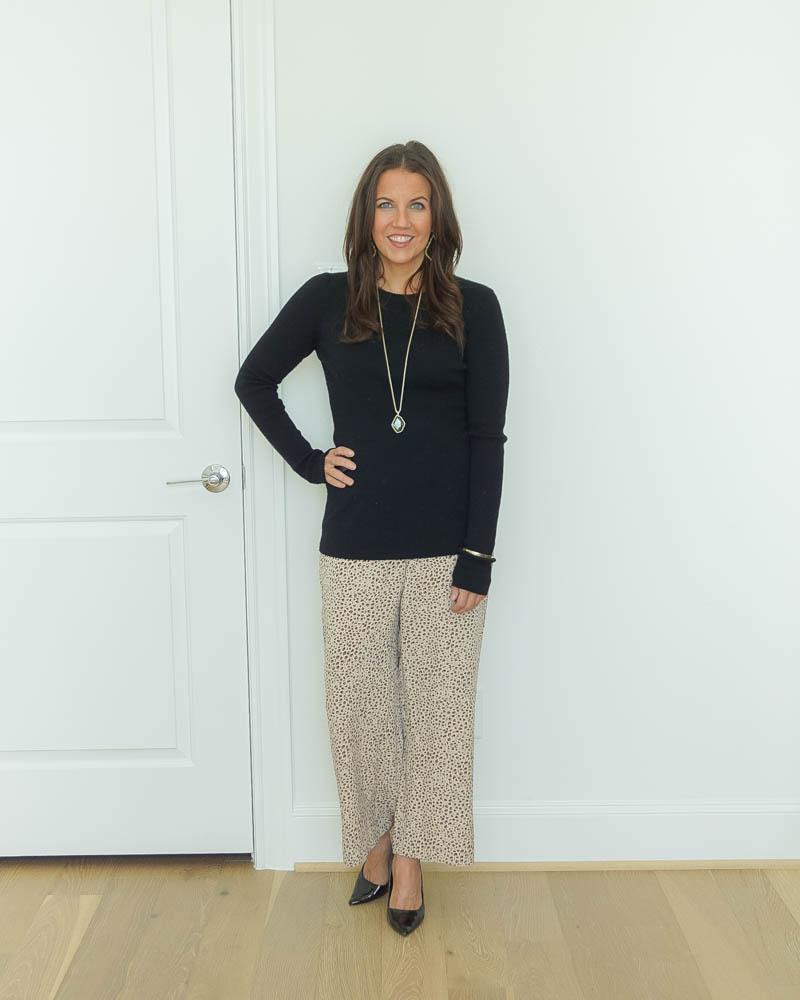 black sweater | leopard pants | black heels | similar necklace | earrings | bracelet
WITH A STRIPED TANK & LONG CARDIGAN
Stripes are one of my go to patterns for a good print mix!  The long green cardigan helps add a punch of color to the look.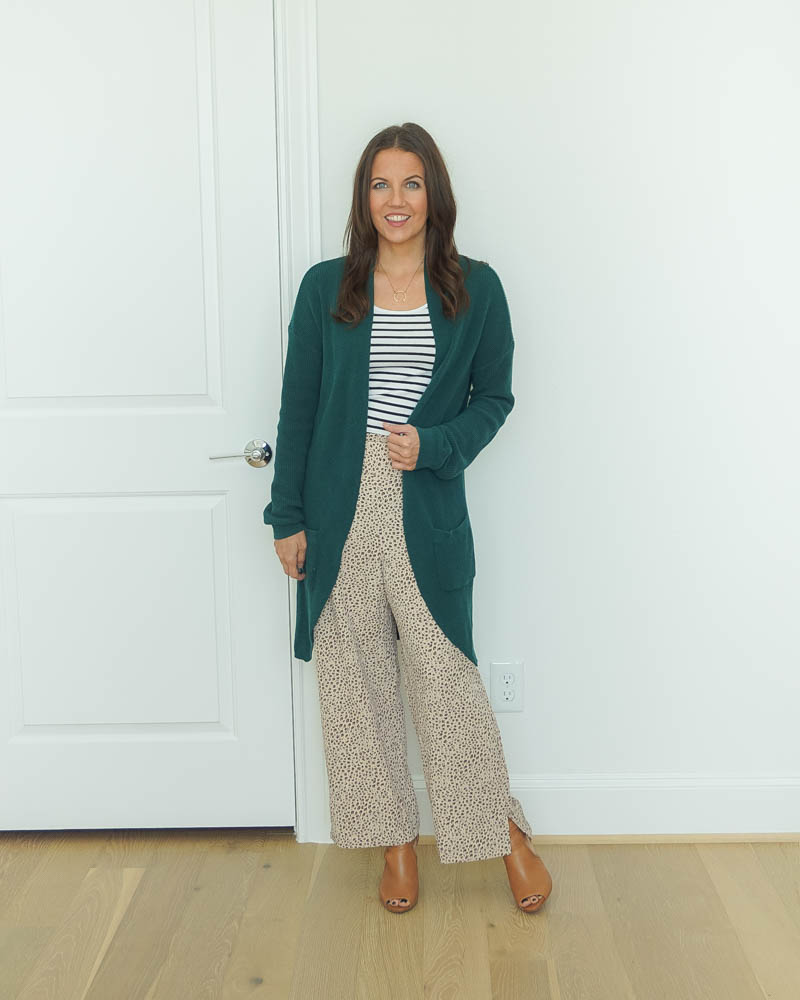 similar long cardigan | striped tank top | pants | peep toe booties | necklace
WITH A BLACK BLAZER & WHITE CAMI
Hello Office Friendly!  A black blazer and white cami is the perfect way to turn a printed pair of pants into a work friendly look.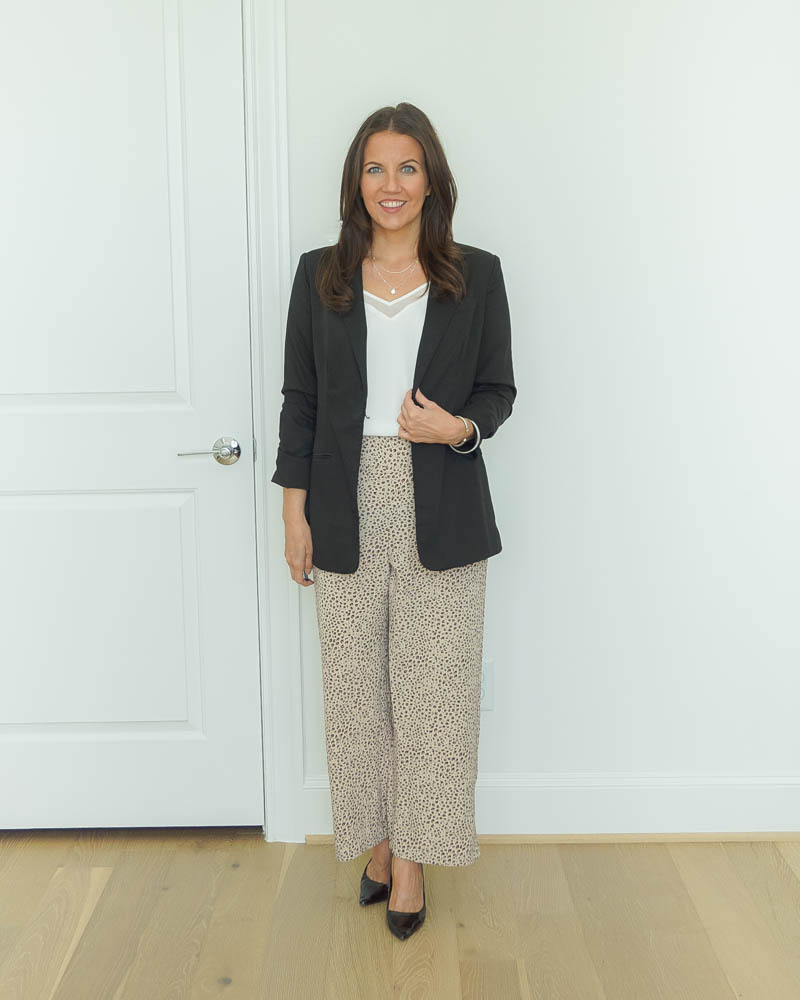 similar blazer | white cami | pants | black heels | layered necklace | silver bangle
WITH A DENIM JACKET & BLACK TANK TOP
Looking for a more casual outfit idea?  Reverse the work outfit with a casual denim jacket and fitted tank top to ease these pants into weekend attire.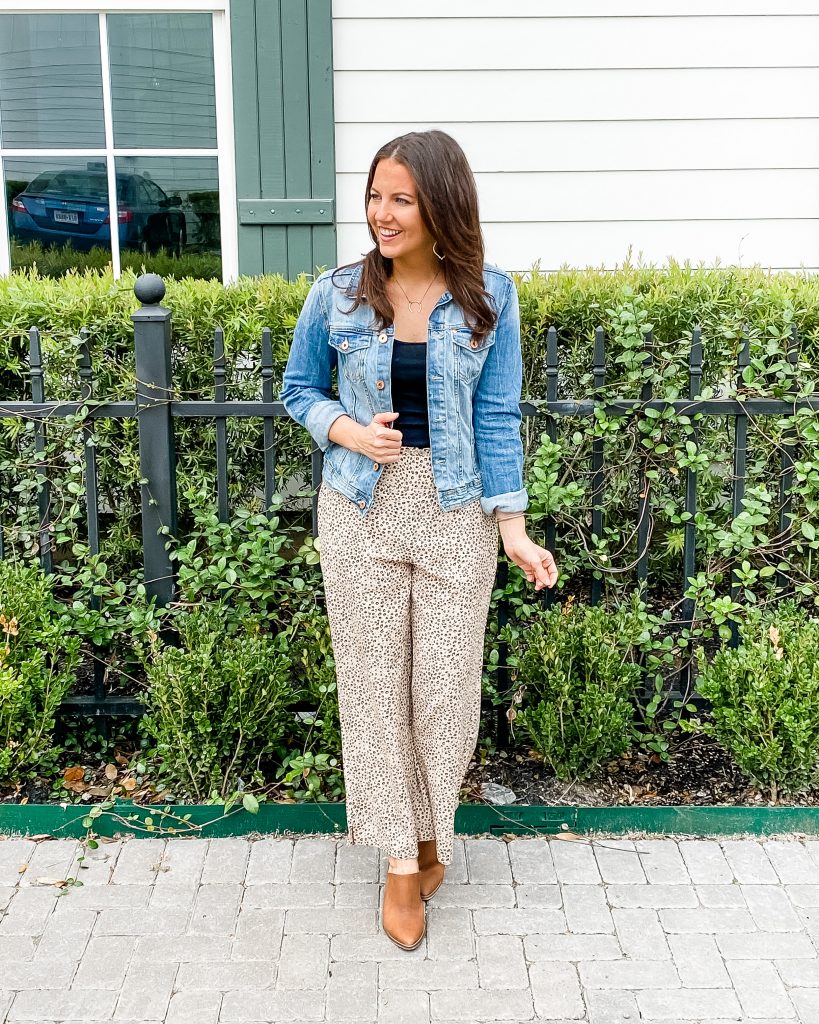 similar denim jacket | black tank top | pants | similar brown mules | necklace | earrings
WITH A NAVY FITTED TEE
If you want to add a little bit of color, navy blue is a great choice.  It provides a little color without taking away from the statement fact of the leopard print in the pants.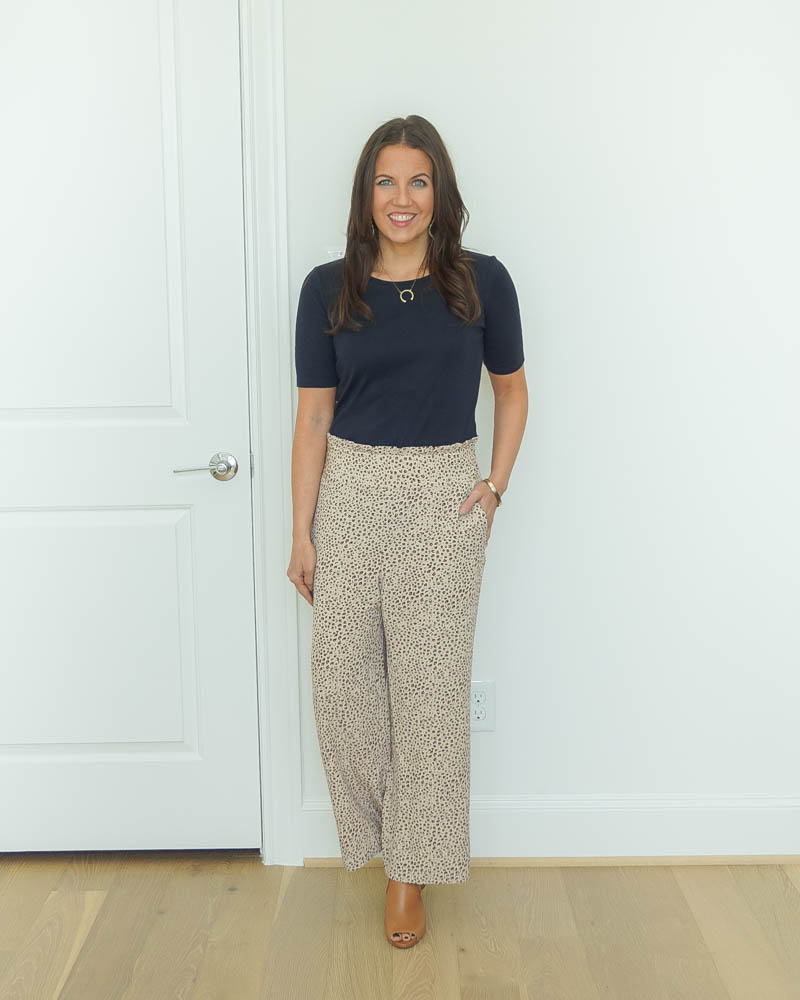 similar navy top | pants | peep toe booties | necklace | gold bracelet | earrings
WITH A PURPLE CAMI
For a dressy weekend look, a strappy cami works really well with these looser fitting pants.  I wanted to showcase another color option with this muted purple top.  Since the pants are a statement maker, my color choices will lean more towards non-bright, almost like muted colors.  Purple always gives me a luxe feel and is a great choice.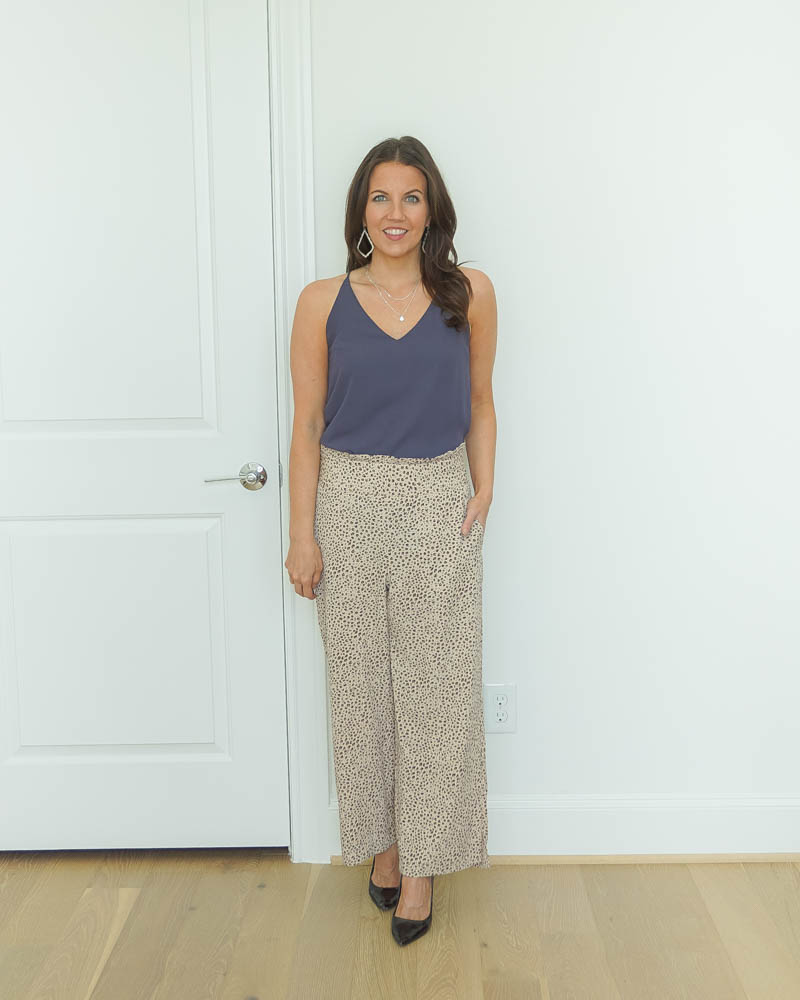 similar cami | pants | black heels | necklace | earrings
PIN NOW & SAVE FOR LATER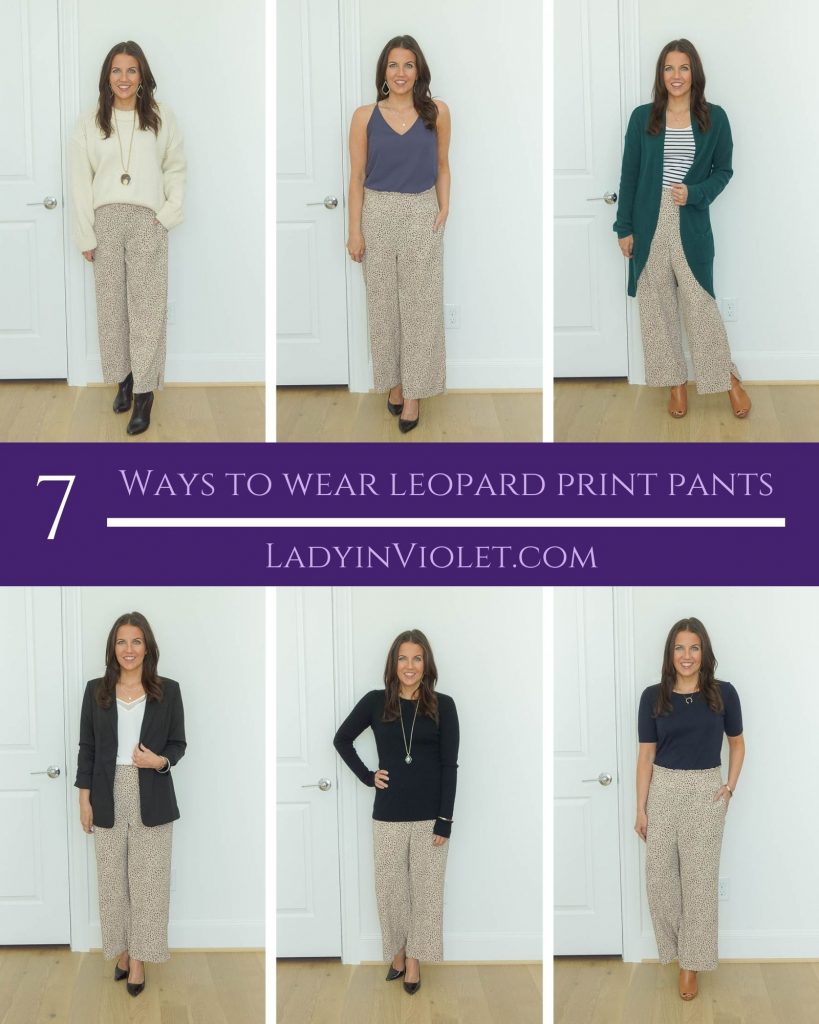 Love this post? You may also love: