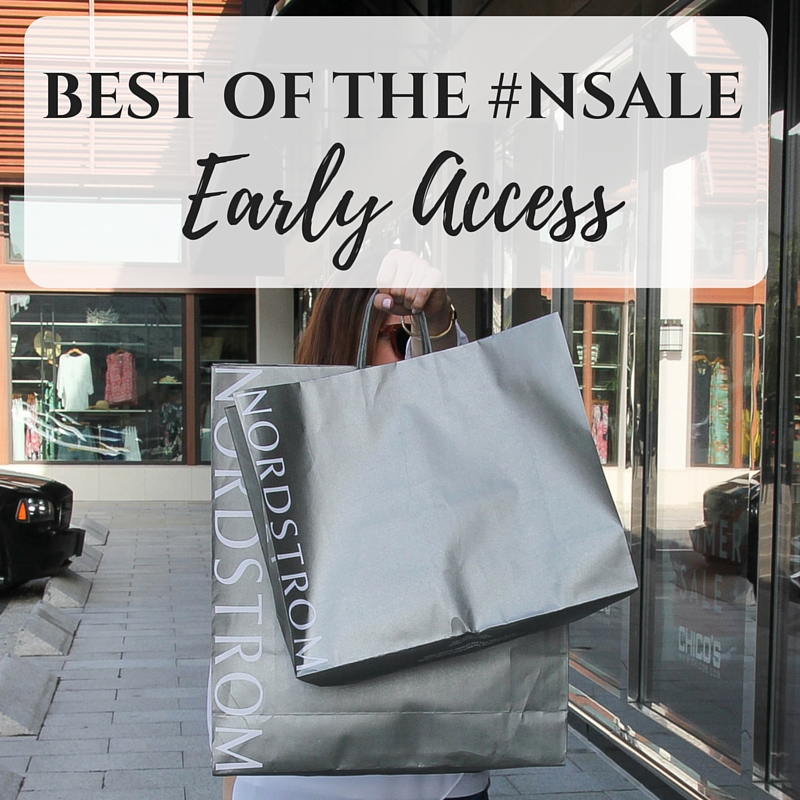 HAPPY NORDSTROM ANNIVERSARY SALE DAY!!
I am so excited to share my favorite finds and some of the amazing NSALE deals with you!! I skipped the gym, woke up extra early and made a full pot of coffee, so I could start shopping almost as soon as the sale opened!!  I found so many great deals and my wish list is already a mile long.  Let's not waste anytime and jump right into the best of the Nordstrom Anniversary Sale!!

These first few sections tend to be some of the quickest to start selling out.  If you are looking for a starting point, these four are a good place to start!
RIDING BOOTS & OTK BOOTS
These definitely go fast! Over the knee boots were super popular last season, and I expect them to be again this year. Riding boots are a great investment piece. They have been "in season" for several years and are not going anywhere. Both of these come with a normally high price tag, so this is a great time to get a pair.
BOOTIES
If you want a pair of booties, buy them now!! Especially a taupe/light tan pair!! These will be the first to go. I am looking to get a cute open toe pair this year, and another cognac pair. I love this one!
DENIM
This pair is already in my cart. I always buy my denim during the NSale. Some pairs are up to 50% off or more. I plan to buy 2 pairs during this sale, a distressed and non-distressed dark blue pair.
PURSES/BAGS
I think this is my longest list. They have so many cute purses this year! This bag is for sure top of my list, with this one a close second. I plan on buying one, it's just deciding which one!
DRESSES
Ya'll Betsey Johnson's dress game is phenomenal right now. She has quite a few dresses in this sale, and I want them all. I probably buy more dresses than anything else during this sale. This one is top of my list, right now at least. Also, my favorite I own it in two colors dress is back this year with some new colors!
COATS/JACKETS
Every year I invest in one classic jacket and usually one lower priced trendy jacket. A tan trench coat is top of my wish list this year, and this one is the front runner. This is another typically high dollar item that is great to get now. I saw jackets coming in over $150 off.
If you want a leather jacket, these are going to be some of the lowest prices. They probably won't go this low again until end of season and by then it will be slim pickings on size and color options.
JEWELRY/SUNGLASSES
Oh Jewelry, how I love thee. I'm not the biggest watch person, but I found some really cute ones that have me reconsidering! I linked some Nadri pieces, this is a good quality brand with high end looking pieces in a better price range. Also, my girl Kendra brough the Rae Necklace back and it's on sale. It's my most worn necklace for sure, and I'm considering a silver one.
TOPS
I barely scraped the surface of this section of the sale, because it was pretty big. If you like plaids and flannel shirts, I would buy those now. They go fast and not all of them go back in stock.
SKIRTS
I buy a different color of this pencil skirt every year. It's the perfect work skirt, and comfy. Denim and suede skirts should be big this year, so I included a few.
LOUNGEWEAR/WORK OUT GEAR
I stock up on my workout and lounge wear during this sale! Zella is handsdown my favorite brand coming in about half off. I had to stop myself from linking all their things. This jacket is also a great add, I live in mine around thee house in winter.
BEAUTY
Many of the beauty items on sale are kits, so a great time to try out a new brand you may have been considering. If you live near a Nordstrom, check out the stores beauty events. I bought my Clarisonic in store during the brand event and recieved bonus brush heads.
WHAT'S ON MY WISH LIST!
I could only fit 25 items in my little widget, so consider these my top wish list items. I now have to begin the very hard process of narrowing down my list. The jeans and booties will probably be my first purchases today along with this bracelet.
AHHH so many things and so many great deals ya'll!!  Happy shopping and thanks for swing by today!
PSST – Check out my SHOP PAGE to see what I am buying during the Nordstrom Sale!
XO – Karen