SHOP THE LOOK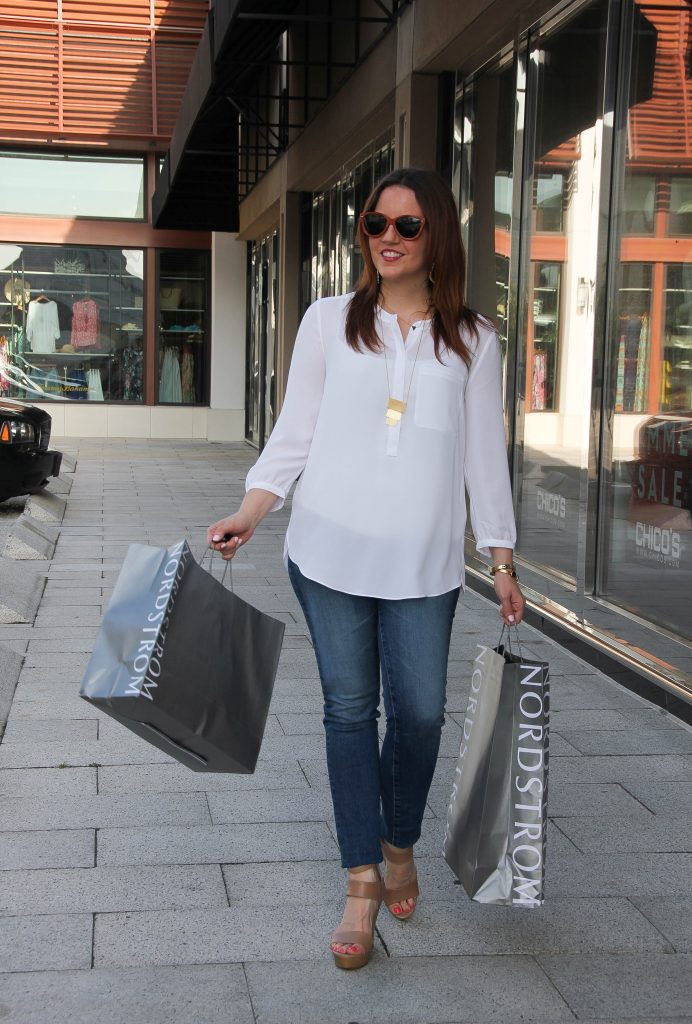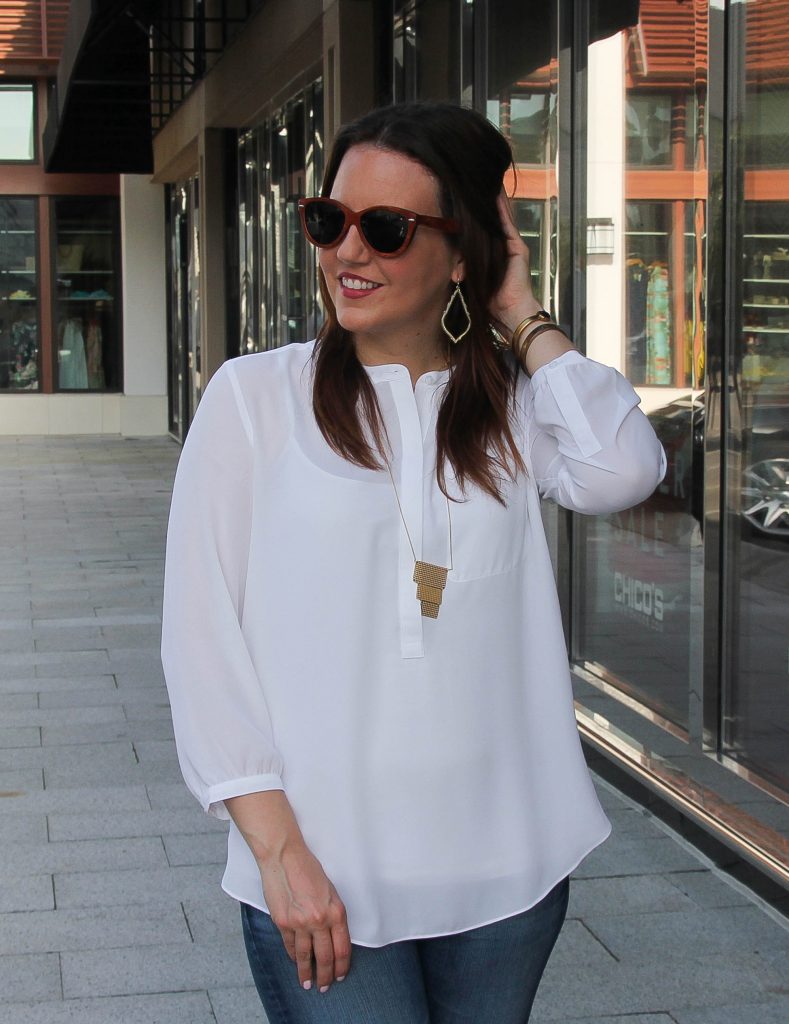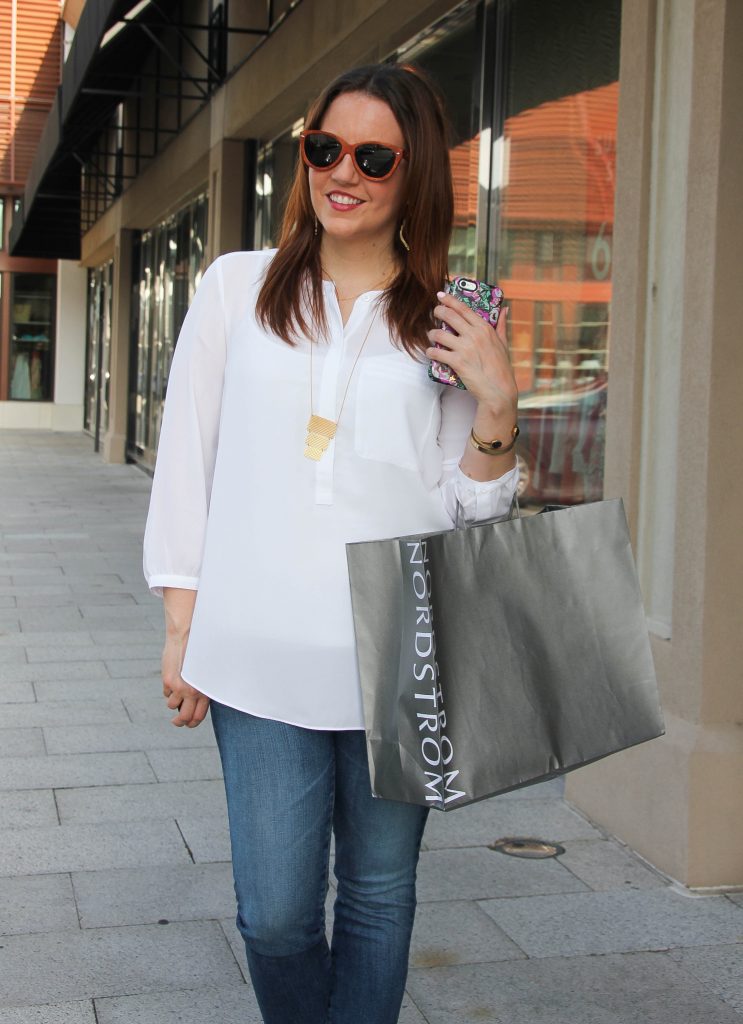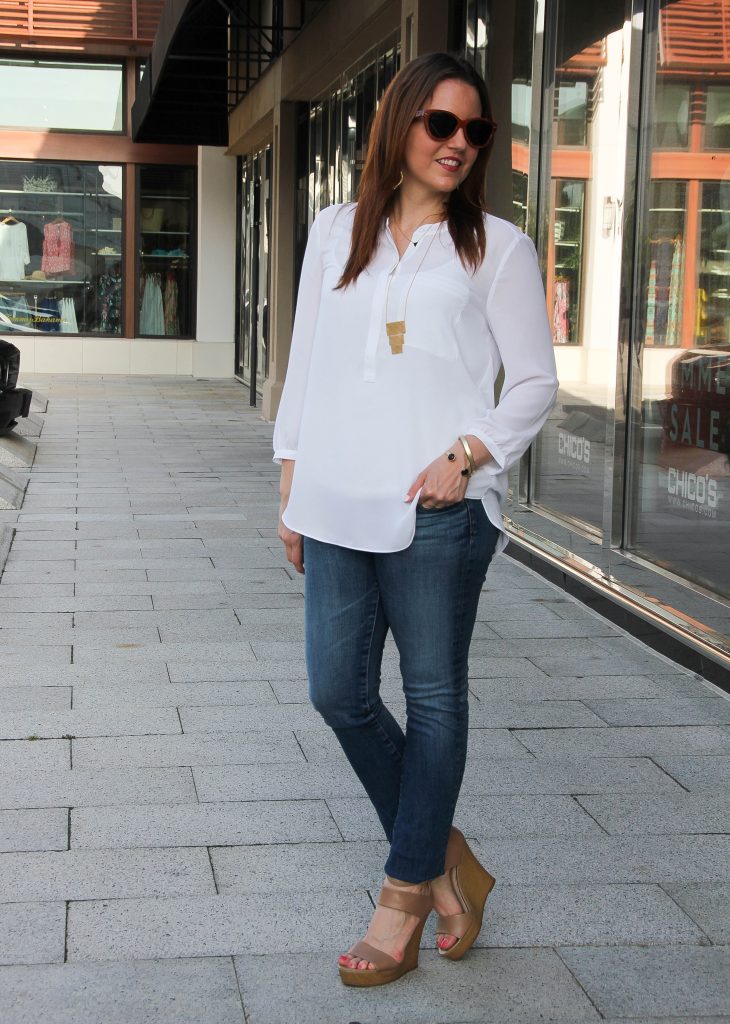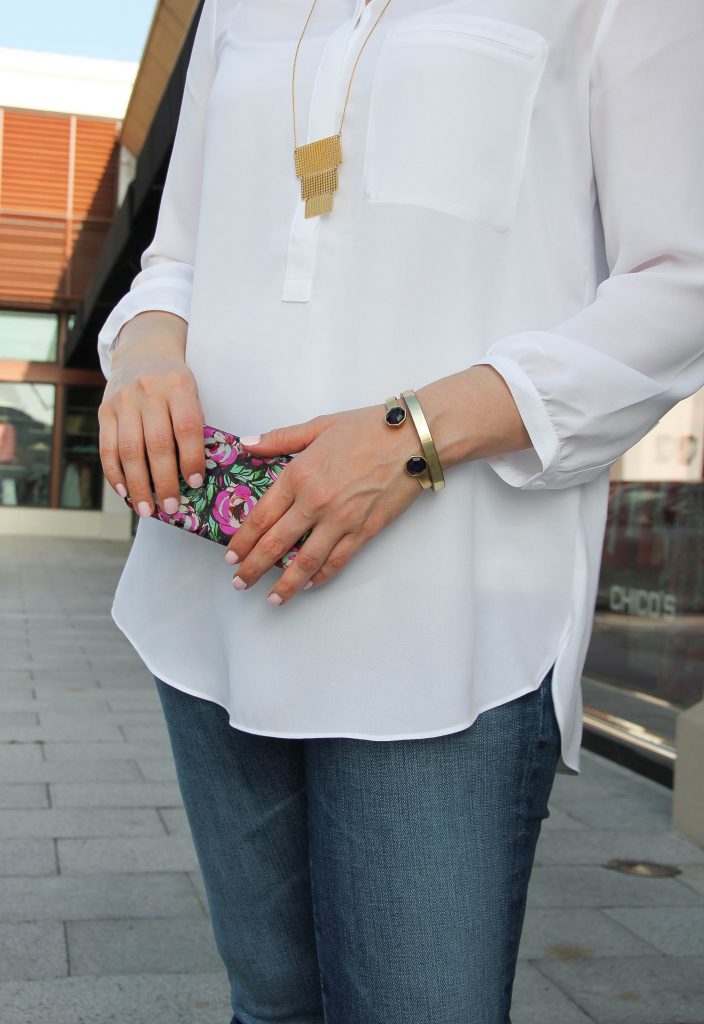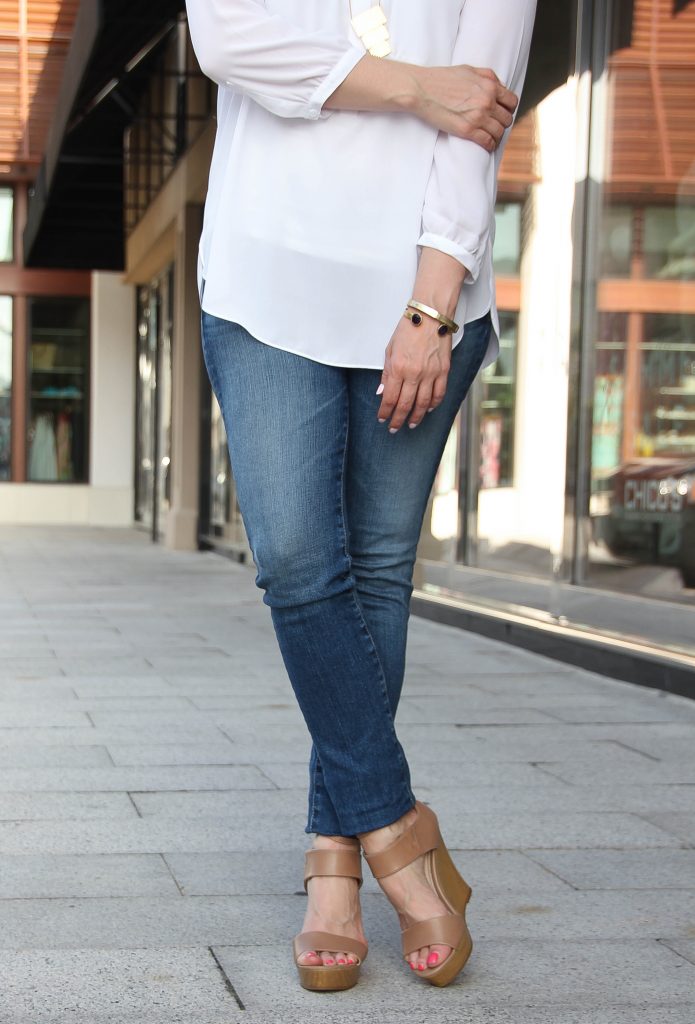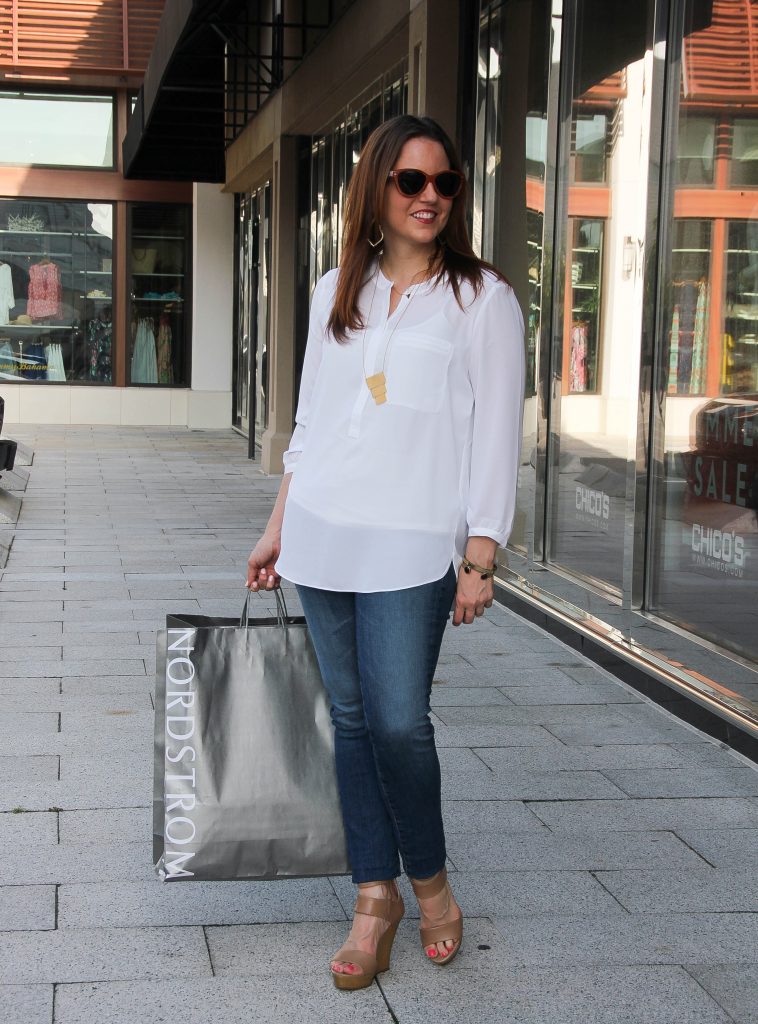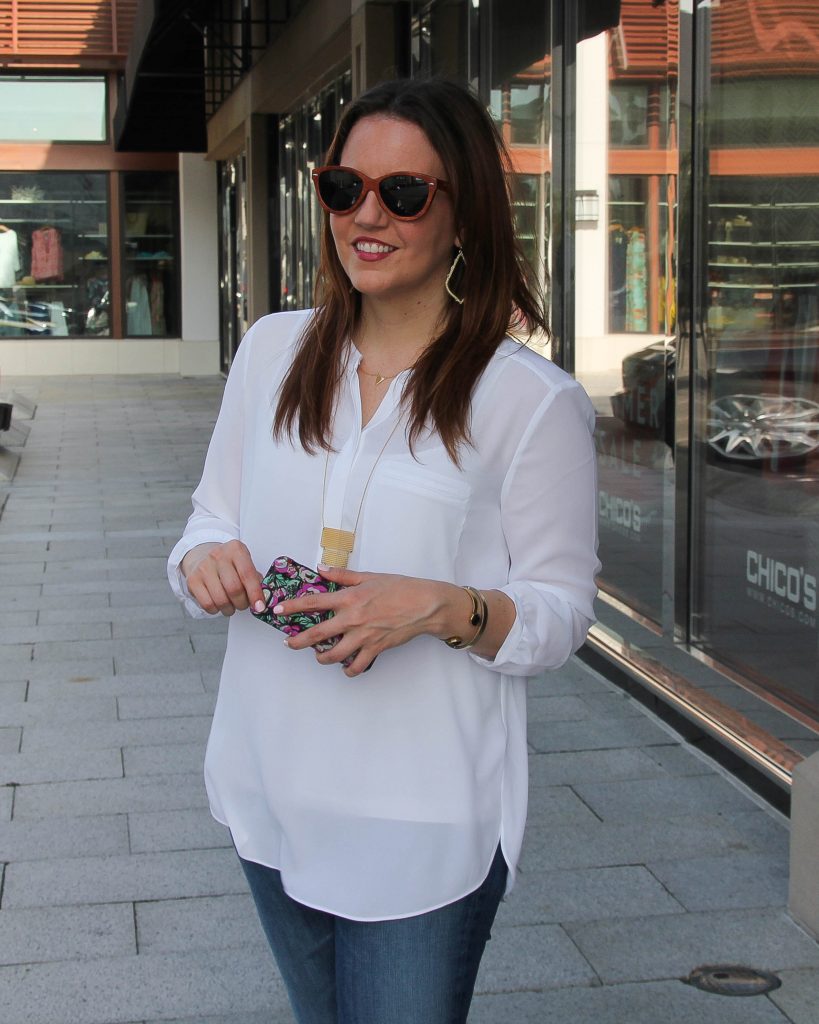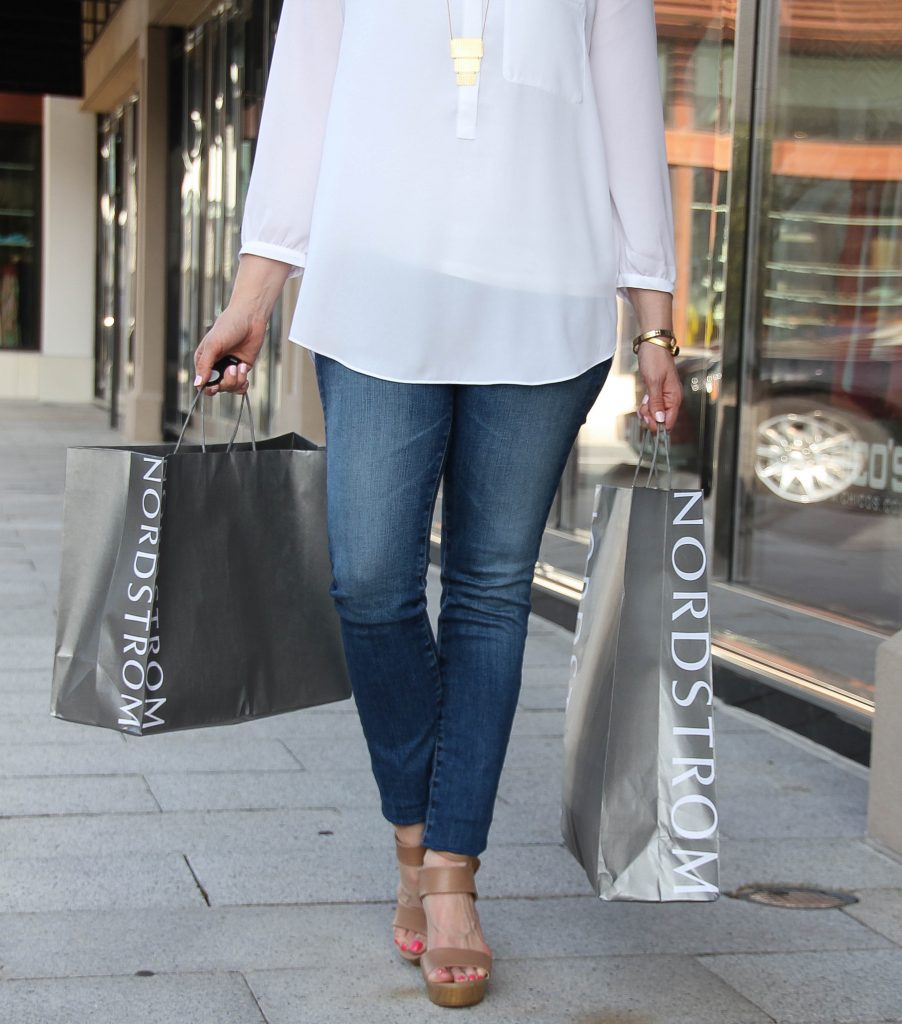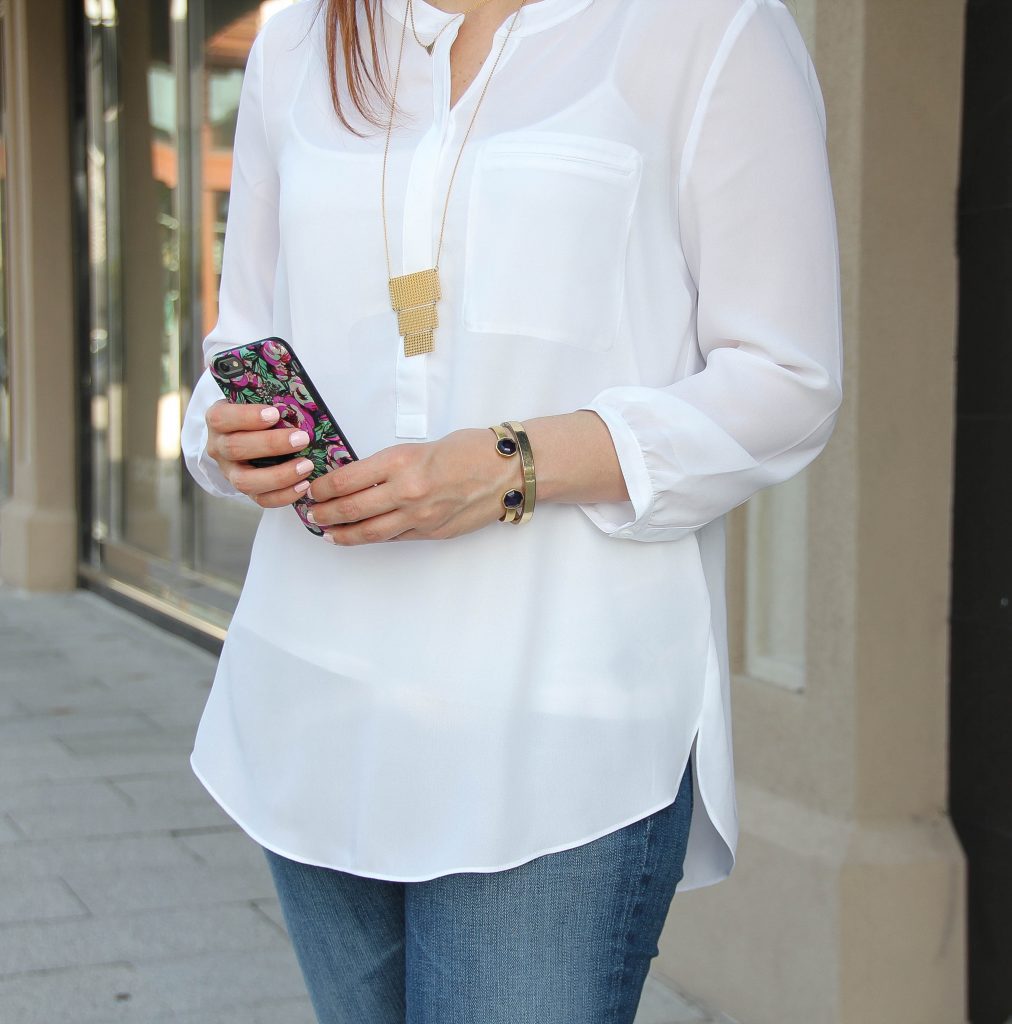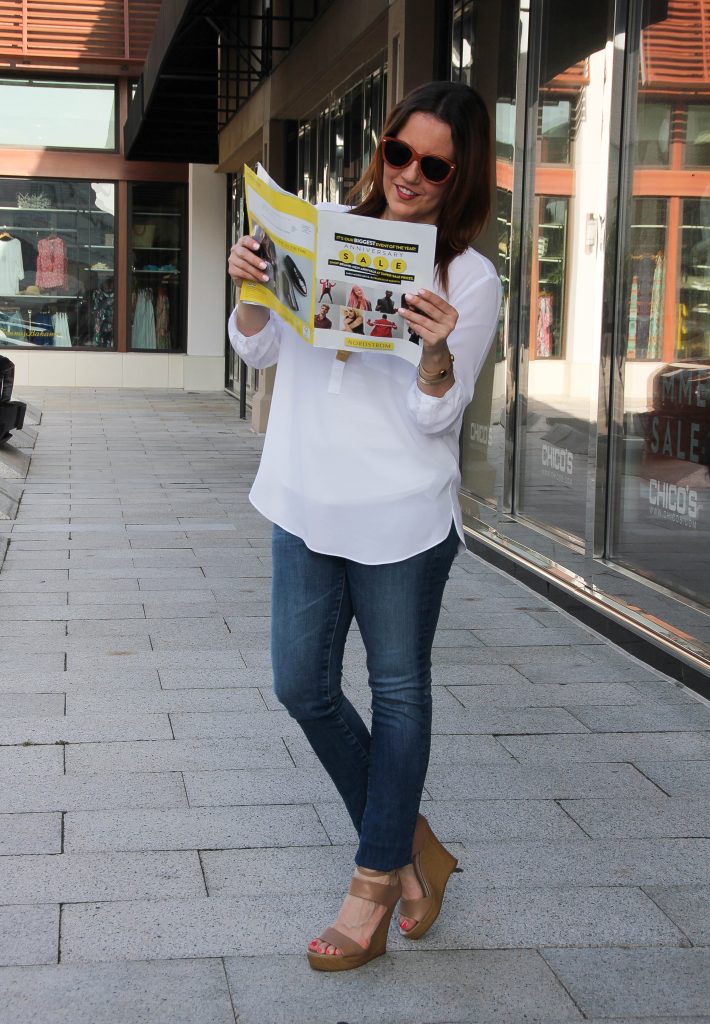 | DETAILS |
NYDJ Henley Blouse  | AG Skinny Jeans (similar) | SEYCHELLES  Ramble Wedges  | GORJANA Mika Necklace,  Mia Long Necklace  | KENDRA SCOTT Sophie Earrings  | BAUBLEBAR Slim Bangle  | LOREN HOPE Cuff Bracelet(different color)  | Nails: ESSIE Fiji  | Lips: MAC Faux  | PROOF (c/o Ditto) McCall Sunglasses  **Rent Designer Sunnies free for 1 month with code LADYINVIOLET
I have mentioned a few times over the past couple weeks about the BIG Nordstrom Anniversary Sale, so I figured I would share a little more about what the sale is, why I love it so much, and some of my tips for successfully preparing and shopping the sale.
WHAT IS THE NORDSTROM ANNIVERSARY SALE or #NSALE?
Every July, Nordstrom marks down many of their new fall and winter arrivals for a short time period.  Think riding boots, booties, winter coats, and sweaters.  You can also find handbags, jewelry, and beauty items marked down too.  Nordstrom cardholders gain early access to the sale on Thursday July 14th, and the sale goes public the following week on the 22nd.
This is hands down my favorite sale of the year.  I mean normally you are buying items at the end of the season and have to wait until next year to wear them, or can only wear them for a few weeks.  With the NSale, you will be able to wear your purchases all season long!
I love having early access to the sale, because all options and sizes are available.  Hot ticket items do go fast during early access.   If you are not into adding a new credit card, they also have a debit card option.  Honestly in regards to not having early access to the sale, while you may miss out on a few things, the day the sale goes live plenty of things will still be available.  So I wouldn't worry too much, you may just find that those Tory Burch Riding boots aren't left in a size 7. You can learn more about the sale and see the sneak peek catalogs HERE!
WHY I LOVE THE NSALE?
The Nordstrom Sale is the perfect time to add some of the big ticket designer items to your closet.  I always buy a pair of riding boots, designer jeans, and some beauty products.   I also love stocking up on basic items like jackets, sweaters, and work clothes.  The sale last for a total of 3 weeks, so you have plenty of time to order and re-order.
TOP TIPS FOR SHOPPING THE NORDSTROM ANNIVERSARY SALE
PREPARE YOUR WANT/NEEDS LIST – I layout a plan of what I need for fall or just want to buy.  A huge sale like this is overwhelming, and I will spend days going over all the sale items.  My wish list gives me places to start shopping.  I know I'm buying 1-2 pairs of jeans, riding boots, booties, and possibly a new purse, so I will start with those groups.   I also list the brands I want to check out on my list.  I always check out Tory Burch, Marc Jacobs, AG and Paige Denim, Kendra Scott, and Gorjana sale items.  These tend to be some of my high ticket brands that I want to scope out first.
CREATE AN NORDSTROM ACCOUNT – No I am not talking about a credit card account, a website account.  As I am going through all the items, I will wish list anything I like and want to revisit later on.  I add to my shopping cart anything I know I will buy.  When I'm done going through the sale, I go to my wish list and shopping cart to start putting my order together.  The list also will stay saved in case you decide to come back and shop again, as I usually do.
SET A BUDGET – This sale is easy to get carried away with, so I always set a budget for myself on what I can spend.  I do give myself a little flexibility with my budget. I will consider going slightly over it, if I know the items are a good investment and a great price.  I have a rule that I have to pay my credit card off every month, even during the NSale.  A budget also helps me from making silly purchases of things I don't really have use for.  I would probably buy 4 pairs of jeans and 3 similar riding boots, but my budget keeps me in line.
SHOP THE SALE MORE THE ONCE – This tip helps me with the impulse shopping side of a big sale.  The sale last 3 weeks.  If you are on the fence on something, know you can comeback and buy it the next day.  Yes there is a chance it could be sold out, but then it probably wasn't meant to be.  My wish list is always too long, so I will make my must have purchases day one, and then come back in a few days for more.  A few of the items might be sold out or I'm just not as excited about them. This helps narrow down my list.  Also, items will come back in stock during the sale or new items may be added.  If there was something you really wanted but your size was out, check back every few days to see if it is back in stock.
VISIT LADY IN VIOLET FOR THE BEST OF THE SALE – Ya'll I love this sale, and I am seriously going to go through and look at ALL the items that are on sale.  Thursday morning, I am going to put together a HUGE post of all my top picks from the sale.  The items on my wish list, items I think are great deals, and items/brands in the sale that I own and love.  If the long list of sale items overwhelms you, then come here and let me show you best of the sale.  I'm going to do a post the day of Early Access and the day of Public Access.  I will probably also be sharing things here and there in my regular posts too.
Hopefully this has you a little more prepared for the Nordstrom Sale.  If you want a chance to up your budget a little, be sure to enter my $1225 Nordstrom Gift Card Giveaway! You can enter up to 101 times!  This is the same giveaway I posted last week, so if you already entered no need to do it again.  But I think this is an AMAZING giveaway, and I want to be sure everyone has a chance to enter!
*Giveaway ends on 7/13 and winner will be announced on 7/14 (the first day of the Nordstrom Anniversary Sale.) Must be 16+ years older to enter. International entrants welcome. Please keep in mind that you can not complete more than 101 entries, and that we can tell if the same person uses multiple emails to enter. ALL ENTRIES WILL BE VERIFIED, so make sure to hit 'FOLLOW' or 'LIKE' to complete each entry.
SHOP THE LOOK
Love this post? You may also love: