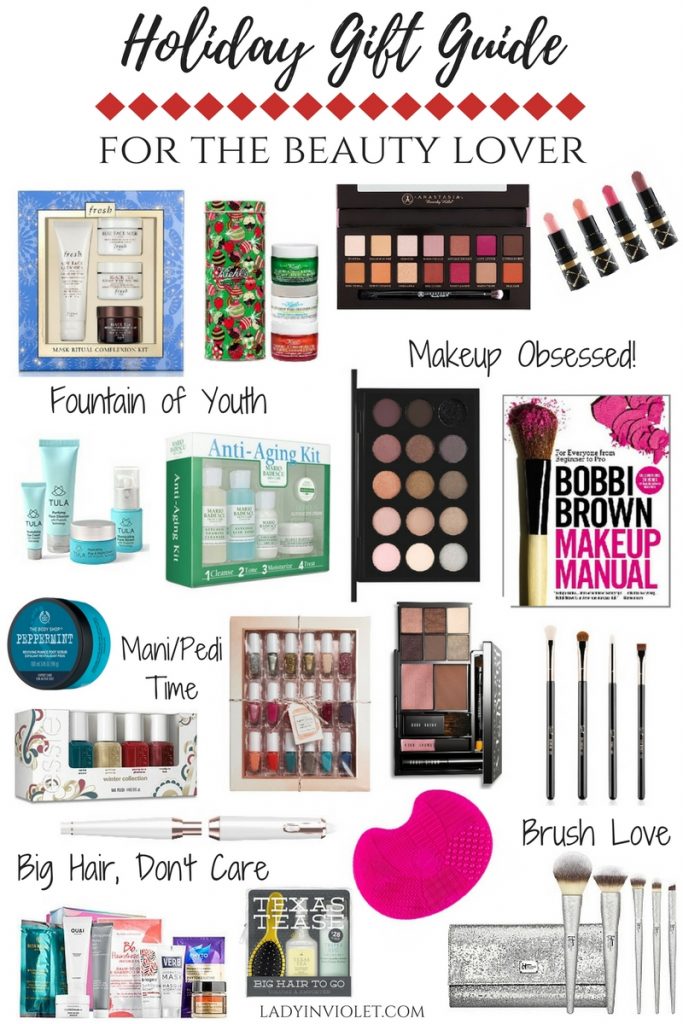 Happy Friday! Today's gift guide is filled with gift ideas for the beauty lover in your life.  The holidays bring out gift sets galore when it comes to beauty products.  If you know someone's favorite brand(s), check around online to see if they offer a best of or travel set.  Gift sets are also a great way to try out that brand you have had your eye on too.  Many gift sets include 3 or more products at a discounted rate.
This beauty gift guide mainly consists of things I have and love or want.  When it comes to makeup brushes, It Cosmetics and Sigma are two of my favorites.  Their brushes help apply eye shadows and foundation flawlessly!  I own this brush cleaning mat and love it.  It really deep cleans my brushes, and I think it makes it a little more fun.
Makeup palettes are such a fun gift.  I LOVE eyeshadow palettes! I have heard rave reviews about this Anastasia one.  It has some great warm earth tone colors in it which are my favorite.  I just started reading the makeup manual.  It would be so perfect for someone just learning makeup or wanting to expand their routine.  It talks about EVERYTHING from skincare and supplies to application.
A few beauty gifts I think you can never go wrong with, skincare and nail care.  Don't we all want to look younger with flawless nails. 🙂 I have been wearing the Essie Holiday Collection on the blog lately.  I love how rich the colors are in this line. Plus, most of them only needed one coat.  Of the skincare products, I have tried all but one and love them.  I have heard Mario Badescu products are AMAZING, so I had to include a set.
Recently, I fell in love with hair masks after I did this one.  I saw my bestie the next day, and she quickly commented on how fab my hair looked that day. This set will probably makes it way to my wish list, because now I want to try ALL the hair masks.  I have never tried this curling wand, but everyone who uses it talks about how fabulous it is and how your curls last all day.  It's pricey, so definitely a splurge gift idea.
Hopefully this guide has given you some good ideas.  You can always find more holiday gift ideas HERE or under the Holiday Shop tab on my menu bar.  I hope you all have a great weekend, and I will see you back here on Monday!  Thanks so much for stopping by!
SHOP THE GIFTS + MORE
Love this post? You may also love: