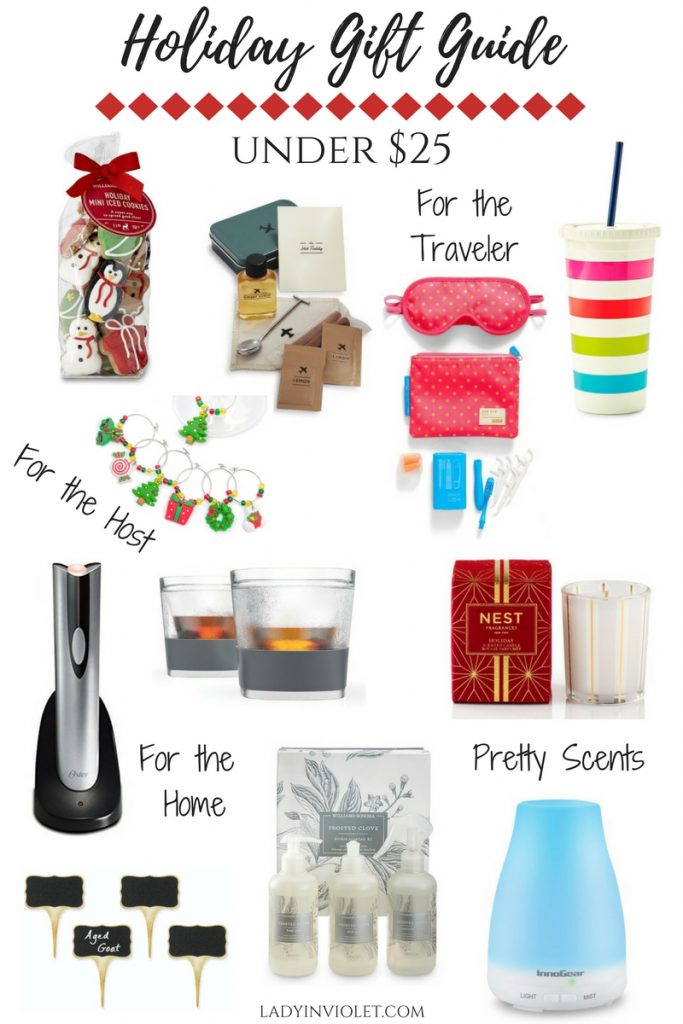 Happy Friday!  I'm actually a little sad today is Friday.  I have been on staycation vacation all week, so it means today is the last day. 🙁  I try to take a week or at least a few days every December to prep for the upcoming holidays.  It was a week spent gift shopping, decorating, and a start to my Christmas cards which I hope to finish today.  I strongly dislike the madness of stores during December, so I love having a day off during the week to tackle some of my in-store shopping.  I do as much online as I can for holiday gifts.
Most of the gift exchange parties that I am headed to this year have a $25 gift limit.  I found some really cute ideas while shopping which inspired some of the above holiday gift ideas under 25.  I own the striped tumbler and love it for road trips.  It would make a cute gift idea for a teacher or friend.  I have been thinking about trying an oil diffuser in my bedroom, so I included one because I think they are pretty neat.  I have seen these carry-on cocktail kits in stores, and they are pretty cool idea.  They include everything but the booze and soda to make a cocktail in flight. I have more ideas over in my Holiday Shop Under $25 page too.
I feel like I still have 101 things to get done before my vacation ends, so I'm keeping this post semi short and sweet today.  I hope ya'll have a great weekend and thanks for stopping by!
SHOP THE GIFTS
Love this post? You may also love: