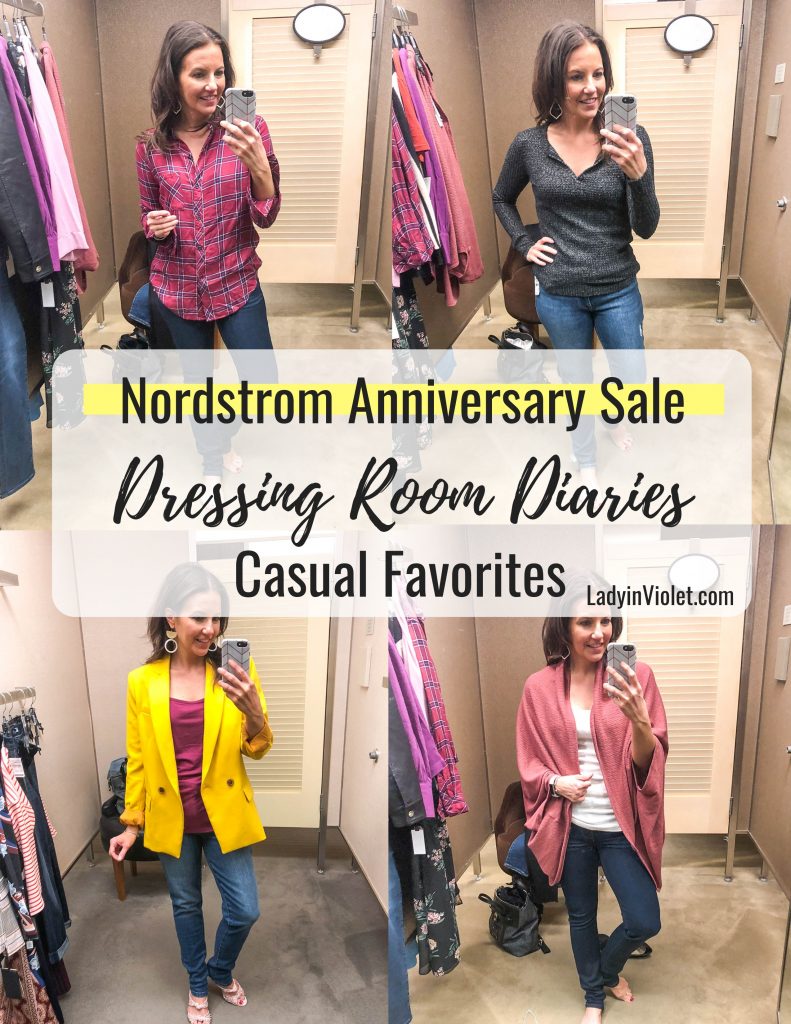 Happy Nordstrom Anniversary Sale Public Access Day!!  The sale is officially open for everyone to shop, shop, shop!  I was originally hoping to share with you all what I purchased.  Since my package isn't arriving until next week, I'm postponing that until next Friday.  I did head into my local Nordstrom to check out some of the goodies in person though, so today I'm going to share a little dressing room diaries of what I found.  A little side note, some items I did have to try on in not my normal size so they make look a little big.
I found quite a few good options for fall in both work and casual, so I'm breaking up my dressing room diaries post this year into 2 parts.  On Monday, I will be sharing some workwear looks which includes some really cute dresses! Today, it's all about those casual pieces from layers to tops to jeans.  Enjoy and Happy Shopping!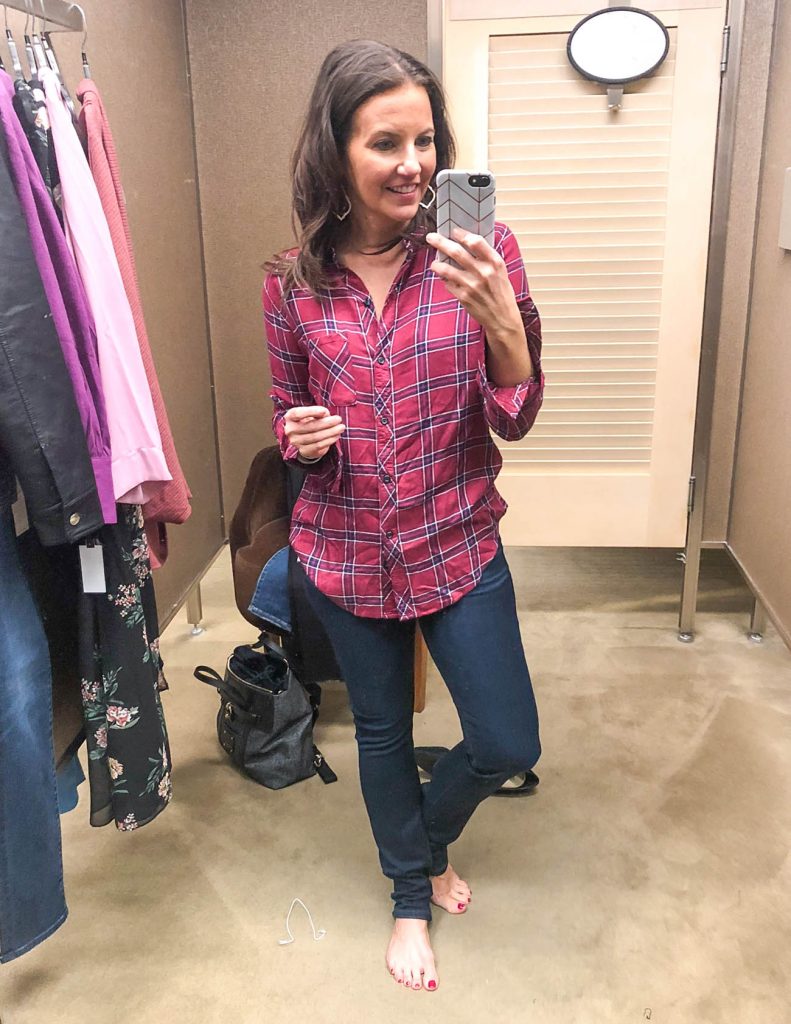 Ok these are my favorite style of jeans from Paige.  I own a few in different shades.  They are worth every penny as all of mine still look new.  The fit is TTS.  These plaid shirts are pricey, but ya'll so soft and comfy!!!  I also really like this reddish/pink color.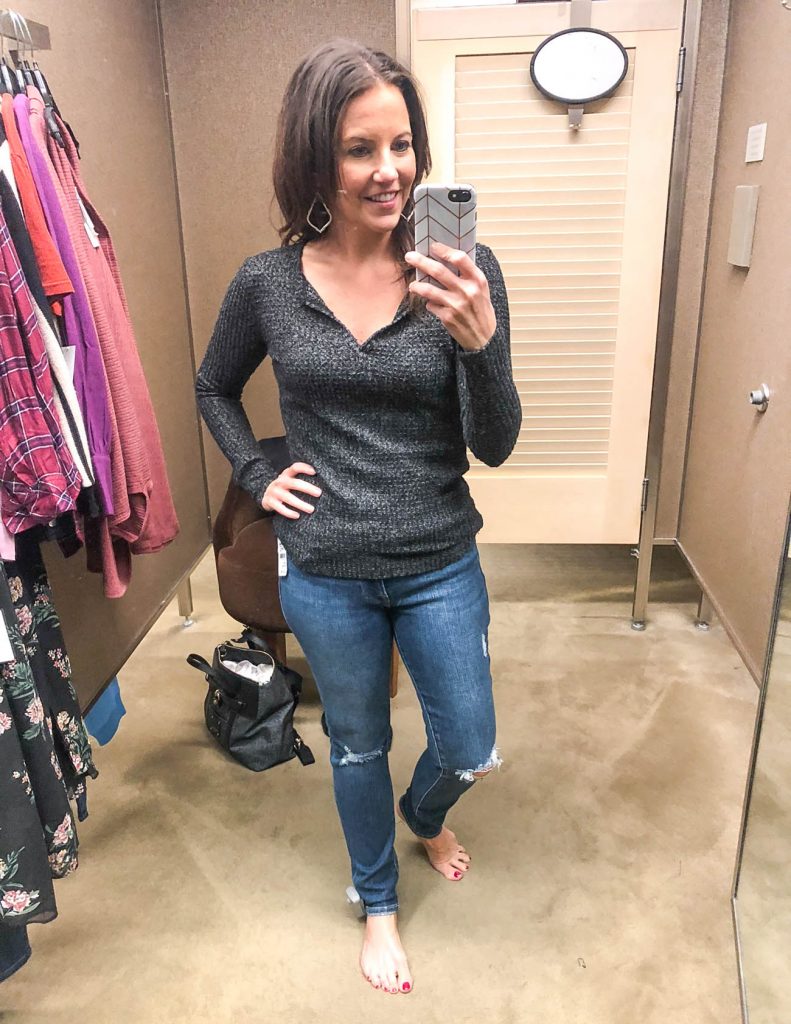 thermal henley  |  similar jeans
Thermal henleys are so great for casual fall outfits and lounging around the house.  This one comes in a few color options.  It is thin and a little sheer, so you may need a cami underneath it.  The jeans I linked are same brand, but with only one knee distressed.  The ones I tried on weren't online.  I love this brand because they are super comfy and good quality.  Fit is TTS.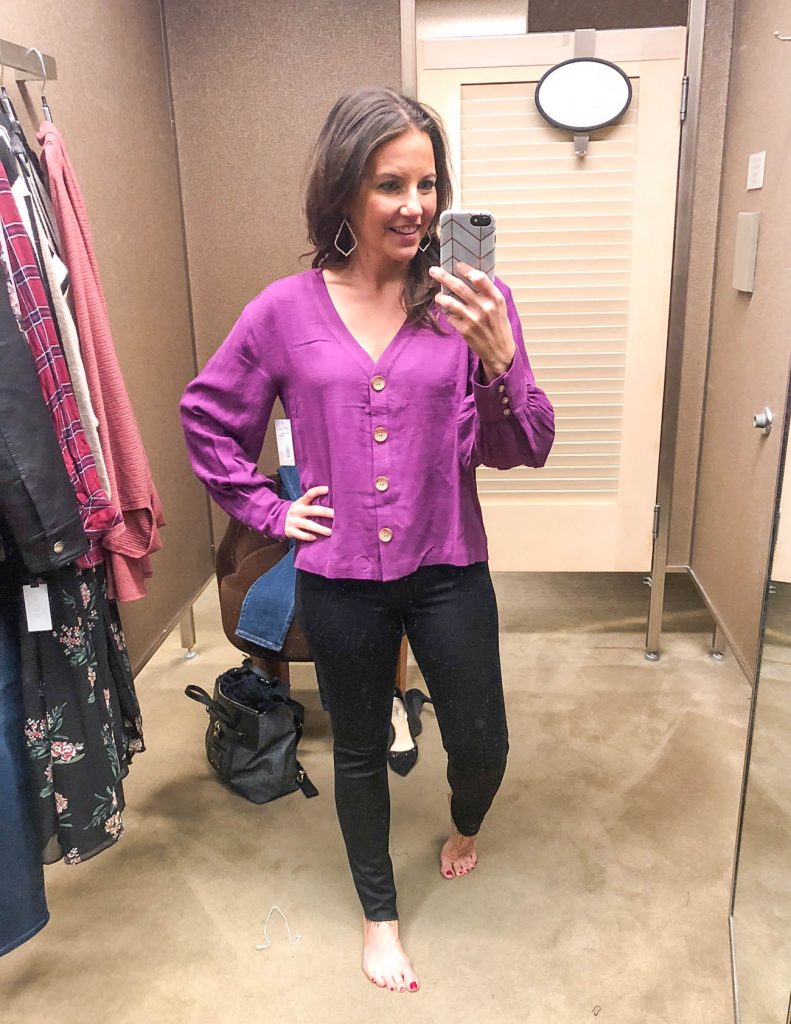 purple blouse | black skinny jeans
The color of this top immediately grabbed my attention.  It's such a fun and bright color for fall. It is a boxy, oversized fit, so I would consider sizing down.  These black jeans are super comfy, but do run small. I sized up in them.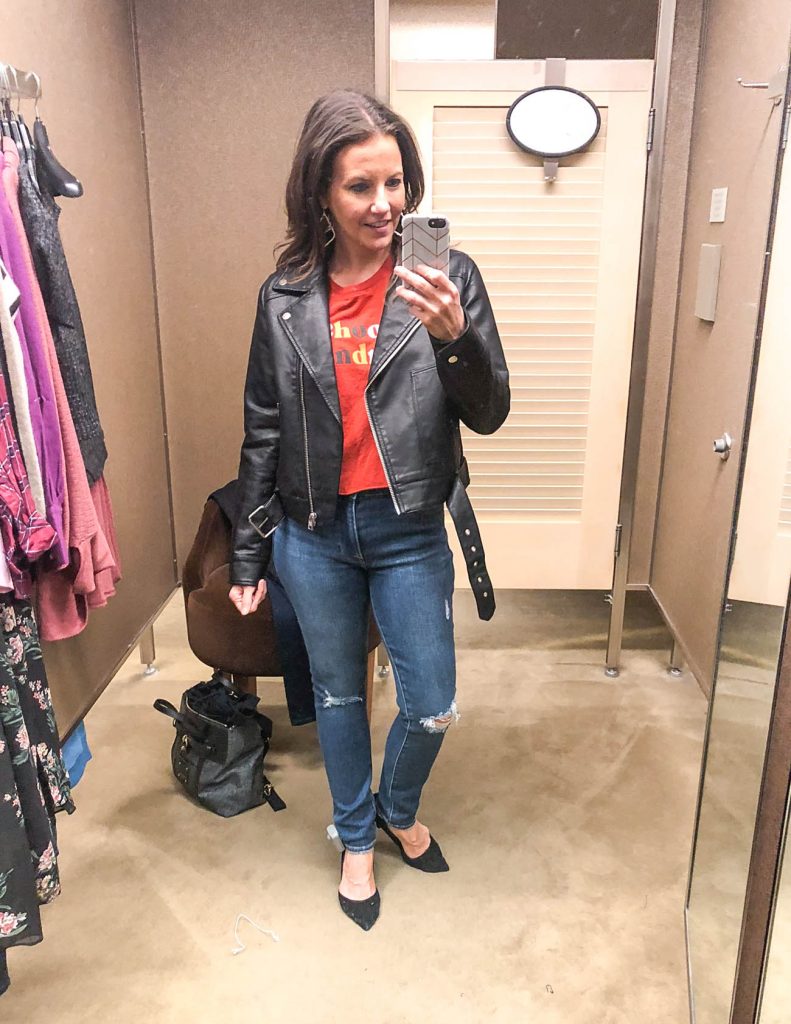 leather jacket | similar distressed jeans
I decided to try the trendy leather jacket and graphic tee combo out, and I kind of like it.  The cropped tee wasn't available online, but here are some similar ones.  The jacket was a comfy TTS fit. I like the edgy look of it, but I wasn't a fan of the belt along the bottom when it's open.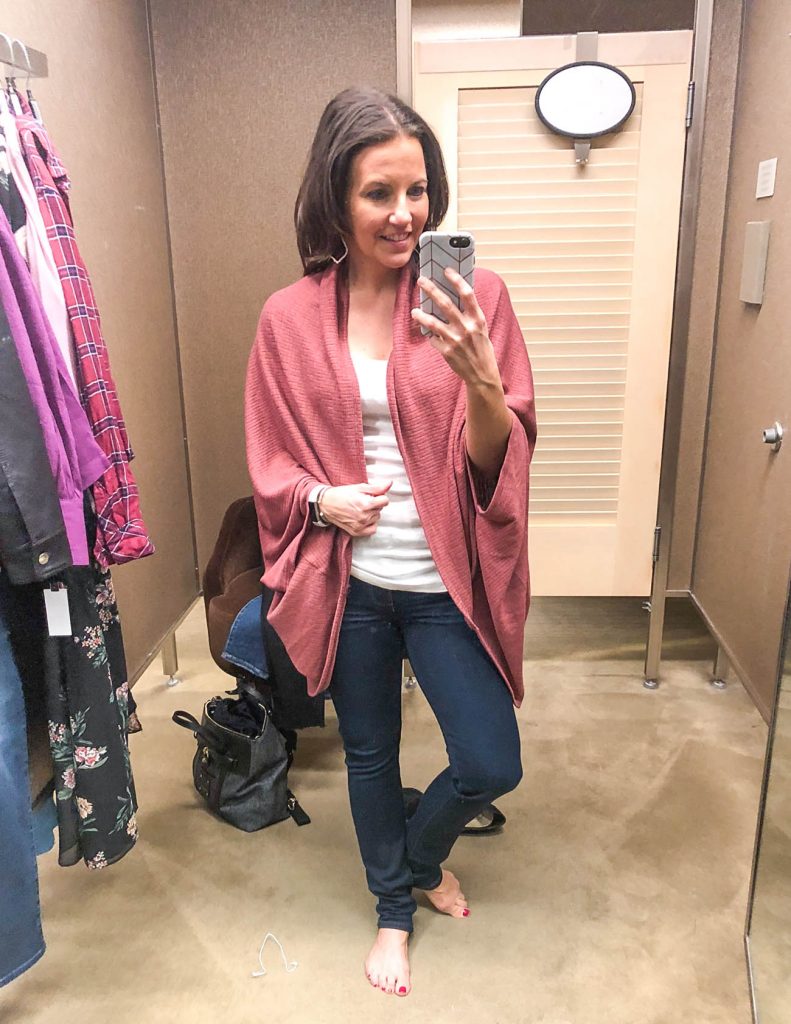 cocoon cardigan | dark wash jeans
Give me all the cocoon cardigans please!!  This one size fits all piece is perfect for layering with jeans or over a dress.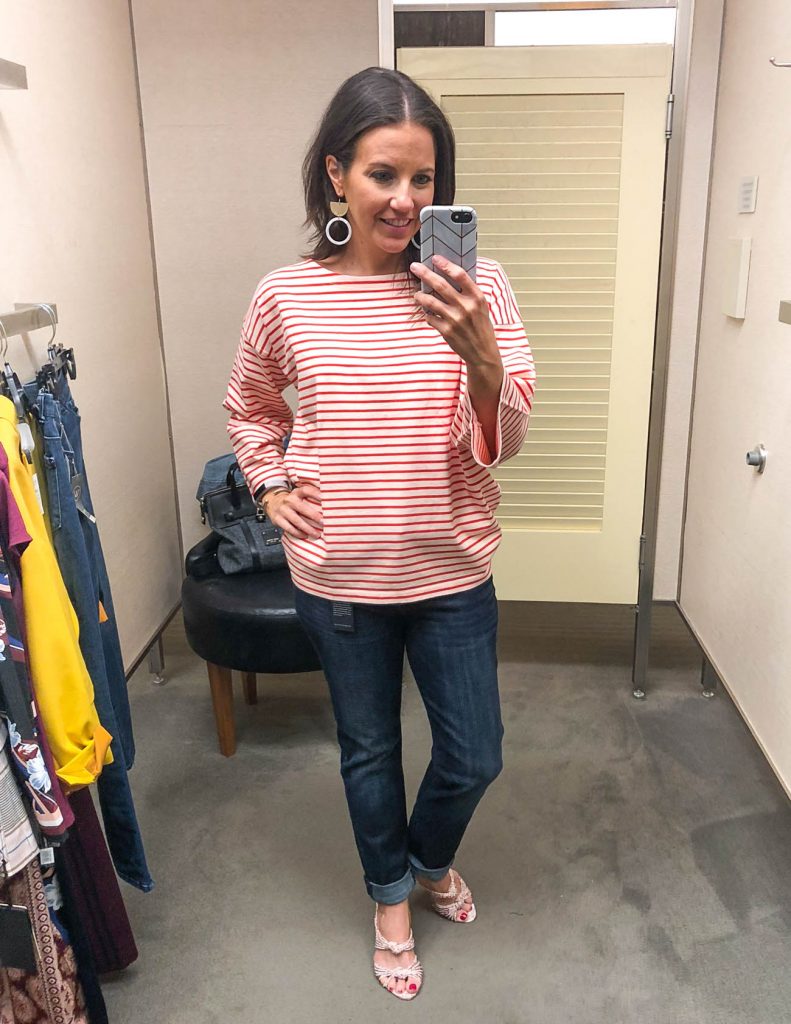 Ok, I tried this top on in a Small and I def needed my normal XS size.  Other than that, I loved the thick, comfy material, and I always love a stripe.  It comes in a few other colors too.  I usually don't like boyfriend jeans, but I thought these had a flattering fit and weren't too baggy.  The fit was TTS.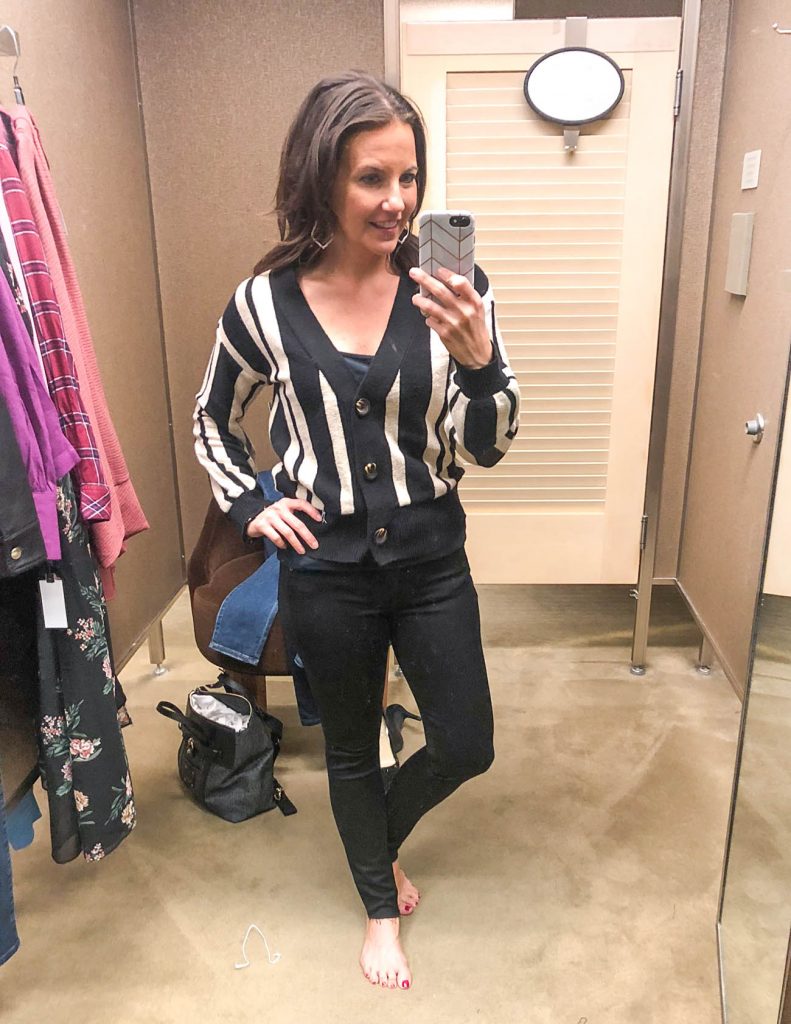 striped cardigan | black raw hem jeans
This striped cardigan is the perfect piece to layer over tanks or dresses for the office.  You can button it up or leave it unbuttoned for a different look.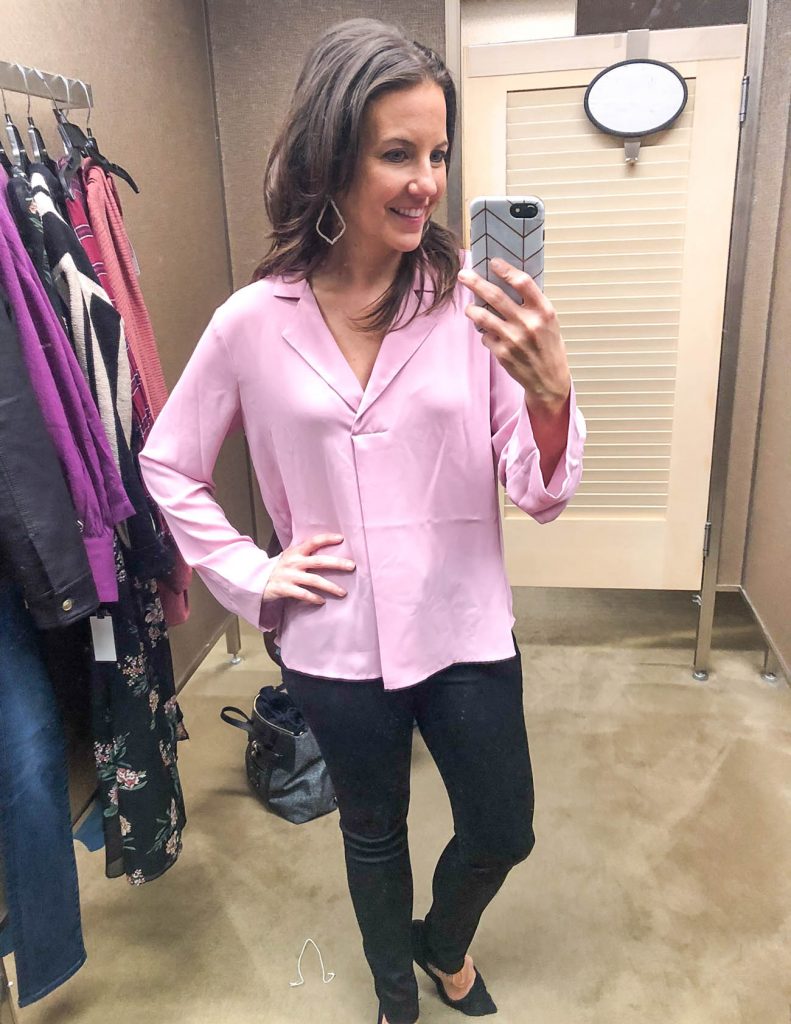 The lighting does not do this top it's fair justice.  It's super cute and a really pretty shade of pink.  I like it paired with black for fall and all the jewel tones like burgundy, navy, and emerald green.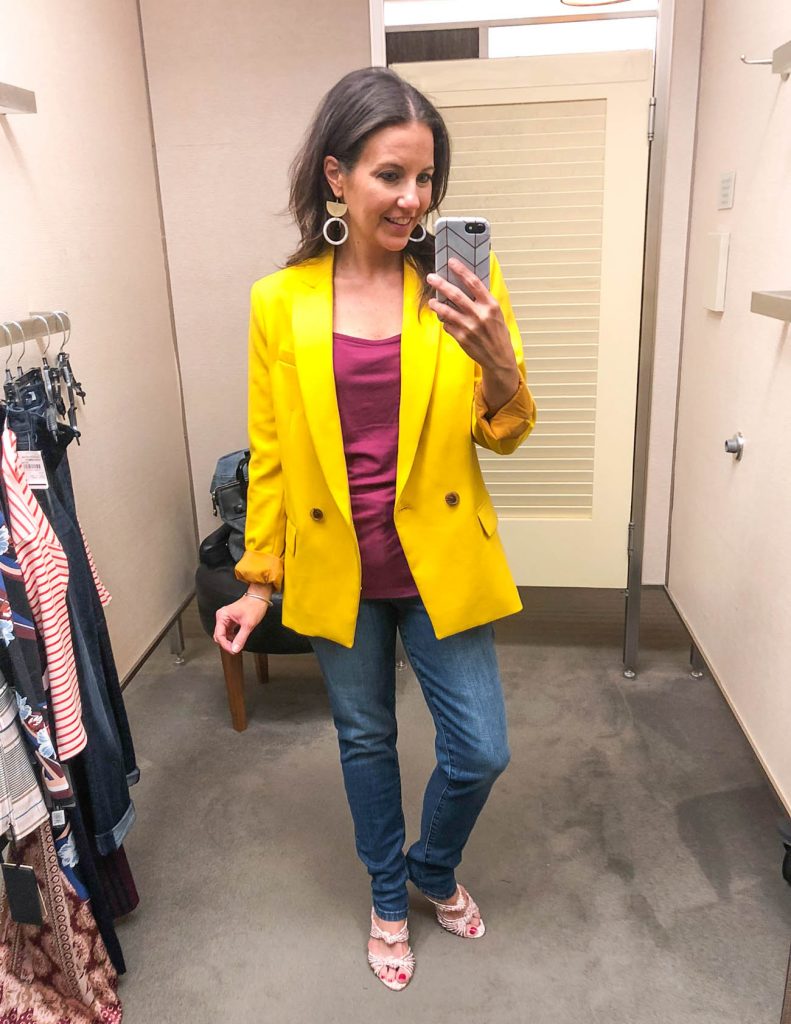 yellow blazer | high waist jeans
I'm carrying my yellow obsession right on in to fall!  I'm wearing a 4 in this blazer, and I could probably use a size smaller.  This blazer is perfect for office looks and casual weekend looks paired with jeans and a tee.  Ok I really wanted to try this jeans brand because I've heard good things about them and they are a great price.  They had none in my size, so I tried on a size up just to see quality.  Overall, I thought they were comfy and seemed to be good quality. I ordered a different pair from this brand in my size, so I'll let you know how it goes.
Thanks for checking out a few of my dressing room favorites with me!  Check back Monday for a look at some of my top dress and workwear picks!
SHOP THE LOOK