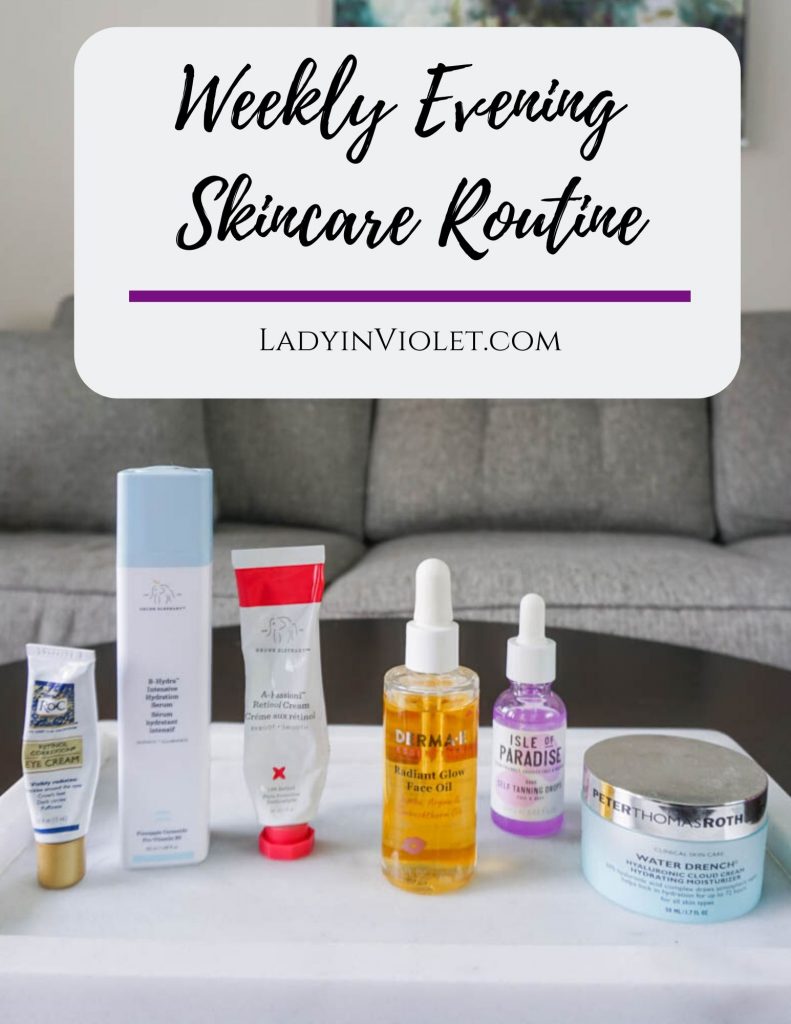 While my morning skincare routine is pretty much the same each day, my evening skincare rotates through 3 different routines during the week.  I think my evening routine is the most important because I can use more intense products that have all night to absorb and soak in without being covered up my makeup or exposed to outdoor elements like sun and pollution.
My current evening routine rotates between a retinol night to help with anti-aging and skin elasticity, a nutrient rich face oil, and a hydrating moisturizer.  I'm also currently experimenting with using tanning drops at night.  One item currently not included in my evening routine is a serum.  Since my face oil contains some skin nourishing ingredients and with my experimenting with tanning drops, I decided to only use a serum in my morning routine for now.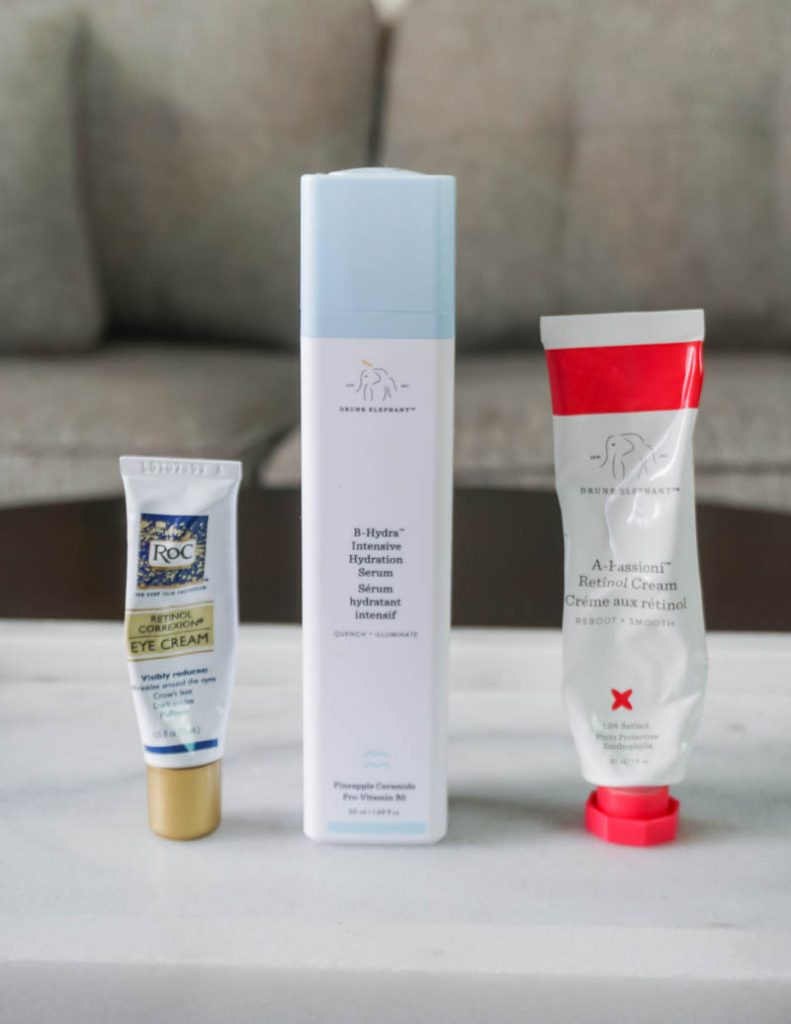 EVENING SKINCARE ROUTINE 1
Every other night, I do my Retinol routine.  If you are new to using Retinol, I recommend adding an extra day or two between nights to let your skin adjust to the retinol and building up the amount of retinol you use over time.  First, I apply a retinol based eye cream to my under eye.  This cream is gentle and I never had issues using every night.  I found this to be one of my top eye creams for reducing fine lines around the eye.
Next up, I use 1:1 mix of my hydration serum and retinol.  Some days I add slightly more retinol since my skin is able to handle a little more.  When I started using this product, I did a 2:1 mix of the serum and retinol.  From my research, the skin may need some time to adjust to the strength of retinol.  You may experience redness or irritation when first using especially if you use too much.  By increasing the retinol slowly over time, you can allow your skin to adjust and not have as many side affects.
Retinol is  one product I see recommended over and over for anti-aging.  It helps produce collagen and accelerate skin renewal to bring youthful skin forward quickly.  Basically as we age these two things slow down, and retinol can help speed them back up.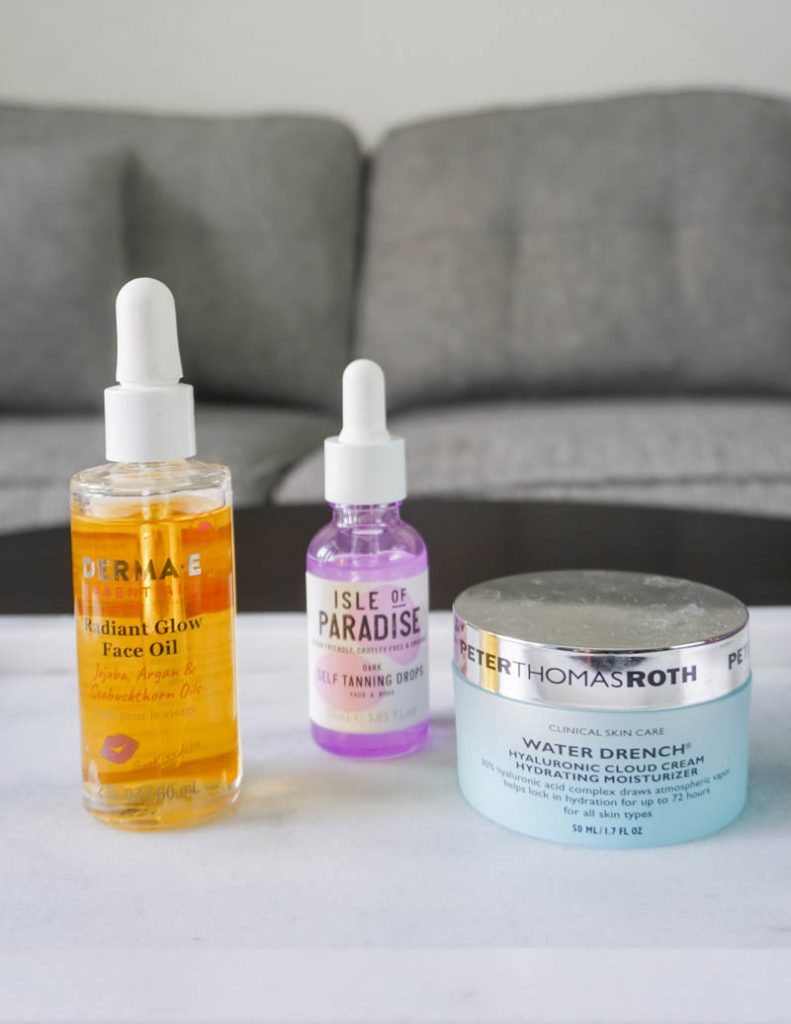 EVENING SKINCARE ROUTINE 2
On the other nights, I rotate between a nourishing face oil and a moisturizer. The extra time indoors lately has left my skin a little drier than it normally is this time of year.  Since retinol can be a little drying on my skin, I rotate in a few hydrating products for balance.  Face oil work really well for hydration on my skin. This one also contains a few other goodies to help with tone, texture, and improve my skin's overall health.  My moisturizer is super hydrating and spreads so smoothly over skin.  It really feels like water going on.
With both of these products, I have also been using tanning drops.  I don't use the drops every time just when I want to add a bit of a tan glow to my face.  I'm an avid self-tanner, and my face usually fades a little quicker than my body.  I've been using this product to keep my face tan until I'm ready to do a full body again.  I use about 3-4 drops depending on how tan I want to go mixed in with either the oil or moisturizer.  I also make sure to use enough of the oil or moisturizer to use on my neck and chest for an even tan look.  I find the color only lasts a couple days which works for my tanning schedule.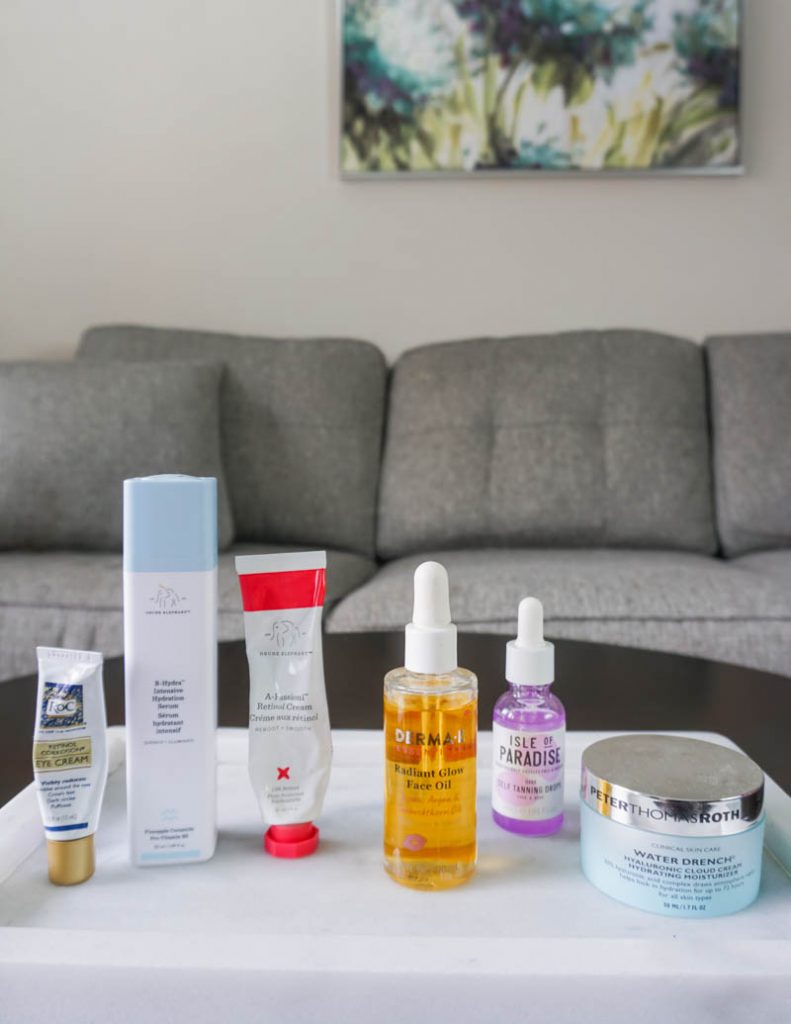 SHOP THE PRODUCTS