Monthly Archives:
September 2015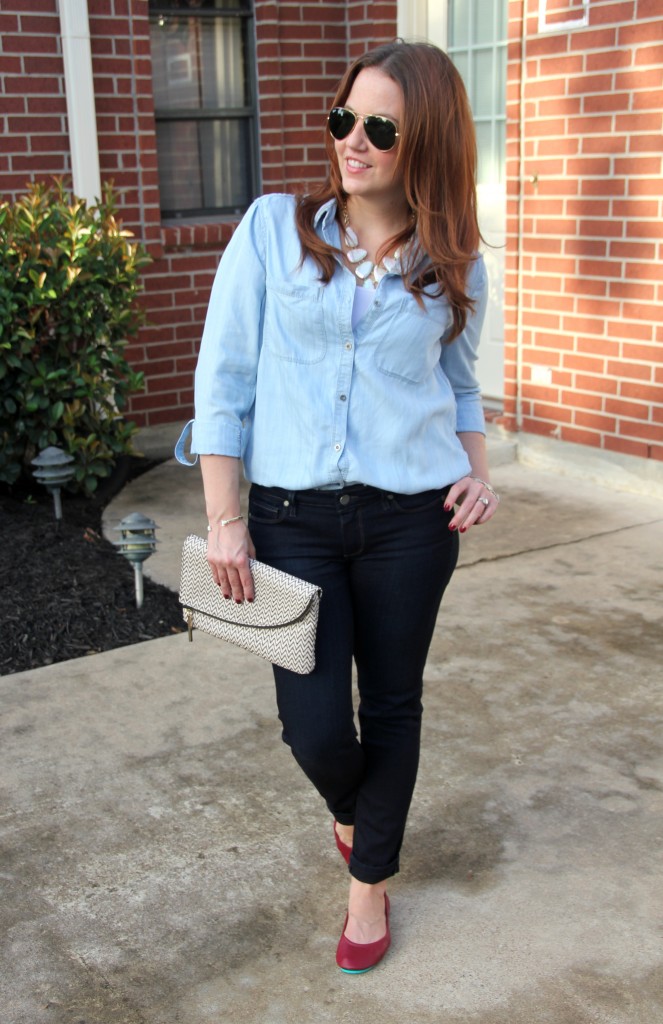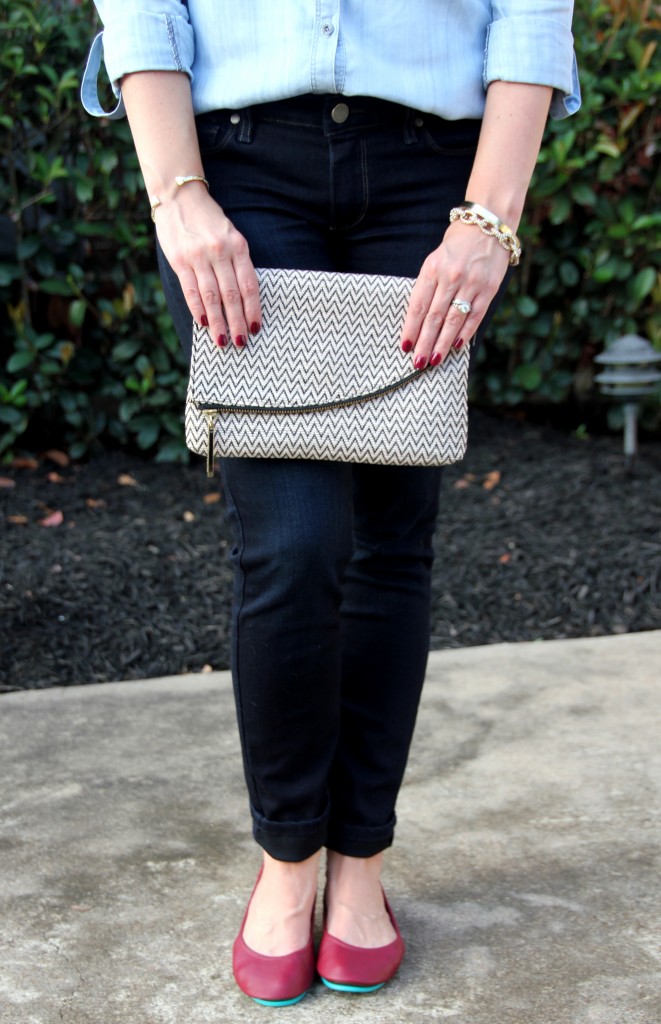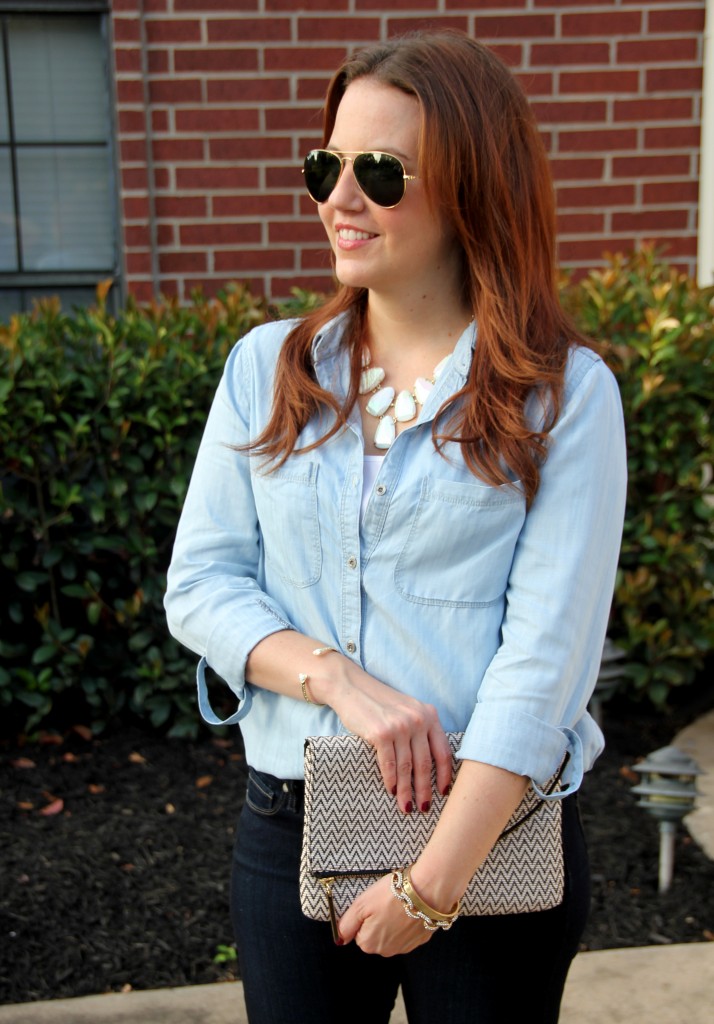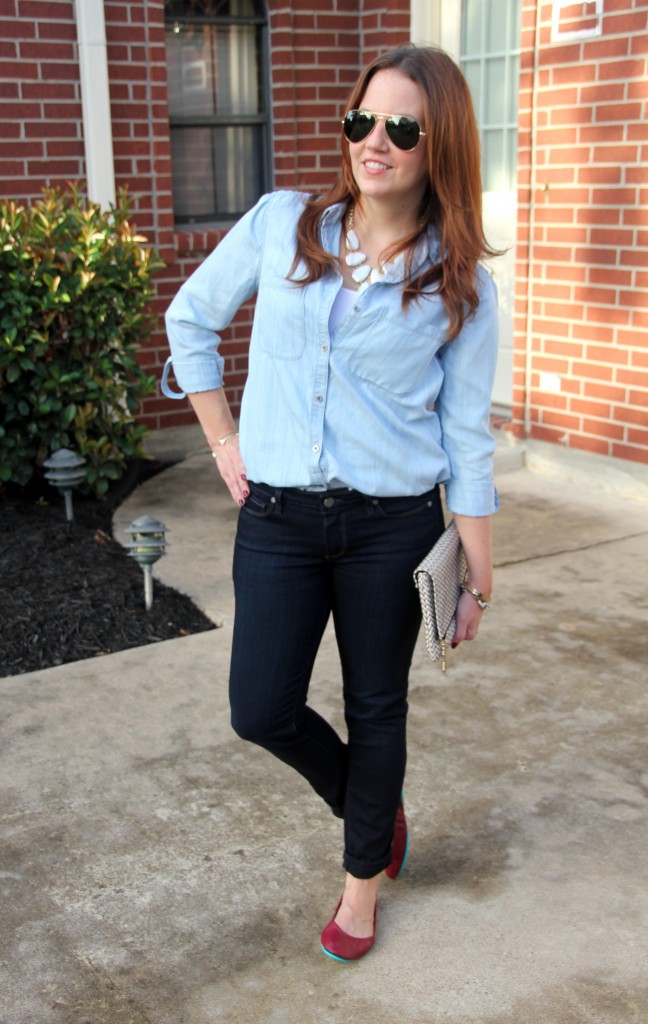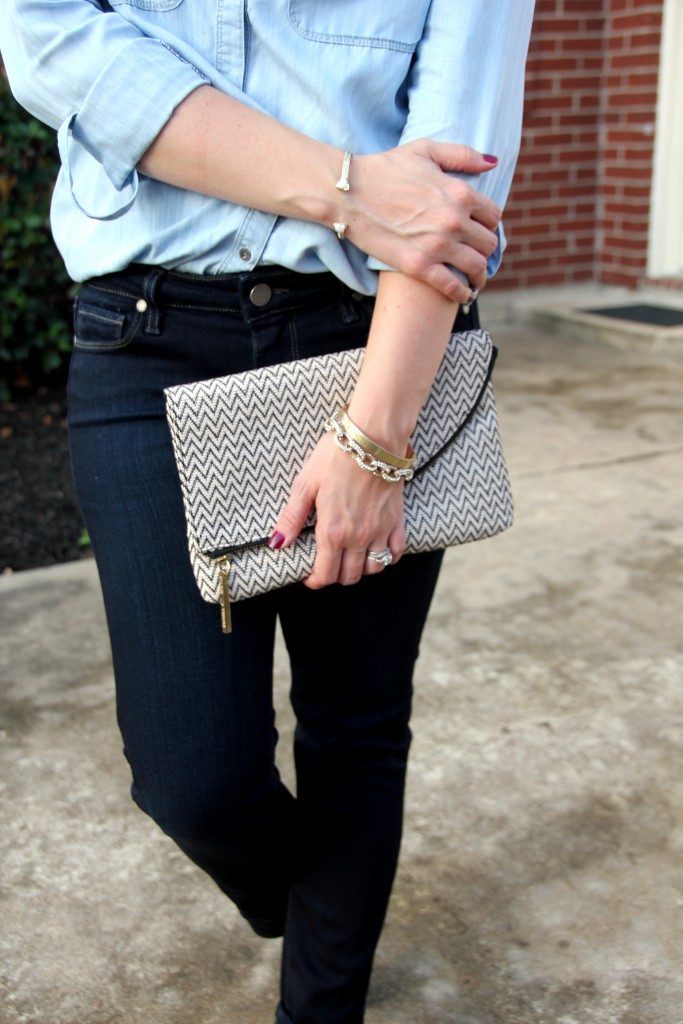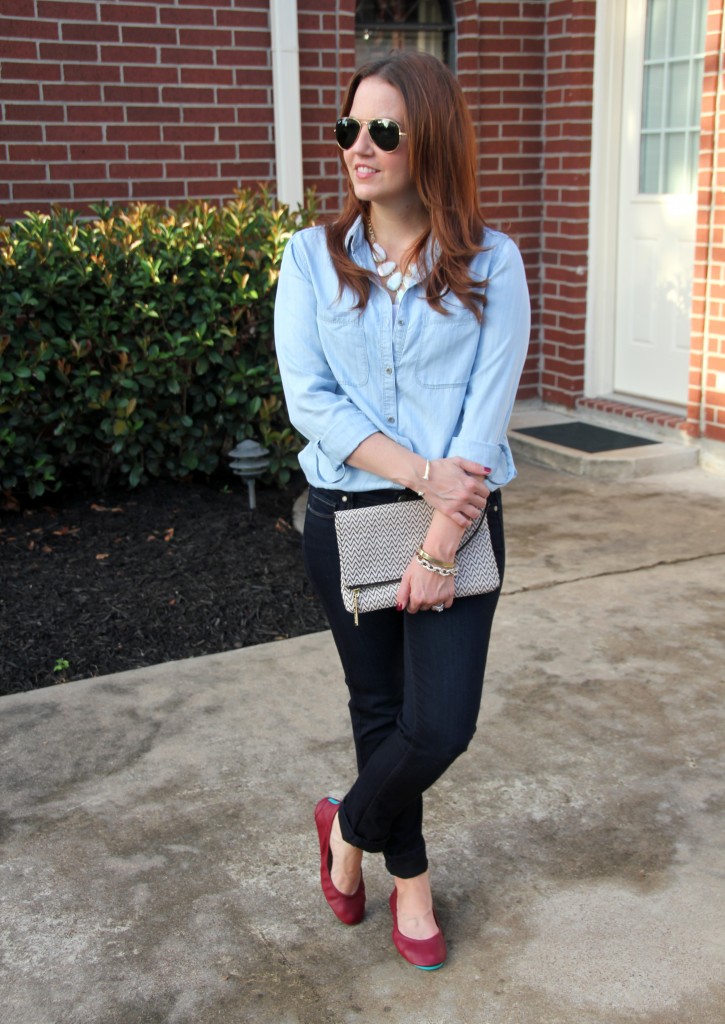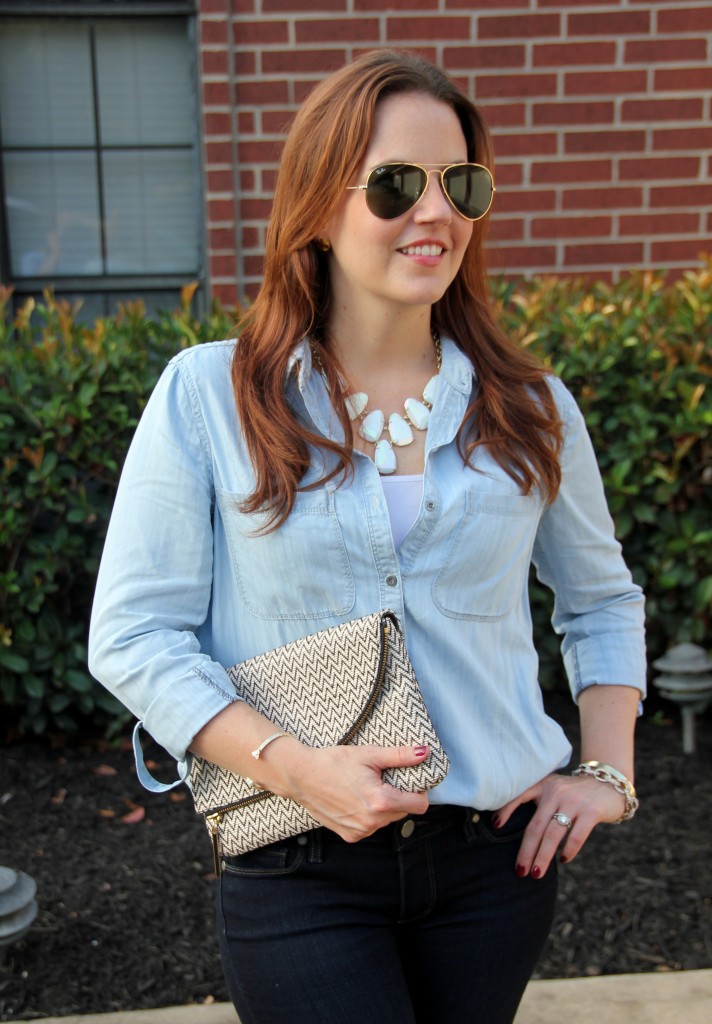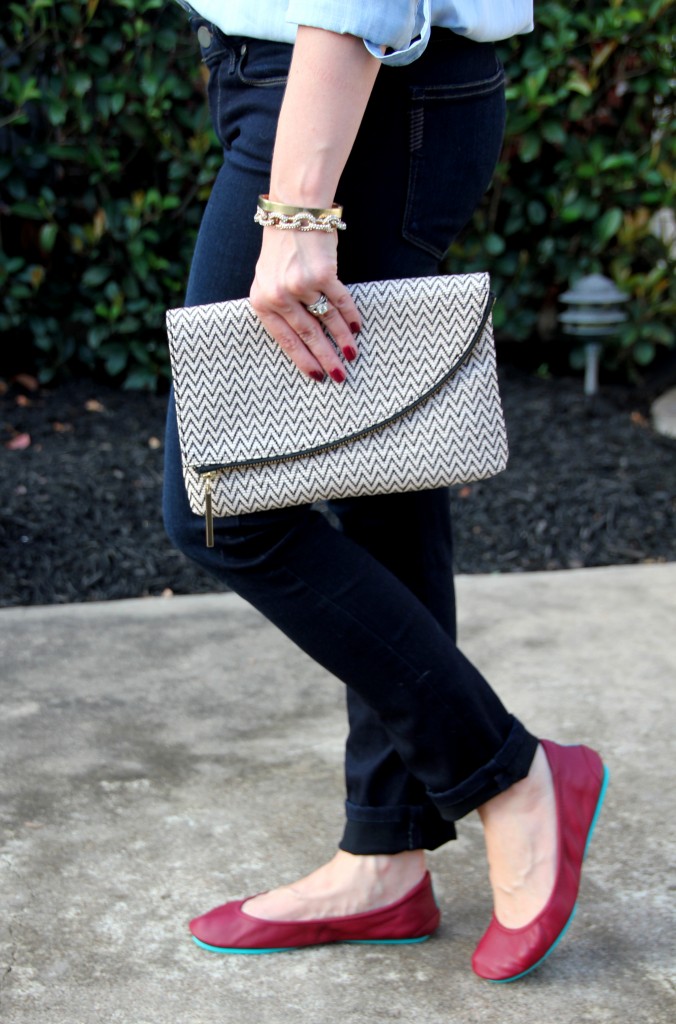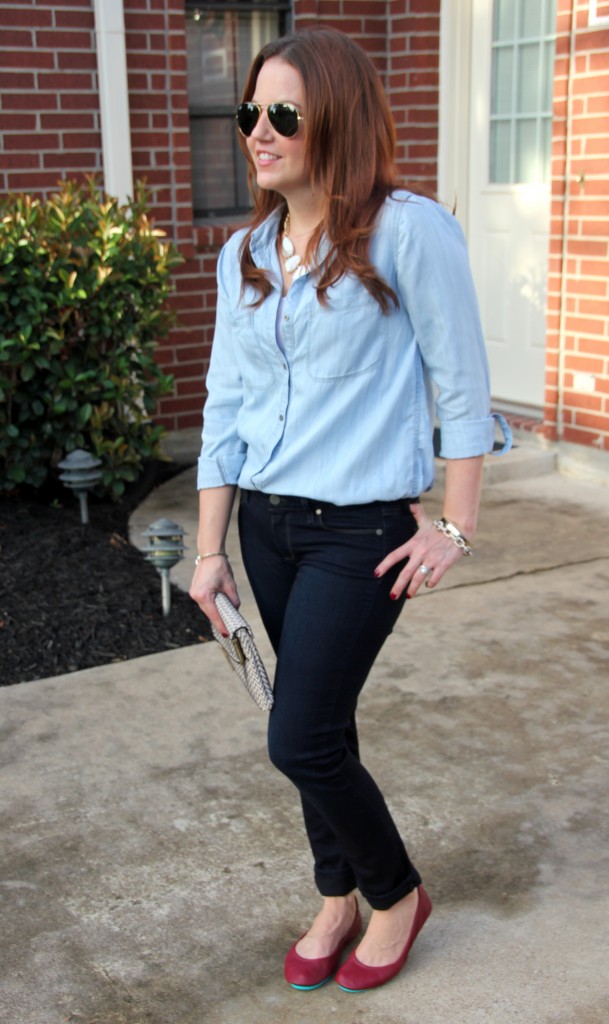 | DETAILS |
WILDBLOOM BOUTIQUE Chambray Shirt [SIMILAR | SIMILAR] | PAIGE DENIM Skyline Skinny Jeans | TIEKS Burgundy Flats | ELAINE TURNER Annabella Chevron Clutch [SIMILAR]  | KENDRA SCOTT Harlie Necklace, Grady Bracelet | GORJANA Chloe Stud Earrings | BAUBLEBAR Pave Links Bracelet [SIMILAR], Hinge Bangle [SIMILAR] | ESSIE Nail Color in Bahama Mama | IT COSMETICS CC+ Lip Serum in Love | RAYBAN Original Aviator Sunglasses
I love a long weekend!  Outside of a family dinner and church, I have barely left the house this weekend.  With such a busy schedule lately, I am taking full advantage of having no plans this holiday weekend and getting tons done around the house. I have been doing some fall cleaning lately and plan to continue it into my little stay-cation coming up later this week.  If you use Poshmark, my fall cleaning has led to some adds to my Poshmark closet!  I will probably be adding more soon, because today I am taking advantage of some Labor Day Sales and need some space in my closet!  Of course, I am doing this all online because I'm kind of enjoying spending the long weekend in my pjs.  At the end of this post, I listed some of the sales going on at a few of the stores I like to shop.  Also, like every department store (including my personal favorite, Nordstrom) is having some kind of sale this weekend from end of summer clearance deals to fall style sales.
For those of you venturing out, I wanted to share a fun double denim All-American look that would be perfect for this goodbye summer, hello fall holiday.  Denim on denim is such a great classic style and very on trend, popular look right now.  I like to use a lighter top and a darker bottom to create a stark contrast between the two.  My top is from local Houston boutique, Wildbloom, but I also linked some similar tops.  During the fall when I can't really wear my wedges anymore on weekends, I like to pull out my flats.  I picked up these gorgeous burgundy ones from Tieks over the summer.  They have ballet flats in like every color you could imagine!  If you are a college or pro-football tailgater, these color options could be your solution to cute team supporting shoes that also can trek comfortably through a stadium or parking lot.  I really love this burgundy/dark red color.  I chose this color because I knew it would work really well in fall and winter when I primarily wear flats, but the baby pink ones were a super close second.  Since my look is all blue denim, I love adding a pop of color with my shoes.  I have to mention this necklace real quick too.  It is my long pendant necklace from this post, but re-hooked to create a shorter look.  When I originally was shopping for this necklace, I was torn between this and a similar necklace that sat higher to the neckline.  As soon as the saleswoman told me I could wear this both ways, I was sold!!  This necklace was a summer style and color so it is selling quick and is currently on sale!!
Hope everyone has a fabulous Monday and don't forget to check out some of the fun sales below!!
LABOR DAY SALES!
HENRI BENDEL – $25-$125 off with code FALLSPLURGE
KENDRA SCOTT – 10-20% off with code MOREISMORE
ANN TAYLOR – 60% off Fall Styles and Sale with code SHOP60
BANANA REPUBLIC – 40% off your purchase with code BRFALL
GAP – 40% off with code LABOR
MADEWELL – 30% off select Fall Style and Sale items with code YESANDYES
J.CREW – 30% off your order of $125+ with code GETSHOPPING
GIGI NY – Free Personalization and Free Shipping on orders $100+
ELAINE TURNER – 20% off Full Price and 30% off Sale Items with code BYESUMMER
Follow Lady in Violet INSTAGRAM | TWITTER | FACEBOOK | BLOGLOVIN | SUBSCRIBE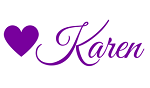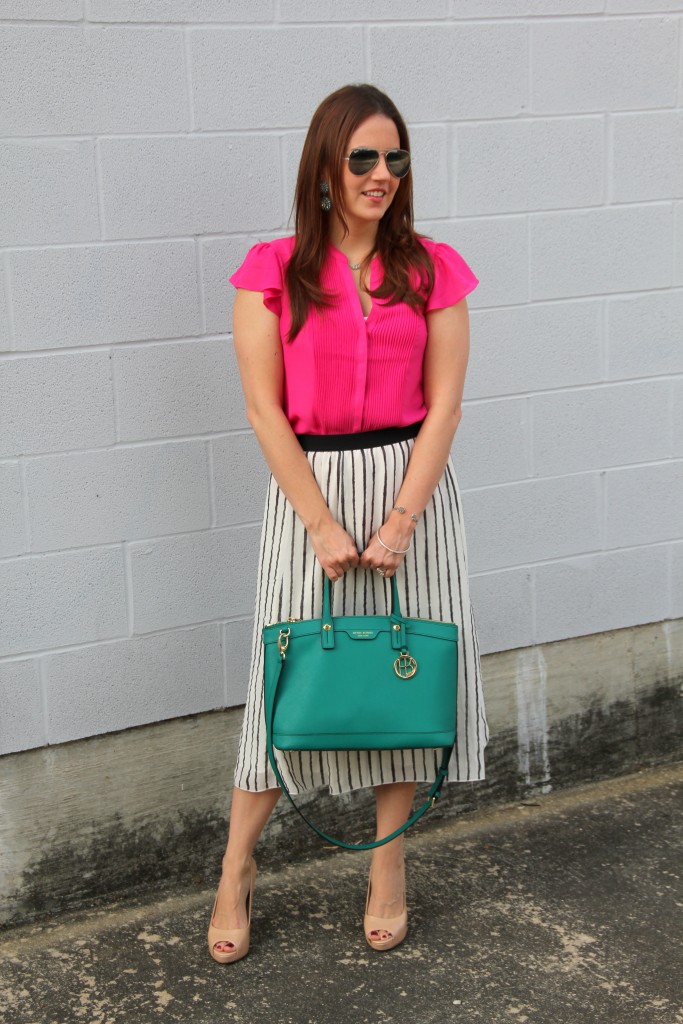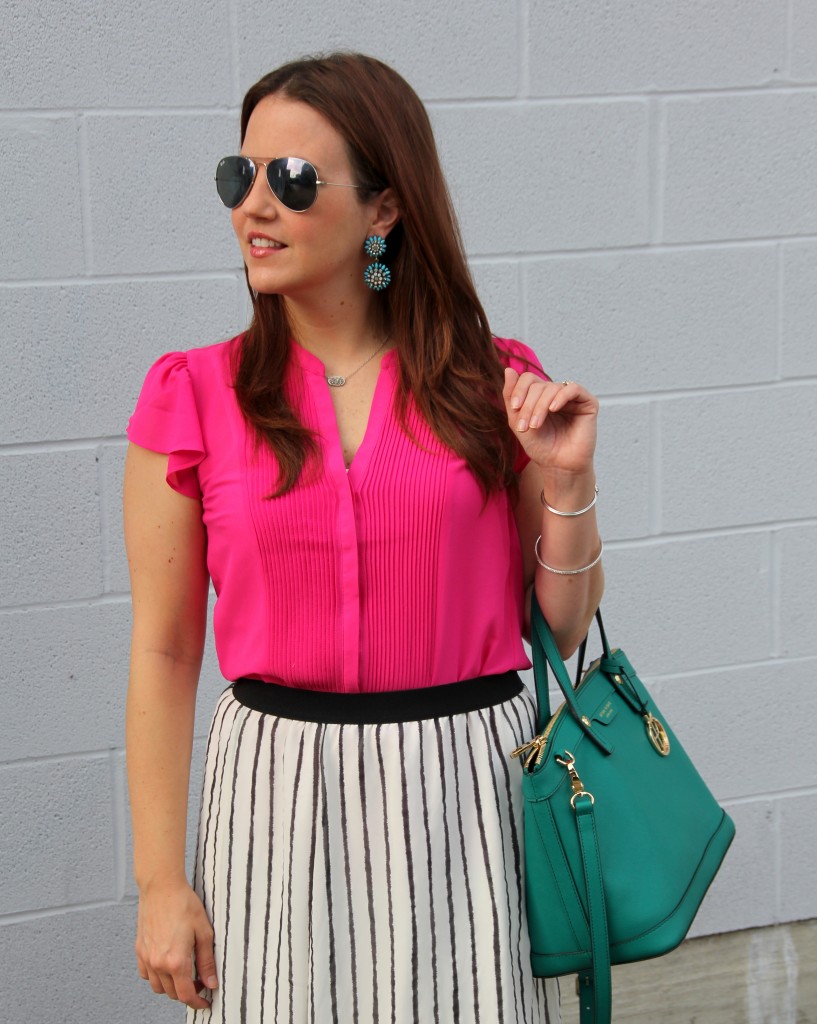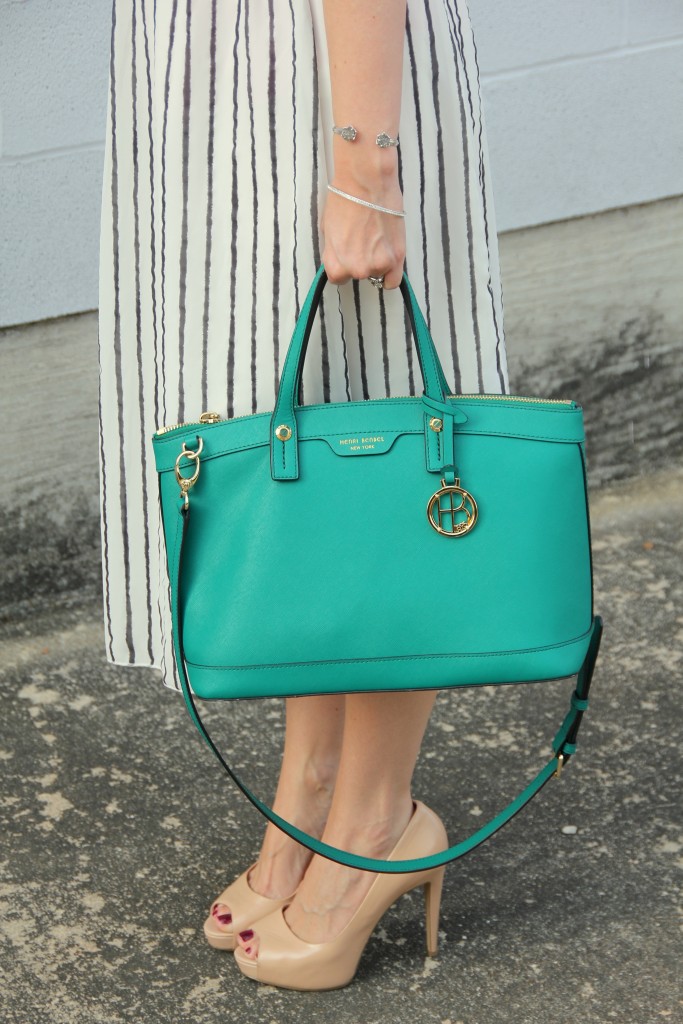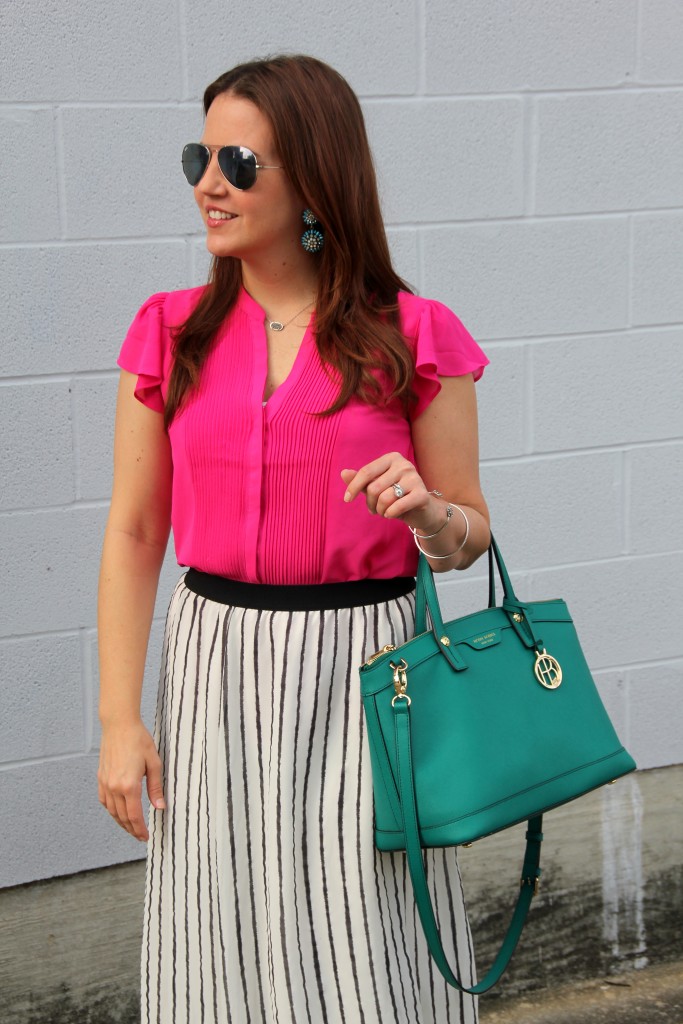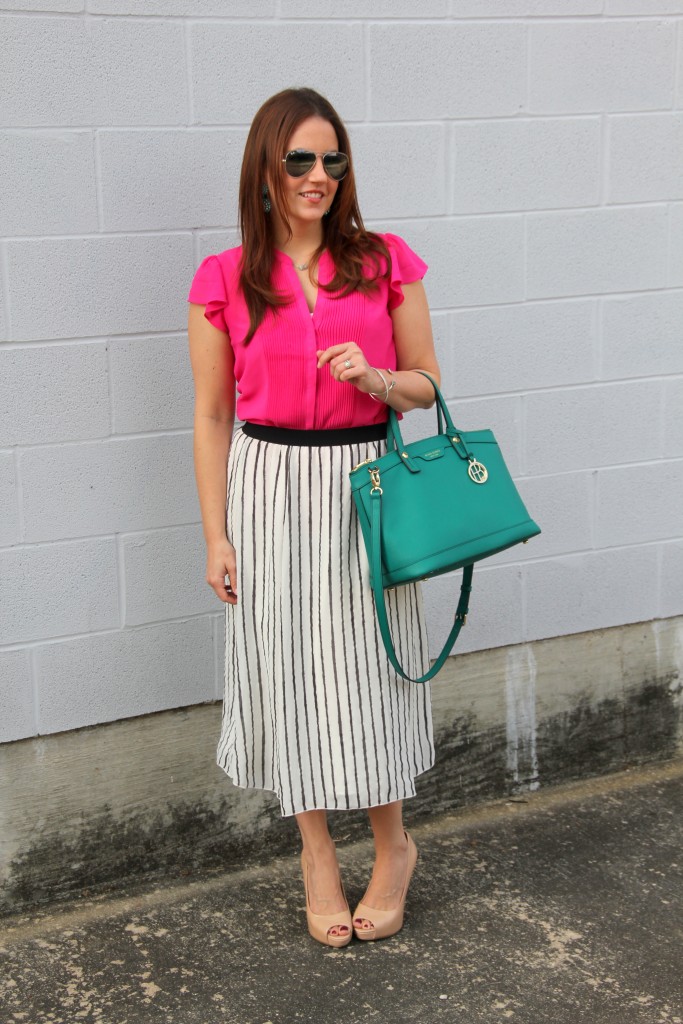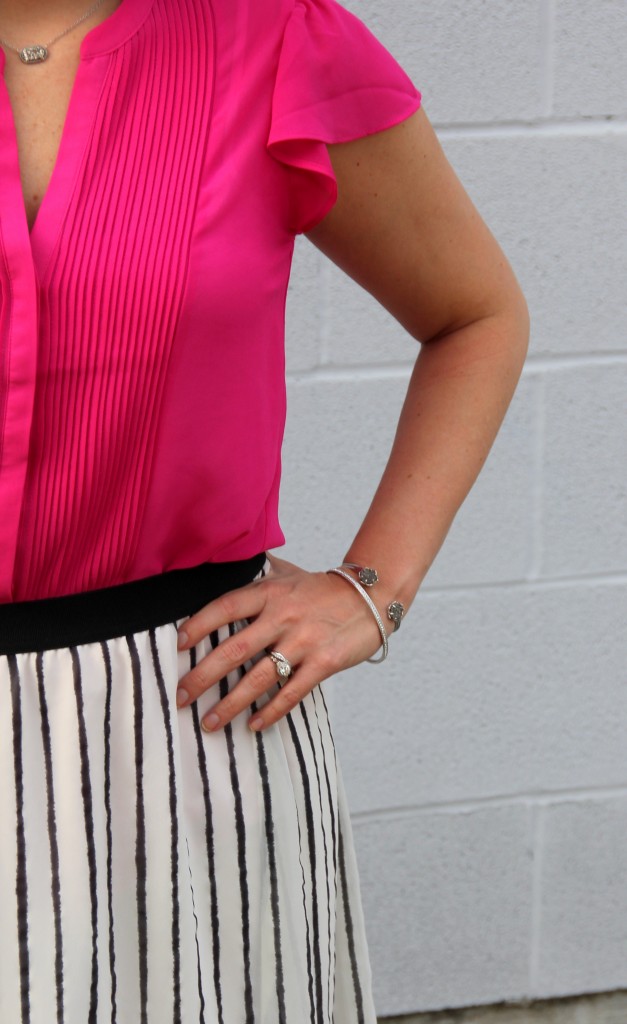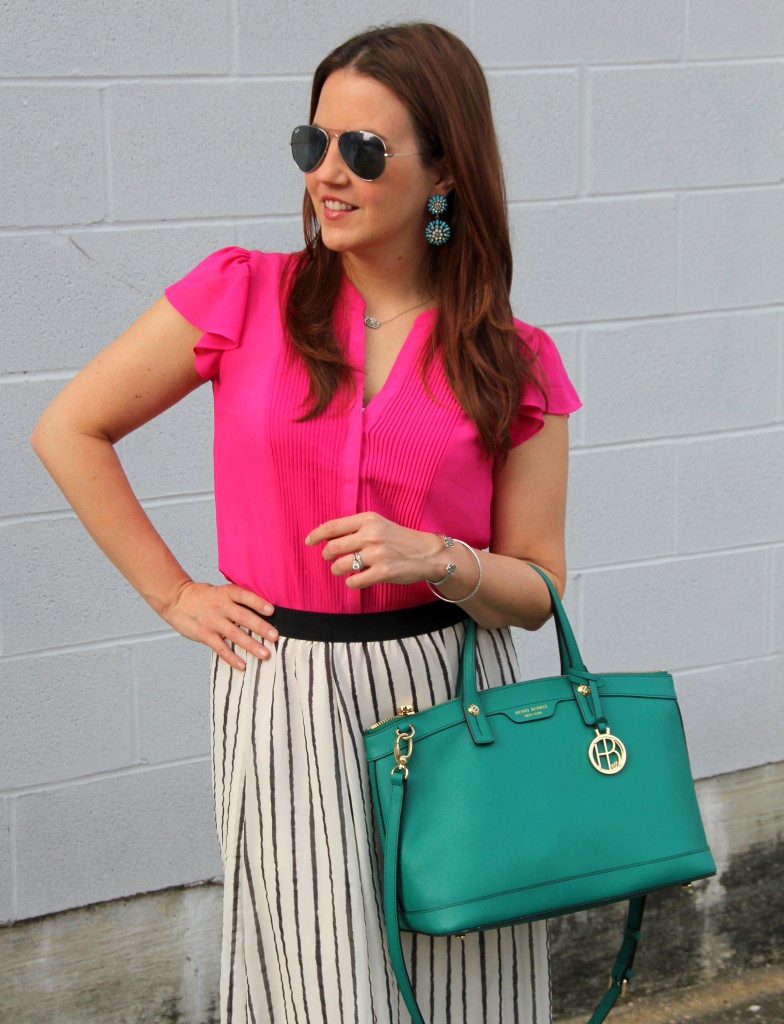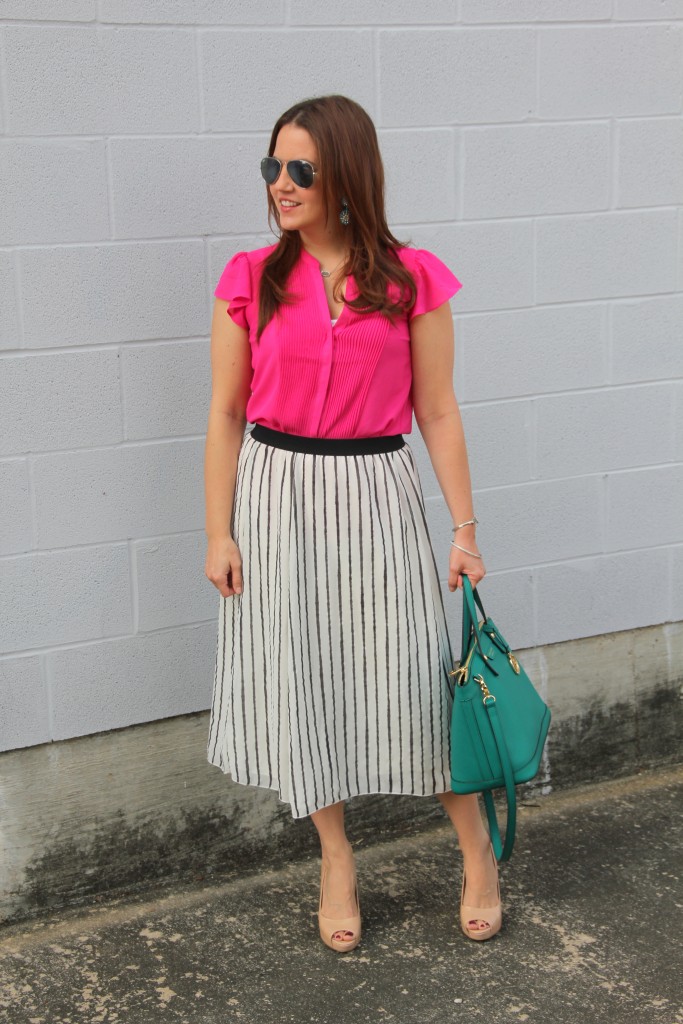 | DETAILS |
H&M Pink Blouse [SIMILAR] | LEITH Striped Midi Skirt | CHARLES BY CHARLES DAVID Fox Peep Toe Pump | HENRI BENDEL c/o West 57th Satchel | BAUBLEBAR Dandelion Drop Earrings | KENDRA SCOTT Elisa Necklace, Arden Bracelet | NADRI Crystal Bangle | RAYBAN Mirrored Aviator Sunglasses | IT COSMETICS CC+ Lip Serum in Love
A few weeks ago, I posted this exact look as an outfit selfie photo on Instagram.  The tag read " I mean sometimes you want to wear all the colors!"  The #ootd shot quickly became one of my most liked photos, so I thought well if the people like it why not turn it into a blog post!  That tag is seriously how this outfit came to be too.  I started the morning really wanting to wear this skirt.  I wanted a super bright stand out color to pair with it.  This pink top was the perfect bright statement piece I was looking for in my closet!  Next up, how to accessorize my look?  When I opened my jewelry drawer, I saw these blue Baublebar earrings first and knew they would be really fun paired with the pink top.  My favorite green bag was an easy choice. I love pink and teal green together!!  With all the different colors I had going on, I decided to keep some of my other jewelry neutral and simple by opting for a small necklace and a couple bracelets.  I also went with a nude pump to not distract from all the colors and because it helps this girl wear midi skirts without looking too short. All these colors have the same rich, bright, summer appeal working for them.  I think it is what makes them work well together.  They really compliment each other well while still having their standout moment.  To see more of my sometimes daily outfit selfies, be sure to check out my Instagram account (@karen.rock).  Like your favorites, and they just might inspire my next blog post!
RESTYLED & REMIXED
LEITH MIDI SKIRT: Striped Midi Skirt
BAUBLEBAR EARRINGS: WIW: Blogger Event
Follow Lady in Violet INSTAGRAM | TWITTER | FACEBOOK | BLOGLOVIN | SUBSCRIBE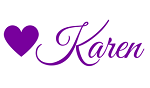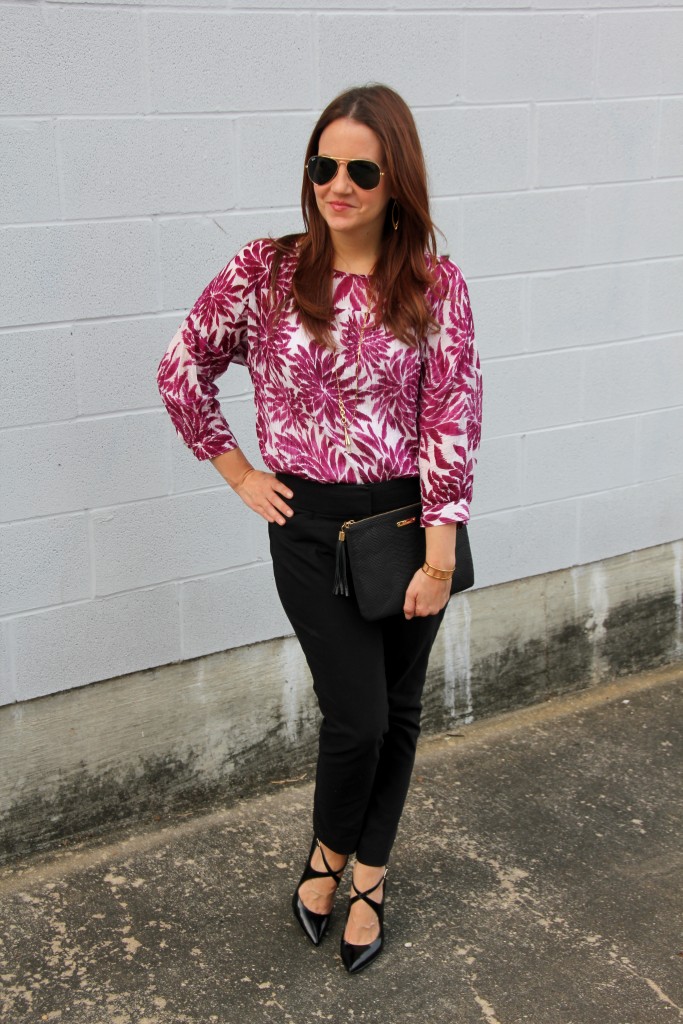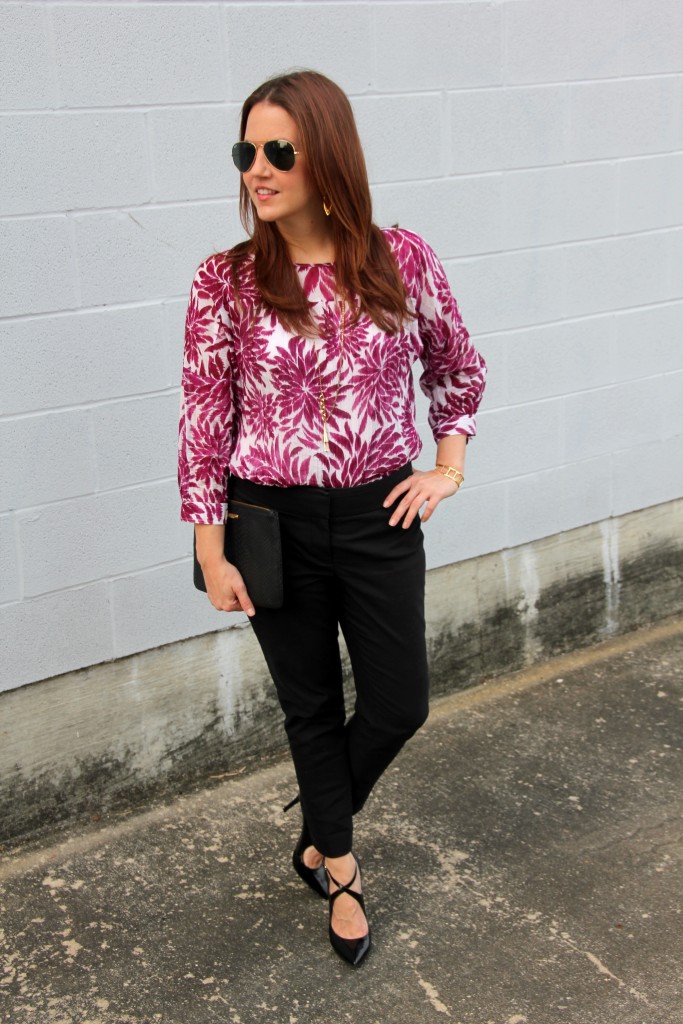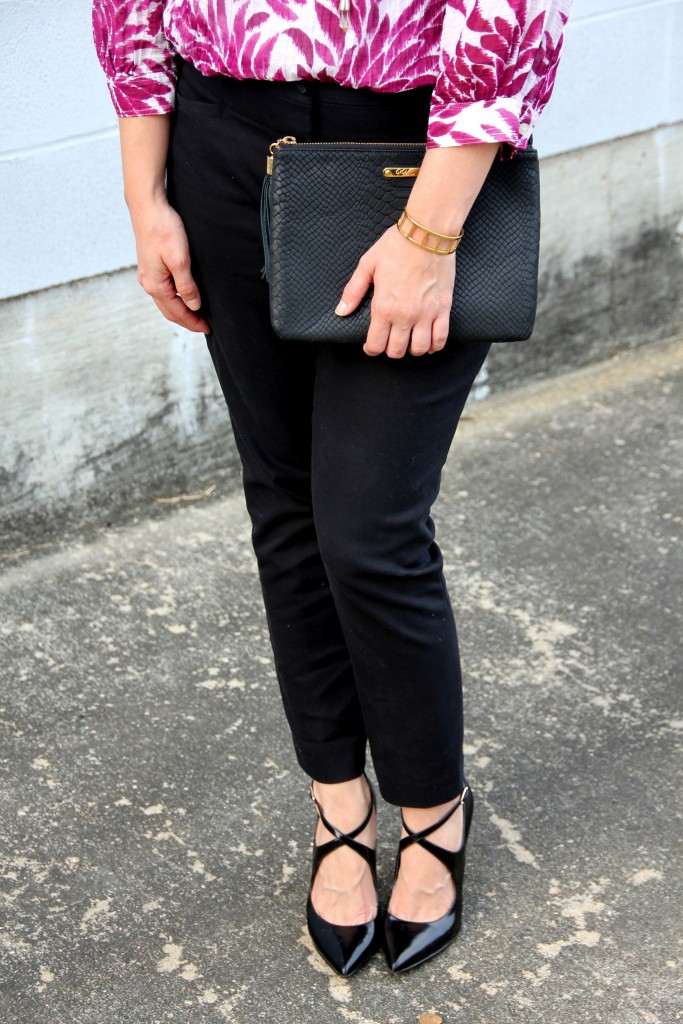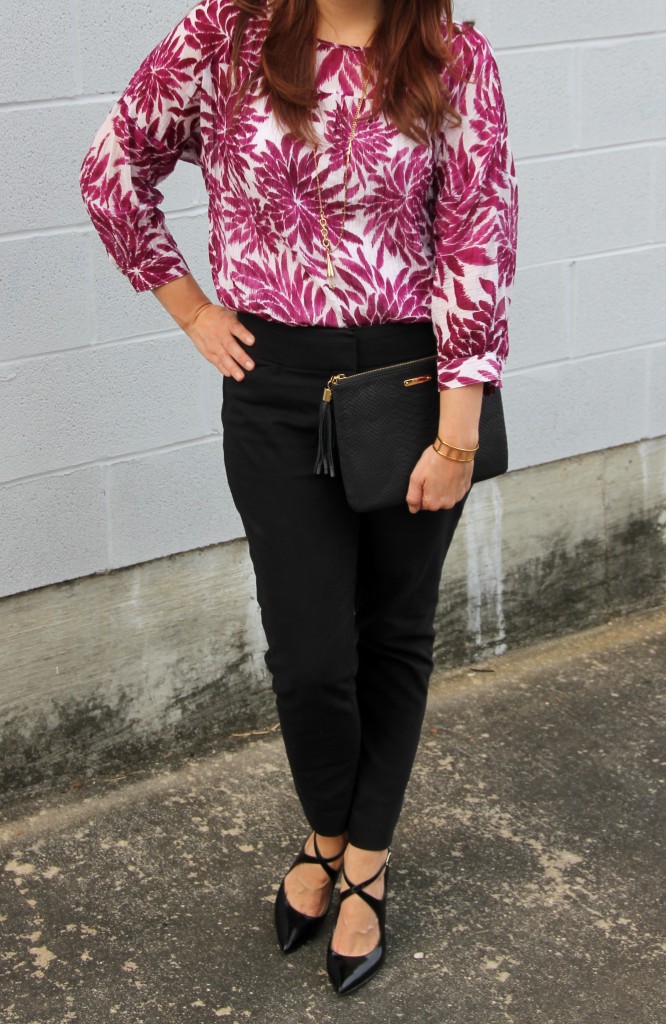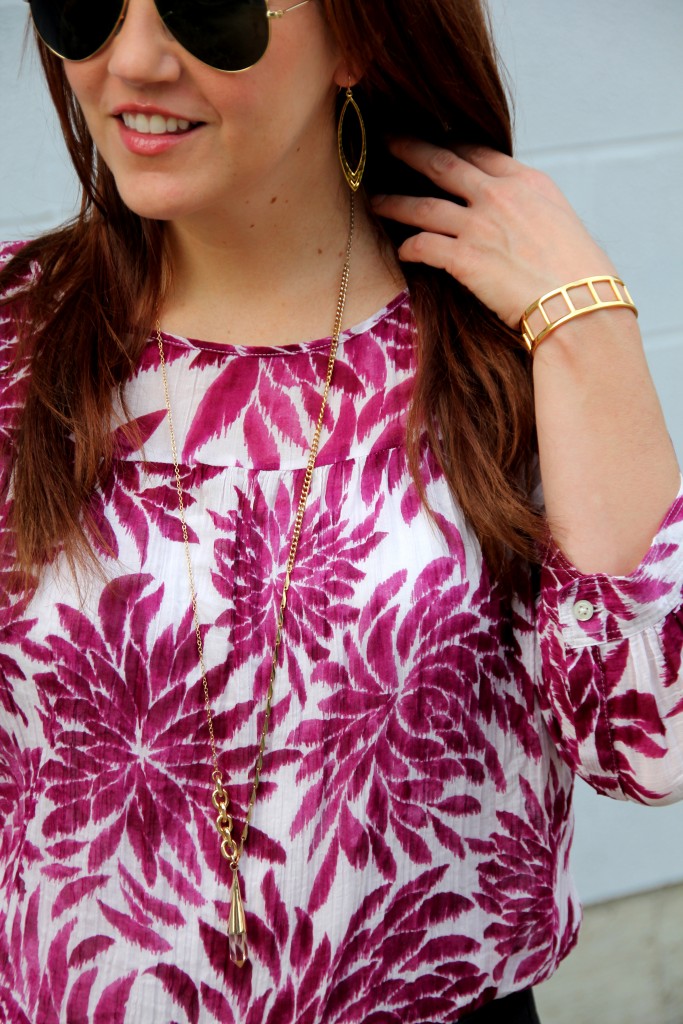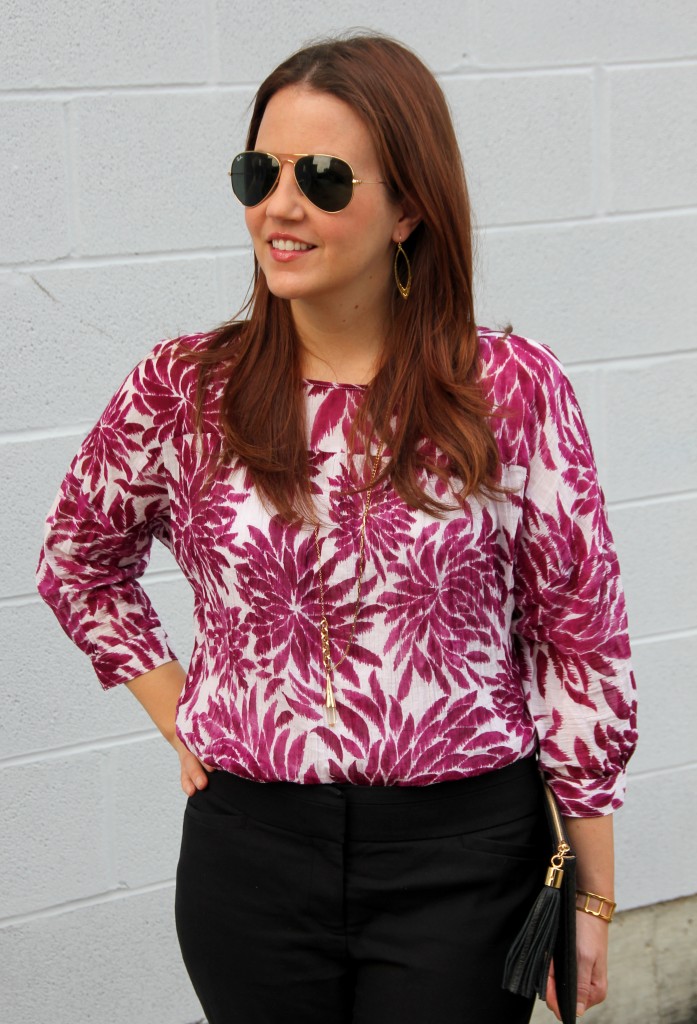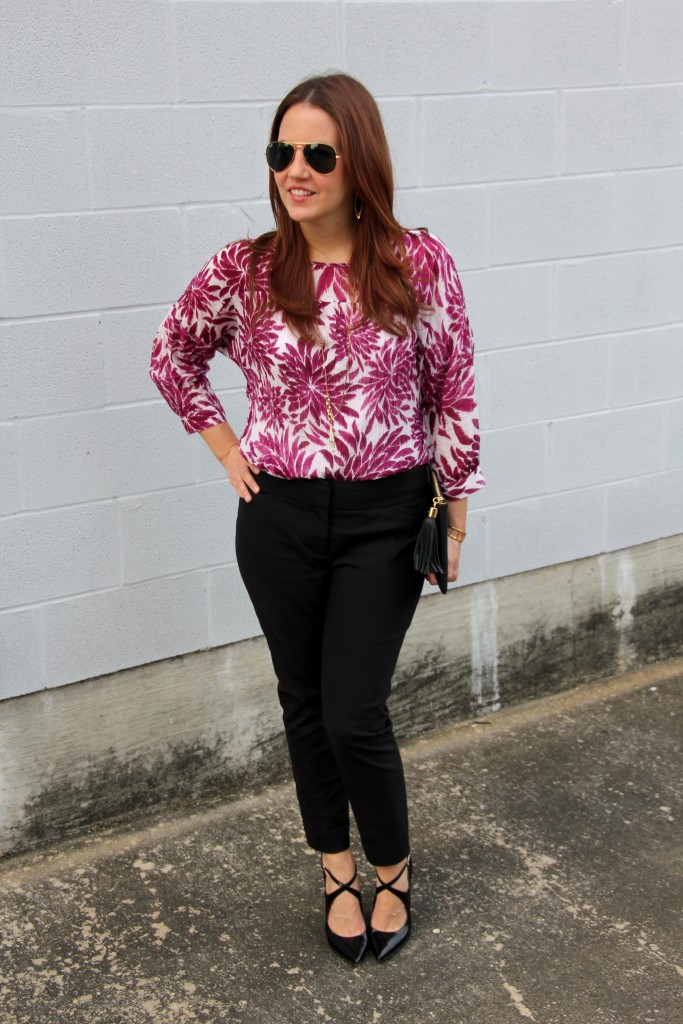 | DETAILS |
LOFT Dahlia Relaxed Blouse  *ON SALE | LOFT Tech Stretch Skinny Ankle Pants | ENZO ANGIOLINI Finton Pump [FALL'S "IT" WORK SHOE] | GIGI NY All in One Bag | GORJANA Aldridge Earrings | BAUBLEBAR Gold Ladder Cuff,  Astronomer Pendant Necklace [SIMILAR | SIMILAR] | RAYBAN Original Aviator Sunglasses | IT COSMETICS CC+ Lip Serum in Love
It is officially September and for many that means back to school.  While I may not be going back to school or doing anything different than I did all summer, September and the fall season still makes me feel like a new work year is starting.  Texas summers are so brutally hot that you can get away wearing fun summer dresses and wedges to work.  September brings cooler weather and time to pull back out the work pants.  I am a big fan of the Loft Skinny Work Pants!  I own multiple pairs and they are in a constant rotation. Size note, they stretch so buy them just a tiny bit tighter than you might normally for work.  I have a good feeling my love for them stems from my strong love of the skinny jean.  Much like the skinny jean, skinny work pants can be paired with an array of top options from tunics to oversized sweaters to a tucked in look.  This gorgeous floral top was a summer favorite of mine that transitions perfectly to fall by tucking it into a crisp work pant.  I think this top would be perfect with both a wide and skinny work pant, but I love the slim look of a tucked in top with a skinny leg.  These shoes were a hot item last fall and are no longer available, but I linked the shoe style that I am predicting will be the "it" work shoe this year.  You have probably already seen a few different versions of the style. I linked an under $100 pair that I checked out in person and will probably end up buying soon.  Here is to another successful work year!
RESTYLED & REMIXED
LOFT DAHLIA BLOUSE: How to Style a Colored Satchel
LOFT SKINNY PANTS: Black Lace
Follow Lady in Violet INSTAGRAM | TWITTER | FACEBOOK | BLOGLOVIN | SUBSCRIBE