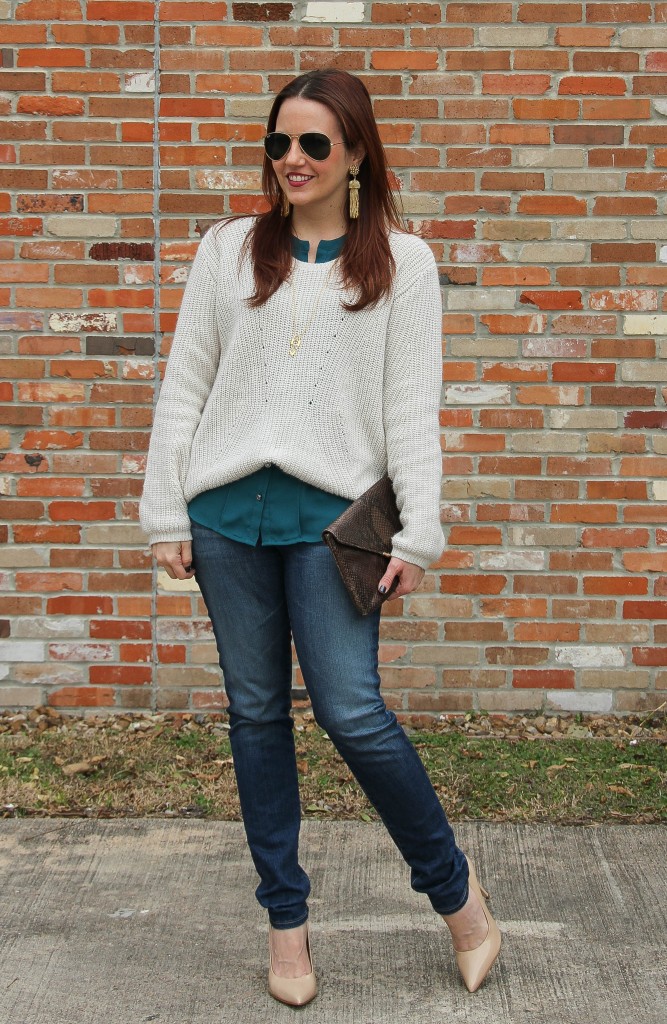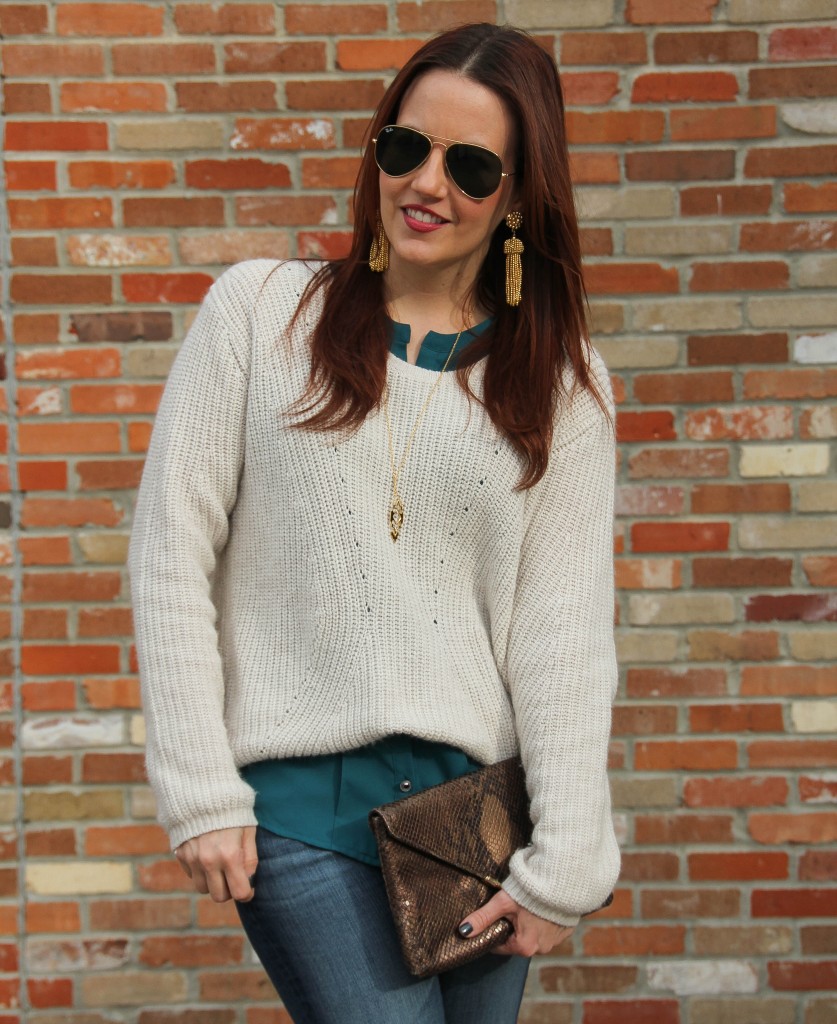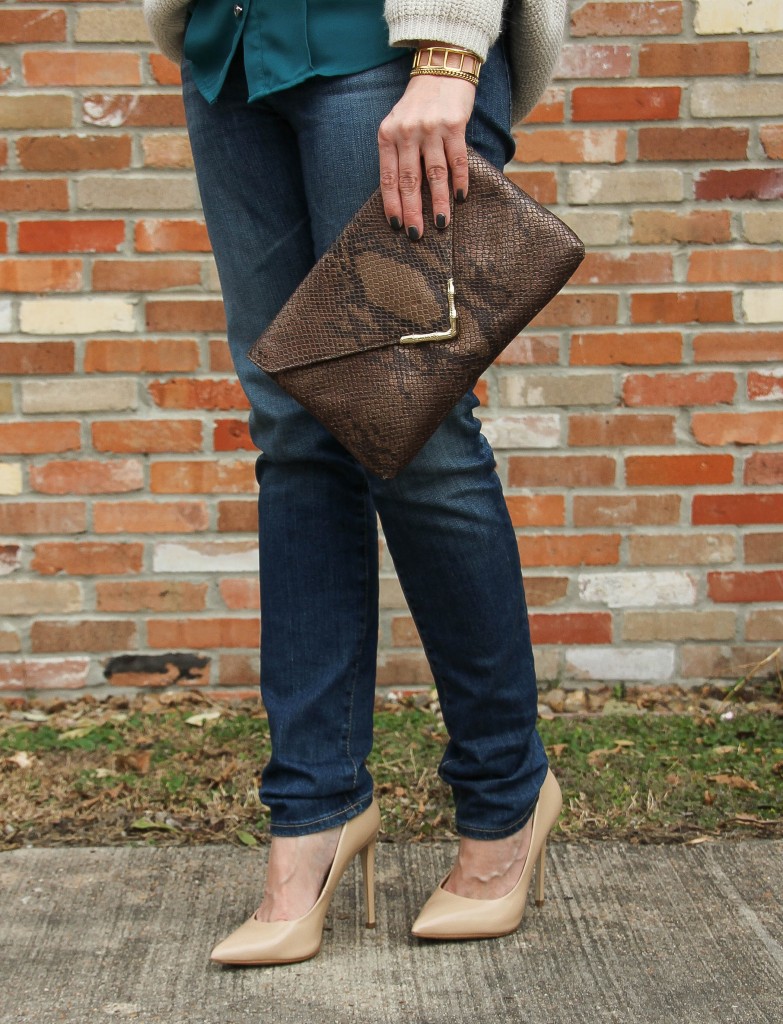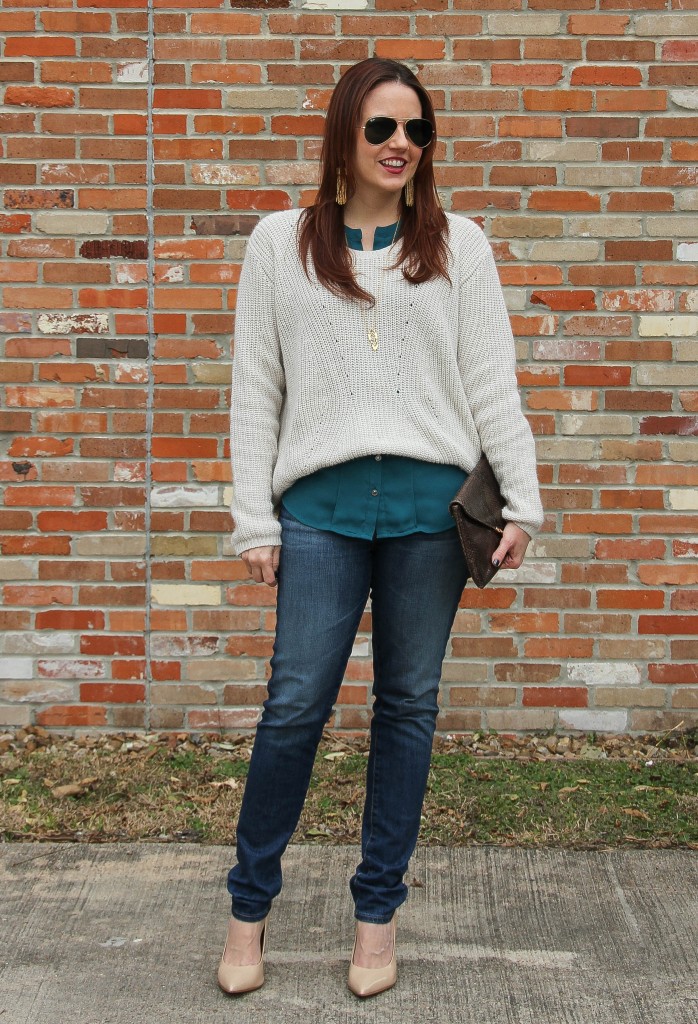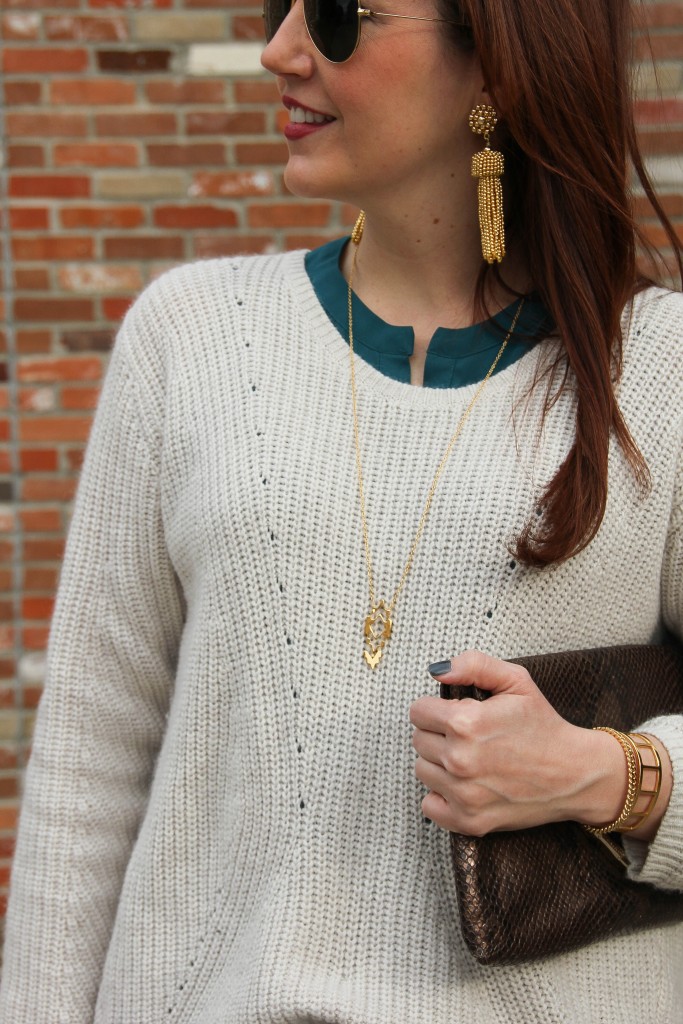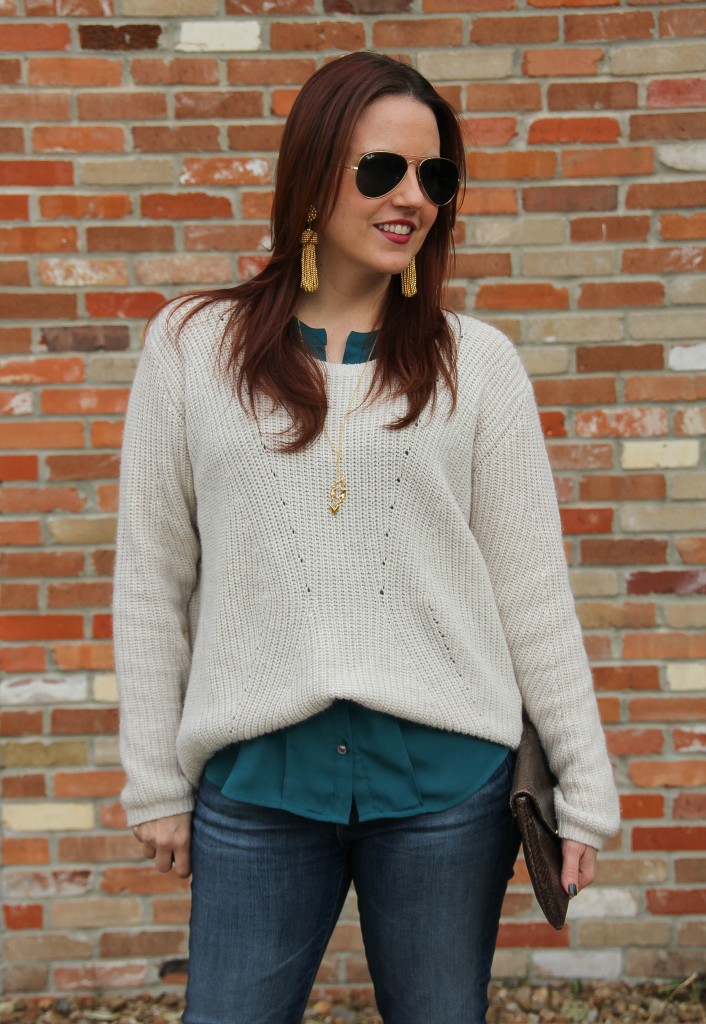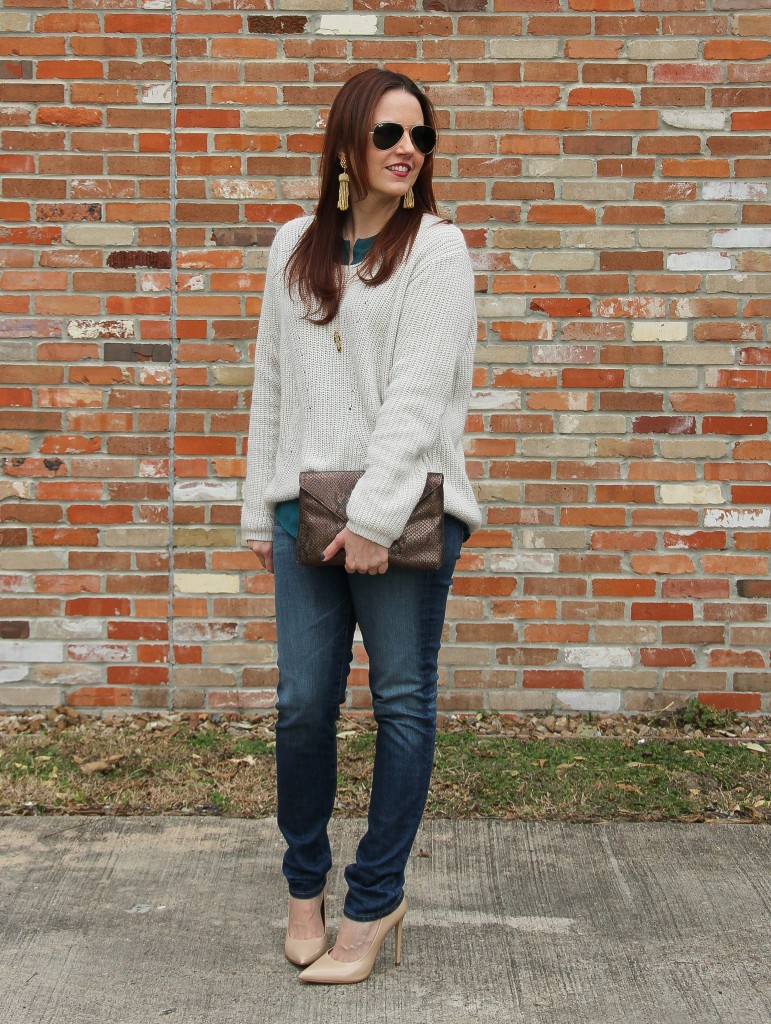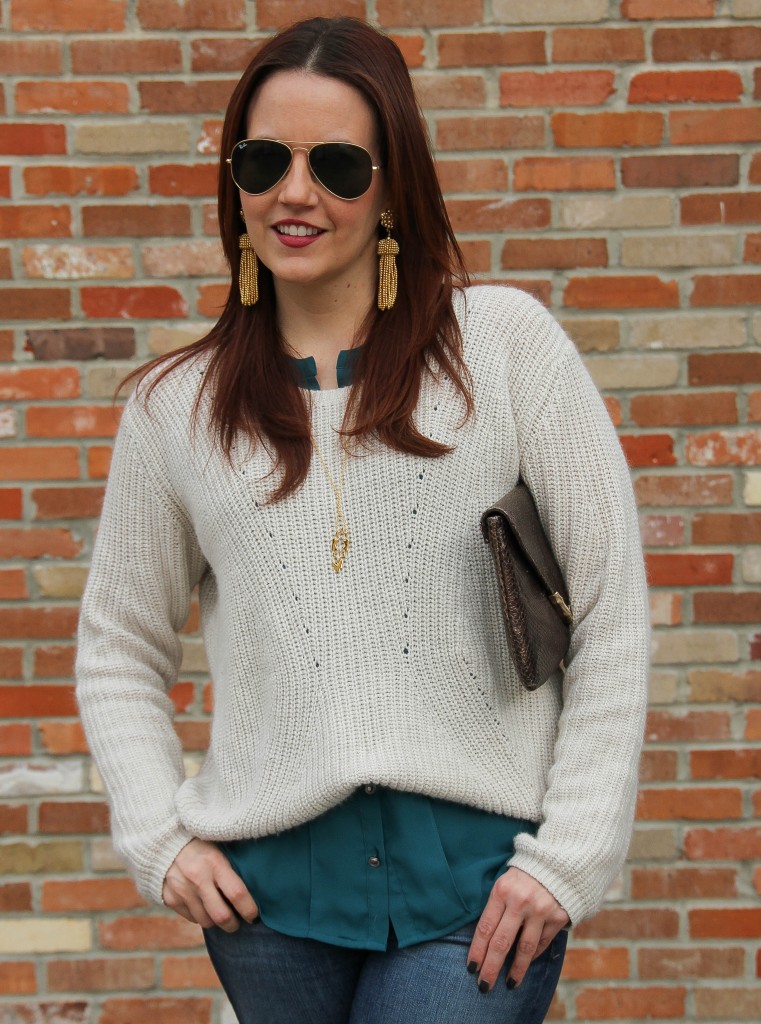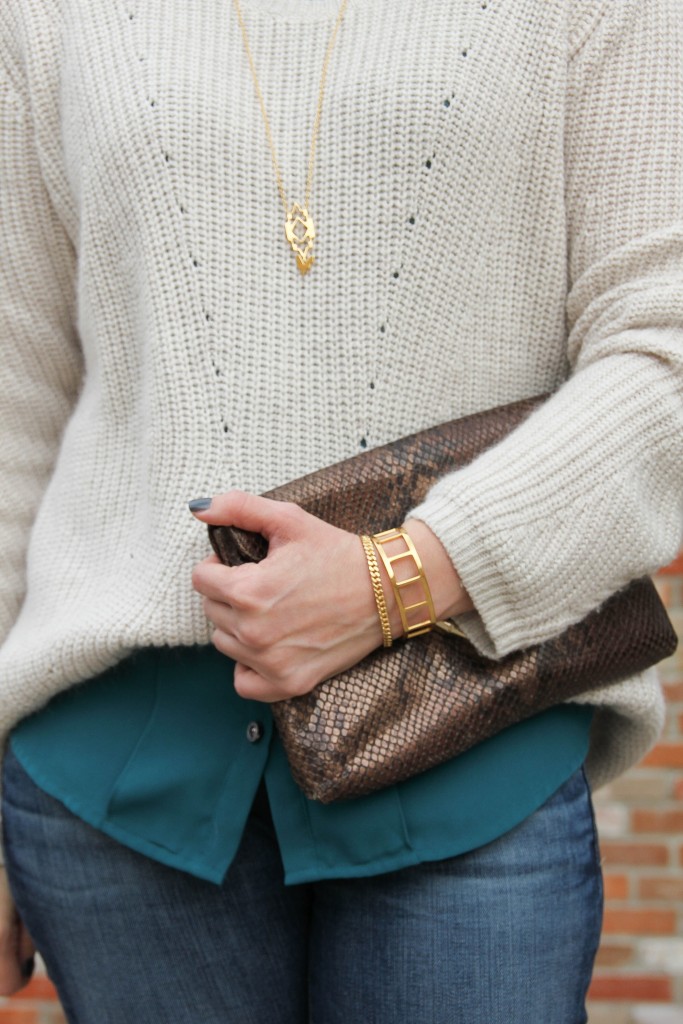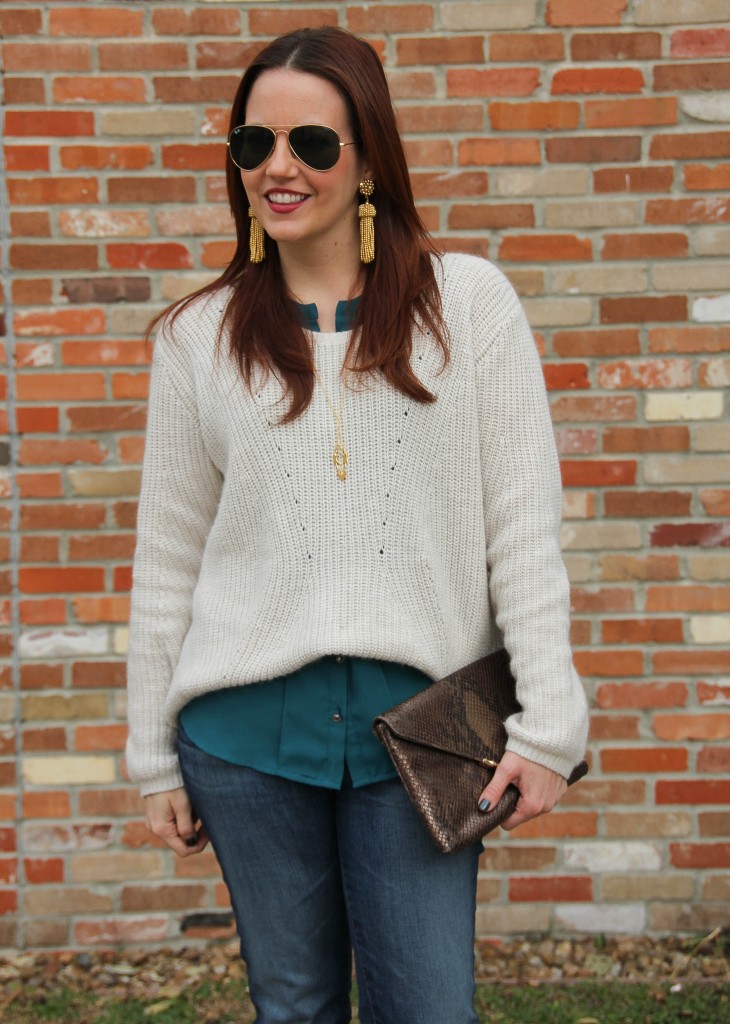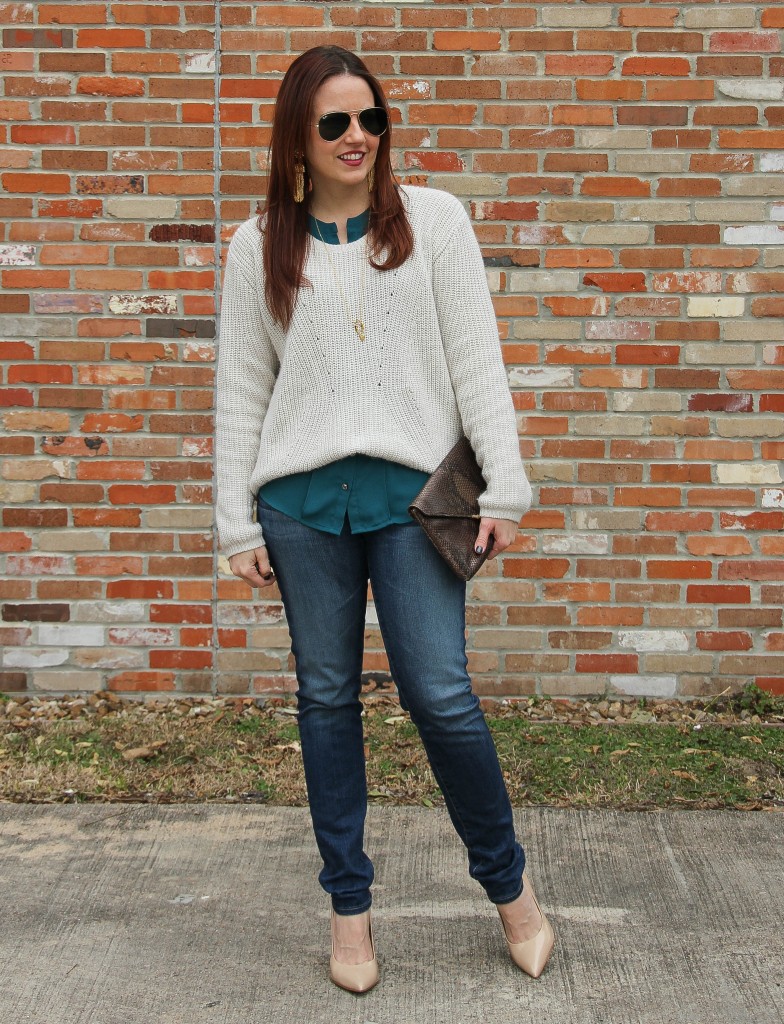 | DETAILS |
TOPSHOP Hi/Lo Sweater (SIMILAR) | PLEIONE Sleeveless Blouse (SIMILAR)  | AG Skinny Jeans  | STEVE MADDEN Proto Heels  | ELAINE TURNER Bella Clutch (SIMILAR)  | LISI LERCH c/o Tassel Earrings  | GORJANA Alejo Pendant Necklace (*ON SALE)  | BAUBLEBAR Ladder Cuff,  Cuban Links Cuff  | RAYBAN Aviator Sunglasses  | CHINA GLAZE Nails in Black Diamond  | MAC Lipstick in Craving
I have mentioned my love for layering in the cold winter months in previous posts.  One of my top ways is layering a cropped sweater with a longer top.  In summer months, a long sleeveless tunic or blouse is my go to with skinny jeans and wedges.  In winter, I give these tops new life by layering them under a cropped or high low sweater.  I look for sweaters that hit at about the waistline of my jeans to allow a few inches of the blouse to peak through the bottom.  You may have noticed I tend to buy these types of sweaters in solid colors, so they will match with a large variety of my prints.  I started doing this a couple years ago with black sweaters and now have these short sweaters in about 6 or so different colors.  This layering combo also works to pair with skinny work pants or skirts for the office.
I wanted to show off how cute these new fave jeans of mine look with heels.  Yes these are the same jeans seen HERE with booties and HERE with riding boots.    I still need to have them hemmed a bit and plan on taking them in next time I go to Nordstrom.  (BTW, if you are a Nordstrom cardholder they hem jeans you buy from them for free. )  The only reason I have not taken them yet is because the last two times I have been I was wearing them. 🙂
I hope ya'll had a great weekend!  I spent mine catching up with friends, watching football, and running just a couple errands.  I am off today, so I decided to save all my blog work, weekly meal prep, and laundry for today and just relax during the weekend.  I'm working on a fun post for later this week sharing a little about how I stay fit and healthy.  So stay tuned for that one, and I hope you have a fabulous week ahead!
SHOP THE LOOK
(click images to shop)


Follow Lady in Violet INSTAGRAM | TWITTER | FACEBOOK | BLOGLOVIN | SUBSCRIBE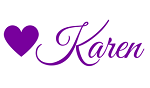 Love this post? You may also love: