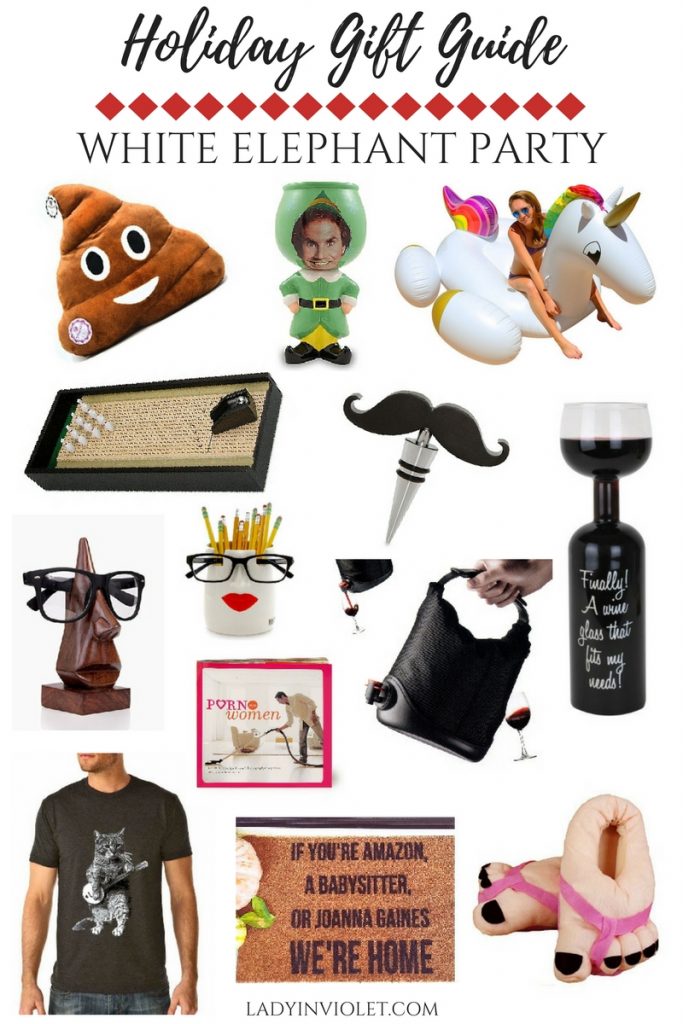 I promised you guys that I had the funnest gift guide for today, and I hope you guys love this one as much as I do.  I had so much fun searching the internet for some quirky and funny white elephant gift ideas.  Really almost any gift will work for a white elephant party, so super low stress and fun!
When I'm looking for the perfect white elephant gift, I look for one of a few different things.
One-  a gift that you know everyone will want to steal  (the mat).
Two –  that gift you open and kinda really don't know what to think, but then it totally grows on you and then gets stolen in the exchange by everyone (The Feet Slippers)
Three – That totally random gift that you know someone at the party will LOVE!! (The Cat Tee)
Four – Anything Booze related, especially wine related!
Five – Something Quirky and cute, but also useful.  (pencil holder and desktop bowling)
If you have a white elephant gift exchange party, hopefully these tips or gift ideas will help you out!  AND if this party happens to also include Tacky Christmas Sweater attire, then check out yesterday's post for some major outfit inspiration!
I also have tons of more normal gift ideas in my Holiday Shop!
SHOP THE GIFTS + SCROLL FOR MORE IDEAS!

Love this post? You may also love: