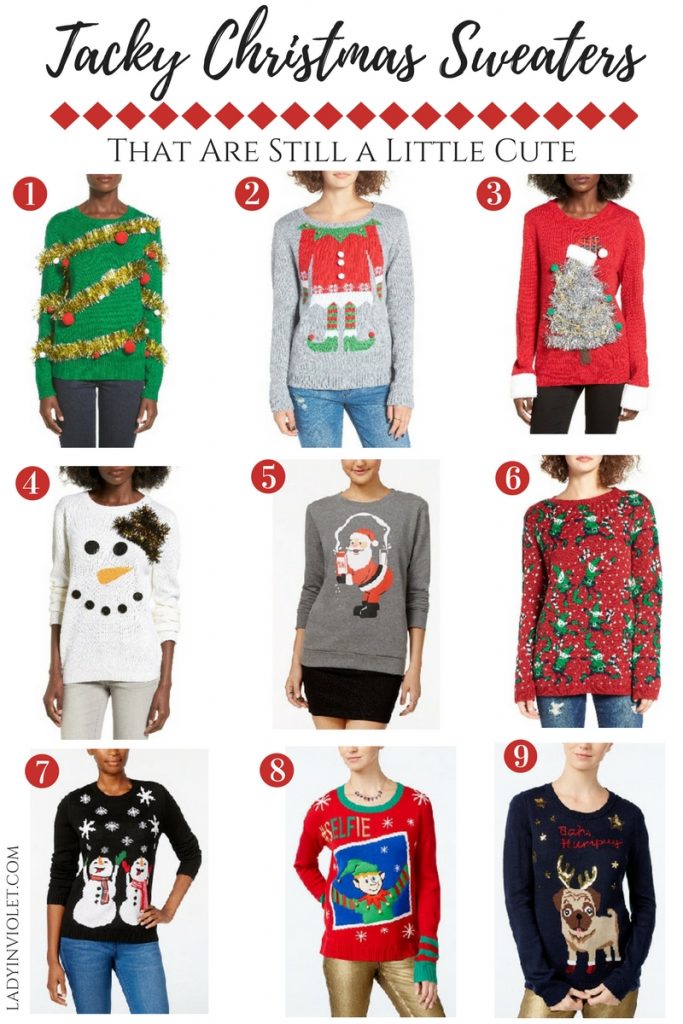 Now that we are almost to Thanksgiving, it's time to start thinking about what you will be wearing to your holiday parties this year!  I do most of my holiday shopping online because I'm just not a big fan of the holiday crowds. 🙂  Even though it may seem a little early, ordering your holiday party gear now allows ample time for shipping and possibly exchanging before the holiday parties kick into high gear after Thanksgiving.  I have a few ideas coming up for you over the next couple of weeks so stay tuned for more to come! PLUS – I have entire holiday shopping page dedicated to helping you find the perfect Holiday outfits!
Every year I get invited to at least one tacky or ugly Christmas sweater party.   I love these parties because I like to see what everyone found.  Homemade sweaters always tend to be the best ones! If you are on the un-crafty side like me, many stores sell a wide variety of cute ugly Christmas sweaters for you to chose from.  You can really pair these with anything from leggings or jeans and boots to a cute metallic pleated midi skirt and heels.  You could even add some cute Christmas leggings to your cart to go full blown comfy Christmas outfit.
I feel like the whole tacky sweater parties trend made these sweaters cute again.  I would totally rock many of these sweaters for a fun Christmas morning outfit with those same Christmas or solid color leggings. Coffee, mimosas, and presents with everyone in their best tacky sweater.  Sounds perfect!
Be sure to swing by tomorrow because I have my favorite and most fun gift guide I have ever created for the blog!  I will give you a hint: It will probably come in handy at your next tacky Christmas sweater party! So make sure to come by!! Until then, have a great day!
SHOP THE SWEATERS
Love this post? You may also love: