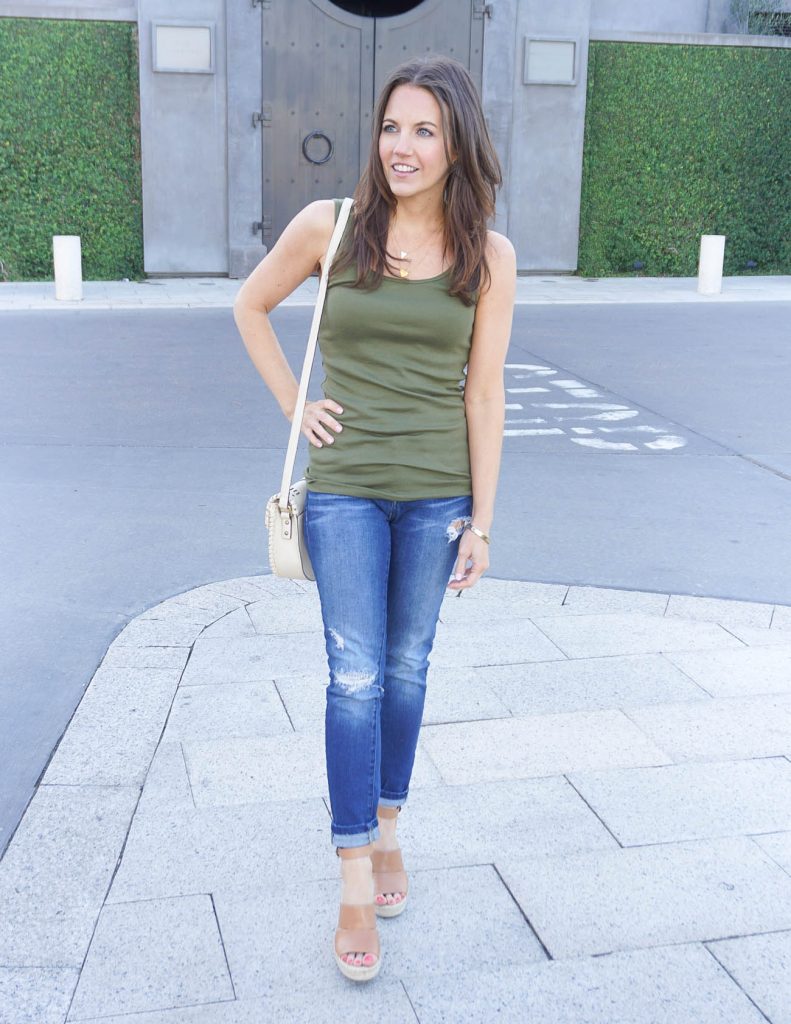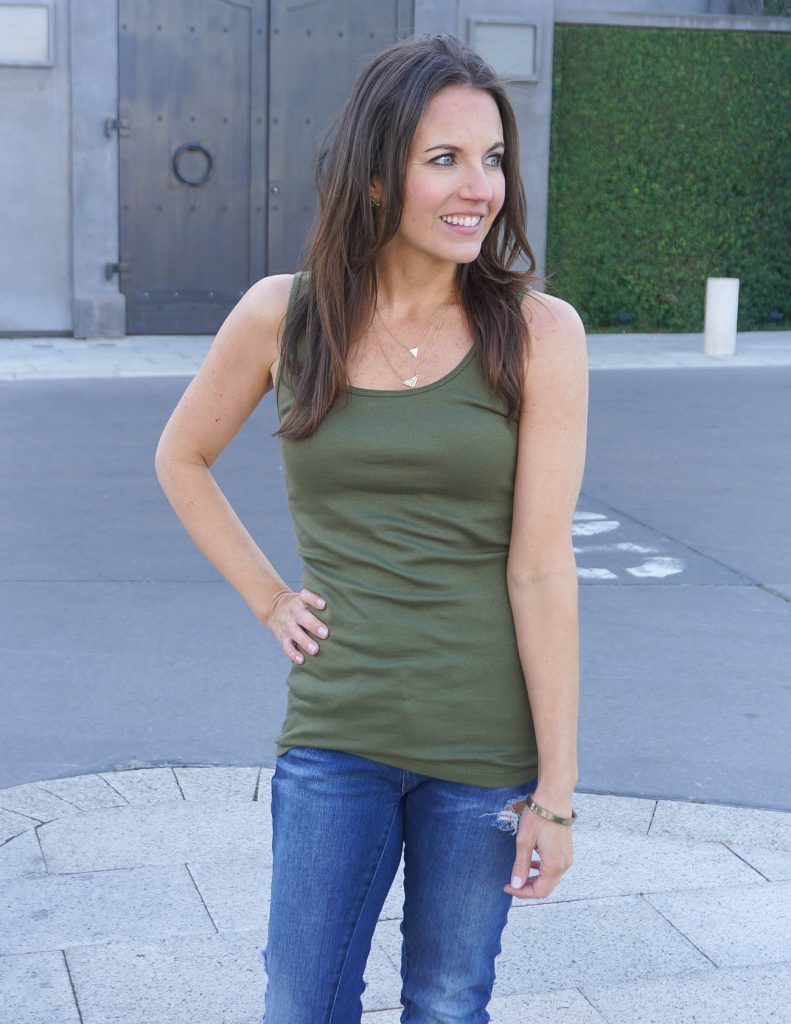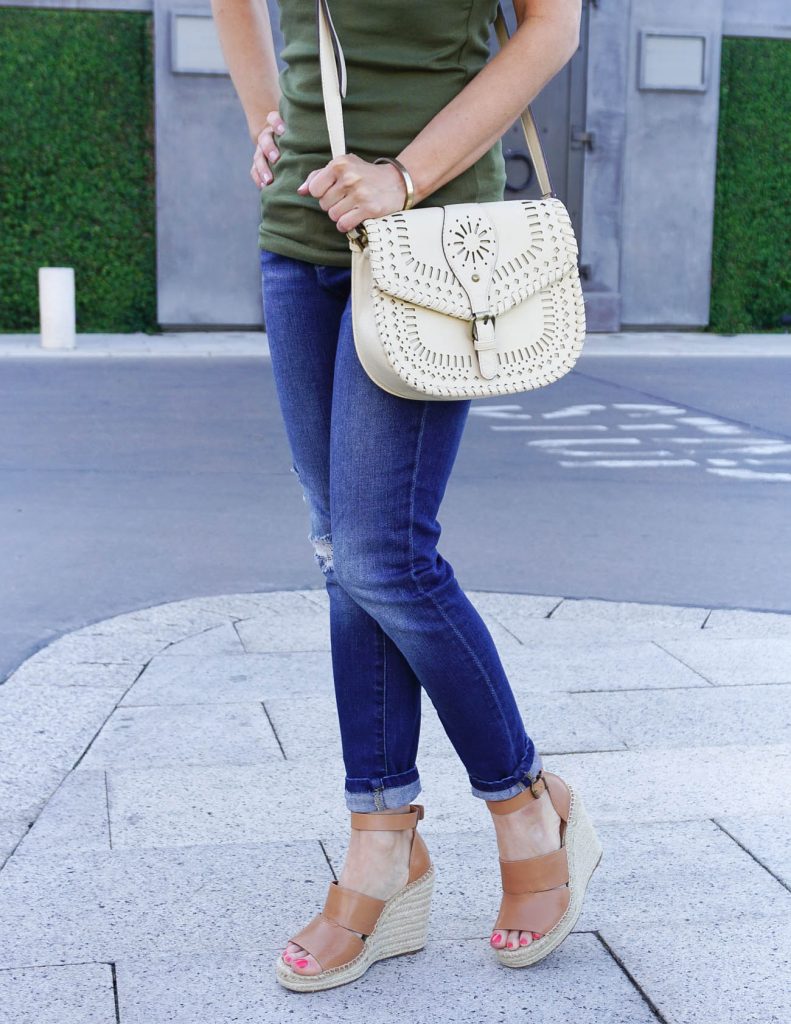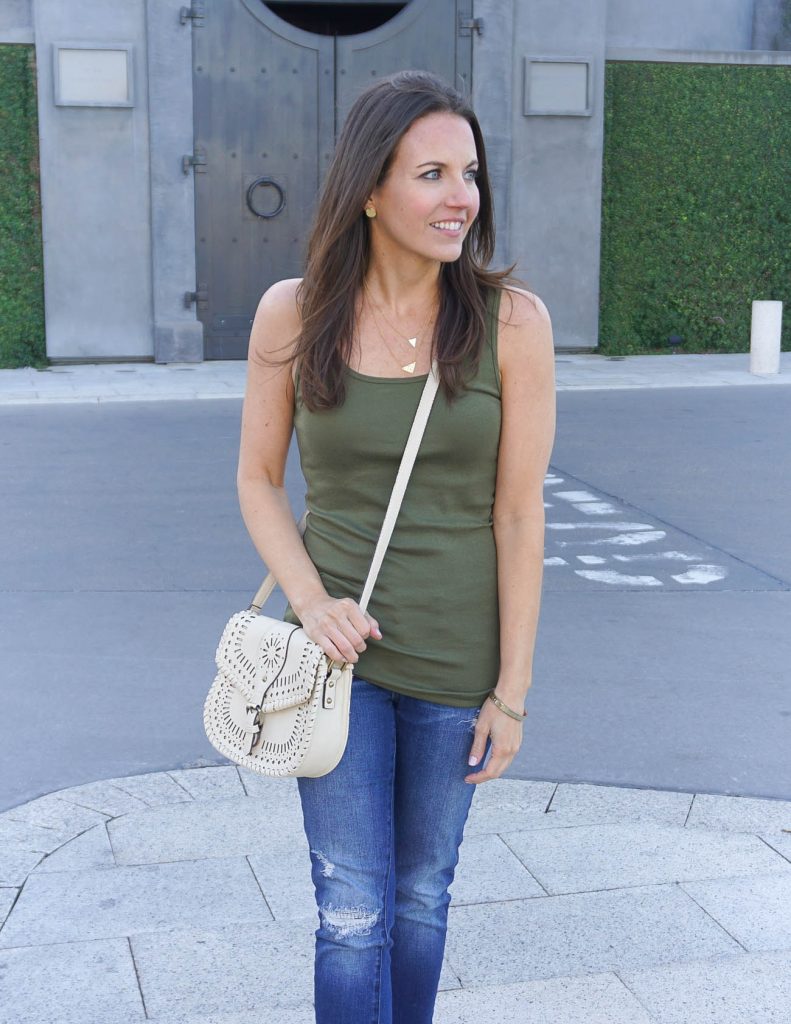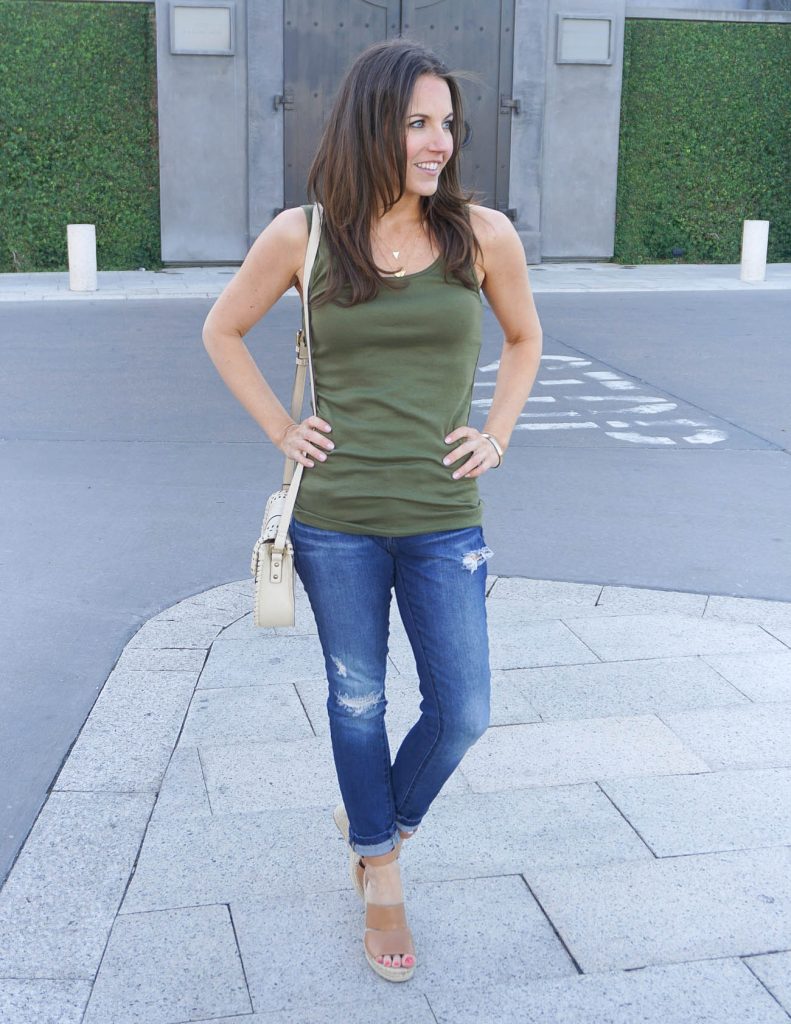 Happy Friday you guys!
I always love styling and shopping for the latest trends like off the shoulder tops, statement earrings, and block heel sandals, but I firmly believe every closet should have a great set of staples.  Each season has a few of it's own must have pieces, so I wanted to share a few of my must have summer wardrobe basics.
Wardrobe staples are those items that can be incorporated into a variety of outfits to really maximize your closet.  For me, it all starts with the shoes.  A cognac brown or nude wedge sandal is a must during summer.  They pair great with jeans, shorts, and dresses.  I like to wear them when I wear shorts because I think they help make your legs look longer and leaner.  They are the perfect shoe to wear to any outdoor events or parties because they will not sink into the grass.  I found this pair for under $100 and have been loving them!
Second, you need a few solid color tank tops.   I have this tank top in white and black which is perfect for wearing solo with a statement necklace or layering under a kimono, plus this fun olive color to pair with jeans and shorts.  These tank tops are thick and not see through, plus the straps perfectly cover my bra straps.  I also love that they are a slightly longer in length.
Third, a neutral crossbody bag.  I have had this one for a few years, and Sole Society brings it back every year.  It's one of my most used purses during the summer.  It's a light color with a unique design, and it holds everything I need including sunglasses in a case.  I just added this new bag from Sole Society, so I will probably be rotating between these two all season.
Fourth, distressed jeans.  Summer style tends to be a bit more casual, so it's the perfect season to pull out your distressed jeans.  You can pair these jeans with trendy tops or a basic tee or tank and be good to go.  Distressed jeans are also fun to dress up with heels for a night out.  The distressed jeans I linked are the latest pair I have purchased.  The quality is pretty good for $45.  They recommend sizing up, but for me the fit was true to size.
My last must have is a few simple jewelry pieces.  Ya'll know I love me some statement jewelry, but when it's 100 degrees out I tend to reach for my daintier pieces like these two necklaces, a simple pair of studs, and a gold bangle.  My necklaces are from Gorjana, and I love that her necklaces are designed to be layered together.
There you have it, the pieces that live at the core of my closet.  Almost every outfit I wear this summer will incorporate at least one of these items.  Trendy is fun, but never neglect the core of your wardrobe!
Thanks for stopping by, and I hope ya'll have a great weekend!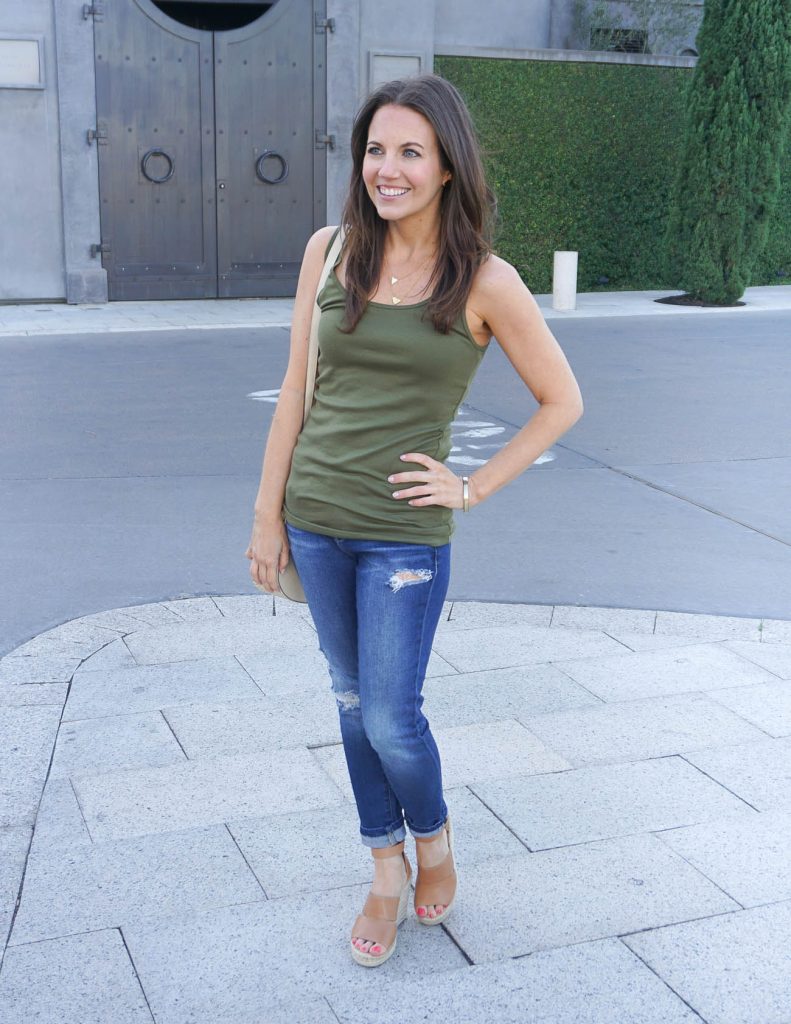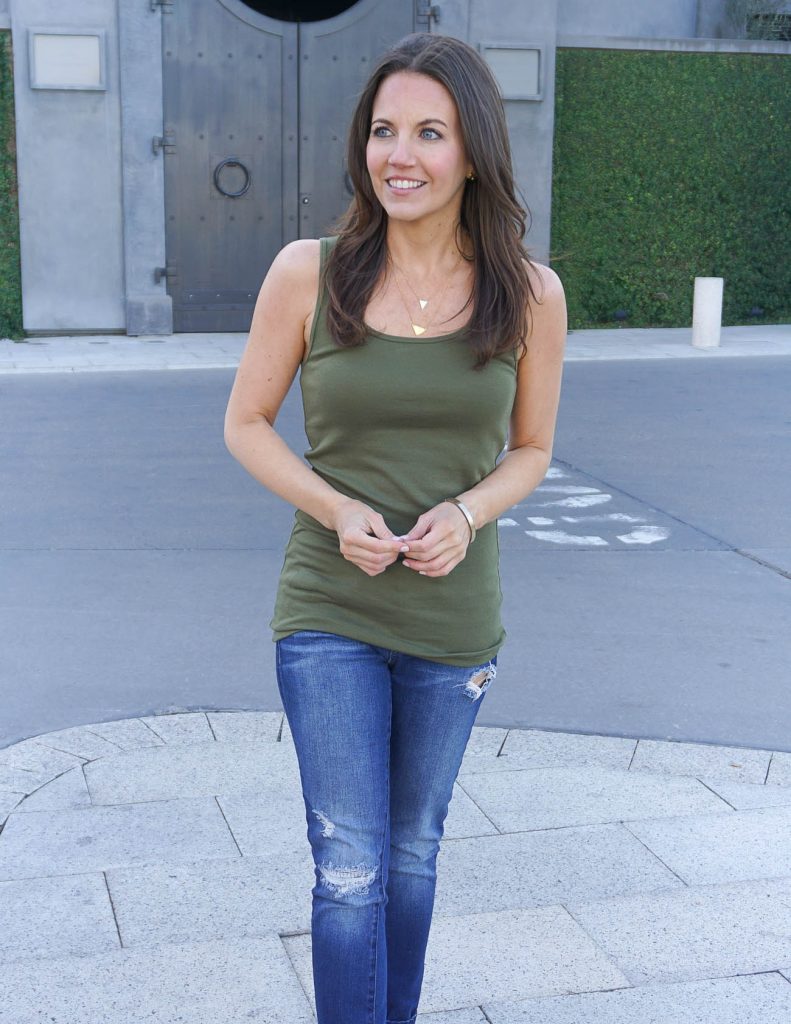 SHOP THE LOOK