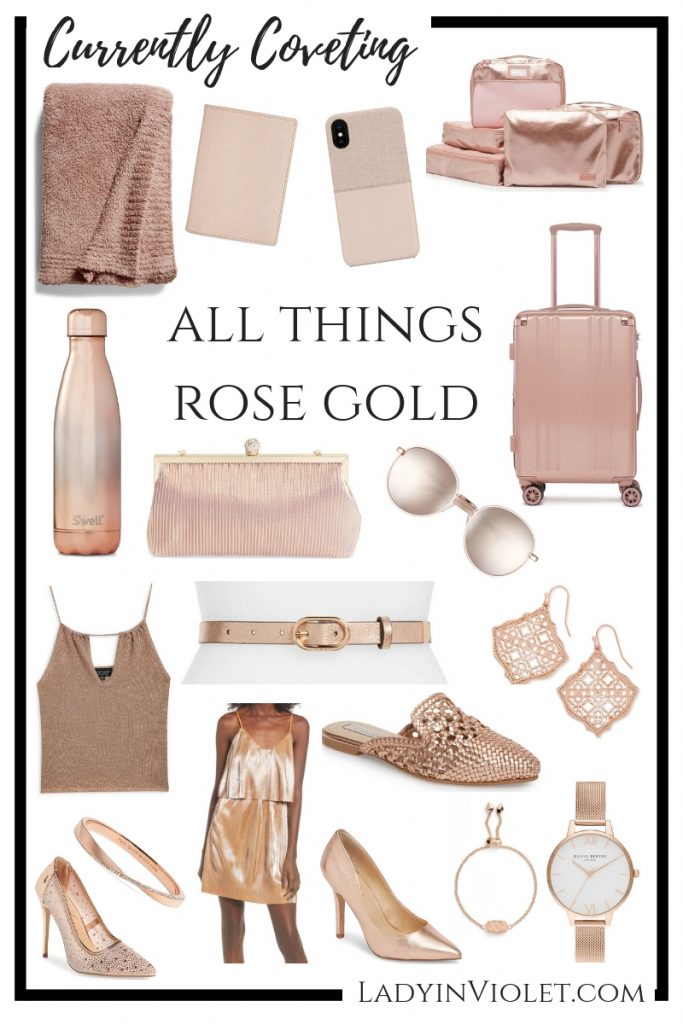 Hello, my name is Karen and I am currently obsessed with all things rose gold!  It all started in August when I purchased this necklace for my birthday. (Seen Here) I had one other rose gold piece and loved wearing it.  I wanted to add something else to expand my collection of this color.  The shimmer color of the pendant was beautiful, and I was surprised how much I wore it and how many things it went with.  I followed up my necklace with some matching earrings  (seen here), soon my computer case and phone case were also a pretty rose gold.  I even gravitated towards a few rose gold beauty products.
Rose gold is not a new shade, but I've noticed it gaining momentum in the jewelry department over the past few years.  After that, it started sneaking into clothing, shoes, and home decor.  A few of my new beauty products even feature rose gold packaging.  It's a color that I predict will be joining the ranks as a staple color.
For jewelry, I love that the shade is so similar to my skin tone.  I love that it really makes the shimmer and sparkle stand out, but also blend in to my outfit.  The right shade of rose gold can work with both cool tones and warm tones giving it tons of versatility.  I'm predicting a lot more rose gold taking over my closet and home soon.  How do you feel about rose gold?  Which item above would you love to have in this color?
SHOP THE ROSE GOLD

Love this post? You may also love: