Monthly Archives:
June 2020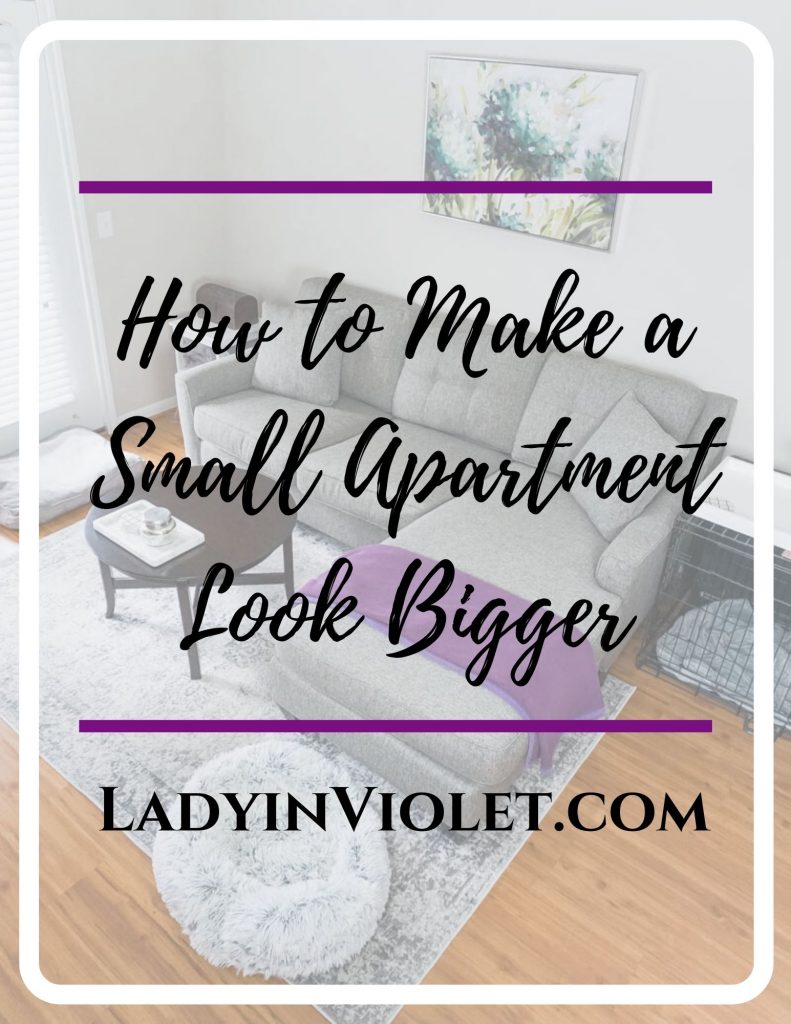 When I moved into my 650 square foot apartment a couple years ago, my main decorating goal was to make it feel bigger than it actual was and to maximize the space to hold all my of my many things.  I started my living room from scratch and purchased everything after I moved in.  My bedroom set was fairly new when I moved, so I kept that and decorated around it to make the space feel bigger.  Today, I'm breaking down a few of my top tips on how to make a small apartment look bigger.  These tips will not only work for small apartments but also small homes and individual rooms.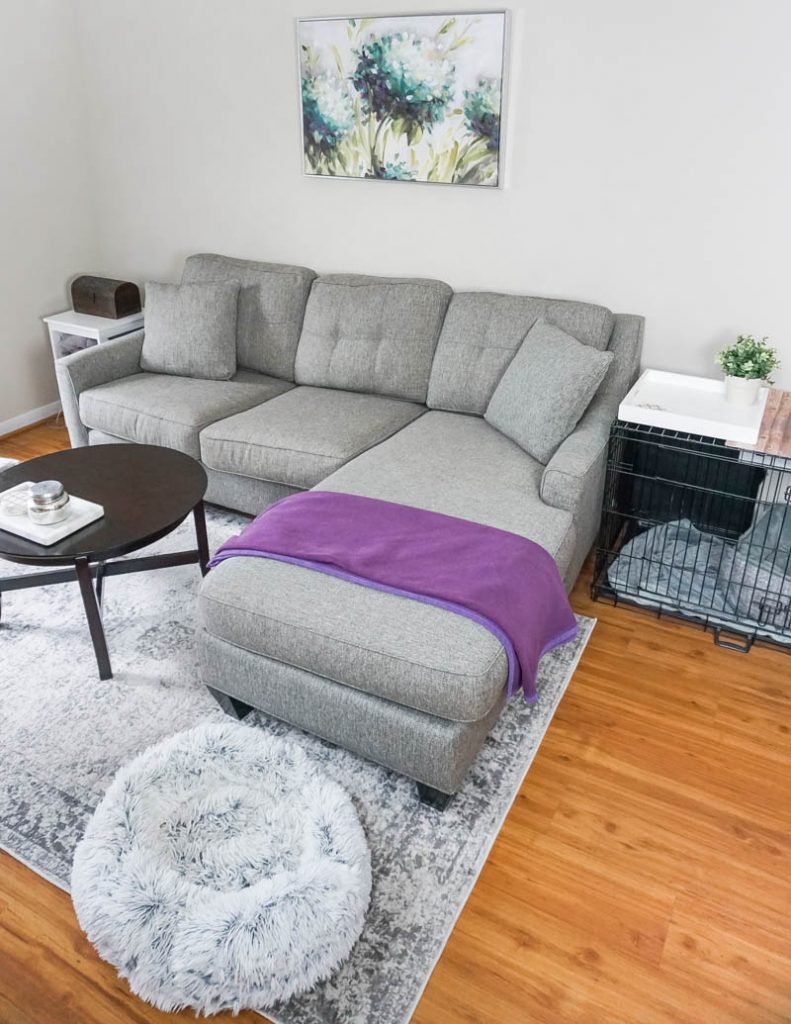 USE LIGHT NEUTRAL COLORS FOR BIG ITEMS LIKE FURNITURE AND RUGS
By choosing lighter colors for your bigger items, you can give an appearance of a bigger space by keeping the room light and bright.  I also think white furniture blends into the wall to make the room appear more open.
When planning my living room, I thought about what the biggest items are in the room – the couch, the rug, and the tv stand.  I knew my color scheme was going to be gray and white.  I started by picking out a gray couch that would fit the space but not overwhelm it.  A couch with a chaise lounge is great for a small space to add seating when you can't have big chairs.  I chose a lighter gray that wouldn't show wear and tear or dirt and staining, but was light enough to keep my bigger space illusion alive.
I chose white wood furniture for my tv stand and end table along with a few other items in this room.   Because this color is similar to the wall color it makes the room feel more open.  To bring the white and gray together, I went with a white and gray rug to bring both colors together and still have my light and bright feel.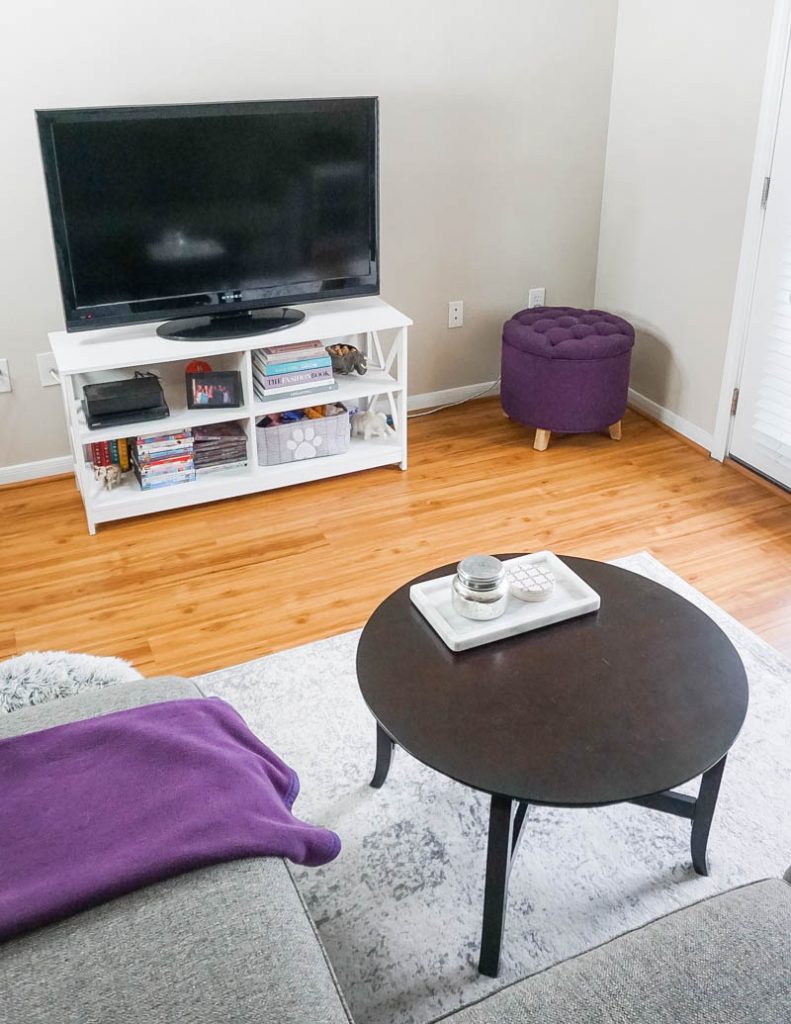 ADD CONTRAST AND POPS OF COLOR WITH SMALL FURNITURE AND DECOR
Once I had my base down, I looked at where I could add color.  My apartment does not have a kitchen, so I knew I would be eating and drinking my coffee and red wine at my coffee table which meant I was not buying a white one.  Instead I opted for a small round table in dark wood color.  The round shape does not feel as big and bulky as a square or rectangle table, and the dark color is a nice contrast and accent to all the white without making the room feel small.
For color selection, I decided to add in a few pops of purple to my living room and teal to my kitchen.  Since I have an open layout floorplan, these are both the same room.  I found artwork that included both colors to help tie the rooms together.
FIND MULTI USE FURNITURE
Many of my furniture pieces serve mulitple purposes.  My purple ottoman works as an extra seat and opens up with storage inside that I use for extra blankets.  The decorative box on my end table is both decorative and opens up to store remotes.  My bookcase helps store my file boxes, and I use the top of it for my catchall tray and to place mail. Even my dog's kennel is being given extra use as both a kennel and end table.  I added a small tray on top and a faux wood canvas to make the top a little prettier.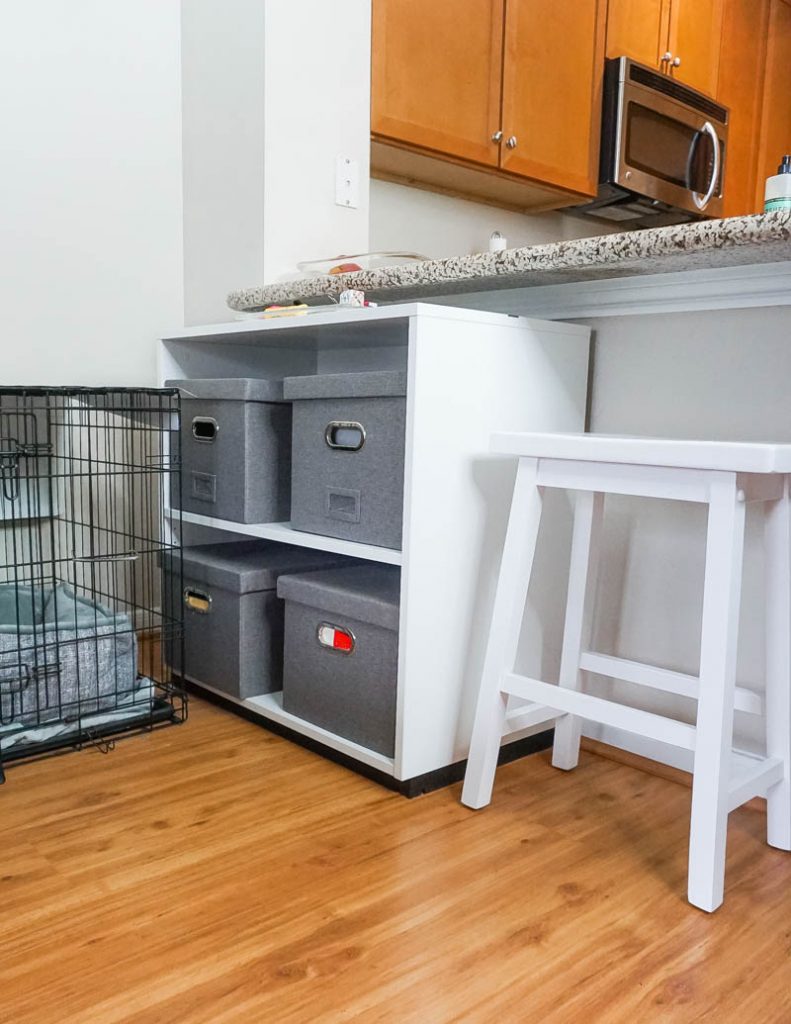 UTILIZE ALL CORNERS
My dog loves to sleep in her kennel when I'm not home even though she has free reign of the apartment, so I knew I wanted to find a place for it.  The best place also left me with an unused corner next to my kitchen counter.  I also needed some were to store files and books, so I picked up this white bookcase.  The white helps make it less noticeable in the room and makes this space usable for storage.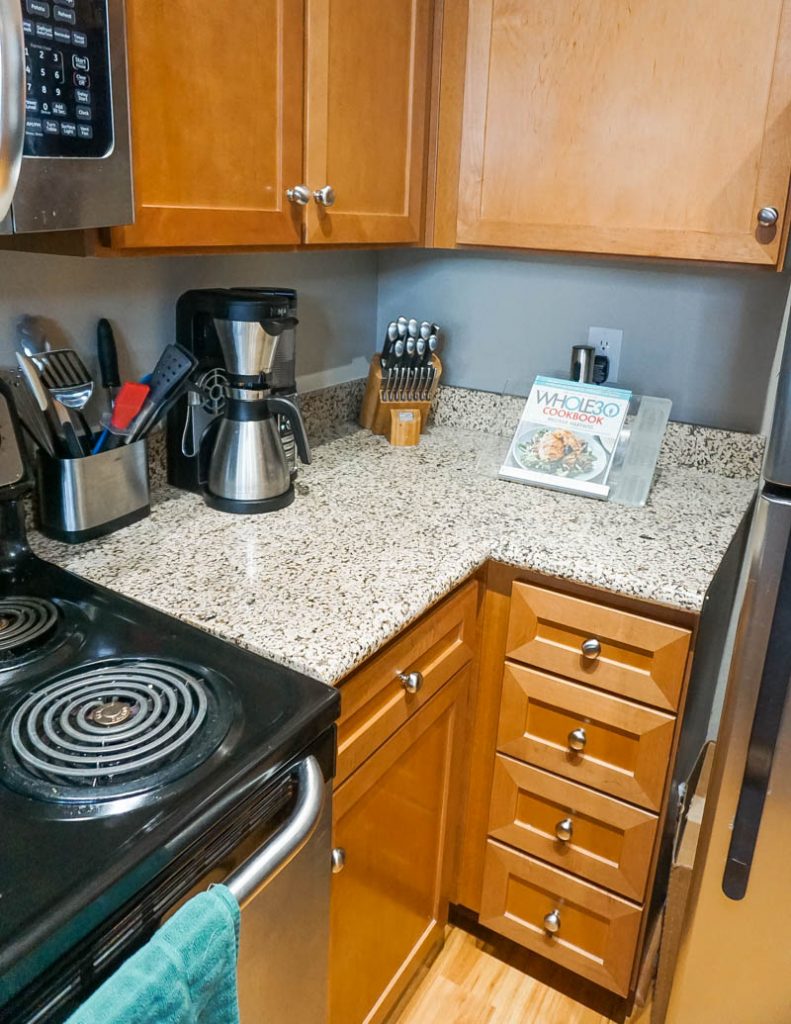 MAXIMIZE KITCHEN COUNTER SPACE
I love to cook and that requires a good size of counter space.  Small apartments are not always super friendly in this area.  I knew this small corner would not be used for any cooking due to the position of it, so I used it to place all my counter items like my knife block, coffee maker, and cooking utensils.  With many of my bulk counter items here, I was able to keep the other side empty and have more space for cooking.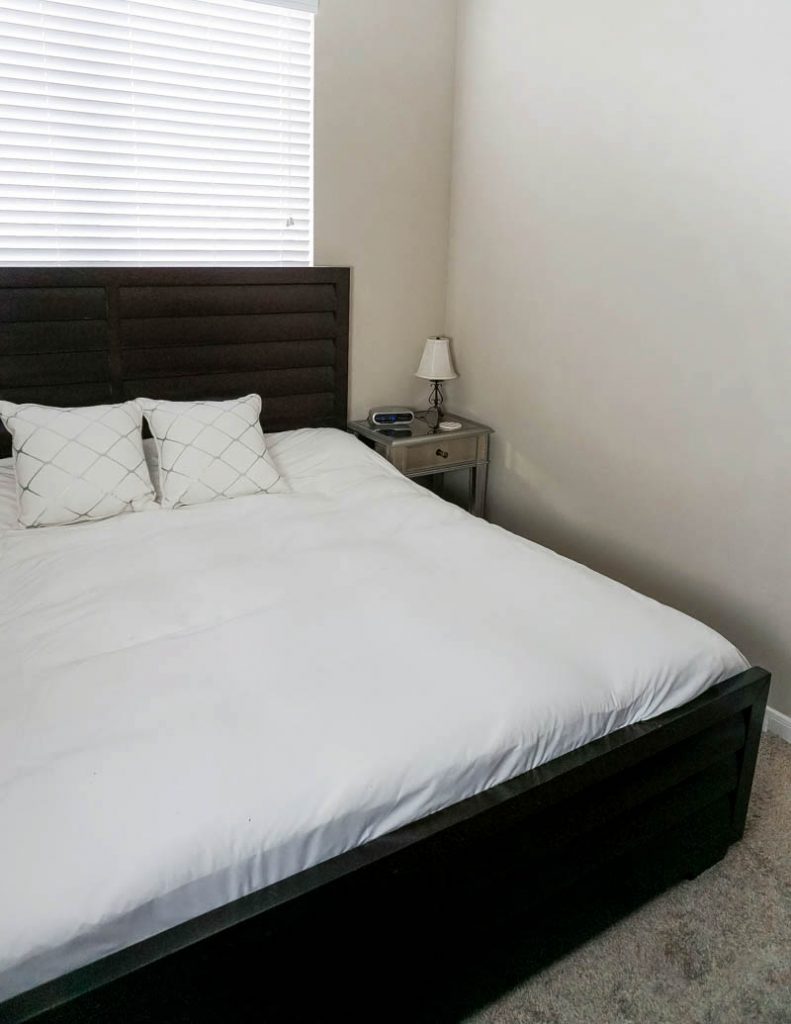 OFFSET LARGE DARK FURNITURE WITH LIGHTER PIECES AND WHITE ACCENTS
I mentioned that I kept my original bedroom furniture which was all dark brown.  To add contrast and keep the room feeling open and bright, I added in lighter items like a white duvet cover for my down comforter, white decorative pillows, and mirrored nightstands.   Also because I love multi-use furniture, my bed also has built in storage drawers on each side giving more places to store clothes.  Luckily, both of my dressers fit in this space, but the extra storage is nice would I have had to give up a dresser.
All of my six tips combined really helps make my space feel much bigger than it really is.  I have a friend with the same apartment layout as me, but with a dark couch and dark wood furniture.  I always thought their apartment felt smaller than mine, turns out it was actually 100 square feet bigger!  When I found this out, I knew the small things I did in my apartment were definitely helping it feel way more spacious and bright.
SHOP THE HOME