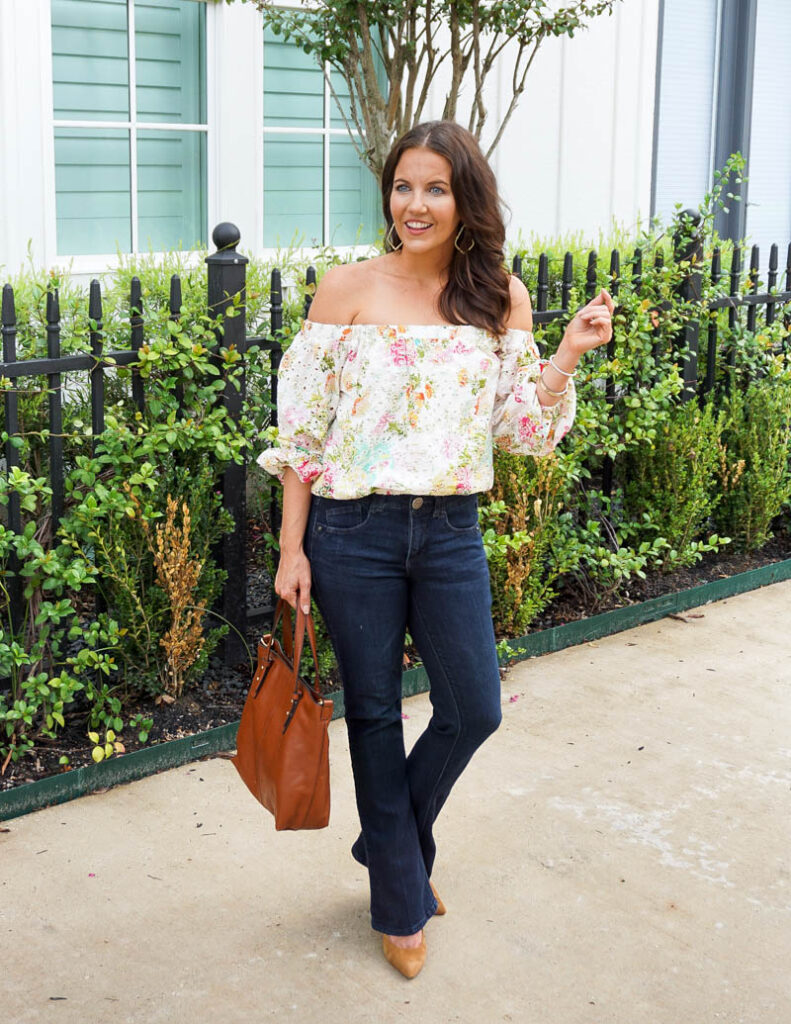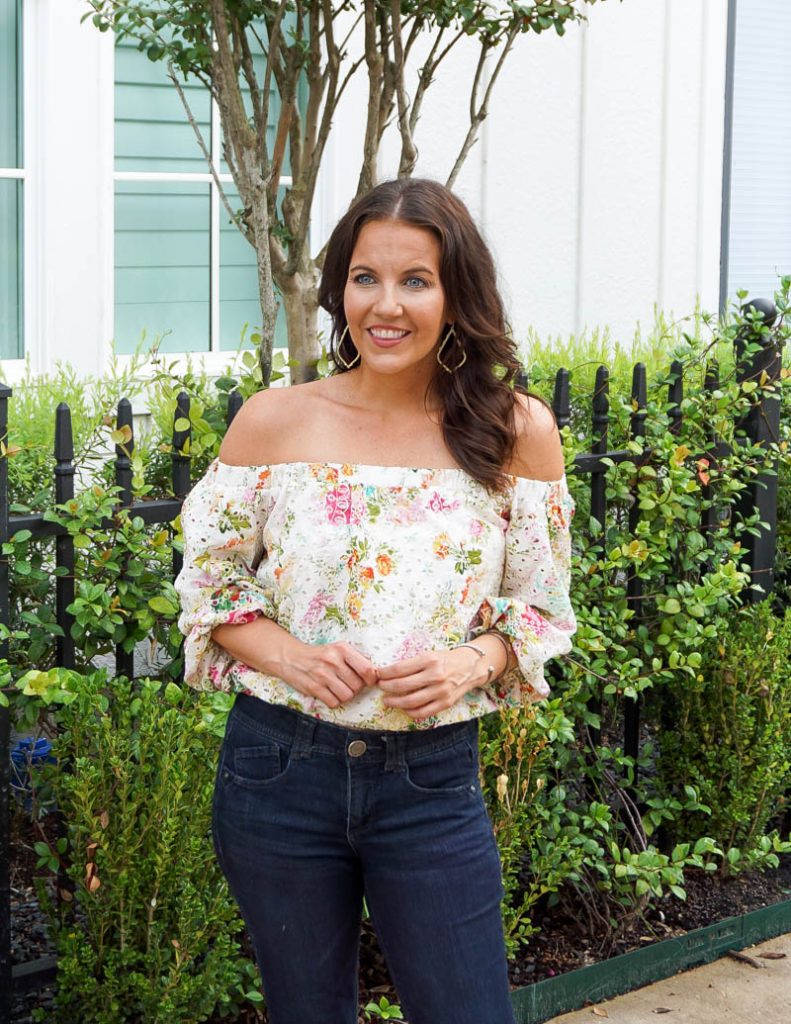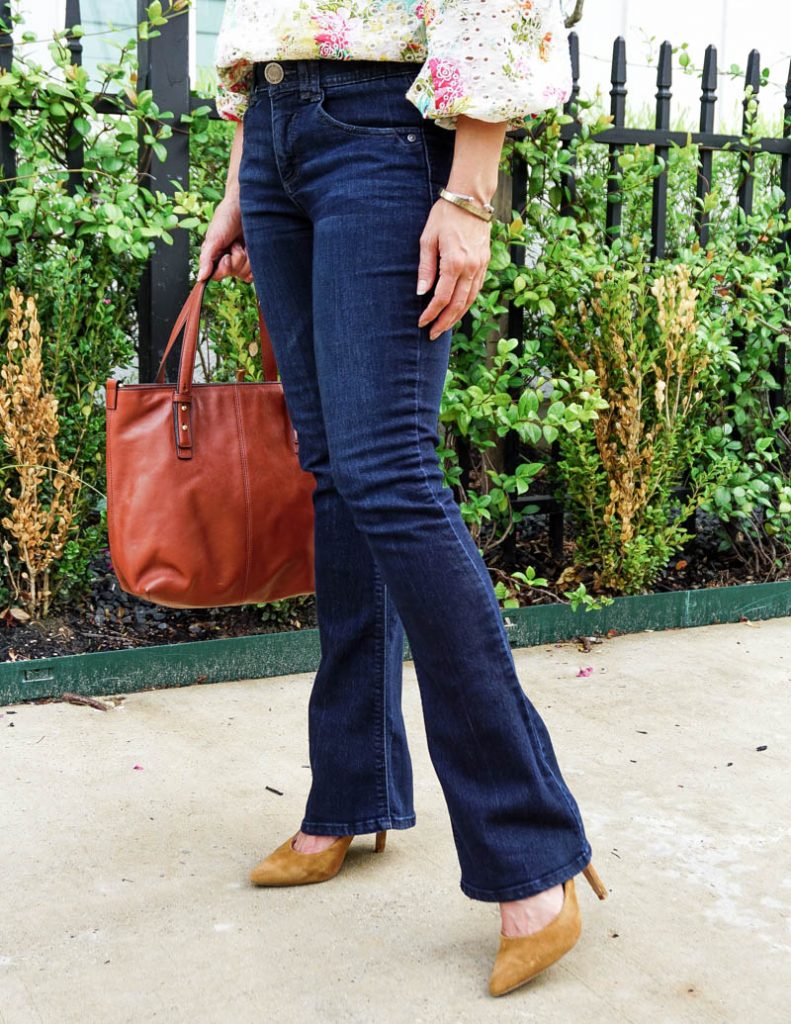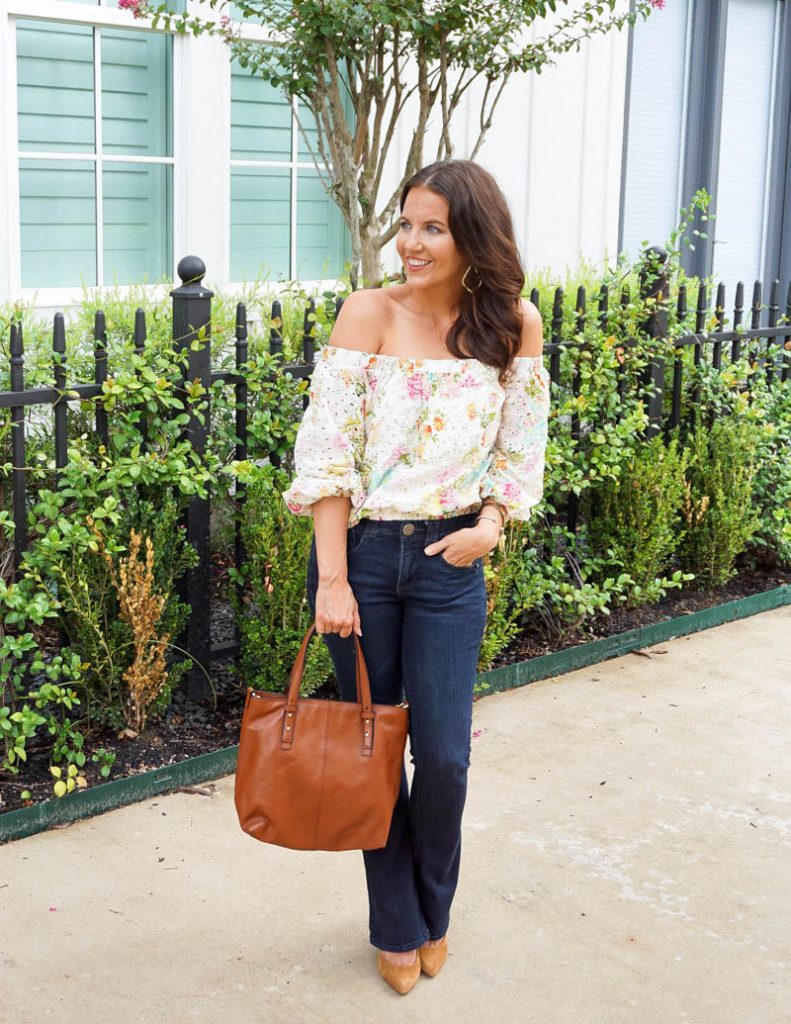 If you are like me, you may have added a few summer tops to your wardrobe this season that haven't received as many wears as you might like.  Living in a city that always has a bit of a warm fall, I've learned a few tips and tricks that helps me beat the heat by wearing my summer tops in fall months. I wanted to share a few of my top tips on how to transition summer floral tops to fall, so we can all get a little more use out of these pretty prints.
Summer florals tend to be bright colors, might incorporate a little more white, or summer details like eyelet material.  My floral off the shoulder top gives me all the summer feels and looks super cute with white shorts for a hot summer day.  Transitioning this floral print to fall can be pretty easy with a few simple swaps and adds.
HOW TO TRANSITION SUMMER FLORAL TOPS TO FALL
1) Add in a dark bottom.  I like dark blue or black to easily make a summer white or bright print have a more fall feel.  It provides the right amount of contrast to the top and adds in a darker shade more associated with the fall season.
2) Choose a bootcut or flared jean.  With closed toe shoes, booties, and heels in season, a flared jean is an easy way to transition any top into fall.  These jeans pair well pointy toe shoes and add a dressed up look to a casual outfit.
3) Swap out your sandals for darker closed toe heels and suede boots. In fall, I love to pull out my shoes in darker shades of tan and brown like these heels.  A suede material also helps give all the fall vibes to an outfit.
4) Swap out your summer straw purse for a leather tote bag.  Straw bags make us think of beach days and vacation, and leather bags always make me think back to school.  The handbag swap is another easy way to transition your look to fall.  For the fall season, I love picking a bag in a rich brown color to work with summer brights and fall earth and jewel tones.
Just a few simple swaps and those summer floral tops are getting a few extra wears during the fall!  If you are looking to add a few fall staples to your closet, don't forget to check out my post on Fall Must Haves from the Nordstrom Anniversary Sale!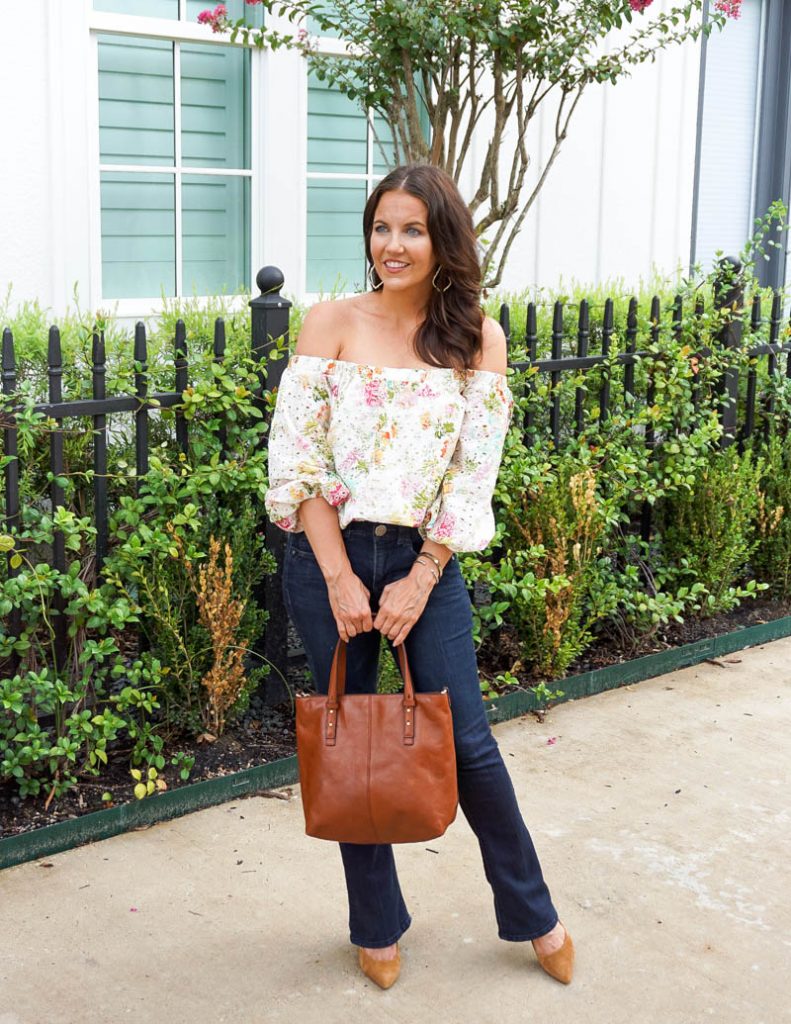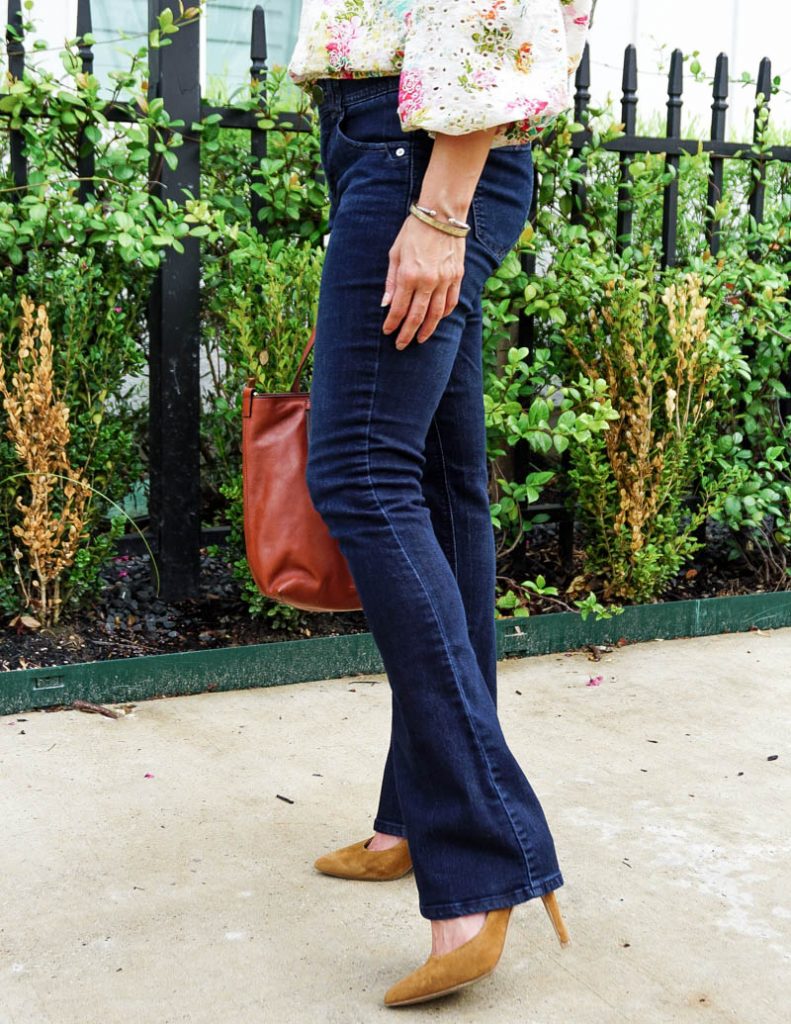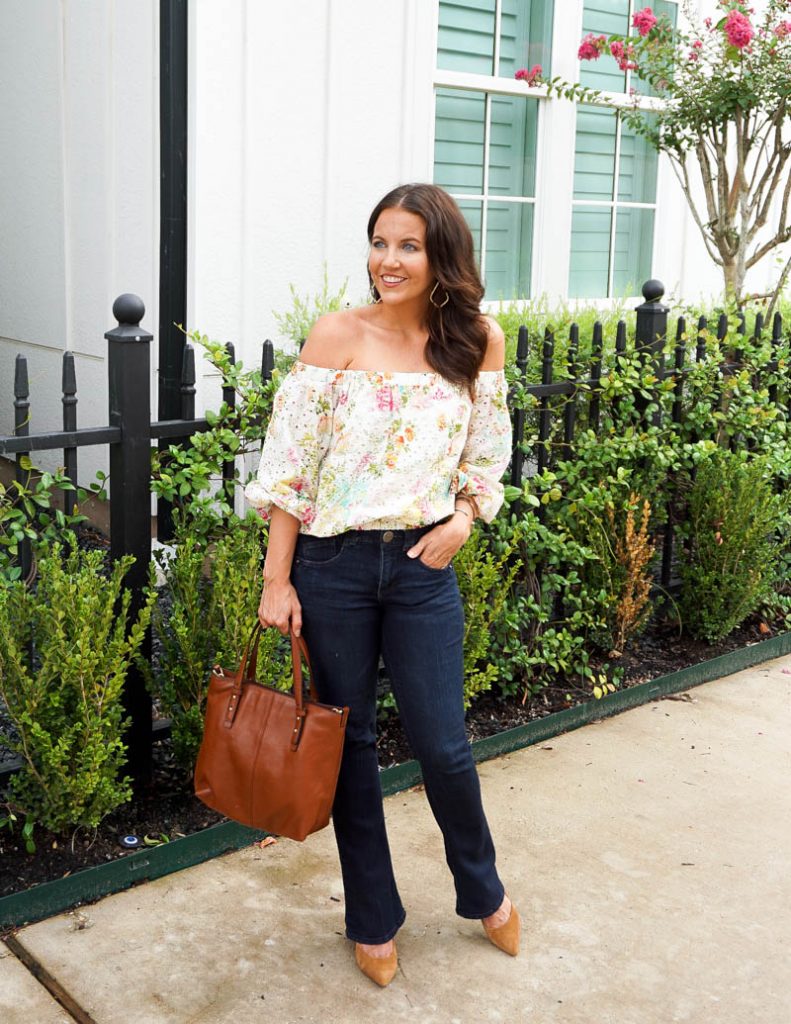 SHOP THE LOOK

Love this post? You may also love: