Monthly Archives:
August 2020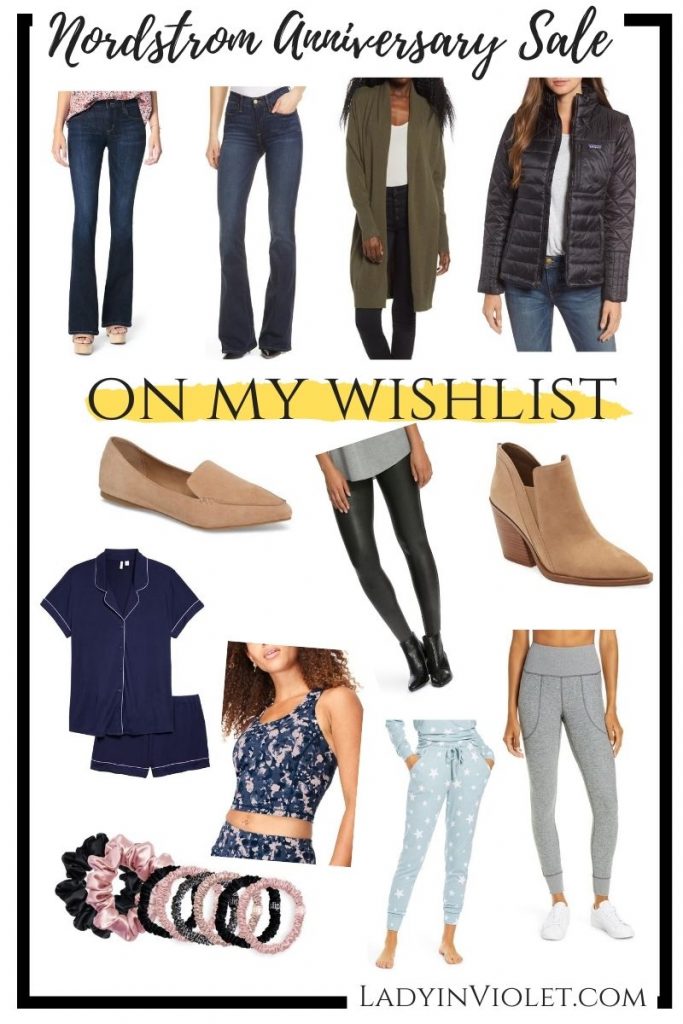 | DETAILS |
Flared Jeans 1 | Flard Jeans 2 | Olive Cardigan | Black Quilted Jacket
Tan Loafers | Leather Leggings | Booties
Navy PJs | Workout Top | Silk Hair Ties | Star Joggers | Gray Leggings
Happy Nordstrom Anniversary Sale Month!  Today the third tier of cardholders can officially start shopping!!  The sale already opened last week for levels 1 and 2.  Not sure of your level?  Sign into your Nordstrom account, Select Account on the right, and Nordy Club on the left menu bar.  Your Nordy Club level will then show in the main screen and your shopping start date in the section below. Non-cardholders can start shopping on August 19th.
I pre-built my wish list and have been monitoring it for sell outs.  I haven't noticed a huge amount of sold out items yet.  A few colors and sizes are sold out, but not the massive sell outs like last year that left many of us with cancelled orders and our wishlists cut in half or more. My wishlist definitely looks a little different this year. I'm leaning more to the side of comfort with more loungewear and workout clothes and less dresses and tops.
ON MY NSALE WISHLIST
1 – Flared Jeans – I'm planning to buy two different pairs both from brands I already own and love.  One pair has a bigger flare and high waist and the other more of a midrise bootcut.  I've been wearing my other flared jeans so much, so I know I definitely want to keep at least one pair.  It will just depend on fit and how I like each style.  They are great for dressing up a look, business casual, or creating a boho vibe.
2 – Olive Long Cardigan –  Every year I add at least one long cardigan, and this year I'm going with an olive color.  Olive green is so versatile and can be worn with black, brown, blue, white, it's basically a great neutral option. I have a couple on my wishlist, but this one is at the top.  I have other cardigans from this brand, and I love the quality.
3- Faux Leather Leggings – I actually purchased these last year and accidentally tossed them out.  My plan was to buy them again when I found them on sale again.  After a year of watching the sales, I can say this is the lowest I have seen them marked down.
4 – Casual Dress Flats – I've been eyeing this pair of loafer style flats for awhile now.  I'm planning to wear them with skinny jeans to the office or to run errands.  With a more casual lifestyle and my heels currently shelved, these shoes will get lots of wear.  I think they will pair well with dresses in the fall too.
5- Booties – I only have one pair of booties on my list this year.  I love the low profile for my petite height and the side details on these.  I think they will work with both cuffed jeans, shorts, and dresses.
6 – Quilted Black Coat – This is low on my wish list, but I'm thinking about adding a black quilted jacket.  Something to wear when sitting outside with friends and family in the cooler months.
7 – PJs and Loungewear – I really want a cute pj set.  It's something I've been looking for since I started working from home.  I have a few options on my list with this navy pair at the top.  I also have a few joggers and leggings on my list.  This blue star print is a front runner because I love the print.


8 – Workout Clothes – I always buy a few workout items in the sale.  This year I'm focusing on shorter tops that I can wear with my Peloton.  The room we spin in has no fan, so I'm thinking longline sports bras and flowy or
fitted crop tops
will help with the heat. I may also add a few new pairs of leggings. Zella is my favorite legging brand at Nordstrom, but they have a few other brands I would like to try out.

9 –
Silk Hair Ties
– I wear my hair up most work from home days, and I've heard these silk hair ties are great for preventing damage and the ponytail crease.
THE NORDSTROM ANNIVERSARY SALE FALL MUST HAVES
I also rounded up some of my top picks of fall wardrobe must haves in the sale like dark wash denim, long cardigans, jackets, and booties for you.  I think all of these are great building blocks for creating fabulous fall outfits all season long!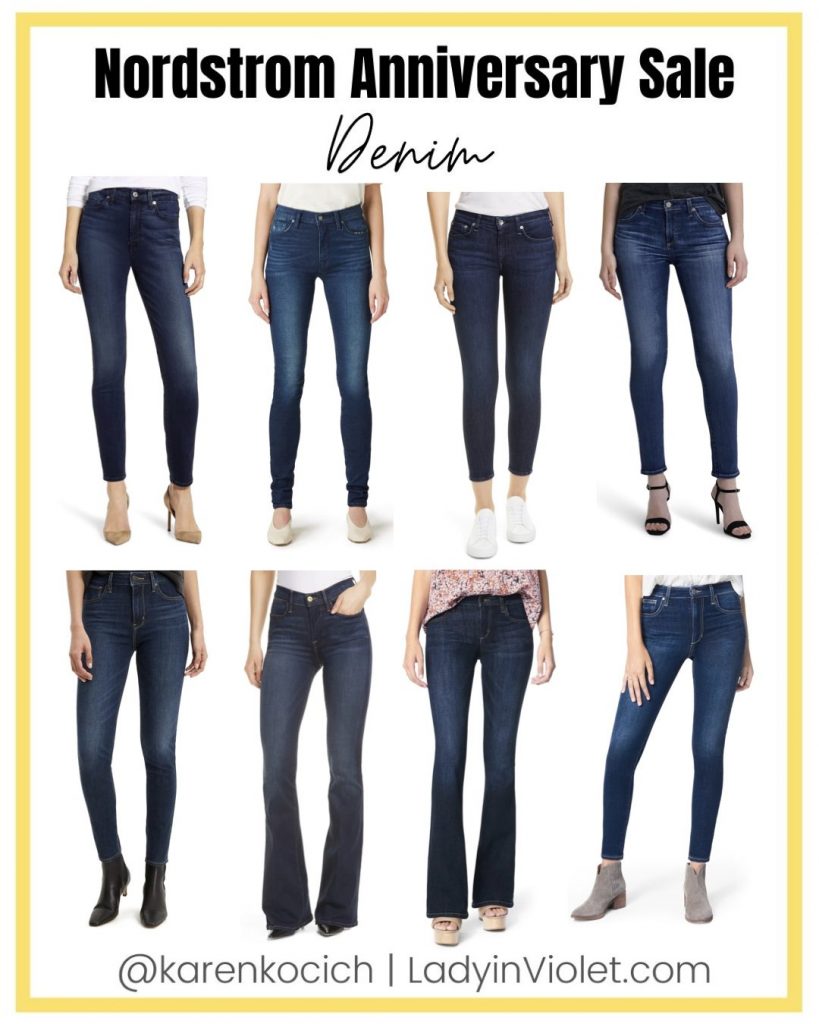 one | two | three | four
five | six | seven | eight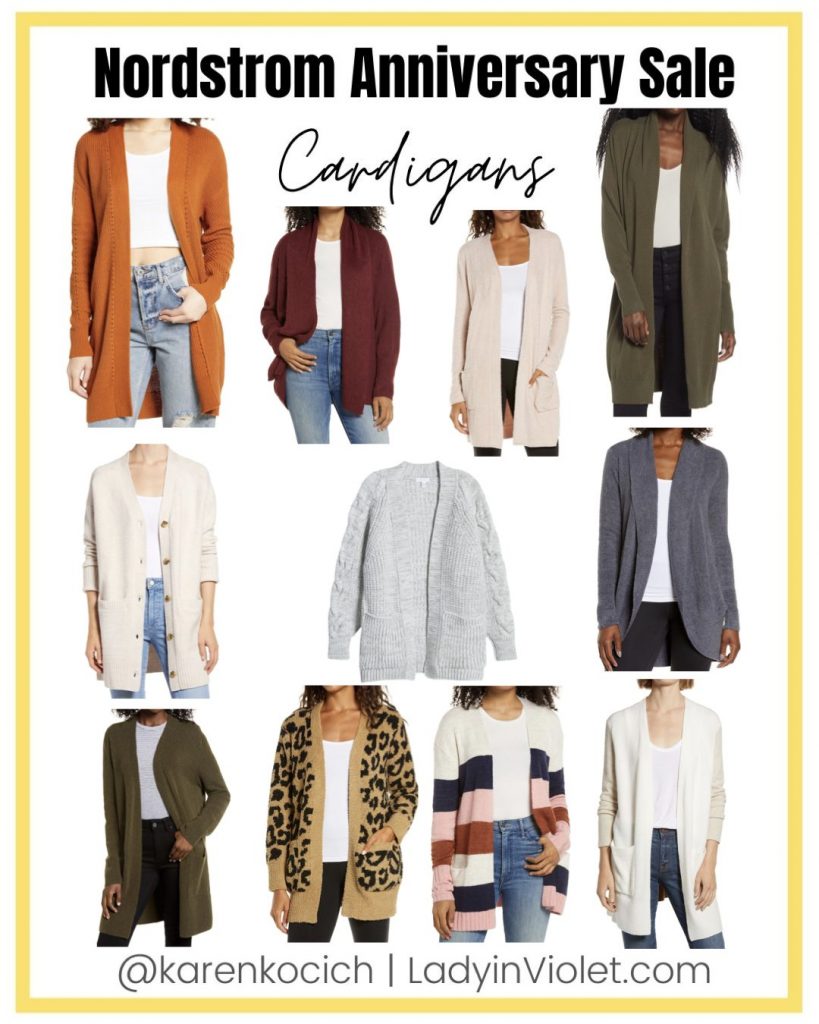 orange | red | blush pink | olive 1
beige | light gray | dark gray
olive 2 | leopard print | stripes | ivory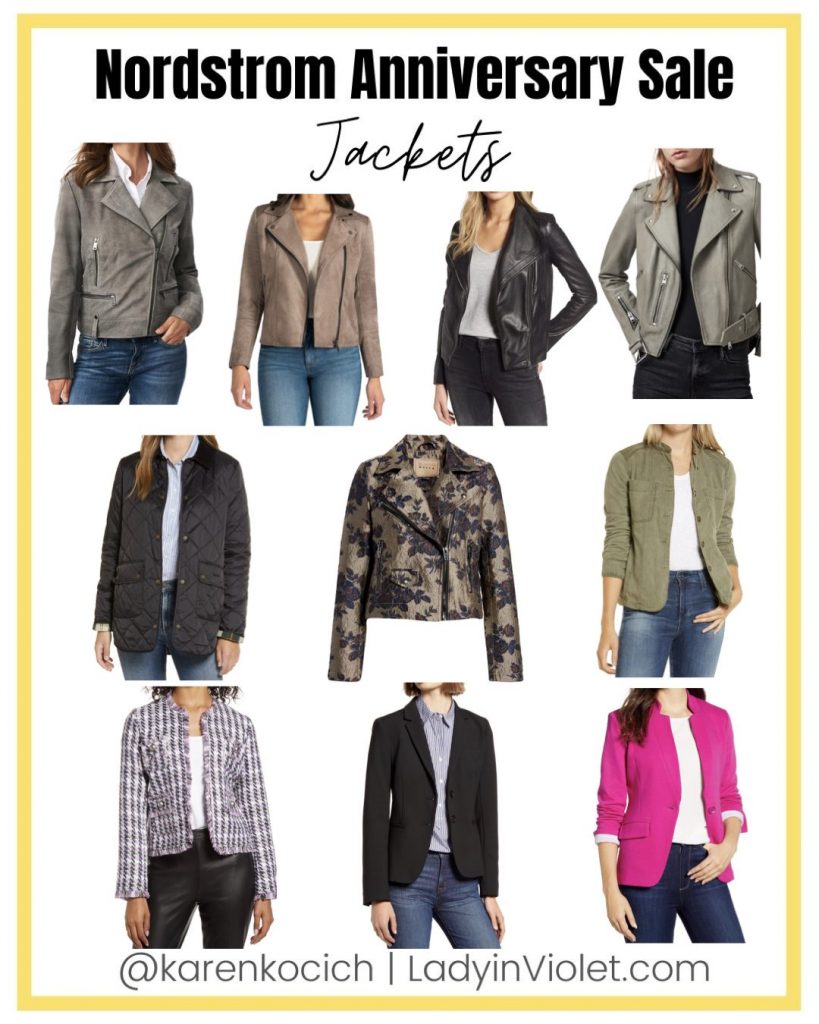 gray suede | tan suede | black leather | gray leather
black quilted | floral brocade | utility
tweed | black blazer | pink blazer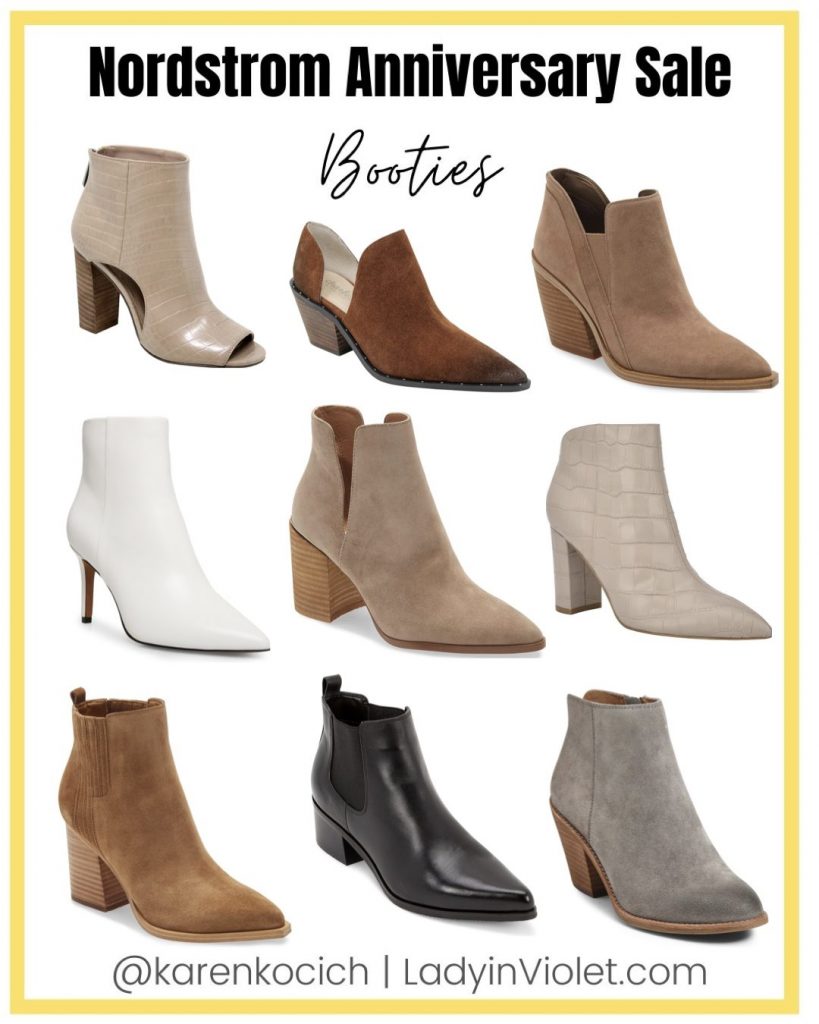 one | two | three
four  | five | six
seven | eight | nine
Happy Sale Shopping Y'all!  Be sure to check back later this week as I share some tips on transitioning some summer pieces to fall!