These denim joggers may be one of my favorite pairs of pants to come out of my current work from home situation.  Honestly, I probably never would have tried them otherwise.  While working from home, I still try to get dressed most days.  I think it helps with my productivity mindset a little.  I absolutely have days where I stay in loungewear all day because I also love being comfy cozy while at home.
The thing that intrigued me about these jean joggers was that they may fit both of my needs of feeling dressed for the day but also still comfy.  After testing them out for a few weeks, I really think these might be the perfect work from home pants.  They have a loose and comfy fit, but they are not super baggy.  I like that I can push them up to create a cropped look or leave them full length if I'm a little cold.  I've mostly them cropped because that was my favorite look plus it's still a bit warm.  These stay up cropped perfectly.  The sides have a zipper that you can unzip slightly to fit around your calf muscle.
FIVE WAYS TO WEAR DENIM JOGGERS
FOR FALL
WITH A SWEATER
When I put this outfit together, it totally gave me Carrie Bradsaw vibes.  I always loved that her outfits featured items that you wouldn't think to put together but totally worked and looked fabulous.  A sweater was not something I originally thought about when I tried on these denim joggers.  They have a loose and baggier fit which instantly makes me think of all the fitted top pairings. But that is why the shoes of this outfit are oh so important. I tried on a few different pairs, but this peeptoe dress booties completed this look.  It gives it that little bit casual, little bit trendy, and little bit dressy that I love.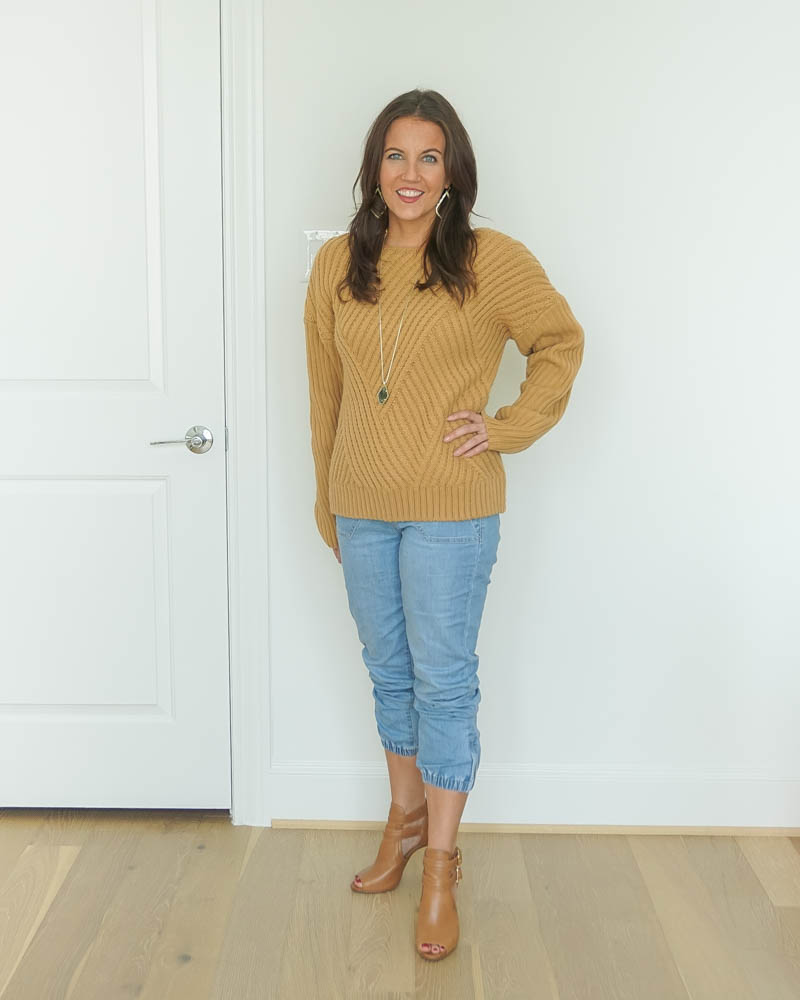 similar sweater | denim joggers | peep toe heels | similar necklace | earrings
WITH A PLAID TOP
A plaid top is the perfect casual pairing with my jean joggers.  Since the top has a looser fit instead of tucking it in, I opted to tie at the waist.  By doing this it helps bring in the waist line a bit and balance the two looser proportions on top and bottom.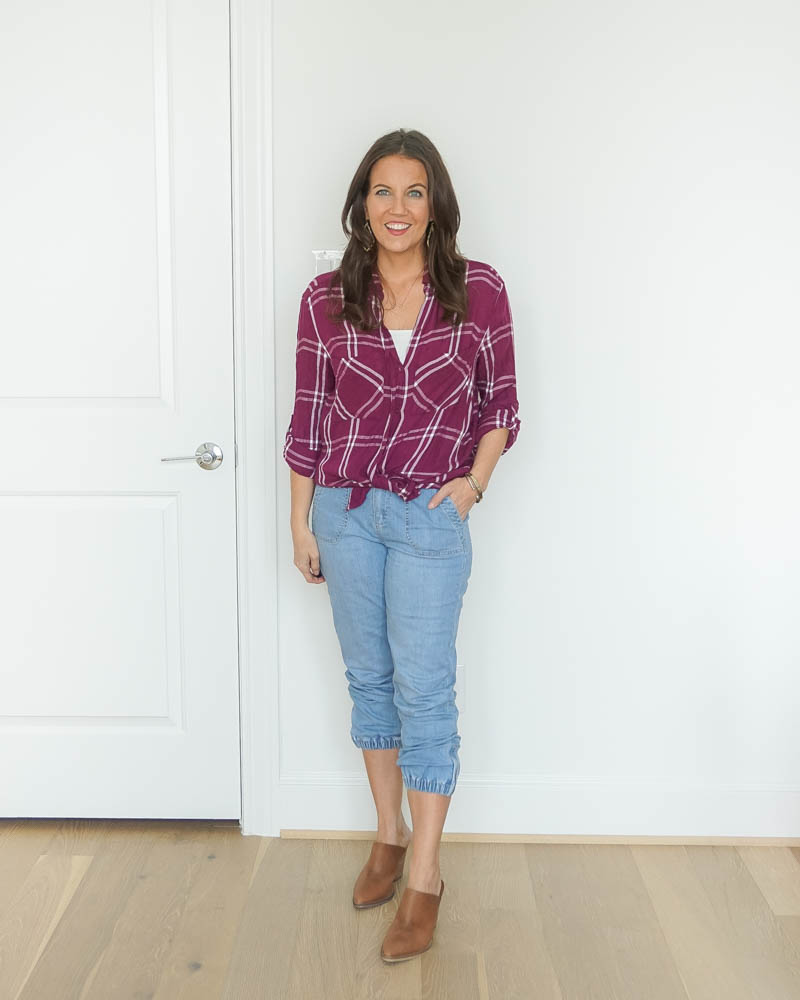 similar plaid top | jogger pants | brown mules | c/o necklace | earrings
FOR SPRING & SUMMER
DATE NIGHT OUTFIT
Now we move into the more fitted top options.  A bodysuit is a perfect pairing with denim joggers.  I went with this pink drapey one and tossed on my floral heels to show that you can totally dress up these comfy jeans for a night out on the town!
bodysuit (old)- similar color  | similar style | jean joggers | floral heels | c/o short necklace | similar long necklace | earrings
WITH A TANK TOP & WEDGES
Another summer or spring option would be a fitted tank top.  I styled two outfit options for this one.  First up with a scoop neck tank top and espadrille wedges for a fun daytime look, perfect for brunch or an afternoon with friends.
black tank top | denim joggers | espadrille wedges | c/o necklace | stone bangles
WITH A TANK TOP & FLATS
Another outfit option is to pair with a higher neck tank top and flats.  I wore this one evening when we had a couple over for dinner.  Of the two tanks, this high neck one is my favorite with this denim joggers.  I think the two styles compliment each other well.  For shoes, I opted for a neutral flat to help with my petite height illusion.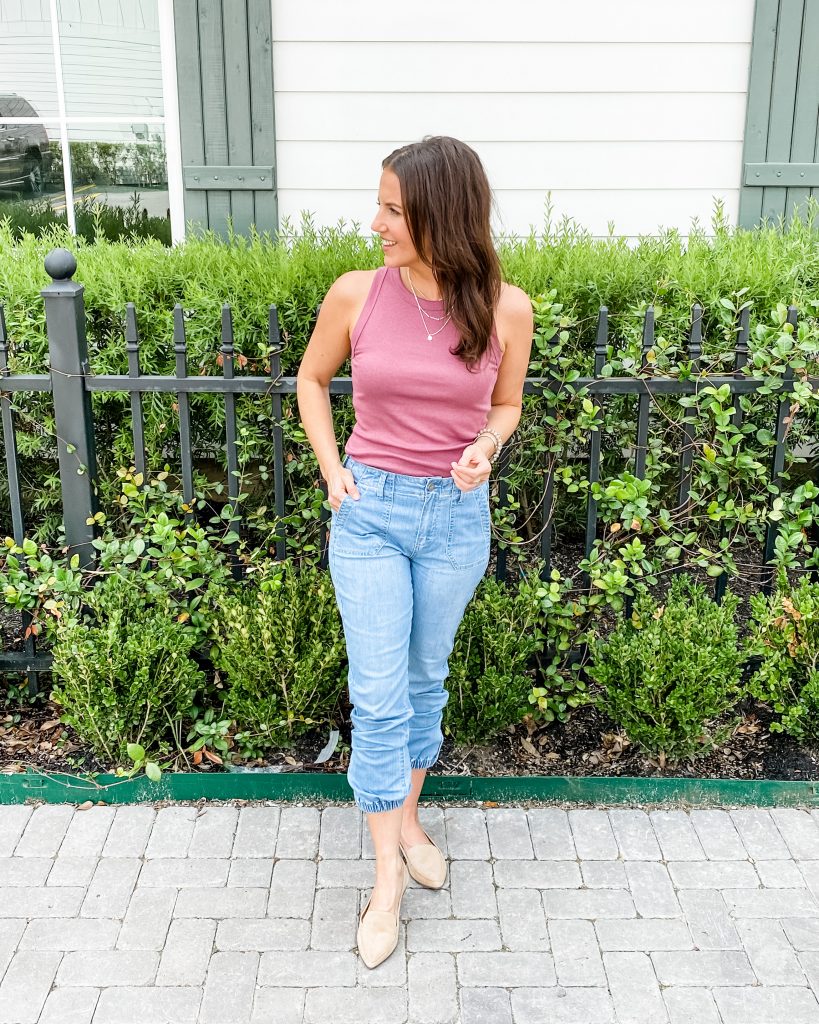 pink tank top | denim joggers | flats | layered necklace
SHOP THE LOOKS


Want to see more outfit ideas in my Ways To Wear Series?  Check out more posts HERE!
PIN NOW & SAVE FOR LATER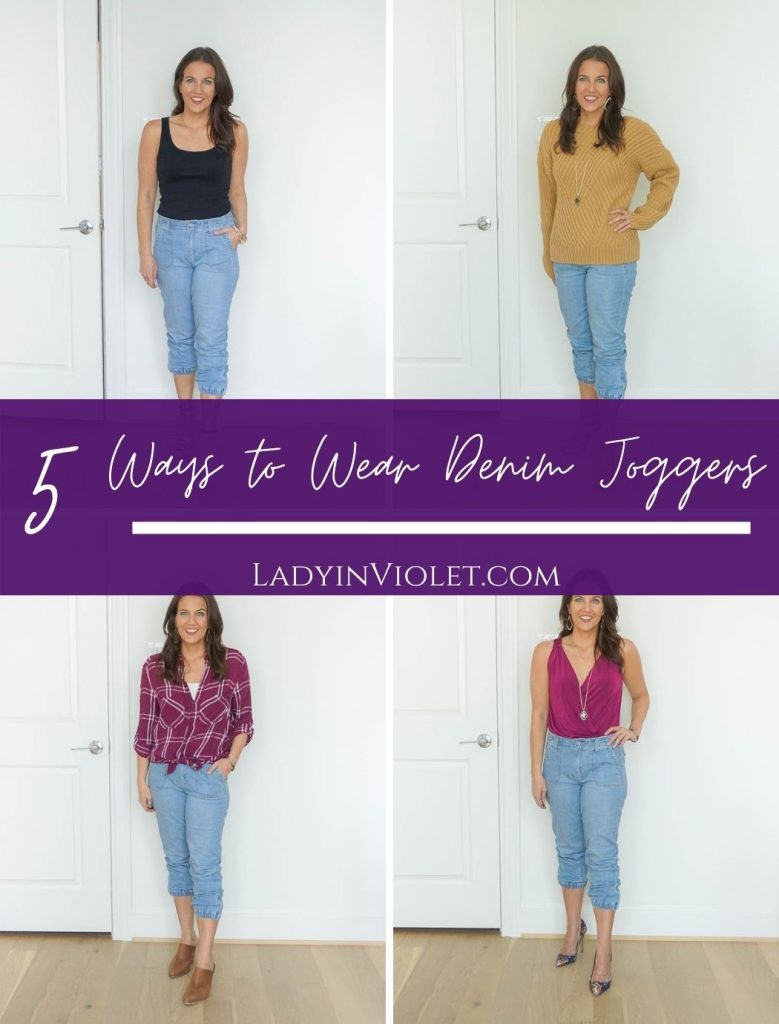 Love this post? You may also love: