Maybe it's because I'm a Texas girl, but I'm really loving this cow print blouse.  It's so right up my style alley being black and white. The print is fun and different, but also has a chic and sophisticated vibe. I've come up with a good variety of ways to wear a cow print top from casual, going out, western inspired (of course!), and even a little work wear.
This top is completely sheer, so you do need to pair a cami underneath it.  I opted to wear a black one, but you could also wear a white or ivory one which will lighten up the top a little.  It also has a tie neck line which I've showcased multiple ways to style as well.  It's a versatile detail that you can use to change up the look of your top.
NINE WAYS TO WEAR A COW PRINT TOP
ALL BLACK OUTFIT
I'm starting with the always chic all black ensemble.  It really helps the print of the top pop.
For the tie neck portion, I tucked the long strings into my cami to create the look of an open v-neck.  You can also tie them to the cami straps to help them stay hidden.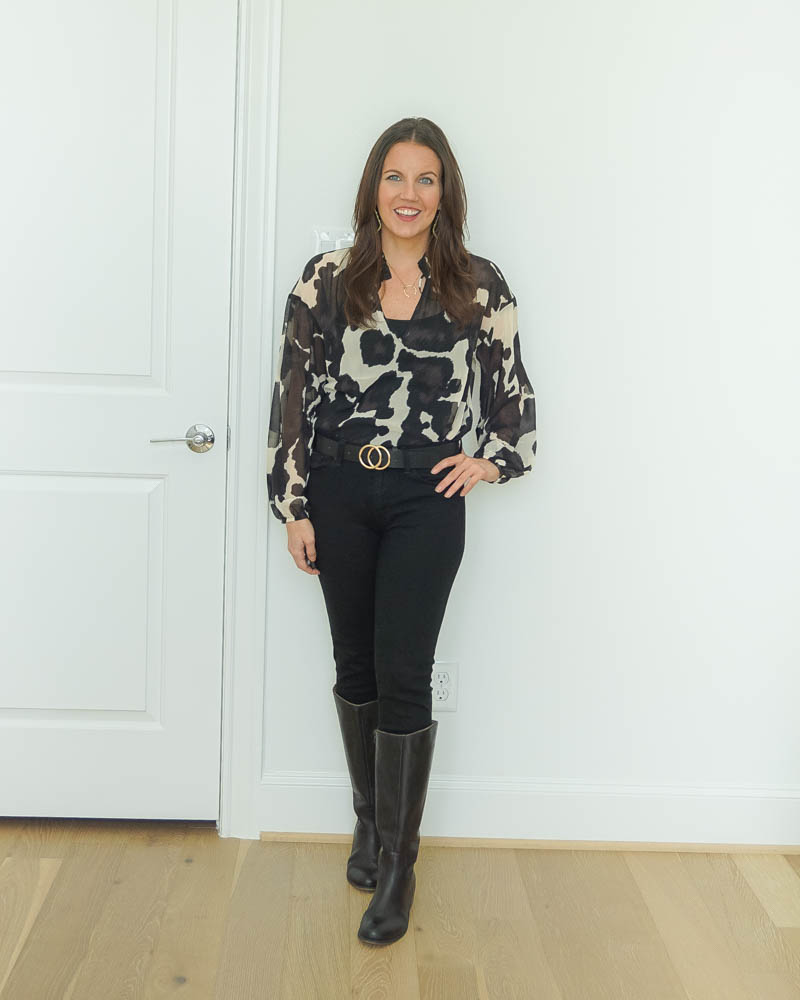 cow print blouse | black jeans | belt | leather boots | c/o necklace | earrings
BLACK JEANS & BROWN HEELS
Another option for this top and a black jean combo is to add in some brown.  A brown belt and shoes add the perfect contrasting pop of color.  The brown and cow print also give me a tiny hint of a western feel.
For the tie neck, I opted to tie a bow just at the base of the v-neck.  I love how it creates a fun necklace type detail to the top.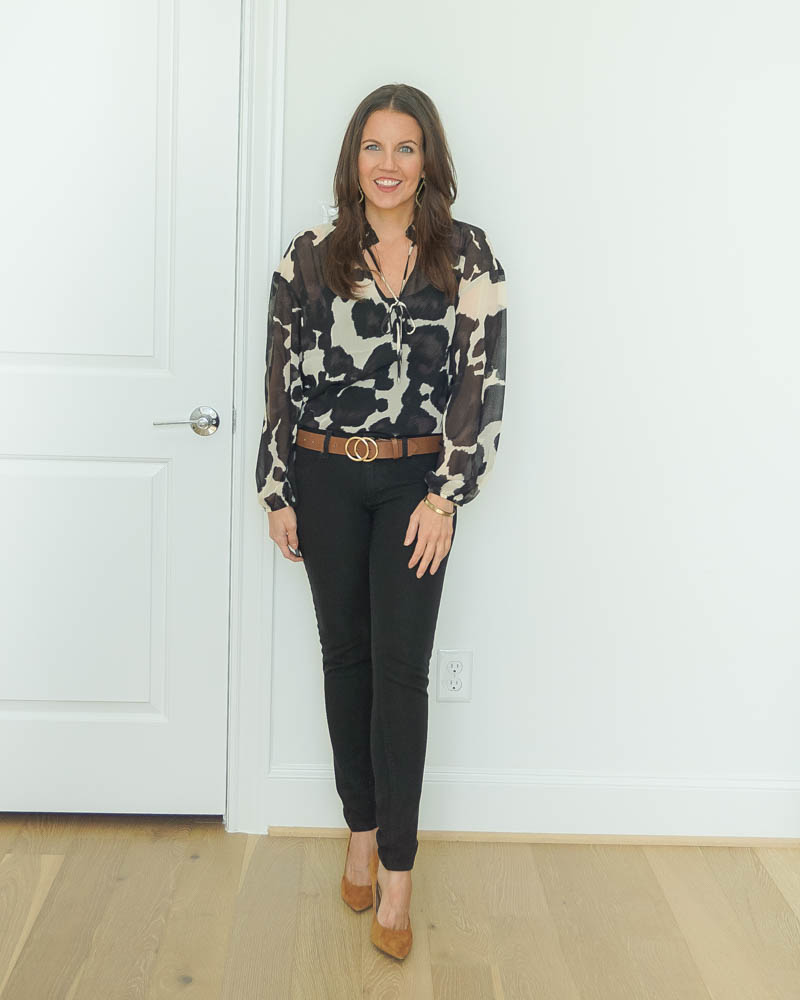 long sleeve blouse | black jeans | brown belt | brown heels | similar bangle | earrings
WITH BLUE JEANS & TALL BROWN BOOTS
This outfit was my most western inspired.  I originally though about showcasing this with cowboy boots, but I wanted to show how the look would work with a more popular style boot.  My tall brown boots have a weathered look for the perfect fall outfit combo with a hint of that western vibe.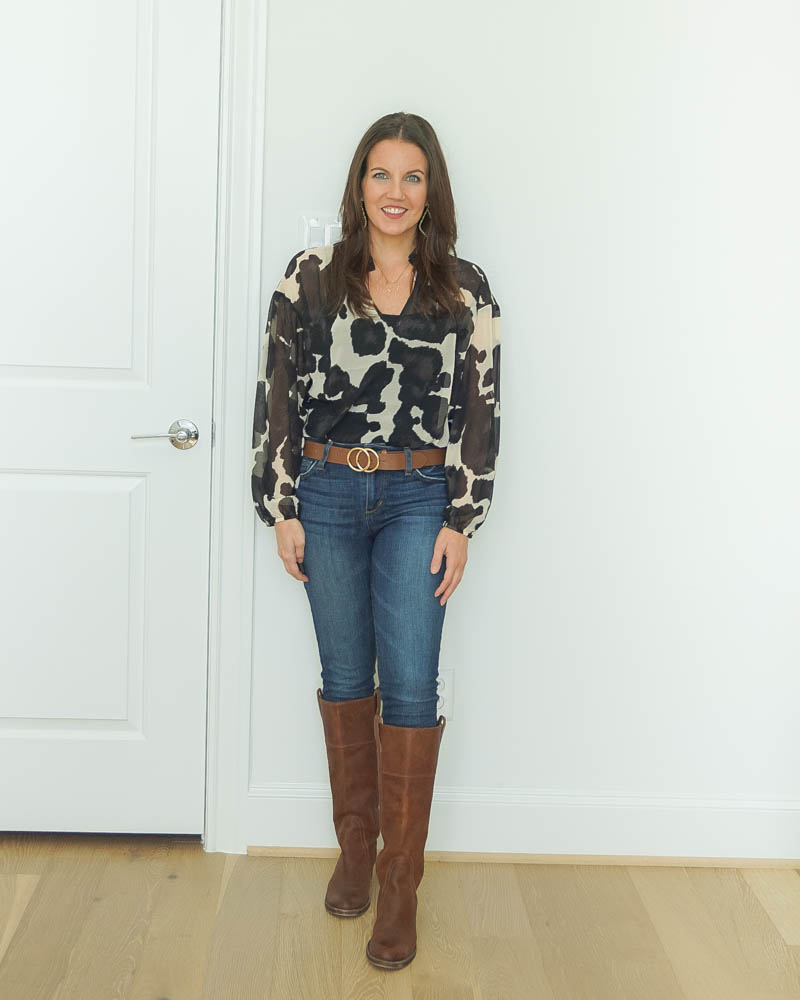 cow print top | blue jeans | similar boots | brown belt | c/o necklace | earrings
WITH BLUE JEANS & BROWN MULES
Many of the details of this top give it a more dressed up feel, but you can easily make this top more casual with a cuffed pair of blue jeans and brown mules or booties.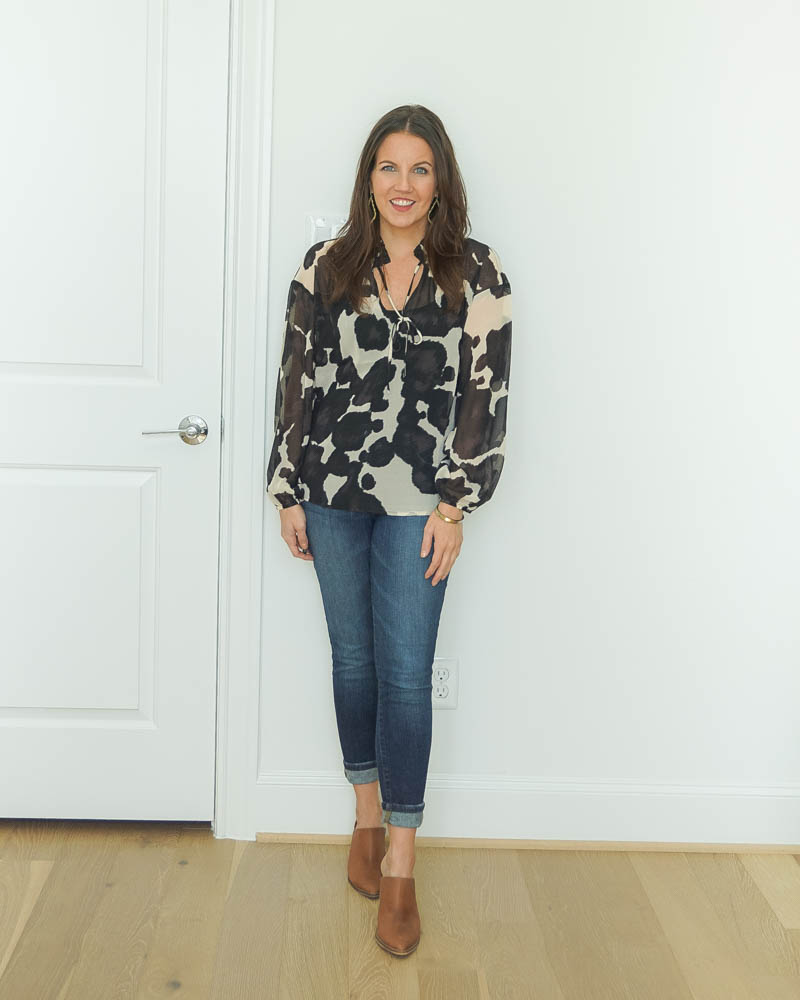 black and white top | skinny jeans | similar brown mules |similar bangle | earrings
WITH GRAY JEANS & PINK FLATS
If you for an outfit with no western references, opt for gray jeans and pop of color.  When you think that this is really just a black and white top, gray is a great jean choice for a chic casual outfit.  I also love adding in a pop of color with my shoes.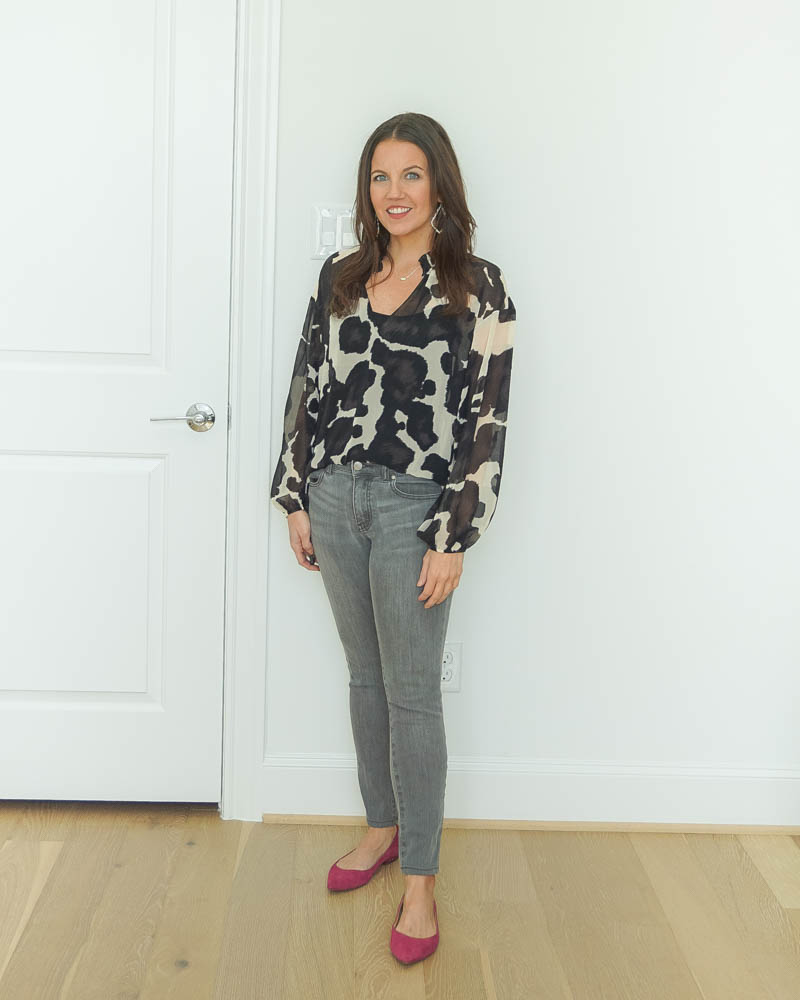 cow print top | similar gray jeans | similar pink flats | necklace | earrings
WITH BOOTCUT/FLARED JEANS & HEELS
Looking for a casual office look?  Tuck this top into a pair of dark blue flared or bootcut jeans.  In an earlier look, I paired my tan heels and brown belt together.  The brown stops the eye at the waist and can help break up a monochromatic outfit.  For this one, I wanted a smooth look  and didn't want the eye stopping at the waist.  I chose the black to blend in more, but I still have my pop of color in the shoe.  You could also choose a pair of black heels.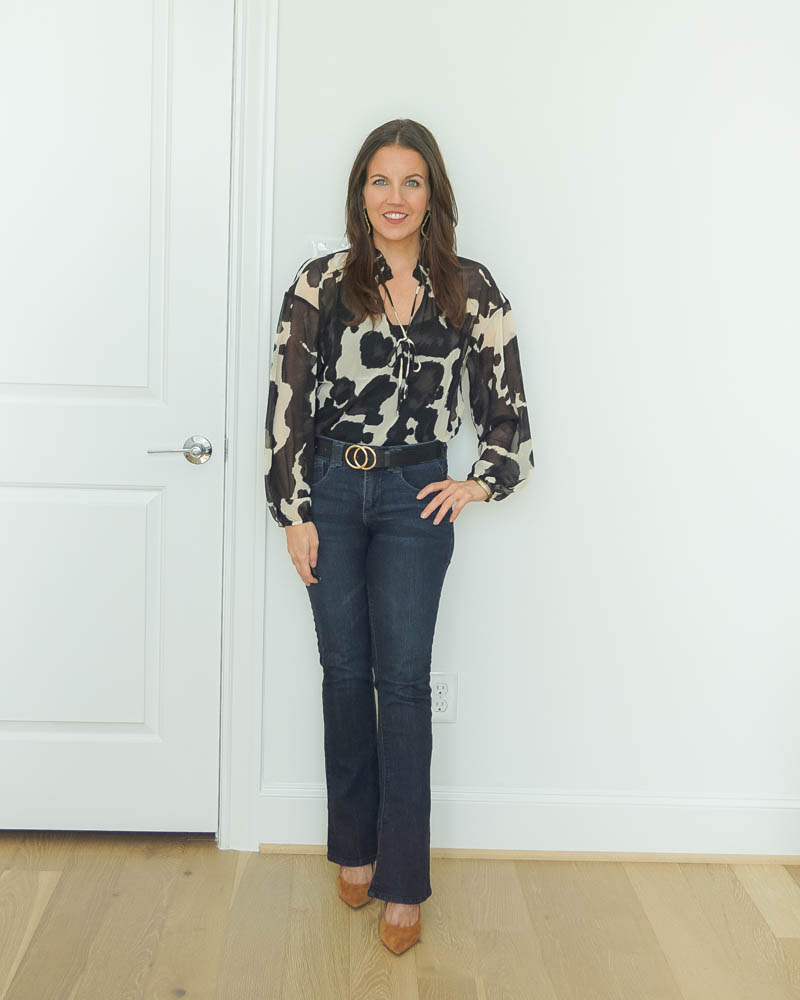 long sleeve blouse | flared jeans | tan heels | black belt | earrings
WITH A LEATHER SKIRT & BOOTIES
This one has a little western inspiration for a date night or girl's night out.  It's cow print, it's brown leather, and it's my favorite western inspired black booties.  This combo is perfect when you want western inspired not full on cowgirl.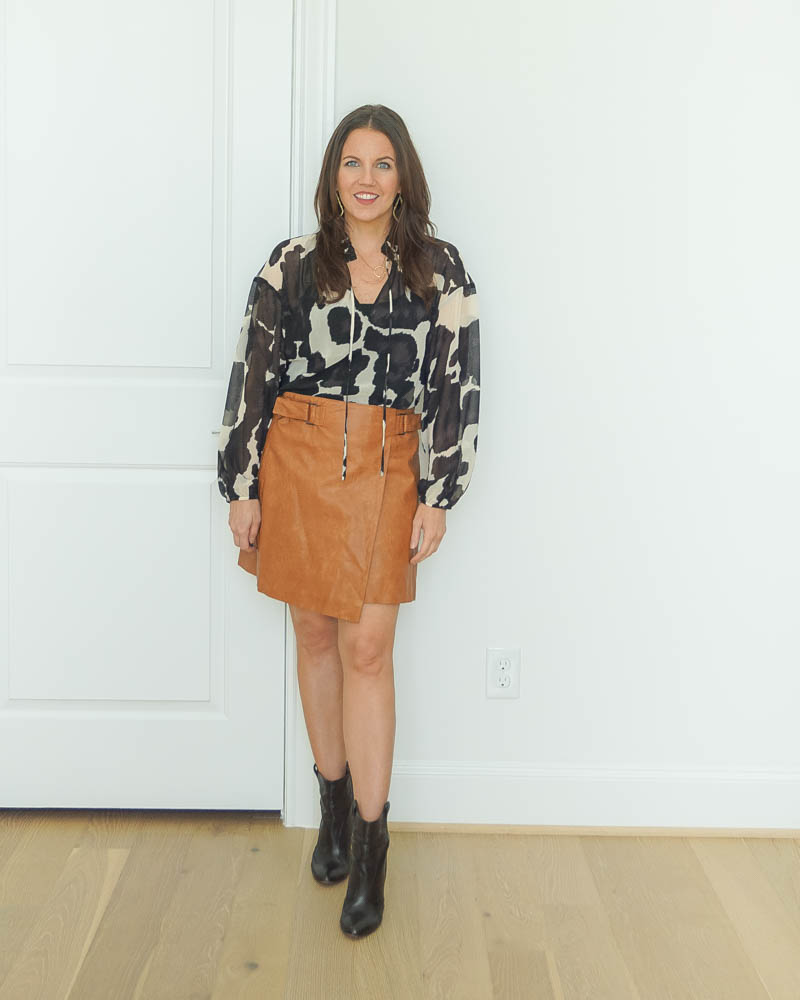 black and white blouse | similar skirt | similar booties | c/o necklace | earrings
WITH A PENCIL SKIRT
I was so torn on which pencil skirt to wear with this top because it look great with all of them!  If you are looking to add some fun to your work look, a pop of color is a great choice.  To keep the more professional look, you could also do a black or gray pencil skirt.  For the chic work to happy hour look, this top with a black leather pencil skirt is a fabulous combo!
For the office, I tied the tie neck closed to create a mock turtleneck look to the top.  This style is fun for work to happy hour. Tie it up for work and untie it to transition to happy hour or an after work event.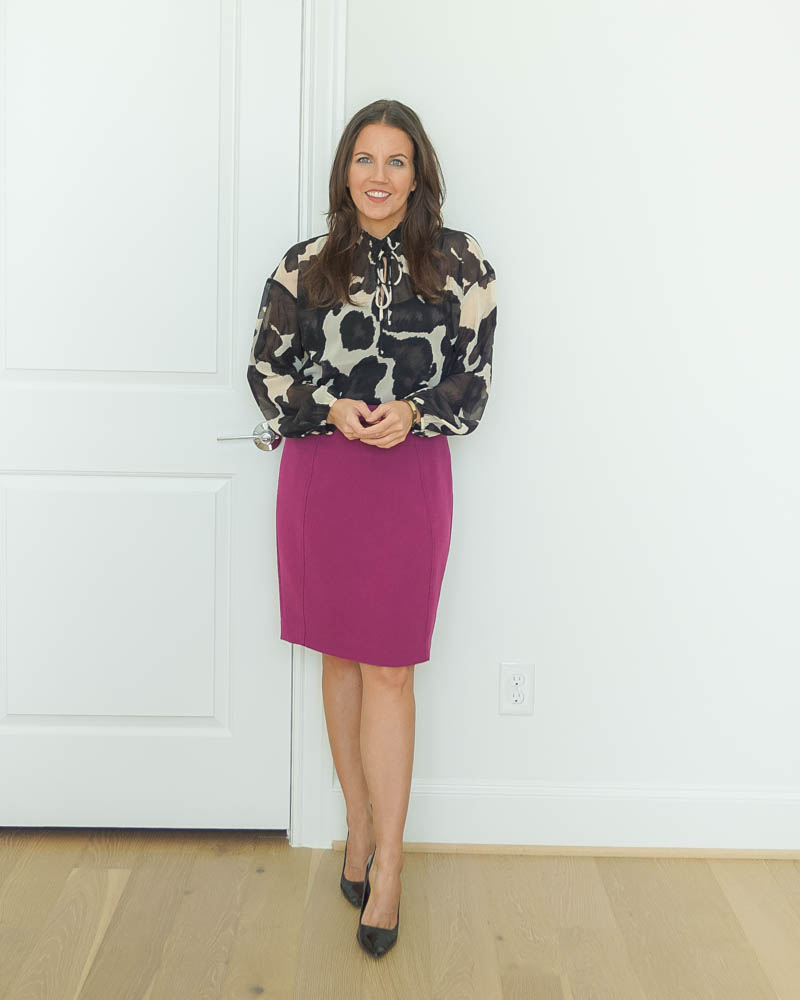 tie neck top | similar pencil skirt | black heels | similar bangle
WITH JEAN SHORTS & BOOTIES
Another western inspired outfit idea! I wore this one a few weeks ago.  I really wanted to wear this top, but it was too warm for jeans during the day.  A pair of cutoff jean shorts was the perfect answer.  I've been loving my pair as a warm fall alternative to jeans.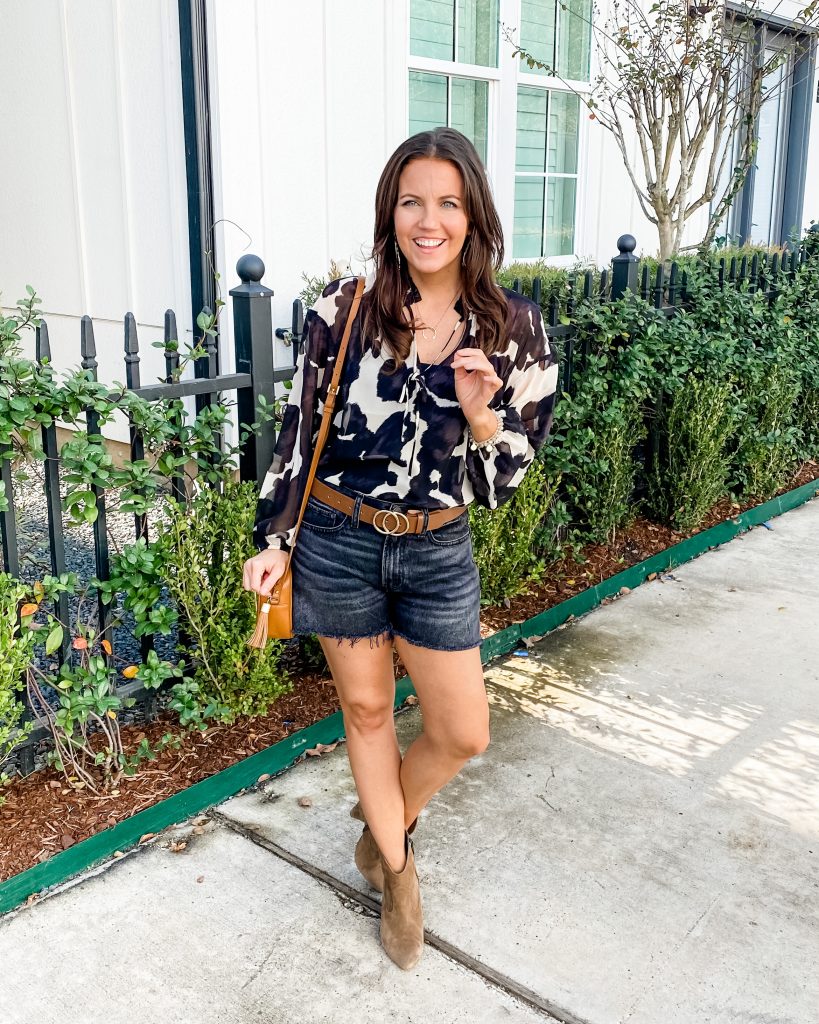 cow print top | black shorts | similar booties | belt | earrings | c/o necklace | c/o crossbody purse
SHOP THE LOOKS


PIN NOW & SAVE FOR LATER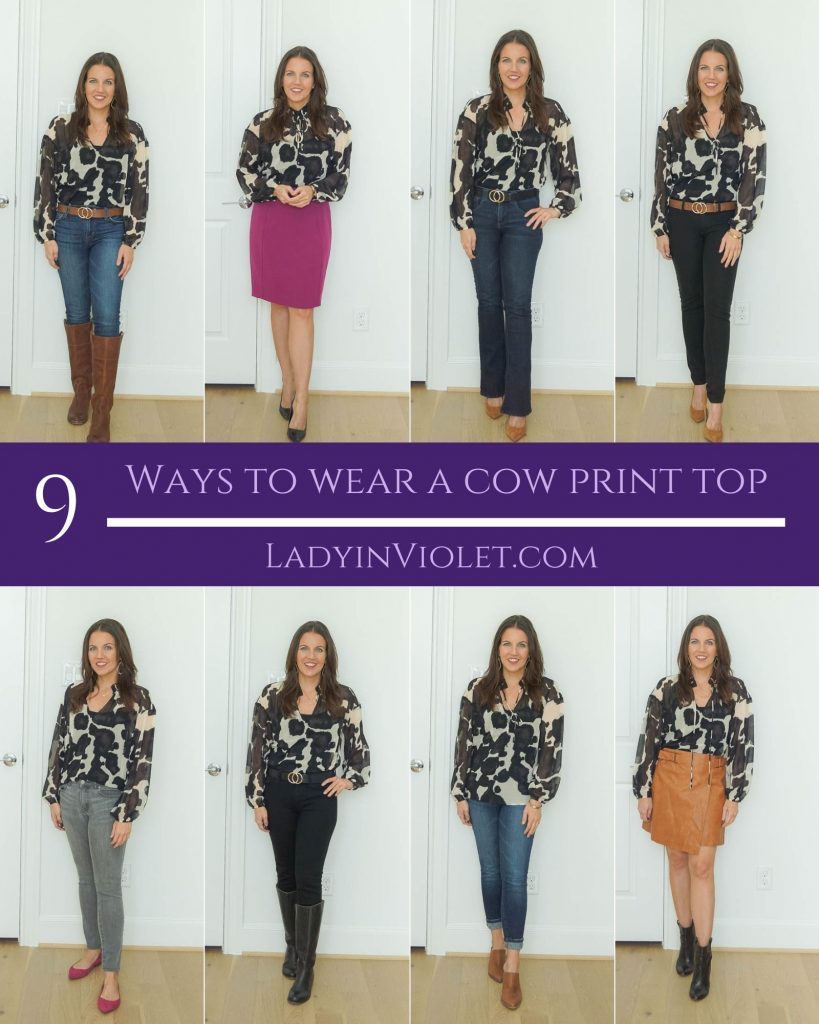 Love this post? You may also love: