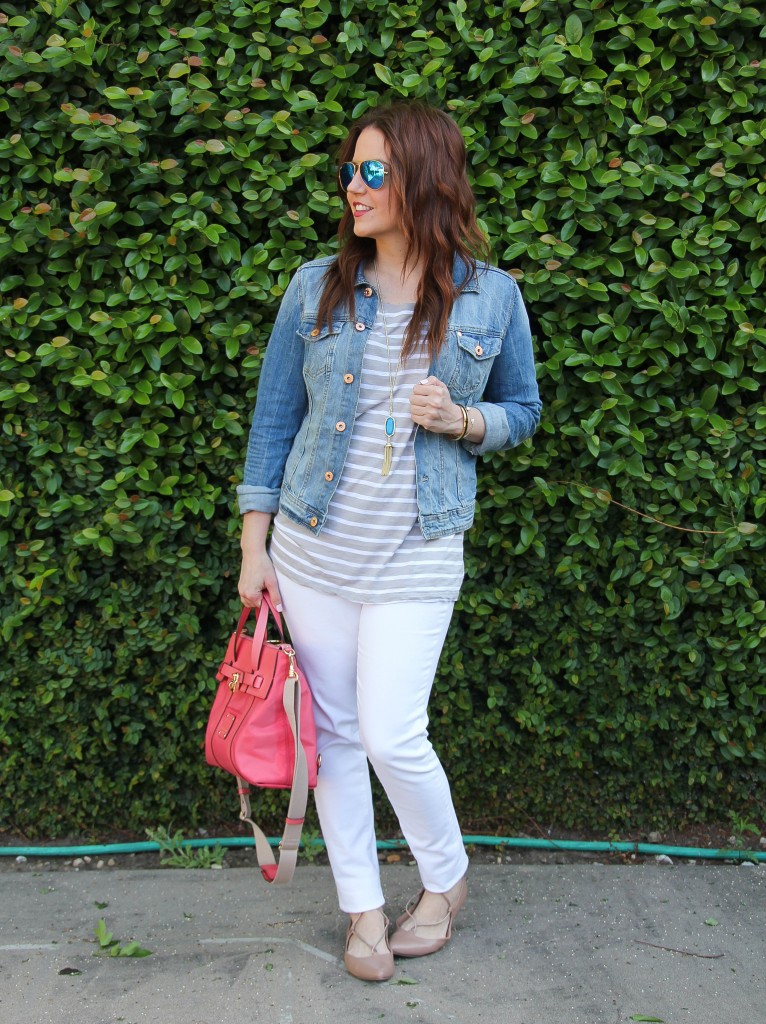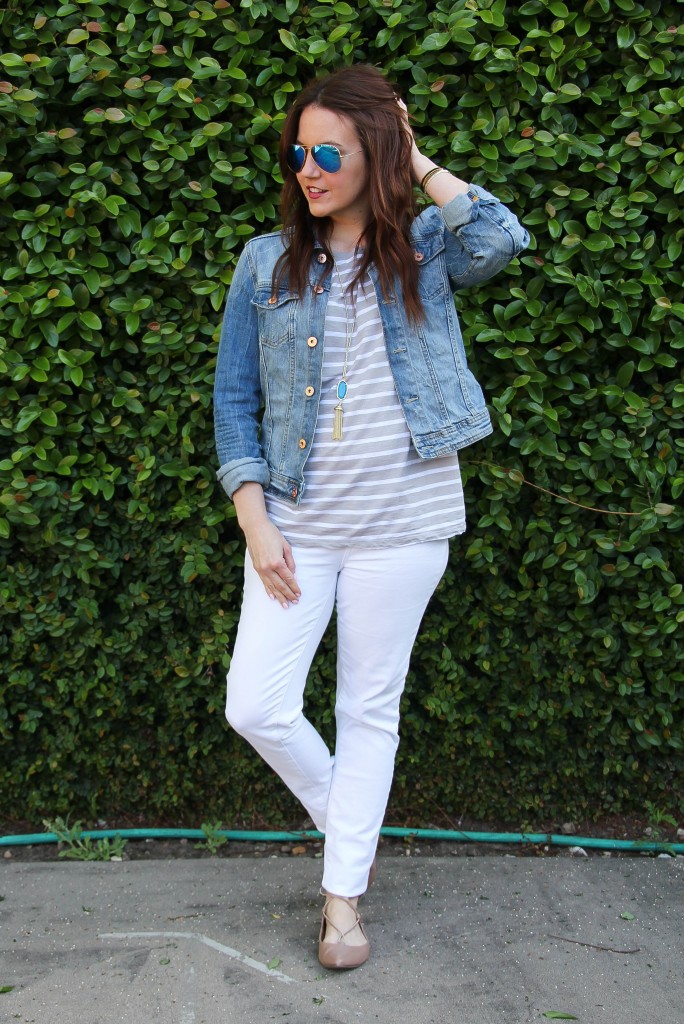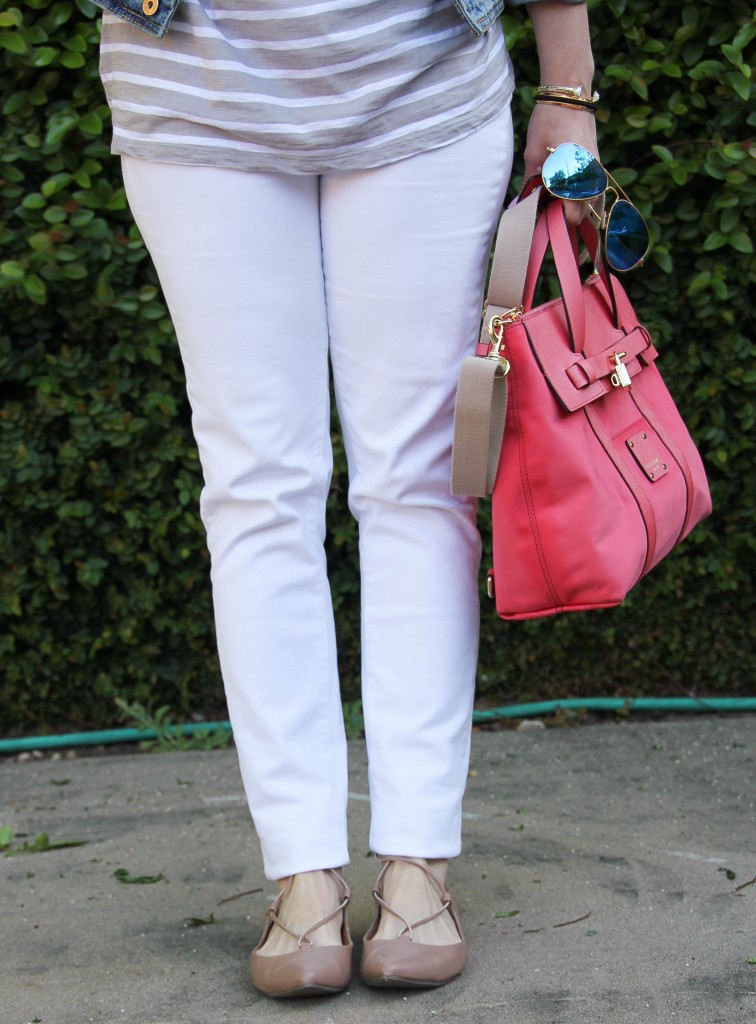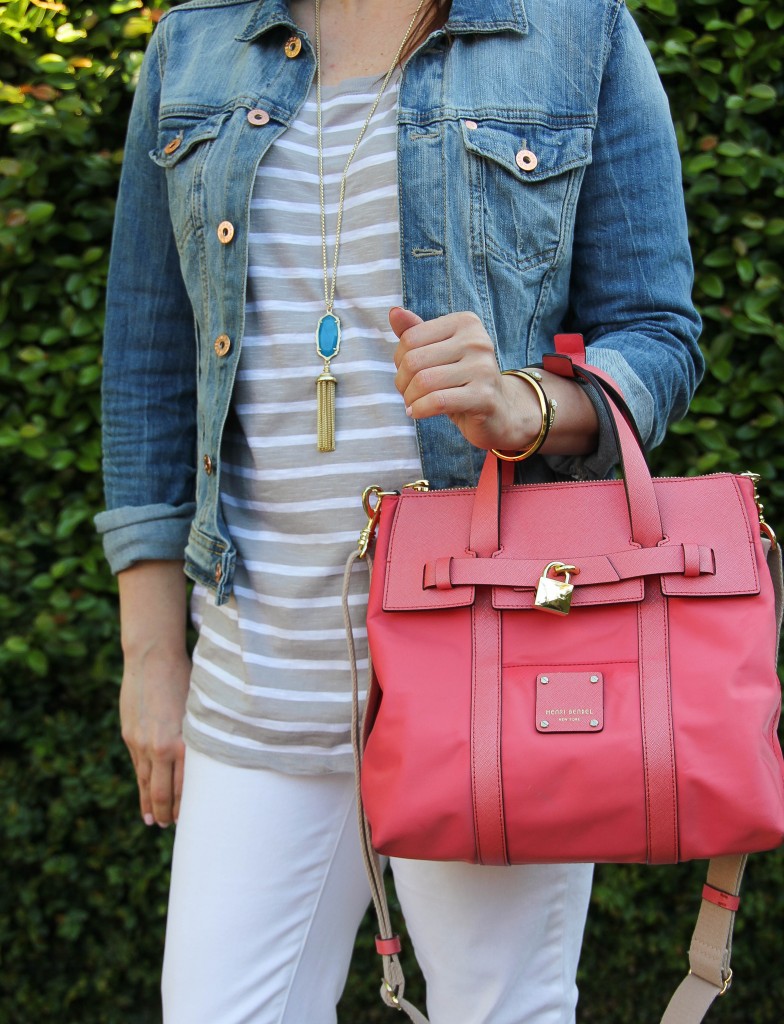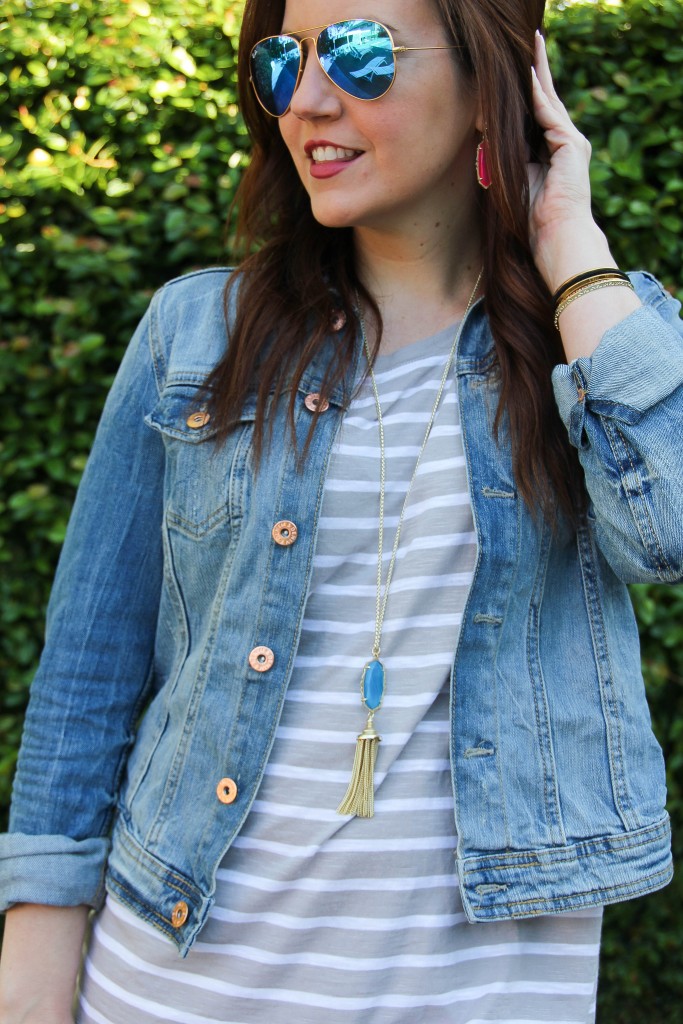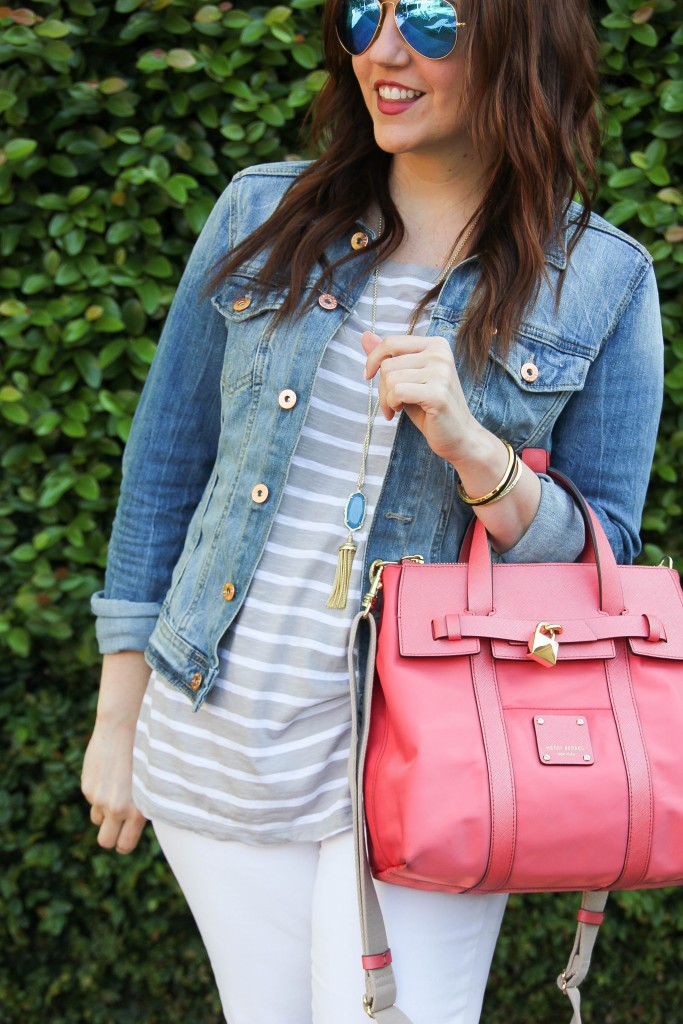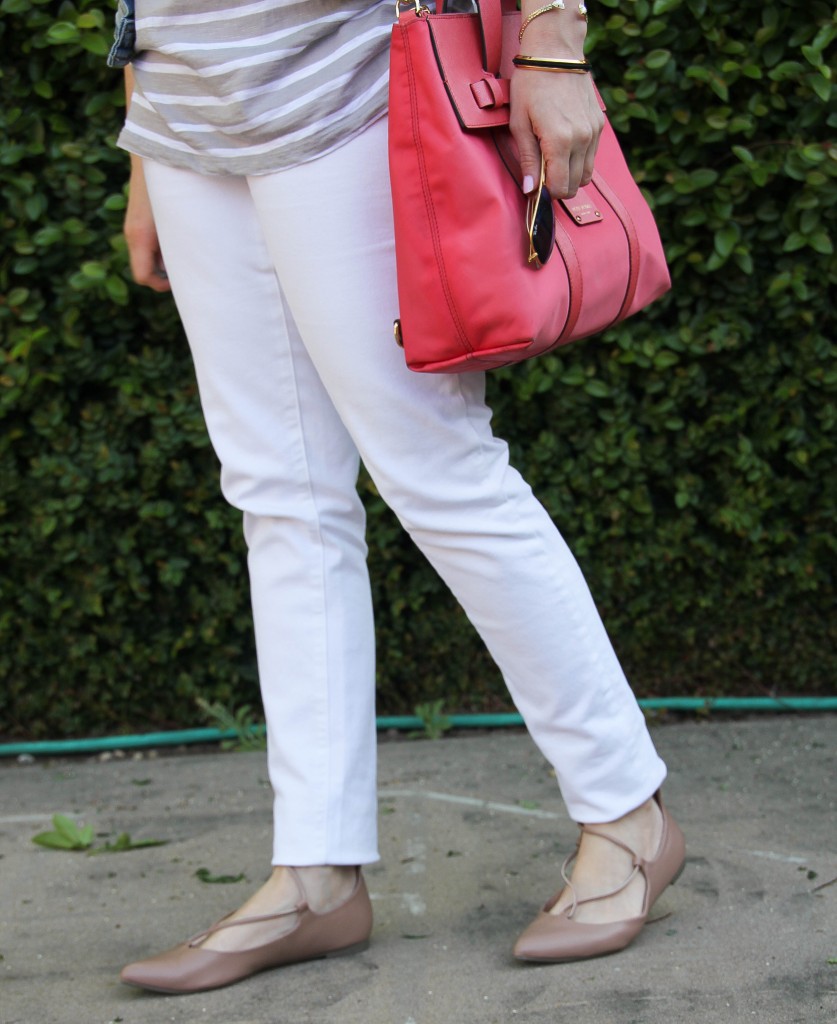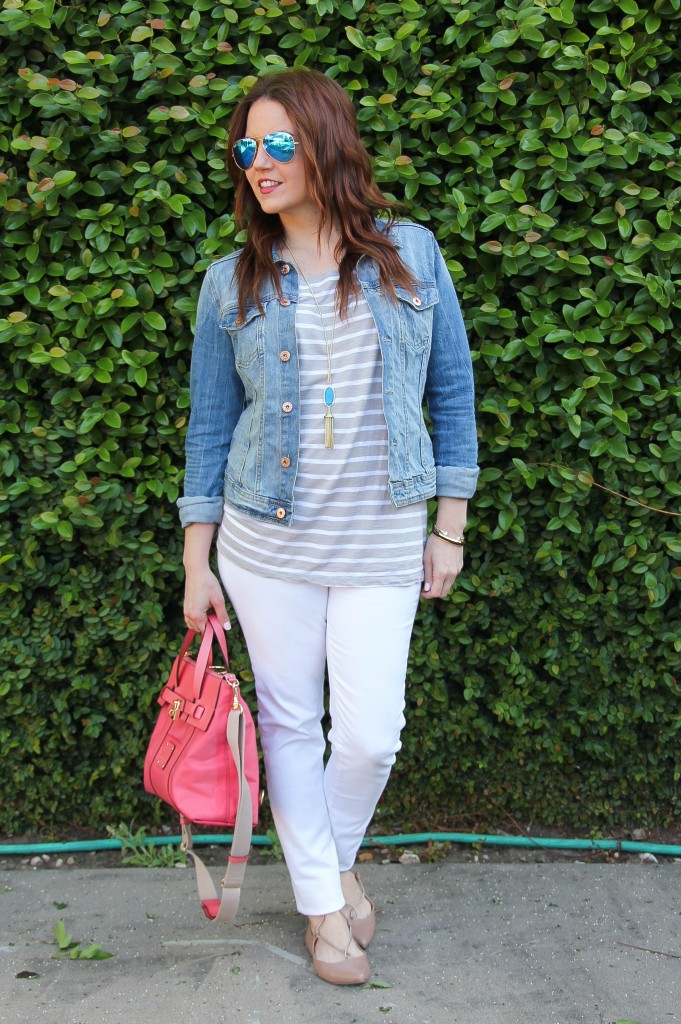 | DETAILS |
HM Denim Jacket  | BP Striped Tee *ON SALE  | PAIGE DENIM White Skinny Jeans  |  STEVE MADDEN LeCrew Lace-Up Flats  |  HENRI BENDEL c/o Mini Jetsetter Bag  | KENDRA SCOTT c/o Fran Earrings *ON SALE,  c/o Everly Necklace (similar) ,  Grady Cuff (similar)  | THE BANGLE BEAR c/o Lydia Hair Tie Bracelet  | RAYBAN  Blue Mirrored Aviators  | Lipstick: MAC Craving  | Nails: ESSIE  Fiji
Hey there Monday!!  I had such a busy weekend that Monday seemed to sneak up on me this week.  My cousin's wedding was this weekend, and it was gorgeous! I posted what I wore over on Instagram, but I also plan on shooting it for the blog too.  The shoes I ordered to wear with the dress don't come in until today, so I wanted to wait to shoot the look how I originally planned on wearing it.  Luckily, I had plenty of backup shoe options!
I'm also getting ready for a really fun girl's trip that I'm taking in a couple weeks.  We are heading to Charleston, and I am so excited to get to really explore this city with friends.  I'm slowly planning my outfits for the trip, and I'm hoping to share  little bit about how I pack for a vacation and a fun little travel guide of our trip to Charleston.  Just a few things to look forward too!
I recently purchased a few pairs of flat shoes for my trip because Charleston is such a walking city.  These lace-up flats are a shoe I have been searching for for awhile.  I was kind of picky about what I wanted from no metal studs, to the lace design on the top of the foot, and I wanted them under $100.  I bought these during a sale, but regular price they still aren't bad at $70.  They are a year-round shoe style, and one I can wear to the office with skirts.
This whole outfit may end up going on my trip with me.  I definitely plan on bringing my denim jacket.  It's such an amazing and versatile closet staple.  I toss it on with casual looks like this one and over dresses too.  My look today is super neutral, so the jacket adds a little color.  I also added in some fun colorful jewelry and my pink bag for a few more pops of color.  This little crossbody bag is 100% coming on my trip!  It's the perfect size to hold my big DSLR camera along with all my other purse things.  This color is sold out, but they do still have it in a darker pink color and some other fun colors too!
So I have to mention my black and gold bangle, it is actually a hair tie attached to a bangle.  It's the coolest thing ever!  One of my blogger friends had one, and I really wanted one!  I was super excited to receive one in a swag bag at a blogger brunch a few weeks ago.  Definitely coming on my trip with me!
Hope ya'll have a great Monday and thanks for stopping by!
SHOP THE POST
Follow Lady in Violet INSTAGRAM | TWITTER | FACEBOOK | BLOGLOVIN | SUBSCRIBE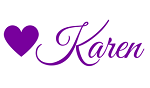 Love this post? You may also love: