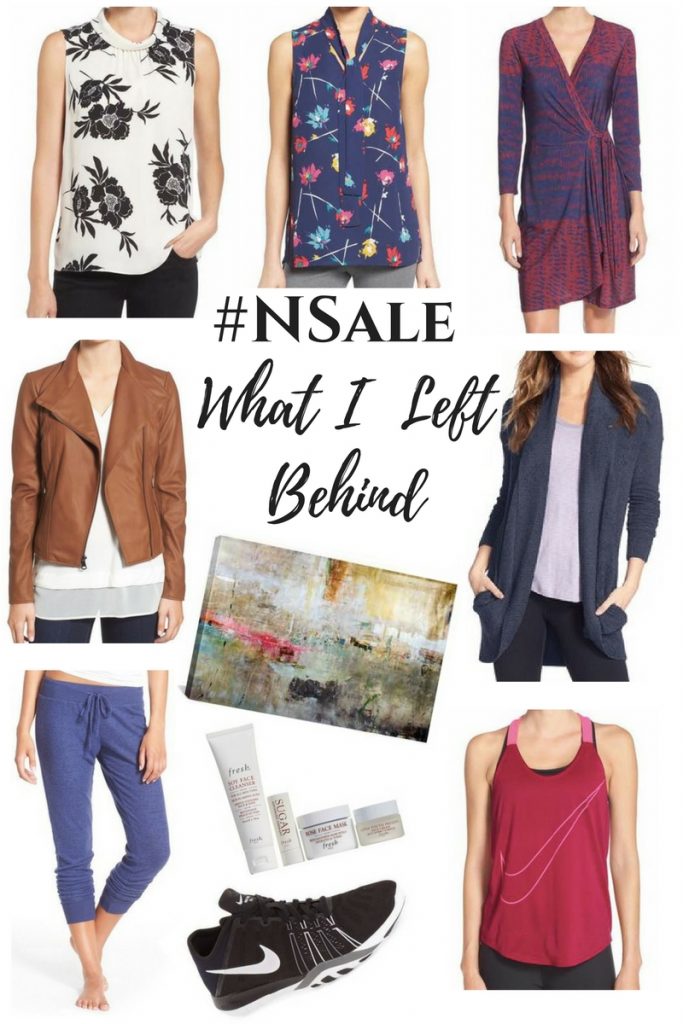 black & white top  | tie-neck blouse  | dress
leather jacket |  artwork  | long cardigan
jogger lounge pants | beauty kit  | sneakers  |  workout top
Hey Ya'll!!  While I am conferencing away in Charleston, I wanted to be sure you know this is the last weekend to shop the Nordstrom Anniversary Sale before prices go back up on Monday.   I'm planning to place one last order Sunday when I get back of just a few small things still on my wish list.
I always create the largest wish list at the start of the sale, but that pesky little budget keeps me in check and a few things just don't make the cut.  Today, I am sharing a look at a few of the items still on that list.
I didn't buy as much work attire as I normally do.  These two tops are both right up my sleeveless blouse alley and will be cute to pair with cardigans in fall and winter.  A wrap dress is a class work look.  I think the print on this one is so pretty.  This colors would work now with nude heels, and in the fall with brown riding boots.  I splurged on this purse this year, so many of my high dollar items had to take a backseat.  I had a few jackets on my list including a brown or tan leather jacket.  I love the draped front of this one and the brown color.  It will be really cute over basic tees or plaid shirts.  It would also be cute over that little wrap dress.
I have only talked about the fashion and beauty items of the NSale, but home goods are also included.  I am always looking to add a comfy blanket or cute decor to my house, so I had a few things on my wish list.  Most of them are already gone, but this artwork is still available.  I love abstract artwork, and I think the colors on this one may have worked will in my bedroom.  I decided not to purchase it though, because I wasn't 100% sure it would work with my light blue walls.
These last few items are the ones that may make it to my cart on Sunday.  I really need some new workout shoes.  I try and buy a pair every year, and I'm due for some new ones.  Jogger lounge pants are my favorite thing to wear around the house in winter.  We have stairs, and I always trip in regular pj pants.  The tapered ankle on these are much easier for me to walk around in.  I can't believe I did not buy a long cardigan on this sale! I live in mine in fall and winter, so I might still buy one.  Many of the ones I liked sold out of my size or color choice before I had a chance to buy.  These circle cardigans are probably my favorite style.
I also have a couple workout tops and beauty products still on my list.  These two are at the top of the what I might still buy list.  I saw someone wearing this top in spin class last weekend, and it made me want it even more.
I added a few more items still on my Nordstrom Sale wish list below, so check it out.  AND don't forget to make all your purchases by Sunday night because prices go back to normal Monday.  Ya'll have a great weekend and if you want to see what I'm doing at the conference be sure to follow on Snapchat (ladyinviolet) and Instagram (@karen.rock)!  See ya Monday!
SHOP THE POST