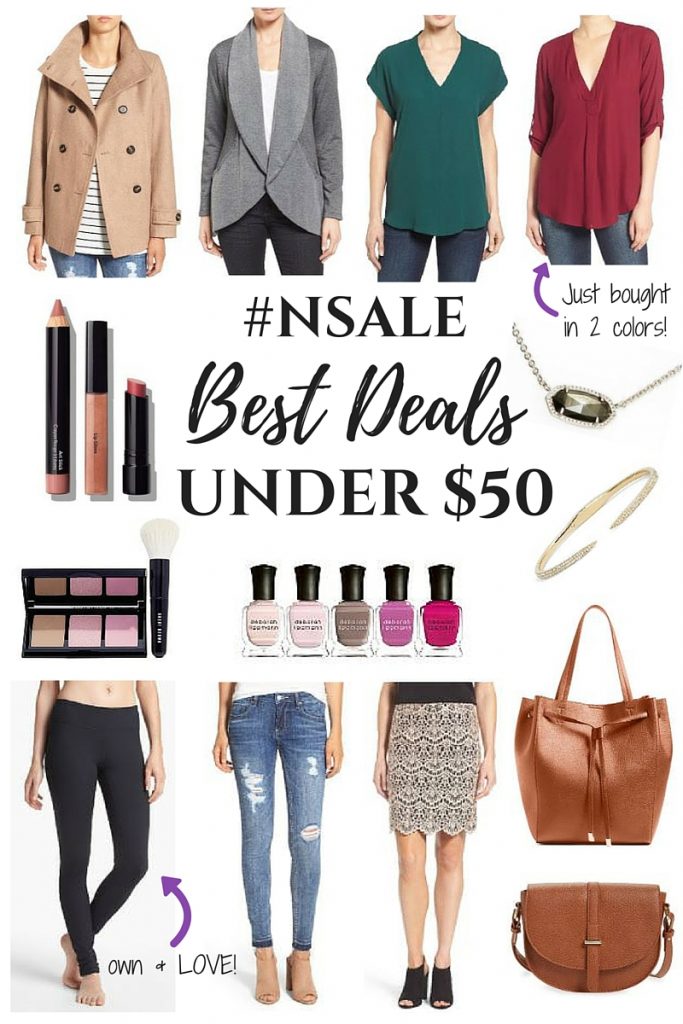 | DETAILS |
Peacoat  | Long Cardigan  | Teal Blouse  | Maroon Blouse 
Lip Kit  | Blush Kit | Nail Polish Kit  | Necklace  | Bracelet
Leggings  | Distressed Jeans  | Lace Skirt  | Tote Bag  | Crossbody Bag
It's HERE!! Today, the Nordstrom Anniversary Sale opens for everyone!!  Many of my girlfriends are not cardholders, so happy hour last night was filled with talk of what to buy when the sale goes public.  I'm honestly surprised how quickly items have been selling out this year.  As someone who shopped the sale for several years before becoming a cardholder, I was really shocked to see items becoming backordered and out of stock so quickly just during early access.
Don't worry too much, because trust me there is PLENTY left!  One thing that my gal pals and I want is to get the best bang for our buck, so today I'm sharing the Nordstrom Sale Best Deals under 50.
You can't pass up a coat that comes in under $50 and is this cute.  A peacoat is a classic winter staple that will be used for years to come.  One of my personal favorite winter items is long cardigans.  I buy a few every year.  I own a few from this brand, and they are some of my softest and coziest cardigans.  This teal top is from one of my go to brands for tops that work for both office and weekend.  Bonus, many of them don't need ironing, so a true throw on and go.  This one comes in multiple color and print options too.
You may remember me buying this top in olive last year, it was one of the most popular sale items.  My only drawback to this top was that it was a little long for my height.  It was the main reason I didn't stock up on multiple colors.  This year Nordstrom brought a shorter version of this top to the sale.  I did a happy dance and bought it in two colors.  If they offered it in white, I would have bought three.  I LOVE this top!! It's a great basic that works for layering or just wearing alone with a cute pendant necklace.
Speaking of jewelry, one of my favorite everyday necklaces is included in this sale.  I own this necklace in silver and rose gold.  It's a really great length and stone size to be able to wear with both your work wear or just a t-shirt and jeans on the weekends.  If you want a little sparkle, this Nadri bracelet is so gorgeous!!  I have owned pieces from this brand for years and they still look sparkly and new, so definitely a good deal in my book!
The beauty department has quite a few good deals during this sale.  My top two would be this blush kit and the lip kit.  I own a lipstick from this brand and love it.  The color lasts all day long.   A few honorable mentions from this sections would be this brush and cleansing mat and these blenders (which are on backorder).  The majority of my eye brushes are from the same brand as the cleansing kit.   I have heard rave reviews over this face brush.  I haven't decided on my beauty buys yet, but I have been eyeing the cleansing mat for several months, so I could see this being top of my list.  I  currently own and regularly use these beauty blenders.  They are great with liquid foundation, blending in your concealers, or for using color correctors.
As for the nail polish, five polishes for under $30.  If you are a nail polish fan like me, you know this is a good deal.  I love the color selection because it would work really well year round.
For under $50 bottoms, these leggings are my favorites! I wear them tons both lounging around the house and out and about with long sweaters and riding boots.  They are thick and comfy.  For jeans, I found these cute distressed under $50 pair.  I have never tried this brand, but I loved the distressing on these.  I also think this is such a pretty skirt.  I immediately pictured oversized black sweaters and riding boots when I saw this skirt.
Last up bags.  I saw this large tote in the store and could not believe it was under $50.  It looks way more expensive.  I think it would make a great everyday tote.  I love a good crossbody, and this one is a great size and quality.  I like this particular shade of brown for both these bags, because I think it is a pretty versatile color.
I'm so excited this sale is finally open for everyone! Check out the little widgets below for some more great under $50 deals, and I also included the items I have ordered so far.  I mean there are still 2 weeks left,  so I'm sure I will be making at least two more orders! 😉  If you want to see a huge list of my top sale picks, check out this post.  Thanks for stopping by and Happy Friday Ya'll!
NORDSTROM SALE BEST DEALS UNDER 50
WHAT I'M BUYING DURING THE NORDSTROM SALE