Monthly Archives:
January 2020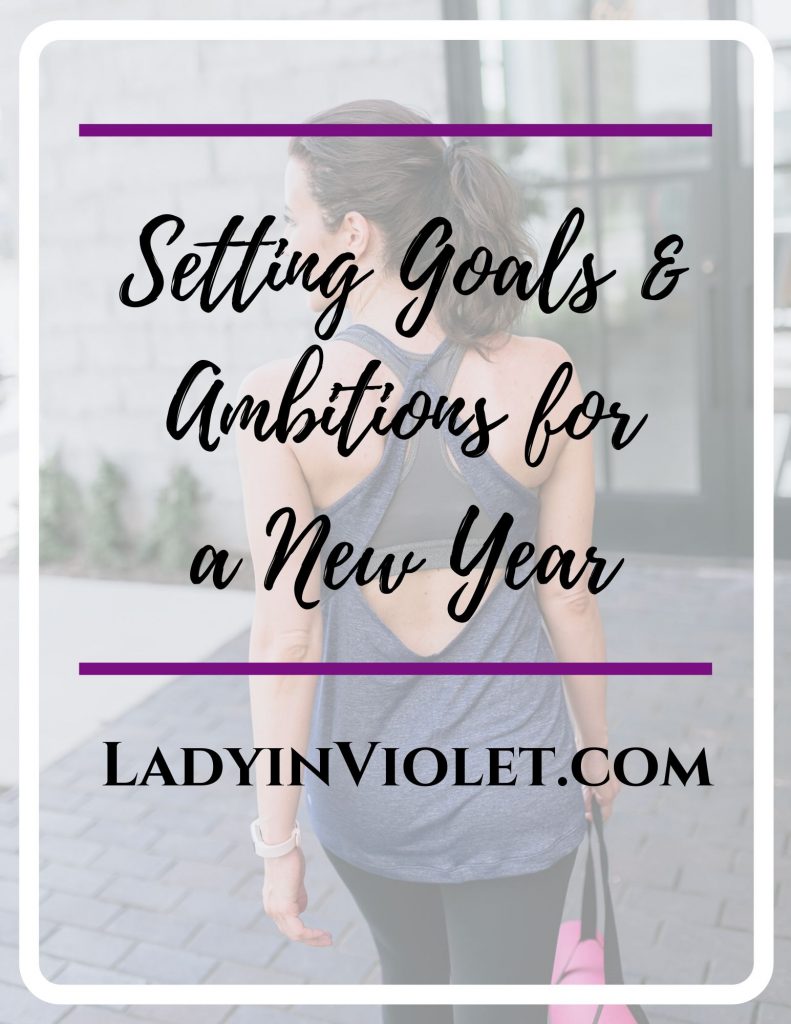 Truth: I love setting goals, I love a new month and a new year.  I love sitting down at the start of the year and month and writing up my goals. This time of year is all about setting yourself up to grow this year.  I think it's important to grow a little in some capacity each year.  The start of the year is the perfect time to sit down and think about what do I want to achieve and how do I hope to grow this year. This is the start of how I set my goals for the year ahead.
Once I narrow down how I want to grow or what ambitions I have for the upcoming year, I start thinking what do I need to do to achieve my year's ambitions.  I try not to make anything to broad but really take the time to think up actionable goals.  I like the accomplishment I feel from crossing something off a list.  As I go through the year, I make mini goals each month that help me achieve those broad ambitions and areas I'm looking for personal growth.
Two of my goals this year are to improve the wellness of my body and mind and clear the clutter.  I'm setting up a few goals for the year to help me achieve this, and I thought it would be fun to share them with you.  I love reading other people's goals, so feel free to share yours in the comments at the end of the post!
WELLNESS GOALS
2019 was a year of change with a new relationship and new job.  All the change threw me off of my routine and lead to skipping workouts and choosing less than healthy food options.  In the fall, I started noticing the effects with lower energy, more naps, and not sleeping at night as well.  If I've learned anything through all my experimenting with food and exercise, it's that my energy levels are a key indicator of how good or bad I'm doing with my personal wellness.
For 2020, I'm planning to give my body the food and exercise it needs to perform at top energy levels.  I made this a focus in 2018 and the results were amazing! Glowing skin, healthy hair, and tons of energy and focus.  This year I plan to go back to those healthy ways by focusing on eating foods that nourish, adding more vegetable to my plate, drinking more water, and adding in more variety to my workouts to keep them fun.  When I think of eating healthy, I like to take the approach of thinking what you add not eliminate.  If I focus on filling my meals with highly nutritious foods, I tend to not notice the processed, junk food and sweets that are missing from my meals.   I did make a few small January goals to help me kickstart eating healthy and bust through the junk food withdrawal cravings like consume less sugar and alcohol, stop snacking between meals, and include vegetables and/or fruit with every meal.
For my workouts, I recently joined ClassPass to add more variety to my workouts.  Houston has so many studio options, and I'm excited to use Class Pass to try out different classes and mix up my workout routine a little.  If you haven't heard of ClassPass, you pay them a monthly membership fee and get access to a variety of workout spots around town.  You receive a set amount of class credits depending on the package you choose, each studio sets the amount of credits needed per class.  I found the studios and classes that I was interested in were about 7-8 credits each.  For the new year they are running a one month free offer, so I figured why not!  I'll probably try it out for a couple months and see if I like it or prefer just belonging to my spin studio which offers yoga and strength training too.  I still plan to use my apartment gym too because it's free and walking distance, both pros!
GET ORGANIZED AND DECLUTTER
I am not a fan of clutter and piles of things. Too much clutter in my house can stress me out a little. I feel like I think and focus better in an organized space.  I like a clean, everything has it's place kind of feel to my home.  A busy year and changes to my routine ended up with my home feeling cluttered and unorganized. I kept the main areas of my house pretty clean and clutter free, choosing to hide things away in my bedroom.  Now that room is starting to need a major overhaul! I plan to take time every week and work on decluttering and re-organizing.  I'm planning to clean out my closet and list items on Poshmark or donate,  go through my storage unit and get rid of anything I don't need or use and find new ways to organize areas like my jewelry and shoes that have taken on a life of their own.  One big goal for me is to reduce the amount of boxes that I have in storage.  I'd like to be able to store some seasonal fashion items in there, but right now it's full of all kinds of random things that I probably don't need.
PRACTICE GRATITUDE
A couple years ago, I kept a gratitude journal.  Every evening, I would sit and write 5-10 things that I was grateful for from that day.  It could be big, profound things or something that may seem small and silly.  I loved keeping this journal and plan to do it again this year.  It's a great way to end the day and stay in a positive mindset by looking at all the good and positive that happened in your life.  It's especially helpful on bad days when you feel like so much is going wrong to take time to stop and look at what good things happened.
CREATE A 2020 VISION
As I mentioned at the beginning, I like to take time and think about what I want out of this year.  What do I want to accomplish personally, professionally?  Where do I see myself at the end of the year?  What do I need to do to get there?  It's kind of similar to the vision board idea.  I sit and write out my vision of 2020, read over it a few times over the next few days,  and then I pack it away.  At the end of the year, I pull it back out and review.  Sometimes when I re-read, I will find the exact things I write down happened.  That's a pretty cool feeling.  If something didn't happen, I think did I at least work hard to attain this goal or did something even better happen instead.  It's a fun exercise that I enjoy doing every year, and it helps me look back and see how I grew from the start of the year.
Alright now tell me, what are some of your goals and ambitions for 2020?