When I wore this pleated midi skirt a few weeks ago, someone mentioned having the skirt and not being able to come up with outfit ideas for it.  The only idea they had was to tuck in a fitted top and pair with heels.  I knew I had to turn this skirt into a multi-outfit post then and there.  A pleated midi skirt is way more versatile then I sometimes think it gets credit for.  With a few simple swaps, you can take this skirt from the office to weekends to your next special event.
Sizing note on the skirt featured in this post, I sized up two full sizes.  With a pleated skirt, I will often size up one.  I want the pleats to lay flat over my hips to create a more slimming look.  If they bend as sometimes happens in my regular size, it could create an illusion of a wider hip.  This skirt also runs small, so I went with two sizes up.  I also like the bit of extra room in the waist for tucking in tops.
Six Ways to Wear a Pleated Midi Skirt
WITH AN OVERSIZED CROPPED SWEATER
For the colder fall and winter months, pair your pleated midi skirt with a cozy oversized knit sweater.  Opt for a shorter sweater that will hit just a few inches below the waist of the skirt to maintain your proportions.  Pleated midi skirts tend to have a straight overall look with a slimmer top and long visible lines from the pleats.  A boxy top can help add balance to the look by adding volume.  For this neutral top, I added in a green stone necklace to help pull some of the color out of the skirt.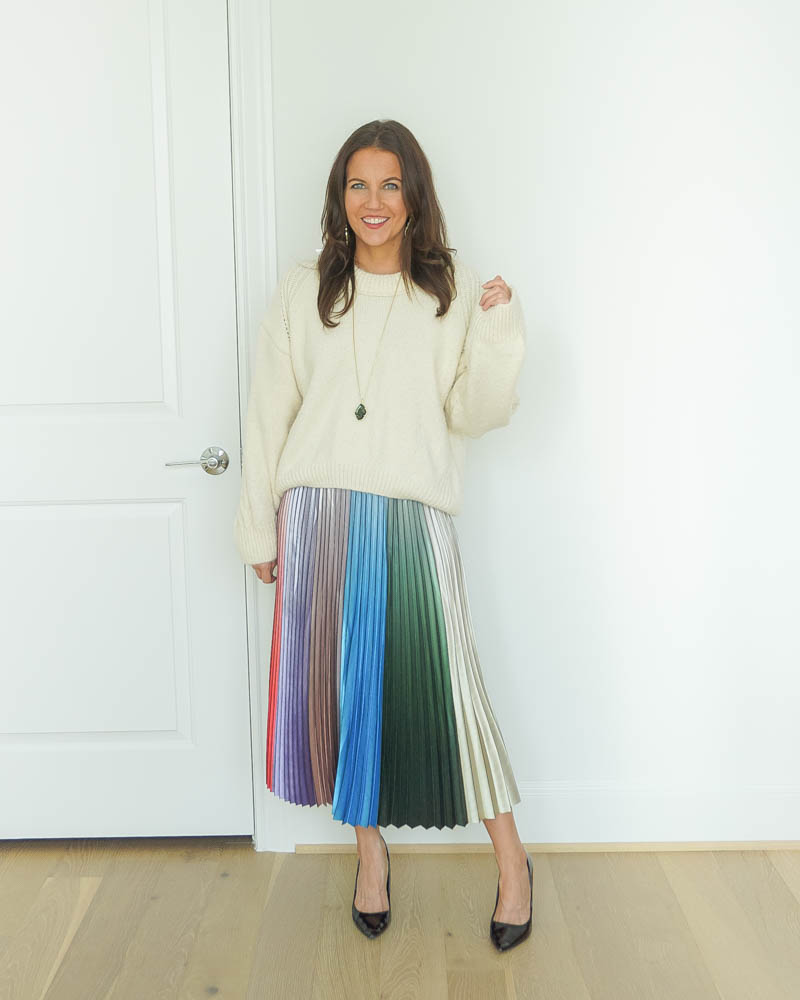 similar sweater | pleated midi skirt | black heels | necklace | earrings
WITH A FITTED LONG SWEATER
Another sweater option is a fitted long sweater.  Your top should lay comfortably over the skirt and hit just below the hips.  This styling option will change up the look of your skirt and give it a more straight look and downplay some of the statement flare of the skirt.  I like how it creates the illusion that you may be wearing a dress.  With the longer top, I added in a long necklace just to add a little color and break up the top a little.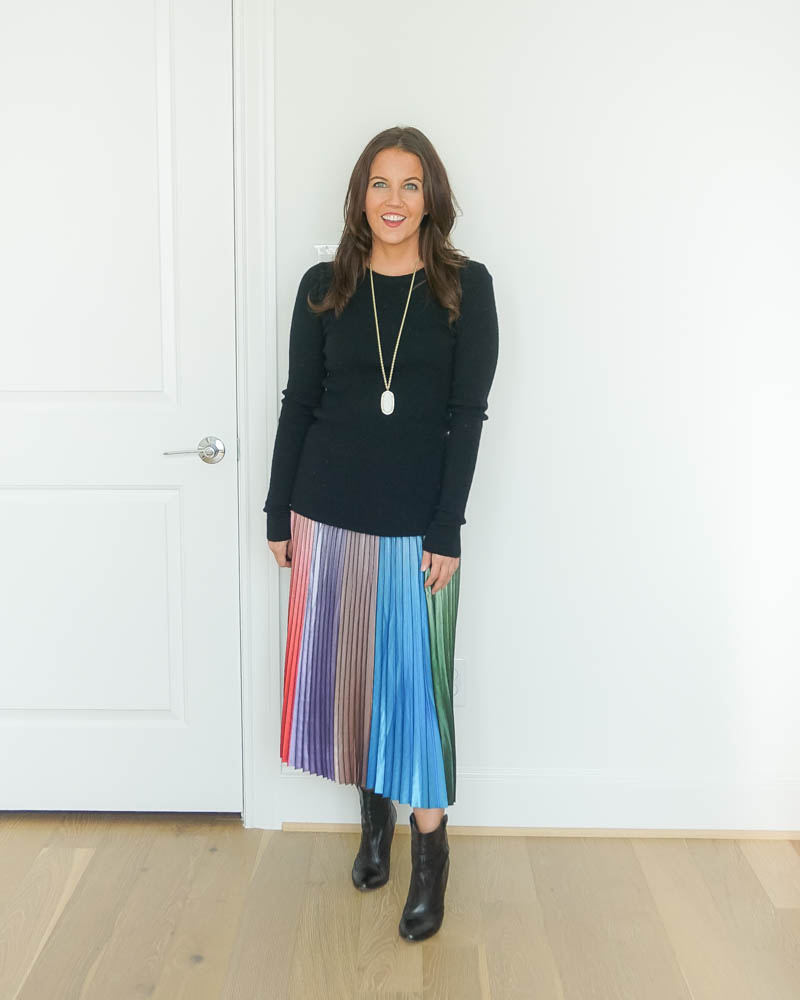 black sweater | midi skirt | similar booties | similar necklace
WITH A COLORFUL SWEATER
With so many colors in this skirt, the easiest color choice would be a neutral like white, ivory, or black.  Don't be afraid to play with color on this one.   For a multi-color skirt, wear a top that matches one of the colors in your skirt to bring out that color more.  Notice how the bright blue of my sweater really brings out the blue in the skirt.  If you're skirt is a solid color, opt for a complimentary color.  I tend to match cool tones together or warm tones together.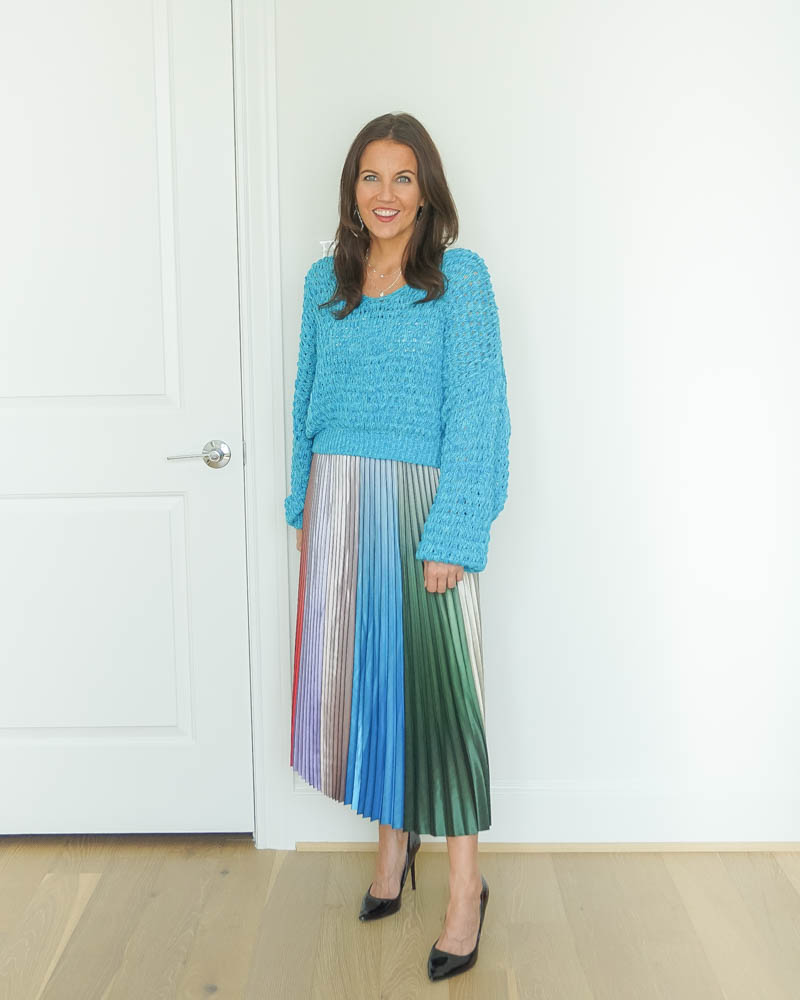 blue sweater | pleated skirt | black heels | layered necklace | earrings
WORK OUTFIT
All three of the previous outfits are office friendly, but I wanted to showcase a jacket outfit as well.  I know some more professional office have requirements related to needing more of a suit look.  For this longer skirt, I would also look to wear a longline blazer and one with a bit more of a fitted look.  As for the top underneath, you could go simple with a white cami or add in color like a dark green or dark violet color.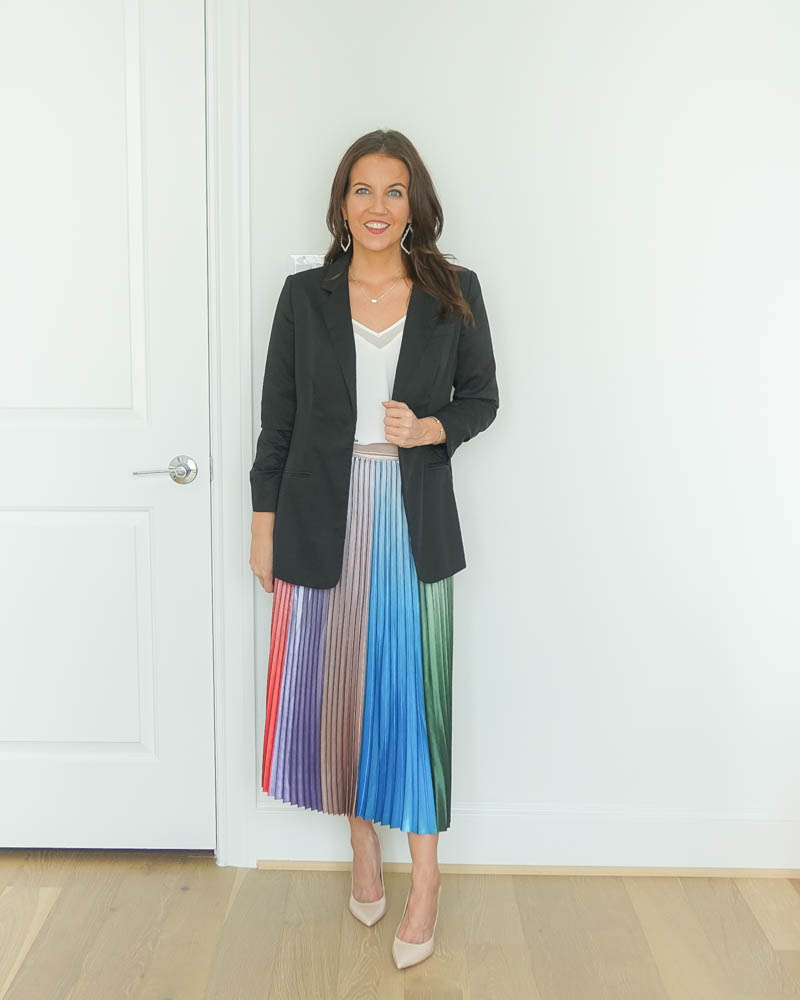 similar blazer | white cami | midi skirt | nude colored heels | necklace | earrings
CASUAL OUTFIT
This skirt may have an all dressed up vibe, but you can easily make it work in a casual outfit by styling it with more casual pieces.  A denim jacket is one of my easiest tip for dressing down a look.  Booties are another great styling tip for creating a more casual look.  Since the skirt is lighter and long, I opted for a lighter shade bootie.  To add a little print mix fun, I paired this with a horizontal striped tank to contrast the vertical lines of the pleats.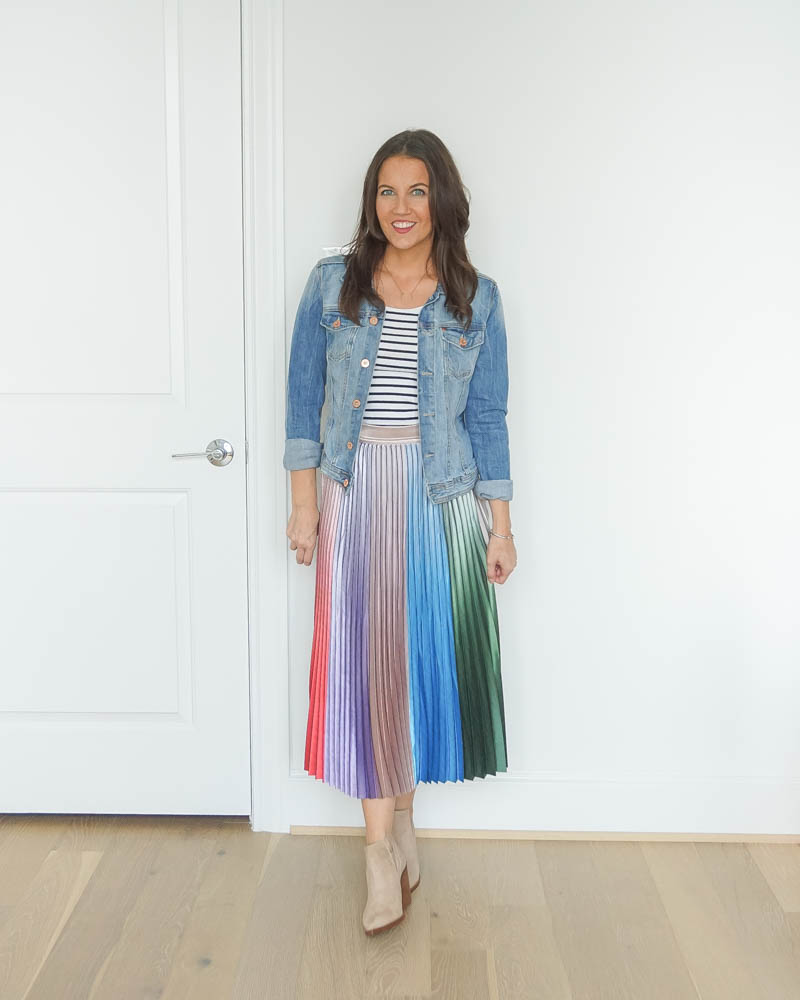 jean jacket | striped tank top | midi skirt | booties | c/o necklace
DATE NIGHT, HOLIDAY, OR WEDDING GUEST OUTFIT
What about special events?  Turn this skirt into the perfect holiday or wedding guest outfit by adding a fitted top with a high neckline or bodysuit.  My ruffle neck sleeveless sweater is one of my go to tops to dress up a look.  To make this outfit party friendly and not just another work look, I added in some fun statement earrings and my silver heels.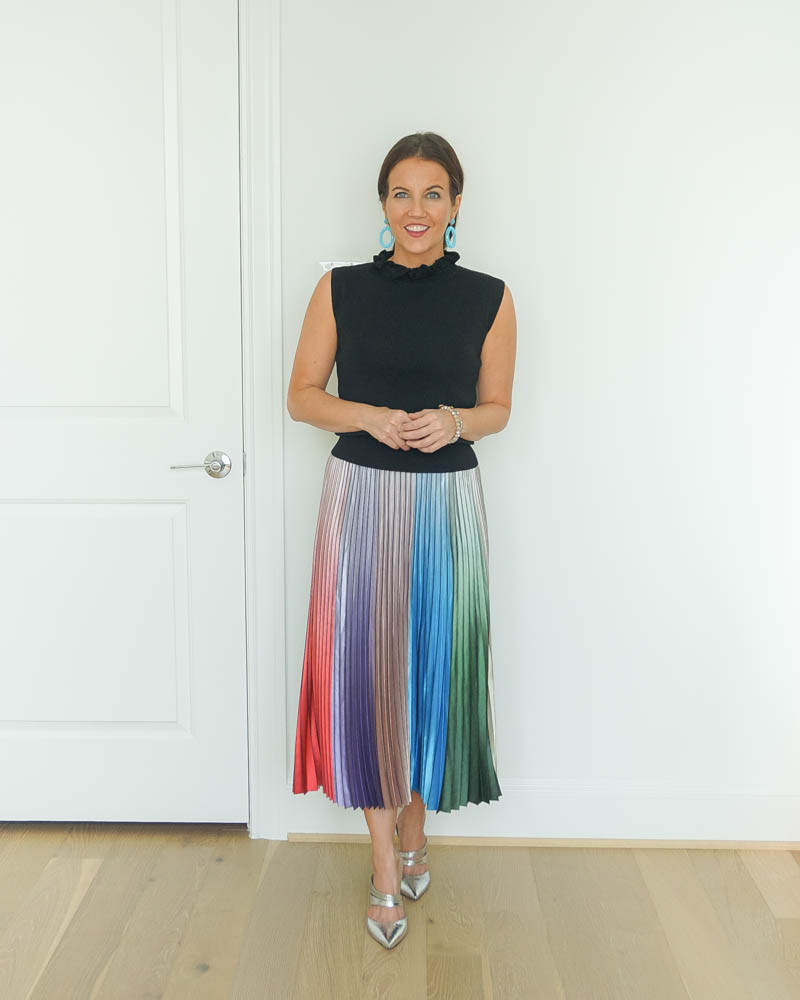 c/o black turtleneck |colorful skirt | silver heels | similar earrings | c/o beaded bracelets
Want more pleated skirt outfit inspiration? Check out these looks below!
Sweater + Skirt Combo
Denim Jacket + Skirt Combo
Tee + Skirt Combo
SHOP THE LOOKS
PIN NOW & SAVE FOR LATER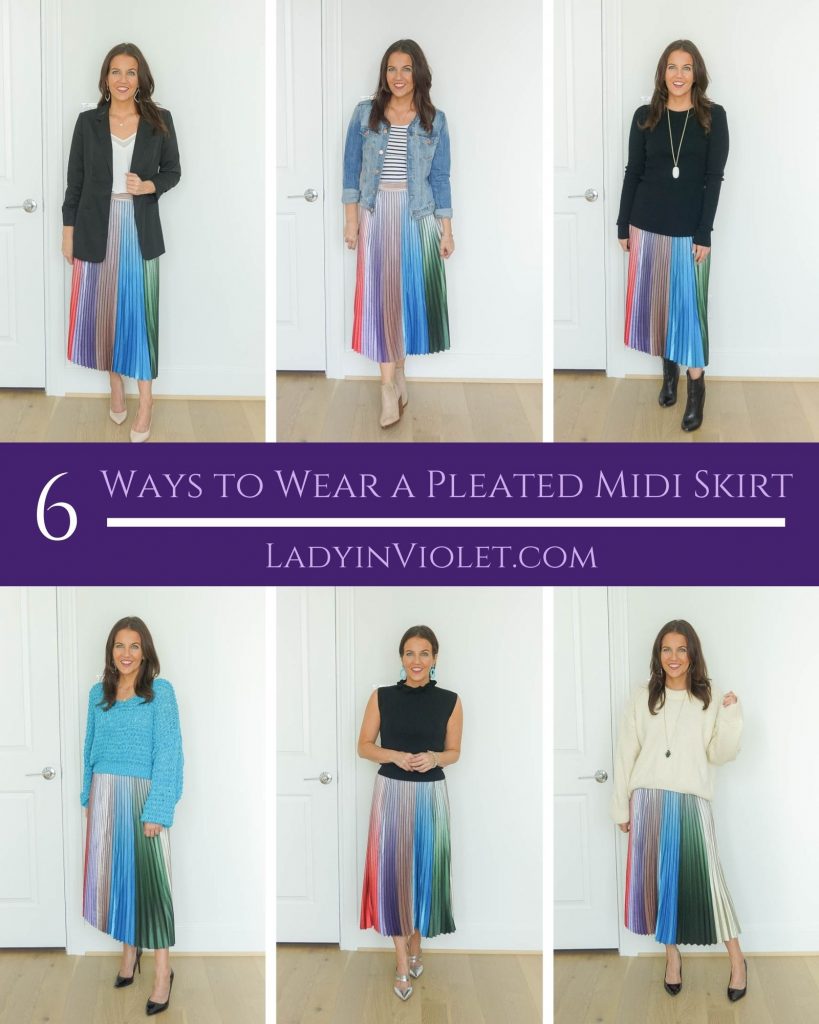 Love this post? You may also love: