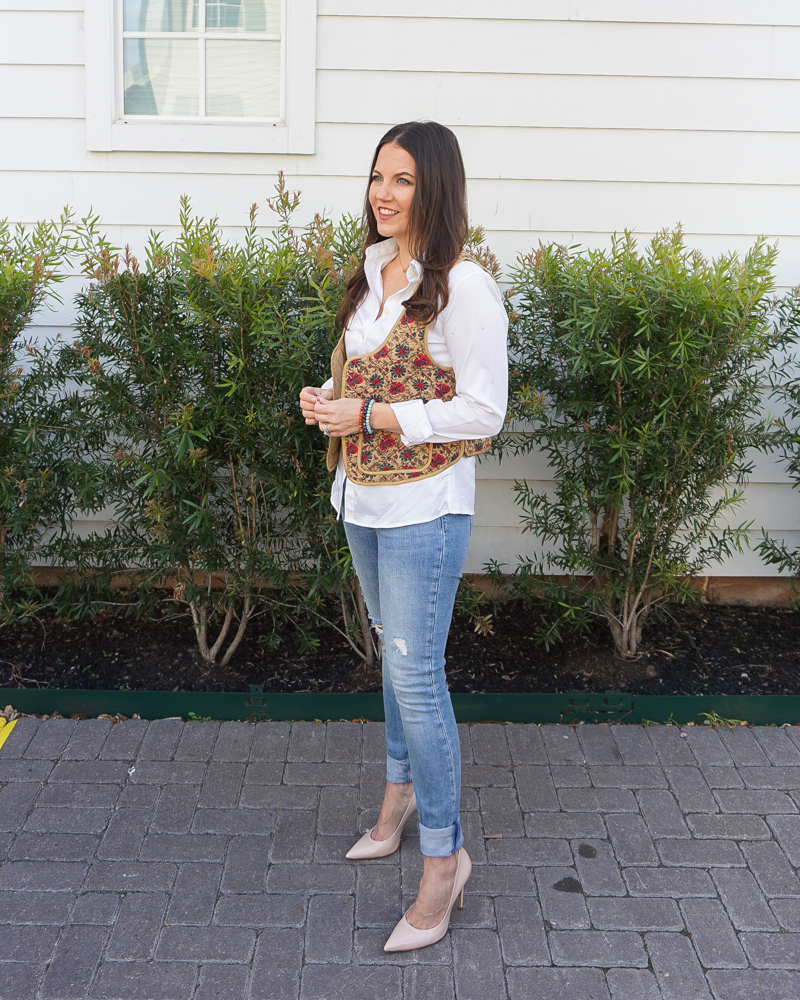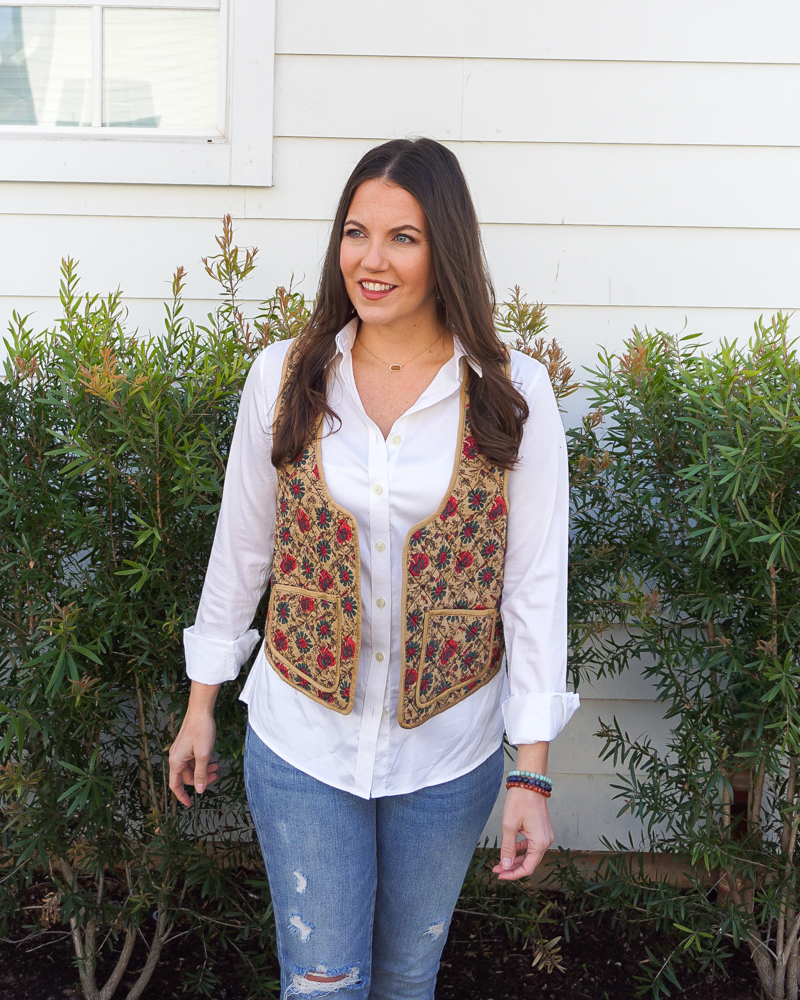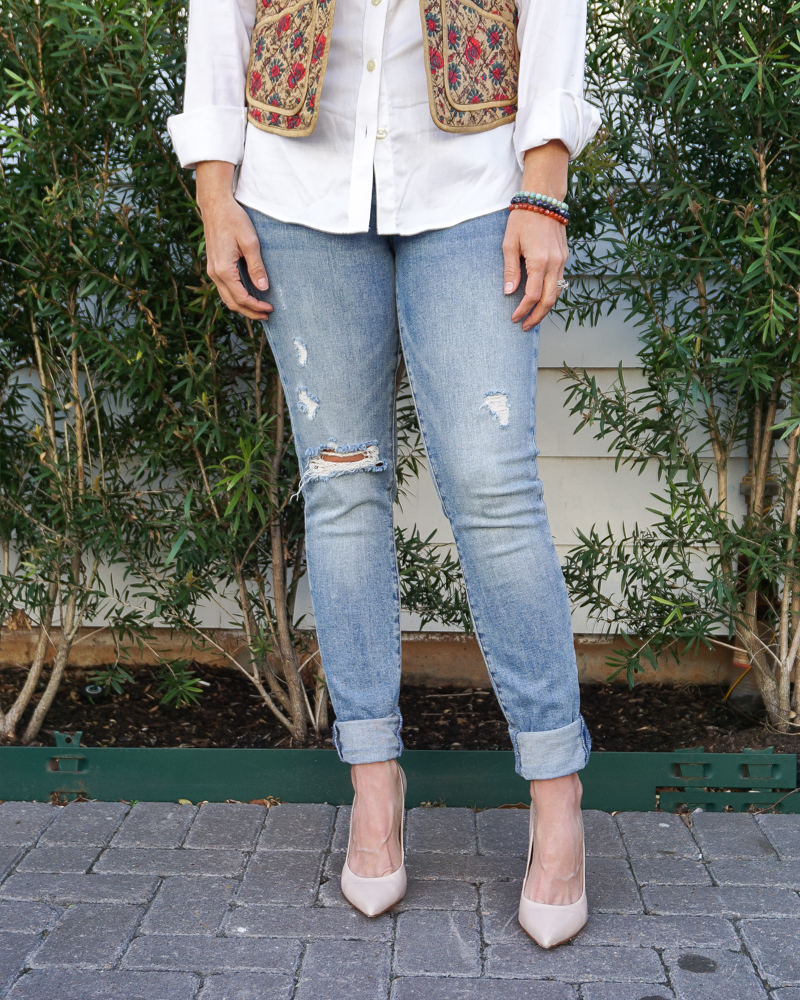 HOW TO STYLE A FLORAL VEST FOR SPRING
Here we go, it's time for some spring fashion!  I always love putting together outfits for spring.  It incorporates layering, pretty prints and silhouettes, and gorgeous colors.  Not to mention, all of the fabulous heeled sandals and wedges.  It's also a great season for the basics in your closet like a plain white tee, light blue jeans, and tan sandals.  I'm kicking off Spring Style hear on the blog with a mix of a few of the items I listed including a basic white top, a beautiful floral print with the perfect pops of color, and my Spring classic light blue ripped jeans
I've mentioned in a previous post that vests are trending for me.  I love playing around with different ways to layer them.  This outfit is all about how to style a floral vest for spring, but at the end of this post, I have an outfit idea for every season.  It makes this cropped floral vest a year round must have for your closet.  With the right styling (insert cowboy boots), this floral vest can also make a really cute western style or rodeo outfit.
For spring, I wanted to let the print and colors pop. I layered this vest over my white top which really helps colors shine.  I chose a cotton button down shirt to dress up this vest outfit.  The vest has a loose almost boxy fit, so the tighter fit of the shirt helps to keep the proportions balanced.  I added in my light blue ripped jeans to keep the look light and bright.  My nude colored heels were the perfect compliment to the dressier look that I'm creating with my button down shirt.
Don't forget to scroll to the bottom of this post for outfit ideas for fall, winter, and summer.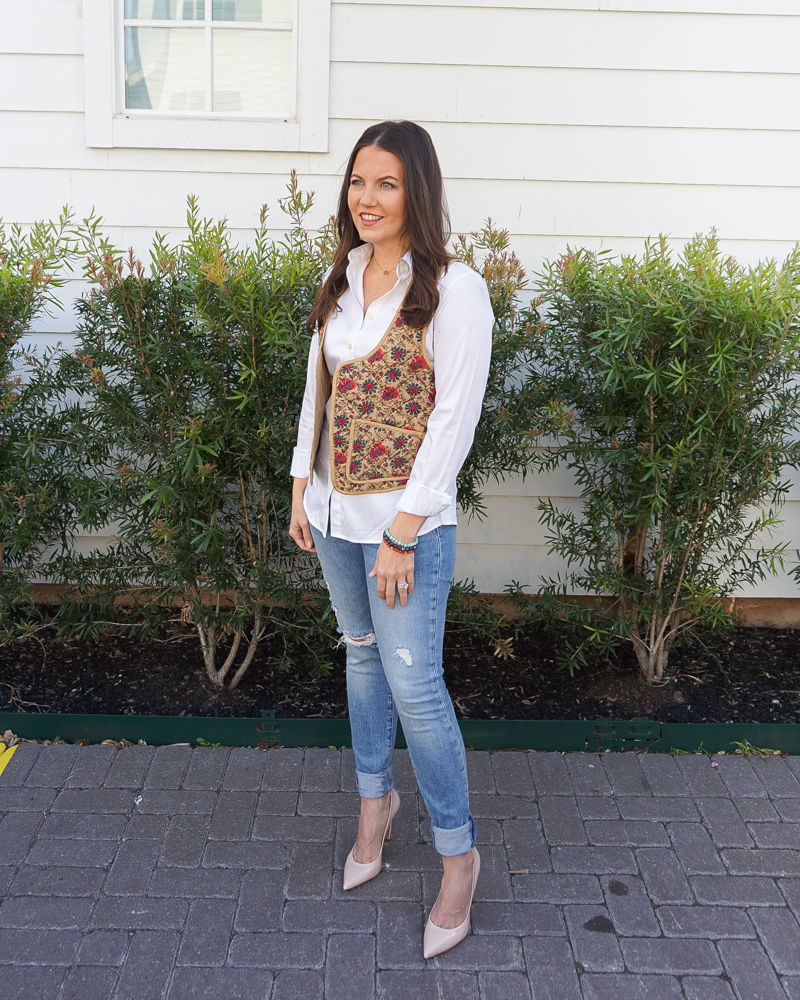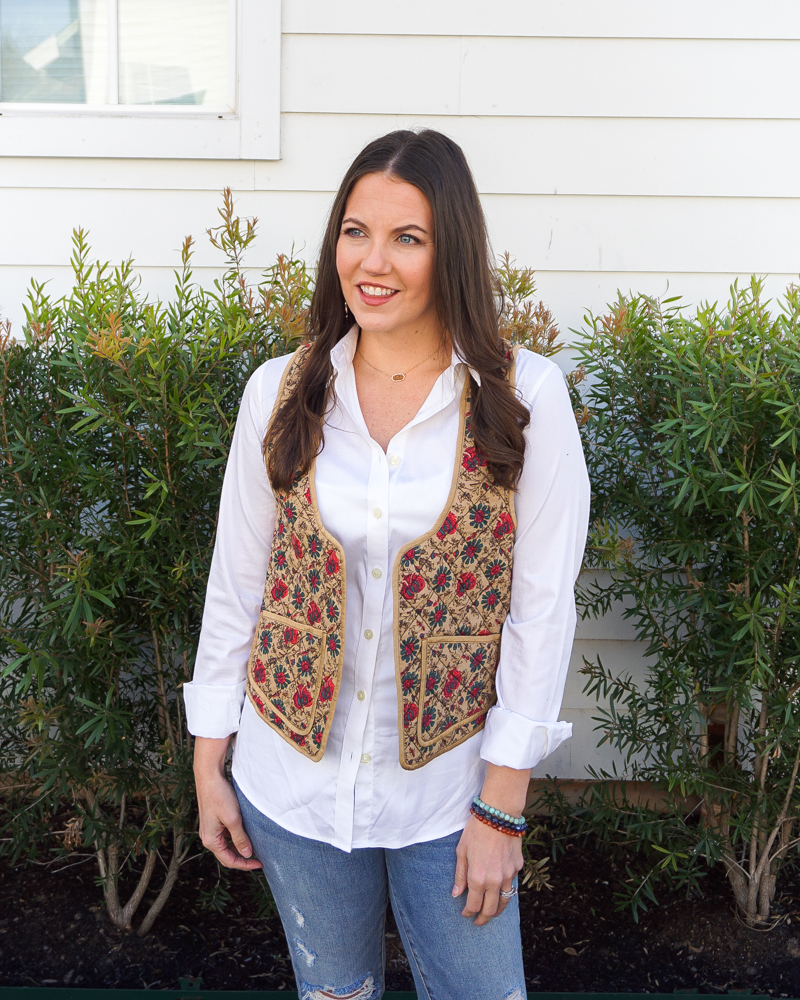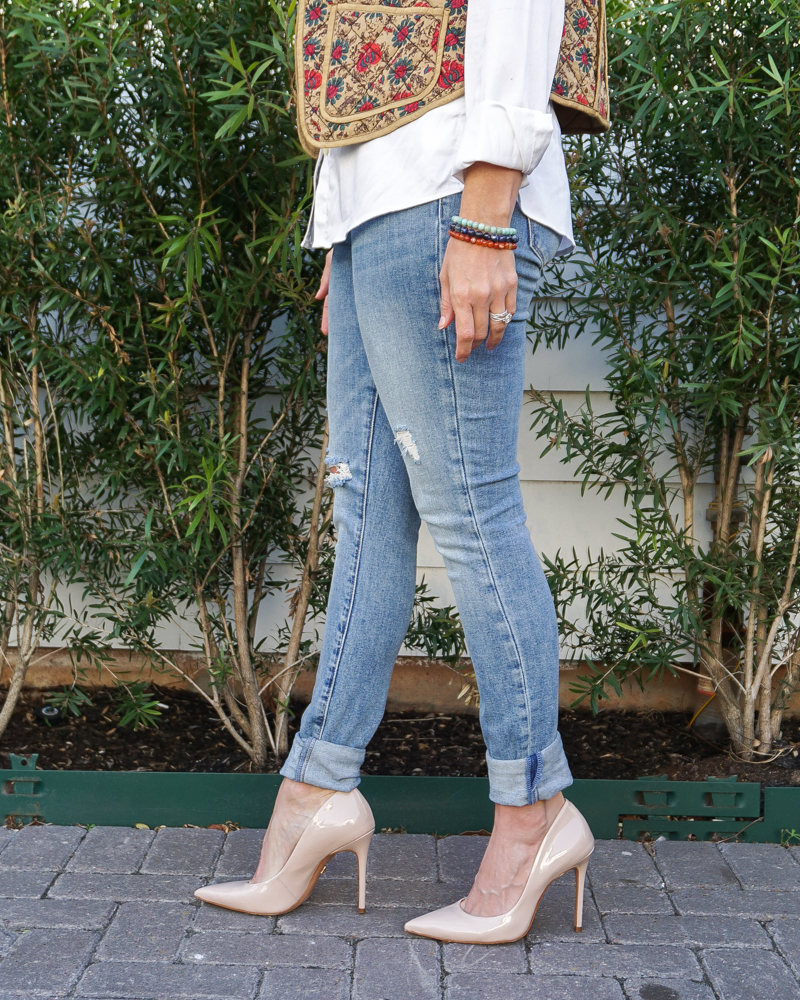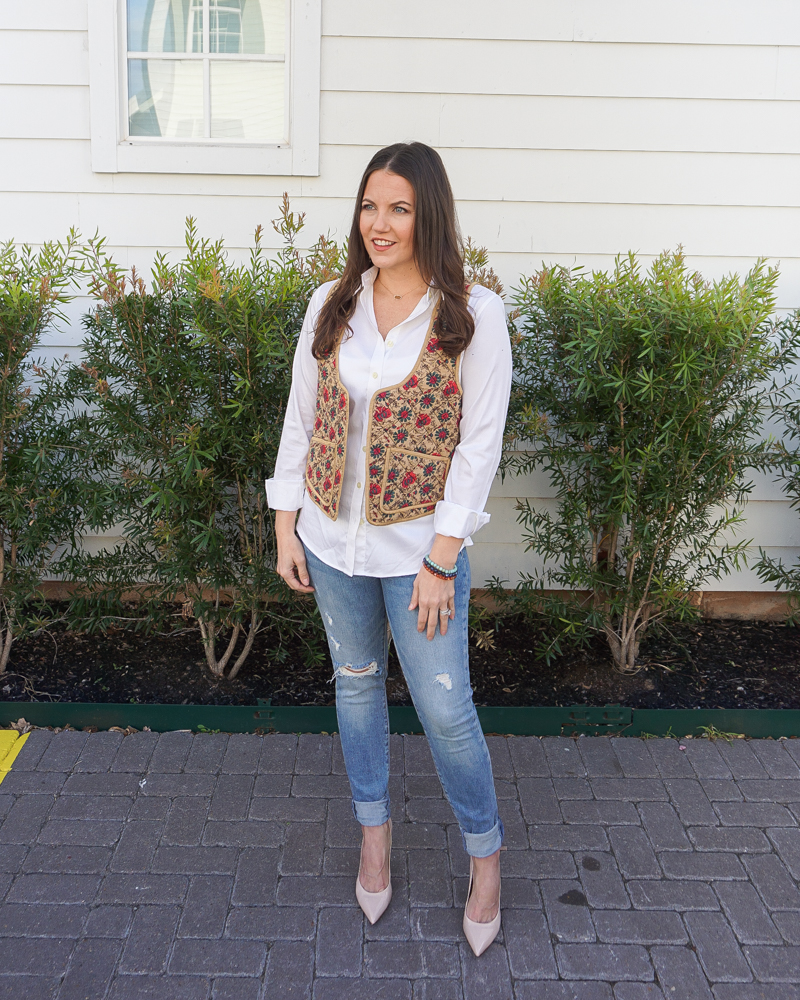 SHOP THE LOOK
3 MORE WAYS TO STYLE A FLORAL VEST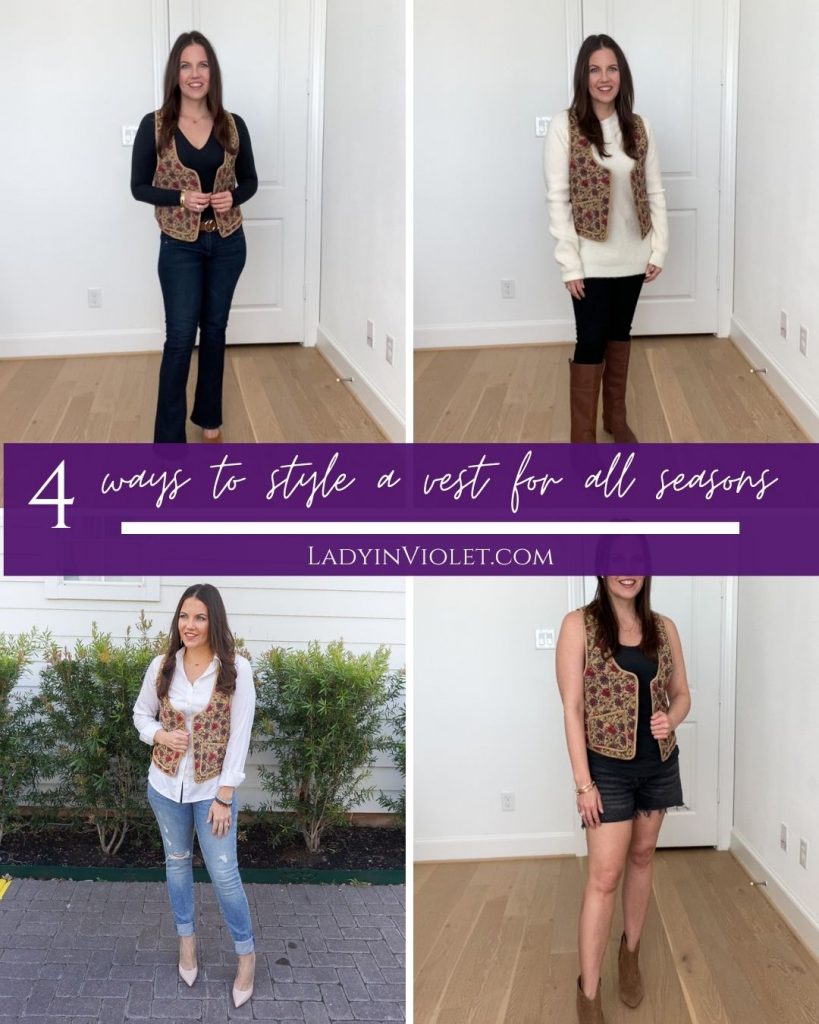 FALL: black bodysuit | bootcut jeans |similar heels | brown belt | c/o gold bangles | necklace
WINTER: c/o ivory sweater | black jeans | similar boots
SPRING: similar white shirt | distressed jeans | similar heels | necklace
SUMMER: gray tank top | similar shorts | similar booties | c/o bangles | c/o necklace