Yearly Archives:
2016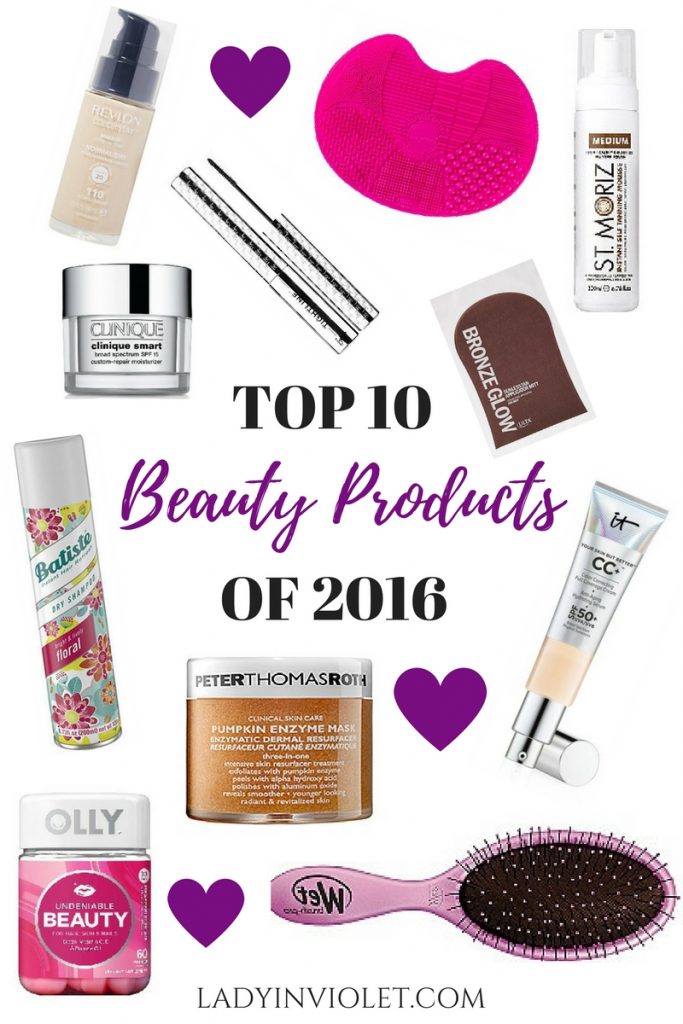 Every year I try lots of new beauty products, and this year I thought it would be fun to share my top ten beauty products of 2016!  I stuck to products that were new to me this year or late last year.  Some products were gifted by the brands and others I purchased on my own, but I held them all to one main standard – Would I buy this again?  Keep scrolling to see who made the final 10 cut and which one product I consider life-changing!

10. St. Moriz Tanning Mousse and Ulta Application Mitt –  I have tried airbrush tanning before which was pricey, and tanning lotions which smelled and left my palms orange, but this tanning mousse and mitt changed my fake tanning game.  I decided to put these together as 1 item because you really need both to have the full benefit.  This affordable self-tanning mousse looks natural and lasts days with a natural fade.  The glove helps the application go on streak free and leaves the palms of my hands clean.  The smaller mitt is perfect for face application.
9. c/o Olly Hair & Nail Vitamins –  I am the worst at remembering to take vitamins.  You usually have to take them with food, and I don't eat breakfast until I am at work which means I always forget caught up in work things.  I'm trying to grow out my hair and decided to try a Hair and Nail vitamin for some support.  After taking 2 months to go through a 1 month supply of the pill form, I decided to give these gummies a go.  They taste amazing, and I haven't missed a day yet.  I love the little mid-morning or post-lunch sweet treat.  While it hasn't been long enough to comment on growth, I definitely notice that my hair looks much healthier lately.

8.  Wet Brush –  This brush is a hair game changer.  Previously, I used a wide tooth comb to brush out my hair when wet fighting through tangles.  This brush easily slides through my hair smoothing out tangles without any discomfort from pulling.  It also helps prevent breakage that can occur when brushing your hair while wet. A good thing when you are trying to grow out your hair.

7.  c/o It Cosmetics CC+ Your Skin But Better Foundation –  I have two foundations on my list, the biggest separator is the price tag.  This foundation makes my skin look flawless.  In my opinion, 100% worth the price! For starters, it contains SPF so one less thing to worry about putting on in the morning.  It has color correcting properties that help even out your skin tone and cover blemishes.  I stopped using my color correcting sticks once I started using this foundation.   I also don't really use primer with this product as it doesn't sink into my pores or fine lines like other foundations.  Any product that can help speed up my makeup routine and make my skin look amazing is a win!

6.  Sigma Brush Mat – I hate the task of cleaning my makeup brushes.  I typically do mine once a month with the exception of my foundation brush which I do more often.  This mat makes the cleaning process a little more fun and the ridges really help deep clean your brushes.  I feel like I use less soap and time.

5.  c/o Clinique Smart Custom Repair Moisturizer – I was originally sent the whole Smart skin care line to try out.  The moisturizers were amazing at evening out my skin tone and keeping my skin hydrated.  I loved it so much I even bought it for my mom.  I did try a few other morning face lotions, but none gave the same great results.

4.  Revlon Colorstay Foundation – If you want a great drugstore foundation, this is it.  The coverage is pretty amazing and lasts all day.  I rarely used my color correcting sticks with this one.  It didn't overly sink into my pores or fine lines.  I would occasionally pair it with a primer which only enhanced the way this foundation made my skin look.  Another plus to this product is the wide range of color options.

3.  Peter Thomas Roth Pumpkin Enzyme Mask – Hands down, my favorite mask! I do this mask every other week, and my skin glows after I'm done.  It does a great job of exfoliating away your dead skin cells so they aren't clogging pores and causing fine lines while leaving you with smooth healthy glowing skin.  Side note on this one, it does have a slight tingle after first applied.

2.  c/o It Cosmetics Tighlight 3in1 Mascara – Can we talk eyelashes game changer!  I hated the damage mascara was doing to my lashes, so I would often skip days going mascara free which probably made me look tired. It was the only way to keep my lashes healthy.  This product works as a mascara, a mascara primer, and can be used as an eyeliner.  I use it for both mascara, mascara primer, and sometimes to help break up any clumps.  On regular work days this mascara can stand alone to create long thin lashes.  When I'm heading out and about with my gals, I will wear this under my mascara to coat and protect.  The big thing I love about this is that it conditions my lashes with nourishing ingredients so they can stay healthy and long and I cannot look half asleep skipping my mascara.

MY FAVORITE BEAUTY PRODUCT OF 2016!
1.  Batiste Dry Shampoo -This product changed my whole hair game and morning routine.  I wish I would have known about this product years ago.  I can now go about 4-5 days between shampoos which helps keep my hair stronger and healthier.  I have naturally curly hair which means when I wash it I then have to blow dry and straighten it.  Lots of heat damage.  Now I just do a quick straightening touch up in the morning, spray my dry shampoo on, wait a few minutes before shaking off excess and my hair looks as good as clean day one hair.  The price tag is AWESOME coming in around $8 depending where you shop.  I always keep two on hand, so that I am never caught with dirty hair and no dry shampoo in the morning.
There you have it my favorite beauty products of the year.  Did any of your favorites make the list?  See any products you want to try in 2017 or have a product you recommend for me to try out? I am always up to try something new.
I hope you all have a wonderful weekend ringing in 2017!  Stay safe and I will see you next year!
XO- Karen