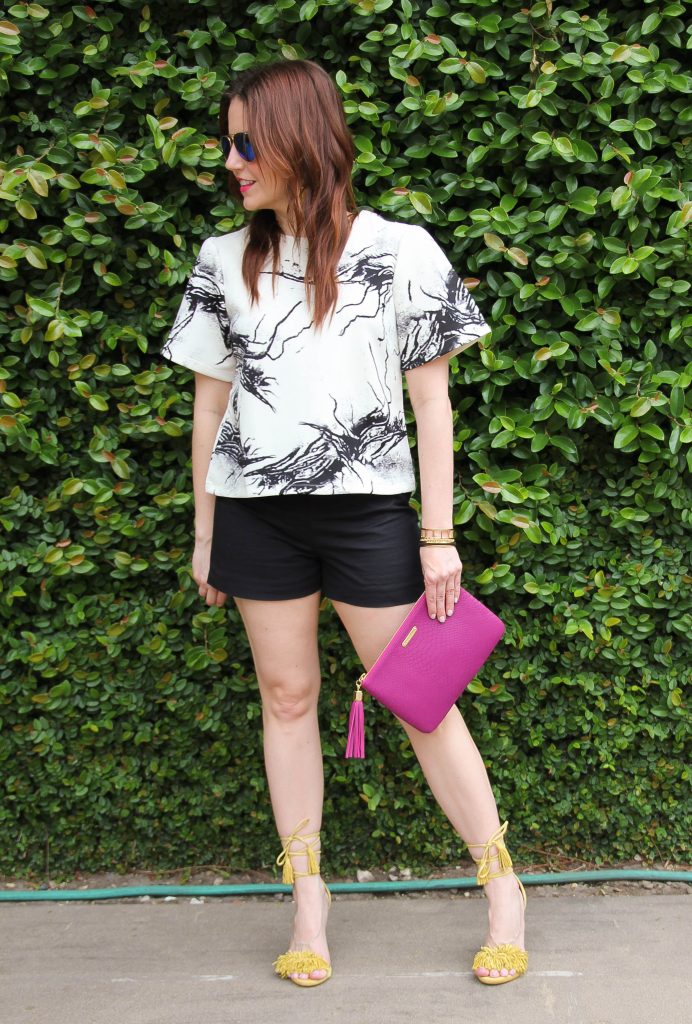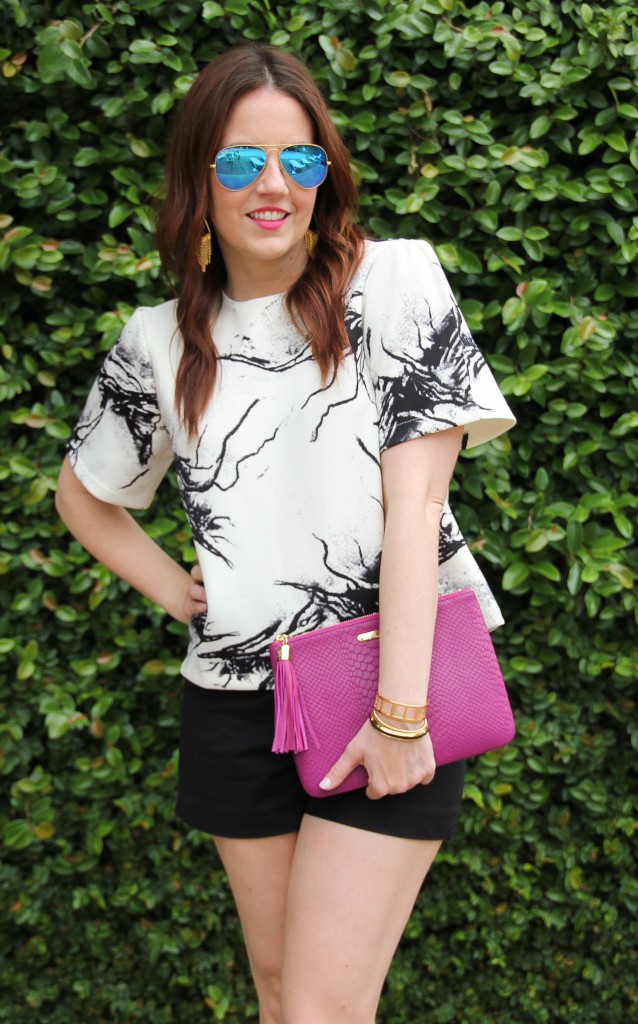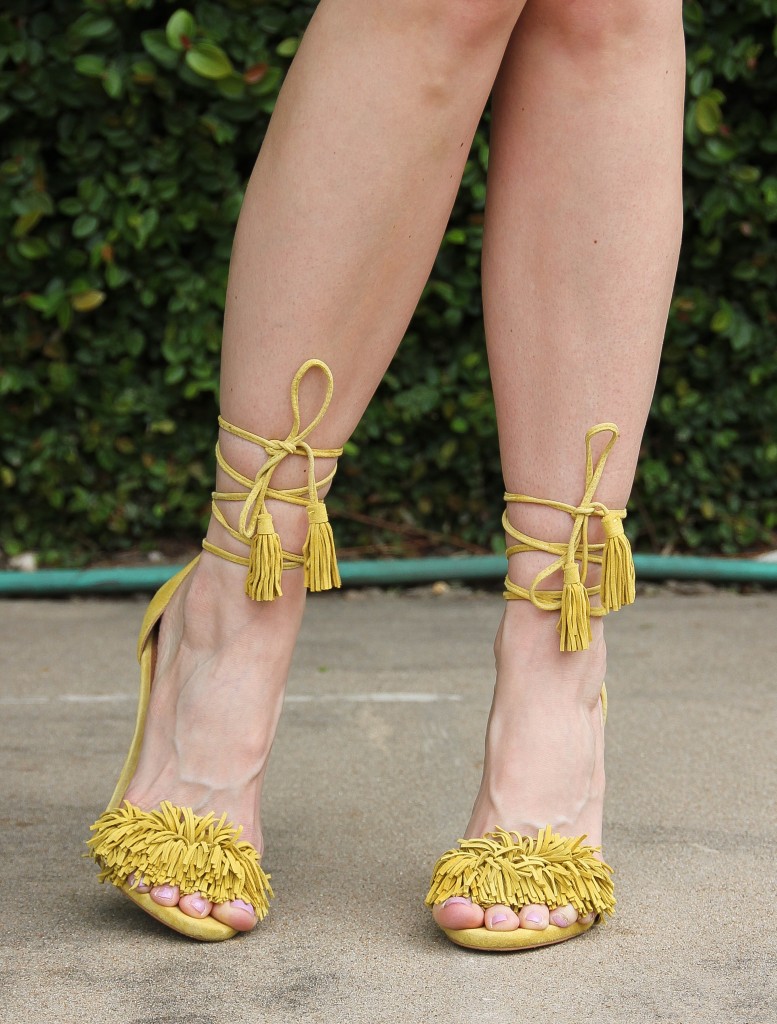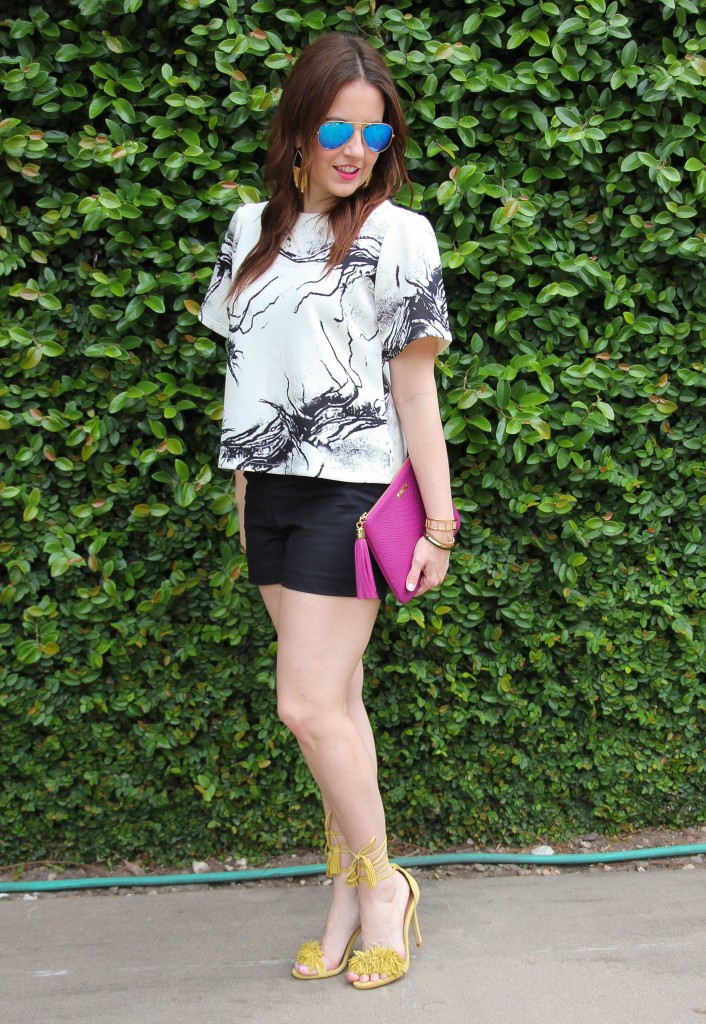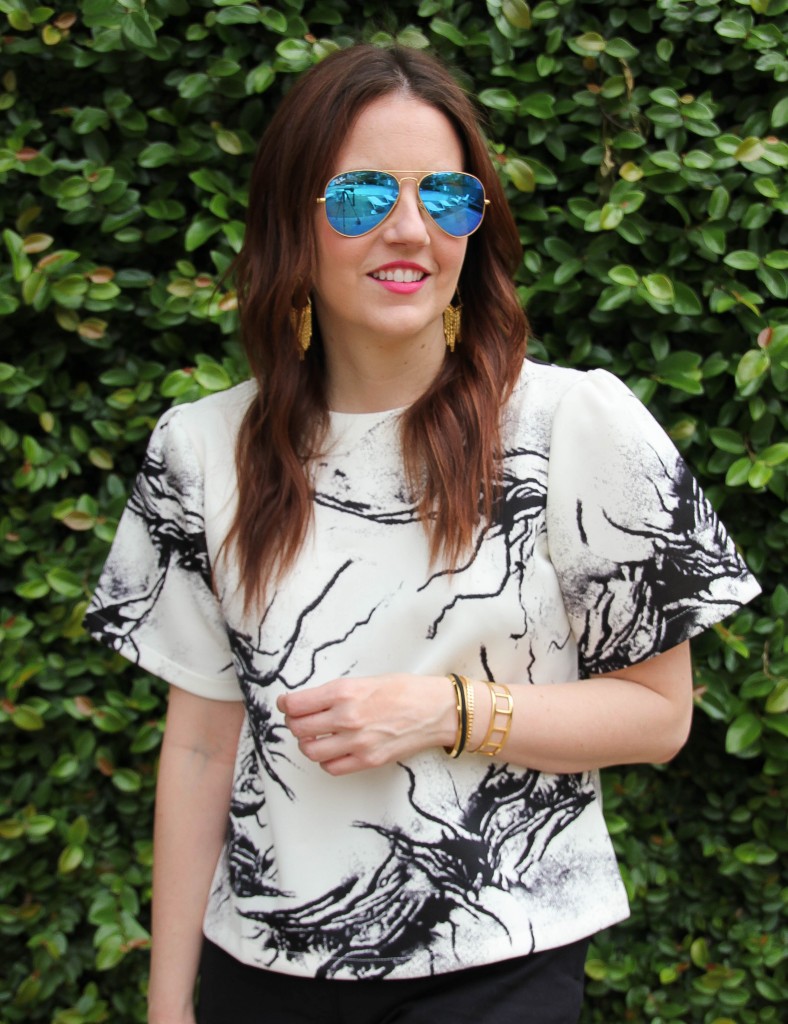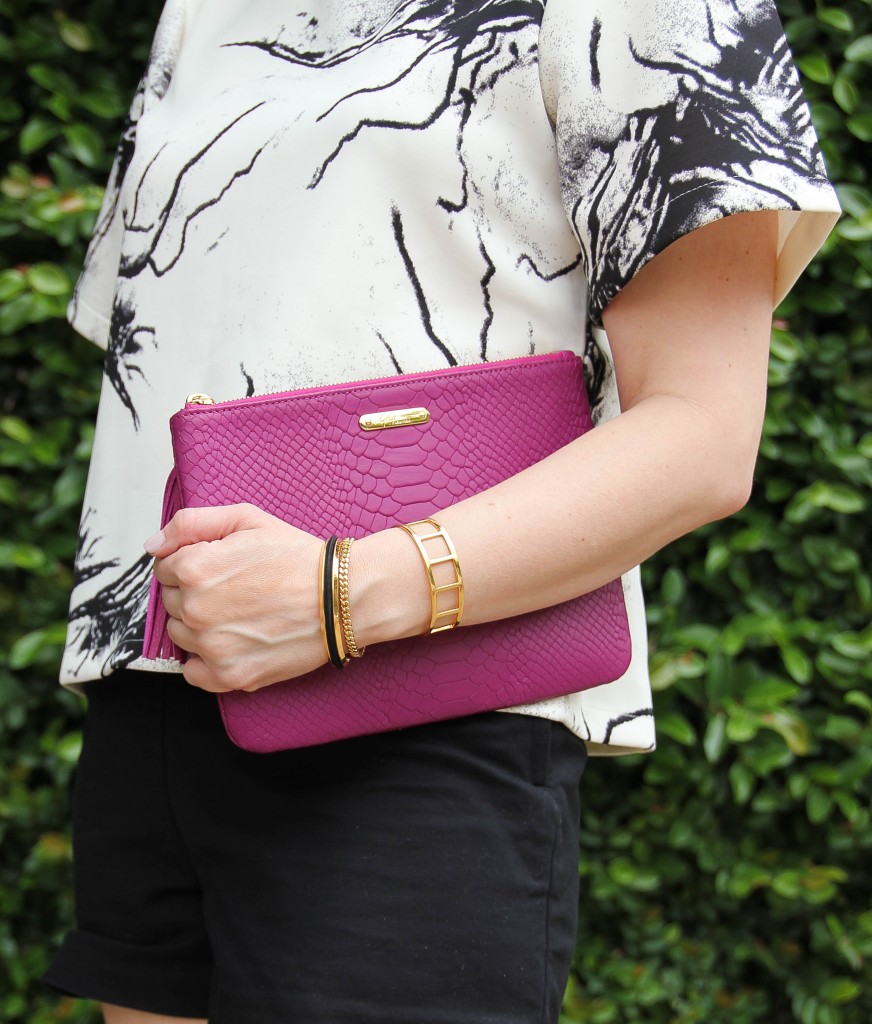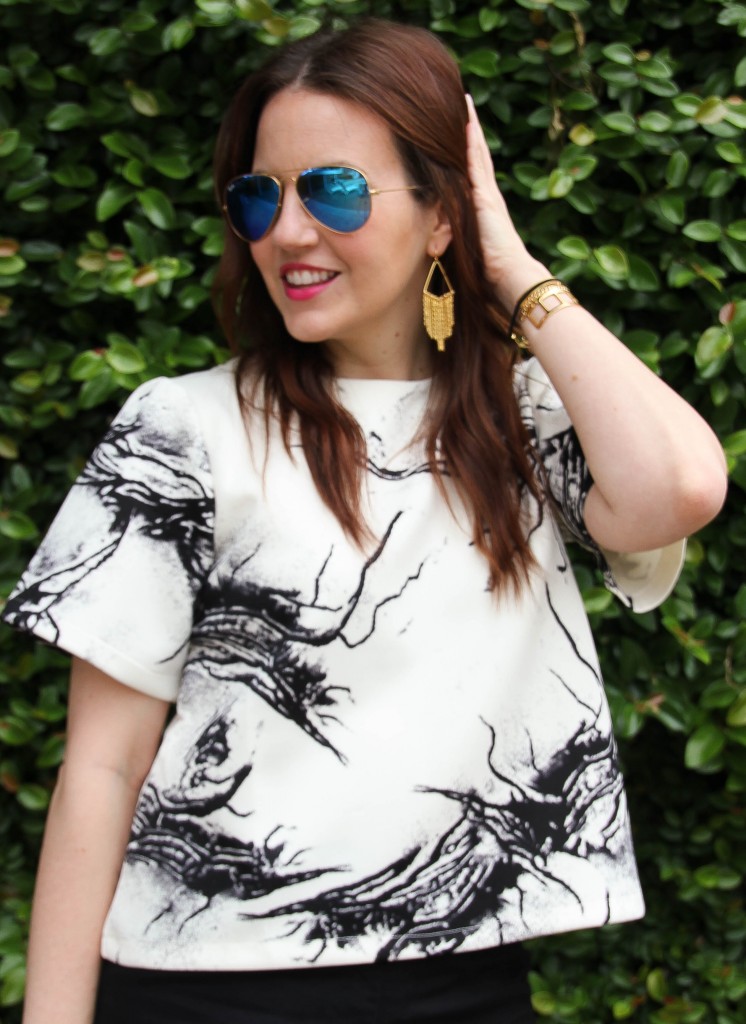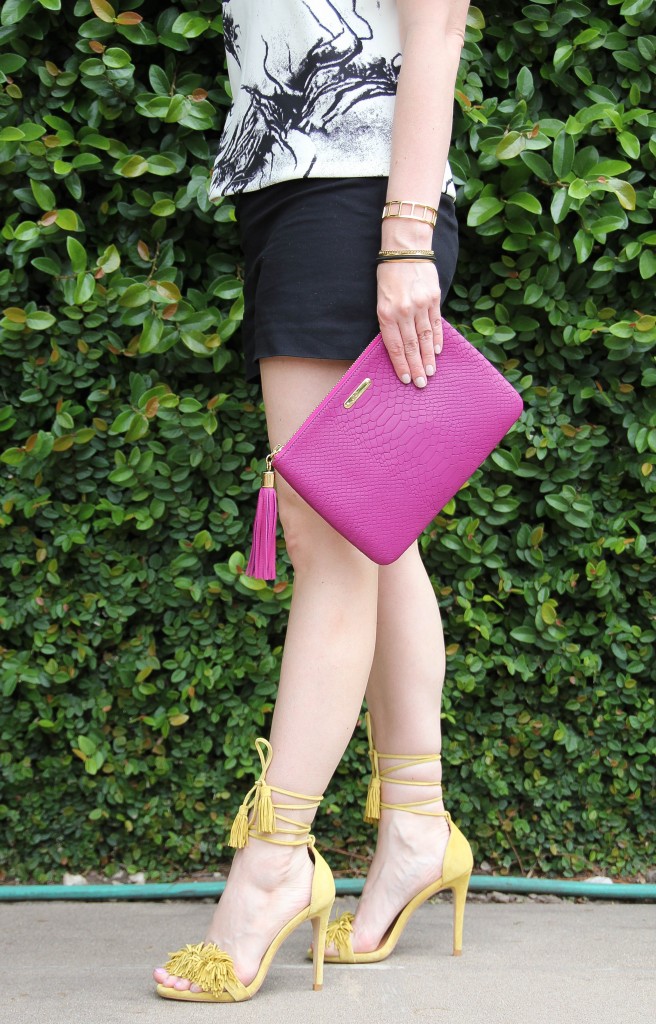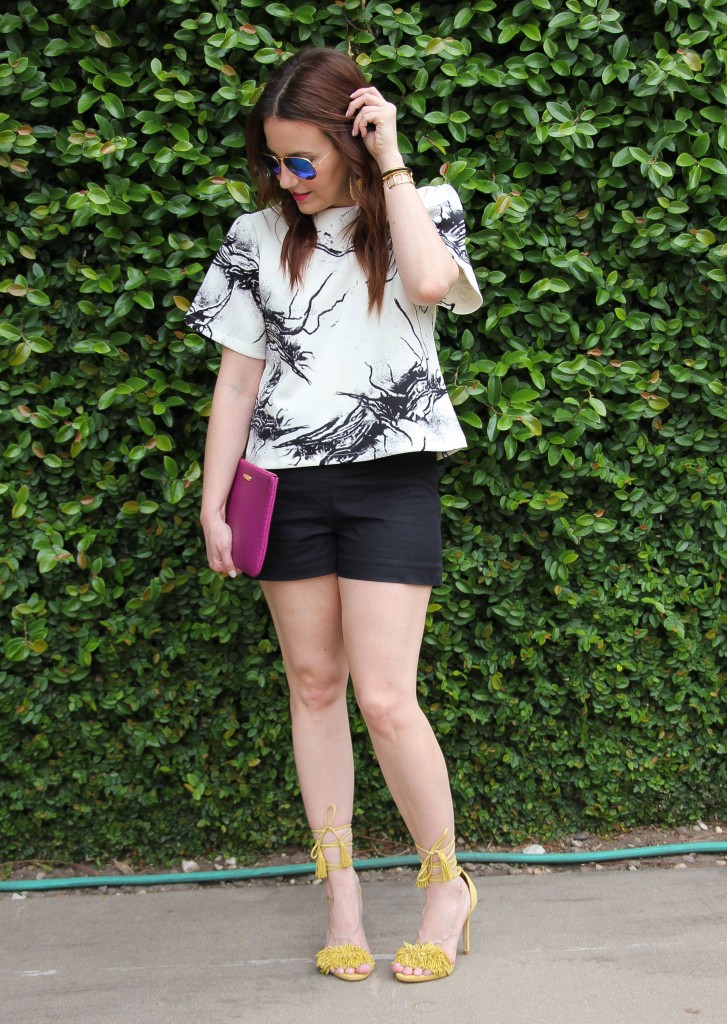 | DETAILS |
SHEIN c/o Crackled Top  | H&M Black Shorts (similar) | STEVE MADDEN Sassey Heels  | GIGI NY Magenta Clutch  | BAUBLEBAR Aretha Earrings, Cuban Links Bracelet  | BANGLE BEAR c/o Hair Tie Bracelet  | RAYBAN Mirrored Aviators  |  Lipstick: BOBBI BROWN Neon Pink  | Nails: ESSIE Fiji
April in Houston is outdoor party season! It's normally so hot and humid in Houston that most summer parties are either indoors or a pool party.  I love this little outdoor party outfit for a backyard barbecue or a little patio party.
I hate buying shorts and don't wear them too often, so most of mine are a few years old.    I bought these from H&M a few years ago and linked a similar pair from them above.  My favorite thing is the length.  I'm not a super short shorts kinda gal, but I also don't want them to look like my mom's shorts. 🙂  This is a good in between length for me.  I like wearing black dress shorts to evening outdoor parties.  I think it gives it a dressier look than regular jeans shorts and is a great alternative to a spring dress.  I like playing with proportions, so I paired them with this boxy top.
Okay, so first things first if you are heading to an outdoor party that will be in grass, DO NOT wear heels!!  I would recommend opting for wedges or you will spend the whole party sinking into the ground.  However, if you are heading to a party that will be on a patio or deck, why not pull out a fun pair of heels!  If you aren't sure, either bring both and go with the best option when you get there, or just go for wedges to be safe.  I loved how this outfit looked with the pop of yellow, so I went with heels.
I am officially leaving for Charleston tomorrow!!!  I'm so excited and cannot wait to be there!!  I have a fun post planned for Friday to give you a sneak peek at what I packed for the trip. AND If you want to follow along, check me out on Instagram (@karen.rock) or Snapchat (ladyinviolet) for a inside look at my vacation. Thanks for swinging by today!
SHOP THE POST

Follow Lady in Violet INSTAGRAM | TWITTER | FACEBOOK | BLOGLOVIN | SUBSCRIBE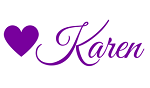 Love this post? You may also love: