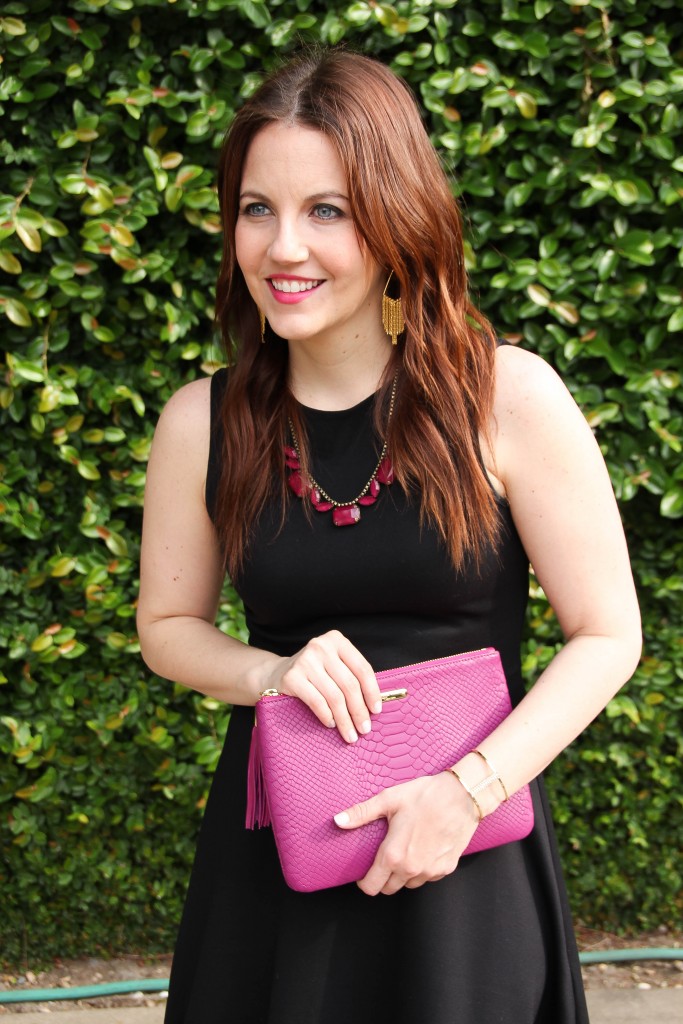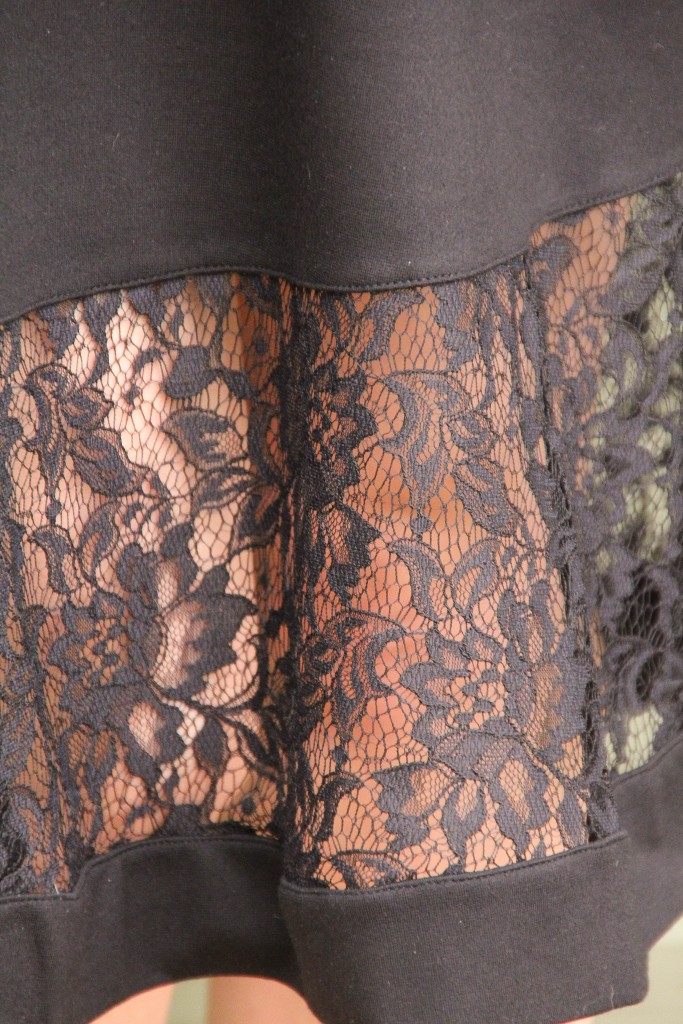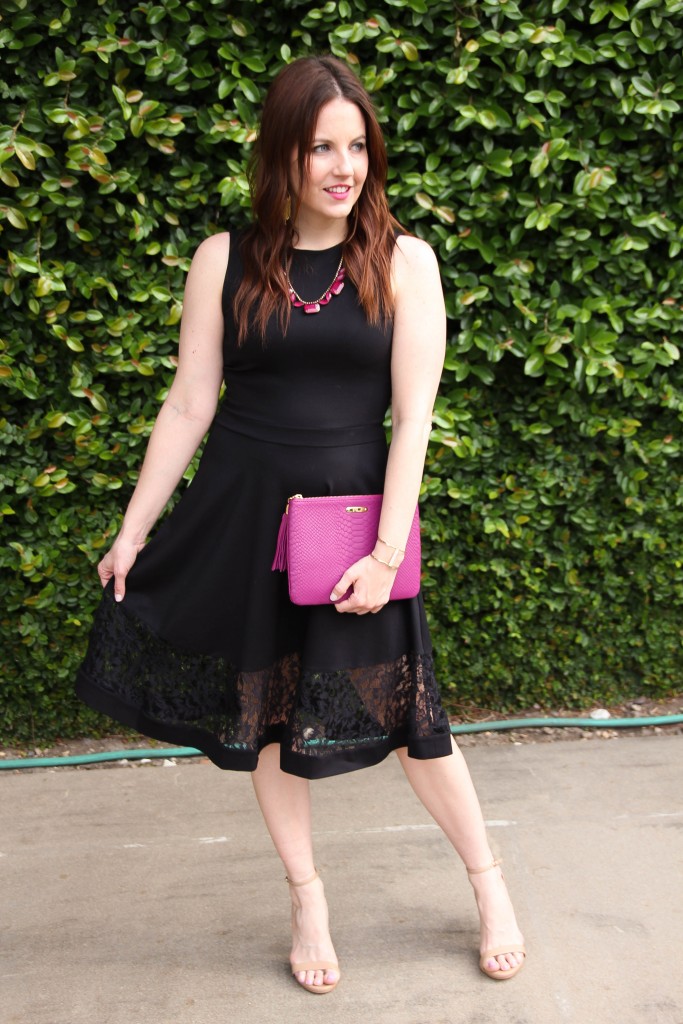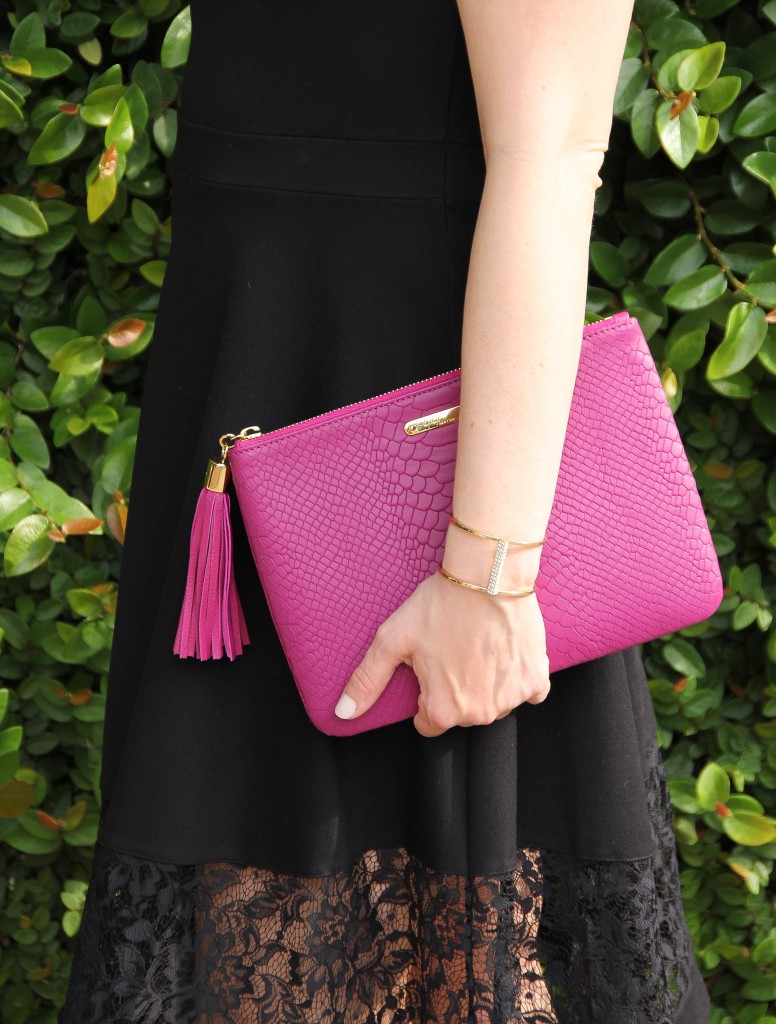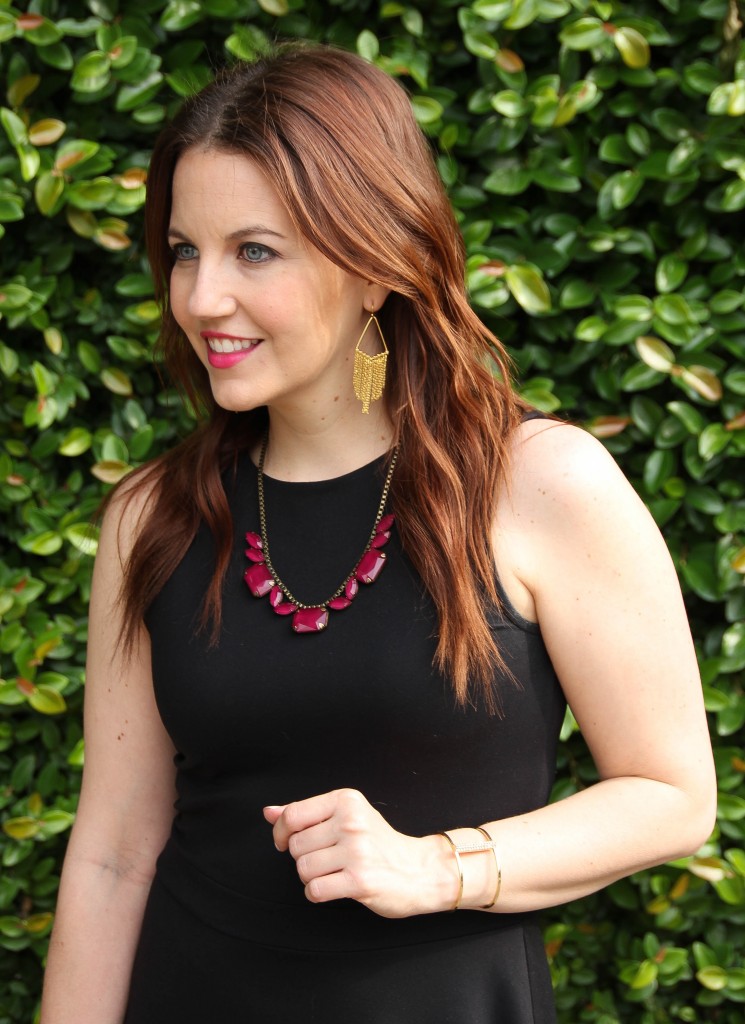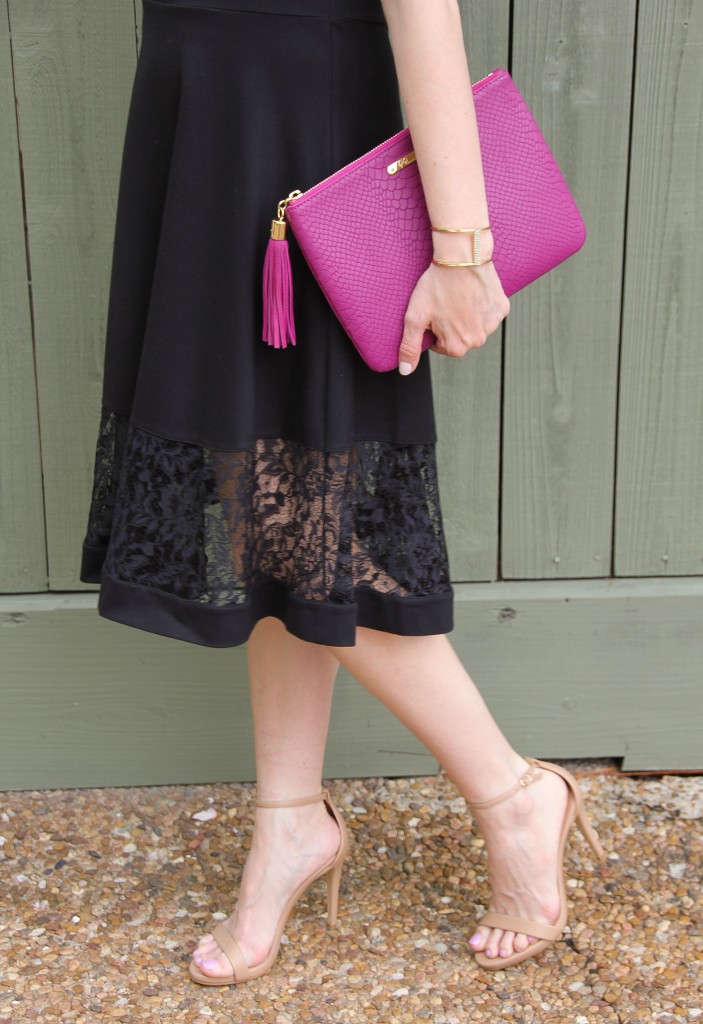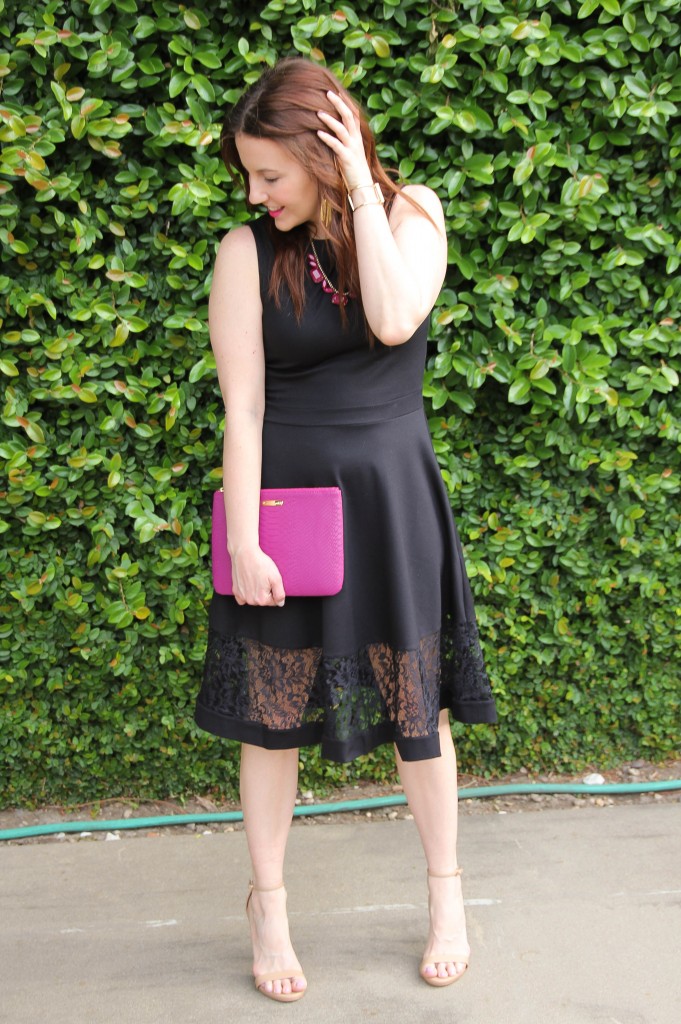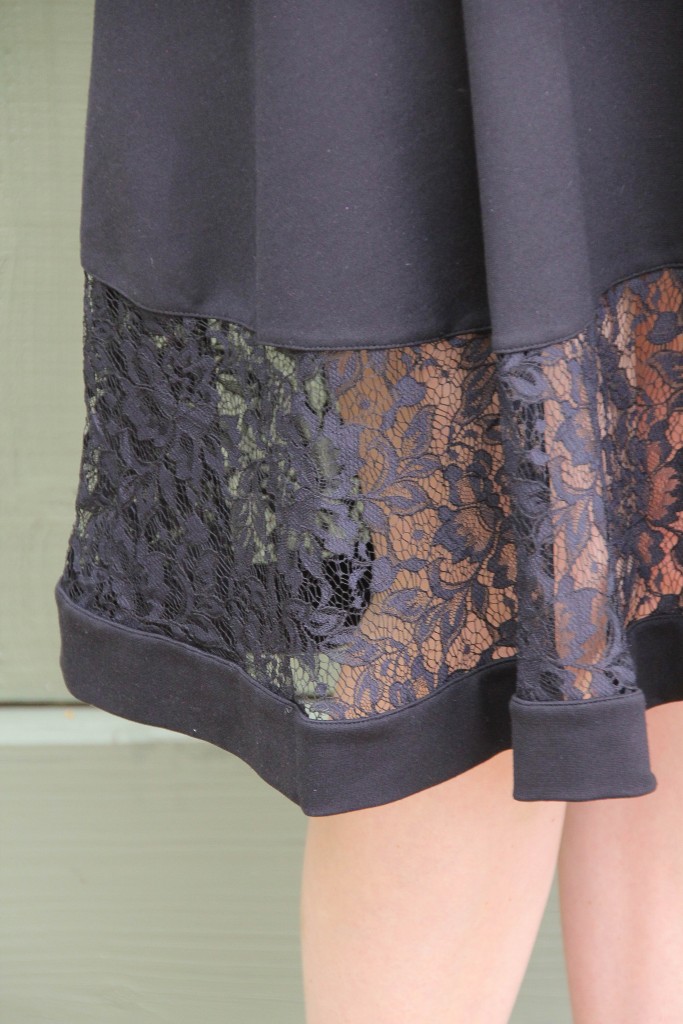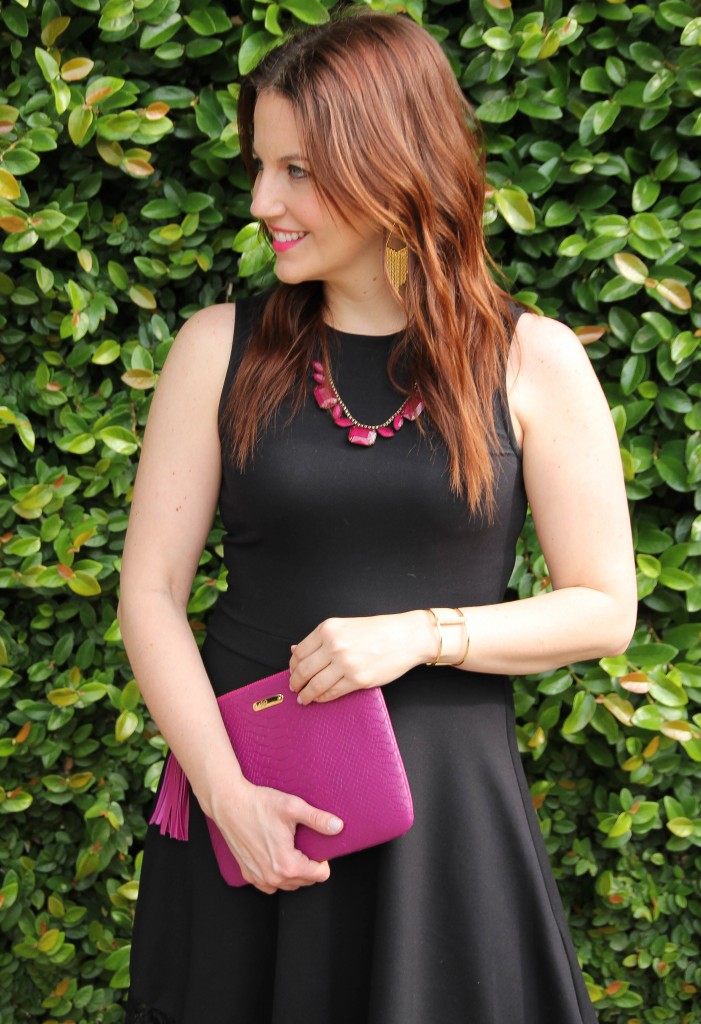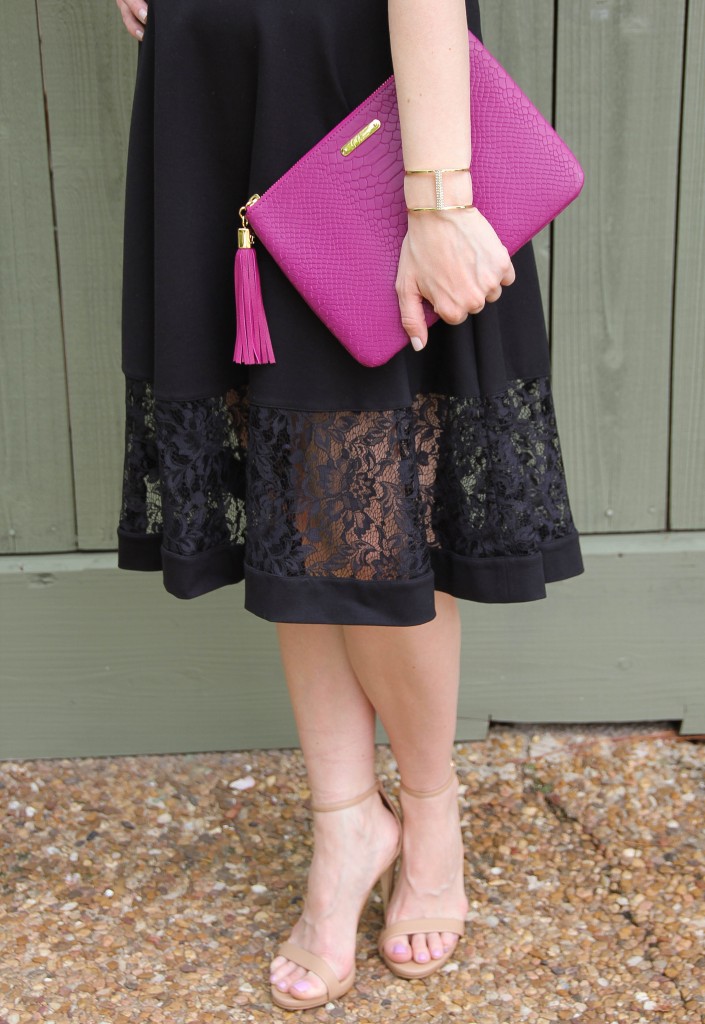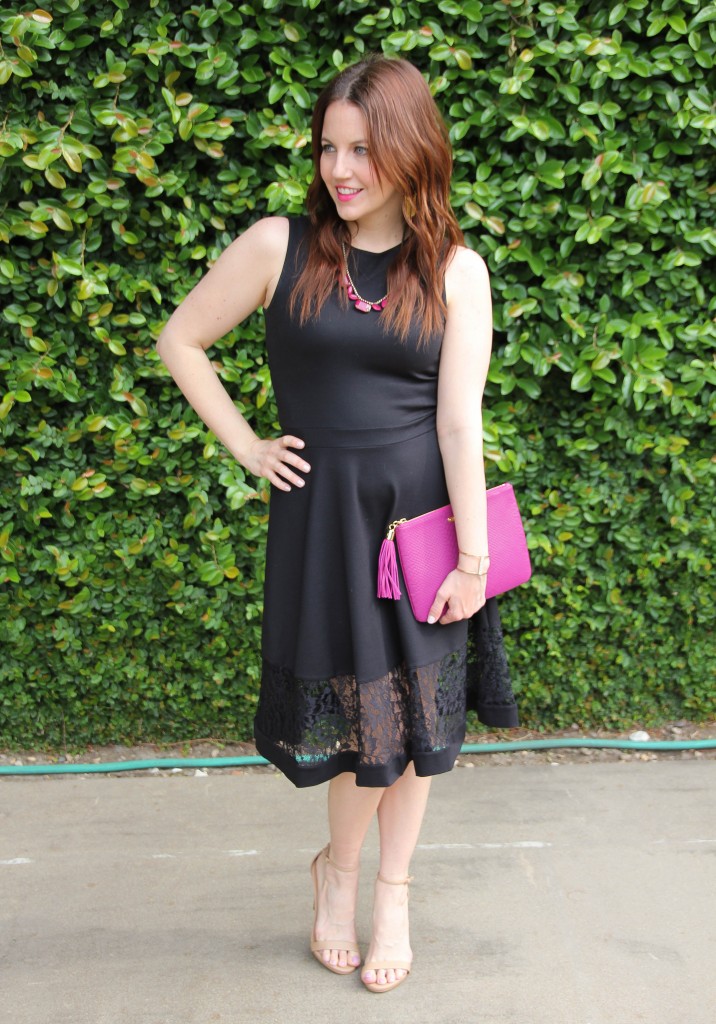 | DETAILS |
FRENCH CONNECTION Fit & Flare Lace Panel Dress *ON SALE |  STEVE MADDEN Stecy Sandal  | GIGNY Magenta Clutch  |  LOREN HOPE Blythe Necklace (similar)  | BAUBLEBAR Pinnacle Cuff,  Aretha Earrings  | Nails: JULEP Shari | Lipstick: BOBBI BROWN Neon Pink
Happy Monday Ya'll!!  My vacation week is officially here.  I just have to make it through 3 days of work, and then I will be off to Charleston with my girlfriends! It's going to be the longest 3 days!  Do you ever notice how those few work days before vacation seem to last forever?!?!
I am so in LOVE with this French Connection dress.  I wore this to my cousin's wedding a couple weekends ago.  I had originally wanted a bright solid color dress, but I was striking out with all the dresses I tried on.  I had pretty much given up and decided to just wear something old when I stumbled upon this dress.  I was actually ordering a couple things for my trip when this dress popped up and was on sale!  As soon as I saw it, I knew 1) it would be perfect for the wedding and 2) it was the perfect LBD.  The lace panel is my favorite part of this dress.  It really takes this dress from just a normal fit and flare to something special. The dress is a super comfy stretch material, so it was easy to dance and move in it.  I added a short statement necklace to add a little detail to the neckline.
My biggest concern when I ordered the dress was the length.  I'm only 5'3, so I knew the midi length could potentially be the deal breaker on this dress.  The lace panel I loved so much, also means it would be hard/expensive to alter.  I decided to go ahead and purchase these nude sandals to pair with the dress.  A nude shoe is a great way to make your legs looks longer, and my little secret to wearing midi length skirts and dresses without looking super short and awkward.  I have been meaning to buy these shoes for awhile because they work with everything from dresses to jeans to shorts.  I used to think the thin straps would make these shoes uncomfortable, but honestly they do give your foot some good support.  I have only walked in them so far, so I'll keep you updated on my experience with them.
My dress arrived the Thursday before the wedding and fit like a glove!  I was so happy with it.  Unfortunately my shoes hit a delay and didn't arrive until the Monday after the wedding.  Luckily, I had an old pair of shoes from when I was a bridesmaid to wear with this dress.  I was a little disappointed to not have my shoes in time, but since I know I will being wearing these for years to come I wasn't super sad.
Hope ya'll have a great week and thanks for stopping by!
SHOP THE POST

Follow Lady in Violet INSTAGRAM | TWITTER | FACEBOOK | BLOGLOVIN | SUBSCRIBE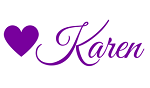 Love this post? You may also love: