Monthly Archives:
April 2020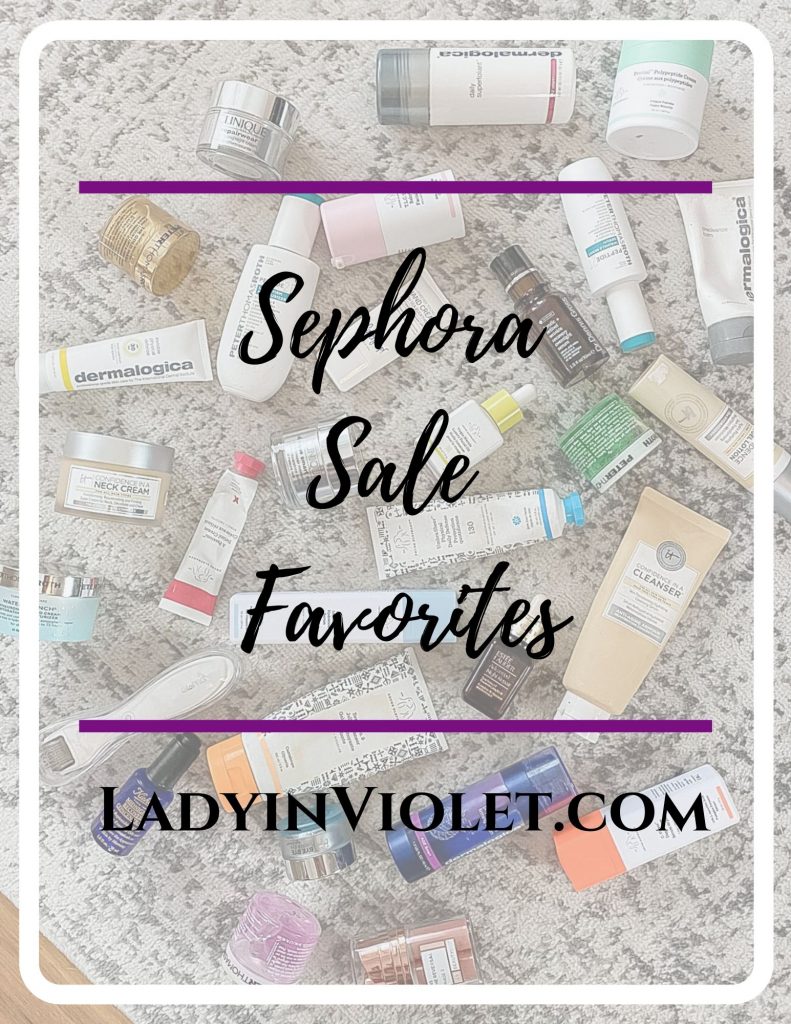 Calling all my beauty lovers!  The Sephora Spring Sale is officially open to all! The saving range from 10-20% depending on your Sephora Beauty Insider status.  The more you spend at Sephora each year the better the discount.  This sale happens twice a year – Spring and Holiday season.  I like to purchase items that don't normally go on sale, have higher price tags, or that I use religiously, plus a few fun extras.
To help you shop this massive sitewide sale, I'm sharing my top 5 skincare and makeup products in the sale.  Most of these you have heard about from me before on end of year lists, tutorials, or product reviews.  I'm also sharing a little peek at some of the items I have on my wish list.  I'm currently in the process of narrowing down my cart. Wish me luck, lol. Happy Beauty Shopping Friends!
TOP 5 SKINCARE FAVORITES

GloPro Microneedling Tool
A staple in my evening skincare routine! This product helps open up your skin cells to improve the absorption of all those skincare products.  You can check out my full blog post review HERE to learn more about how I use this tool.

Peter Thomas Roth Pumpkin Enzyme Mask
I've tried lots of masks, and this one remains top on my list.  It's one of my favorite masks for exfoliating, clearing out dead skin cells, and revealing smooth glowing skin.

Estee Lauder Advanced Night Repair
It's still one of my serum must haves! I've reviewed it before HERE.  It leaves my skin glowing and hydrated.

Dermalogica Phyto Nature Firming Serum
I think this might be one of the best serums that I've tried so far.  I love using it under my makeup in the morning, and it also works great at night.  If you want just one serum to use day and night, I recommend this one.  I wrote a more in depth review HERE.

Drunk Elephant Retinol + Hydrating Serum
If you are over 30, I highly recommend incorporating retinol into your skincare routine.  Retinol helps restore firmness and elasticty, can boost collagen, and help with cell turnover.  I mix this one with a bit of the hydrating serum a few nights a week. I haven't had any issues with irritation or dryness, and I've seen a reduction in fine lines and increase in smoothness and glowing skin.
TOP 5 MAKEUP FAVORITES

Better Than Sex Mascara
My Holy Grail Mascara! I still love trying others and usually have at least 3-4 other mascaras in my makeup drawer.  This one is by far the best for both volume and length! I always have a tube on hand.

Anastasia Contour Palette
The shades in this contour palette are perfect for my skintone, not too dark or too subtle.  The colors apply and blend easily.  If you need tips on applying, I shared a step by step tutorial on how I apply this palette HERE.

It Cosmetics CC+ Cream Foundation
I've used this foundation for years.  I love the overall coverage, the lightweight feel, and that it can survive a Houston summer.  I wear the color Tan.

Givenchy Prisme Loose Powder
I've been playing with other finishing powders, but I keep going back to this one.  It gives the best airbrushed look and really helps hold my makeup in place all day.  I use the shade viole rose.

It Cosmetics Brow Power Powder + Application Brush
I was a hold out on coloring in my brows. I thought many of the products looked bad up close and not natural.  I decided to give this powder a try, and now I'm hooked.  I use it just to lightly fill in my brows, and I think it has such a natural look to it.
ON MY WISHLIST

Charlotte Tilbury Pillow Talk Lip Set
I don't think I have ever used a lip liner…  I plan to look into buying one during the sale, and I've heard good things about this one.

Drunk Elephant D-Bronzi Drops
Self Tanner Problems – my face usually fades quicker than my body.  Another blogger mentioned using these drops for those kind of days, and I immediately added to my wishlist.

Isle of Paradise Tanning Drops
I'm such a big fan of their mousse, and I've been dying to try these drops out!  You mix them right into your moisturizer and can adjust the color by how many drops you use.

Charlotte Tilbury Hollywood Flawless Filter
Another blogger share find.  She applied this under her foundation kind of like a primer to help giving a nice glow to her finished look, and she mentioned some days just wearing this for a no makeup look.  I thought it would be fun to try out.

Hourglass Ambient Lighting Bronzer
I have the blush version of this and love it. My old bronzer is almost out, so I decided to try something new.  This one had good reviews, so it made the cut.

Beauty Bio The Quench Moisturizer
I'm a big fan of this brand.  I'm in need of a new morning moisturizer, and this one is on my short list.
SHOP THE BEAUTY PICKS