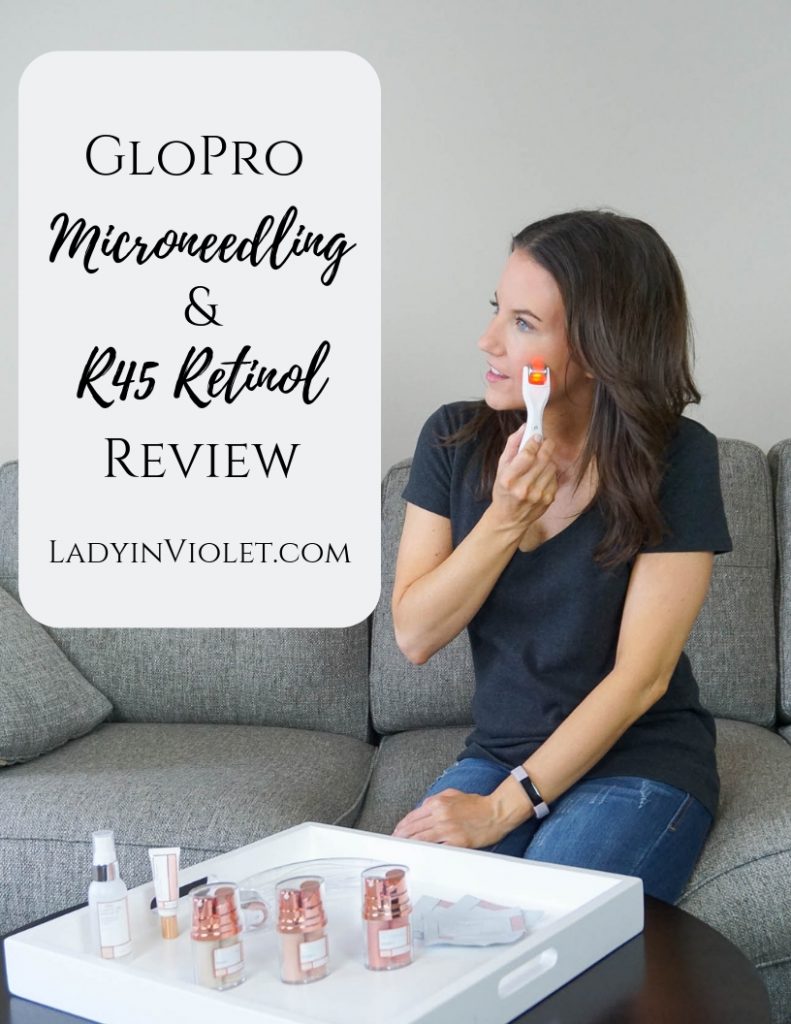 Back in December, I was lucky to attend an event for BeautyBio and listen to founder Jamie O'Banion speak.  One of my favorite things about listening to her speak was hearing her passion for creating amazing skincare products.  She shared about many of the BeautyBio products and gave a little lesson in skincare.  I was super intrigued by two products she mentioned – the GloPro microneedling tool and the R45 Retinol system.  Since December, I have been using these two products as my only nighttime skincare routine, and today I am sharing my thoughts on both with you.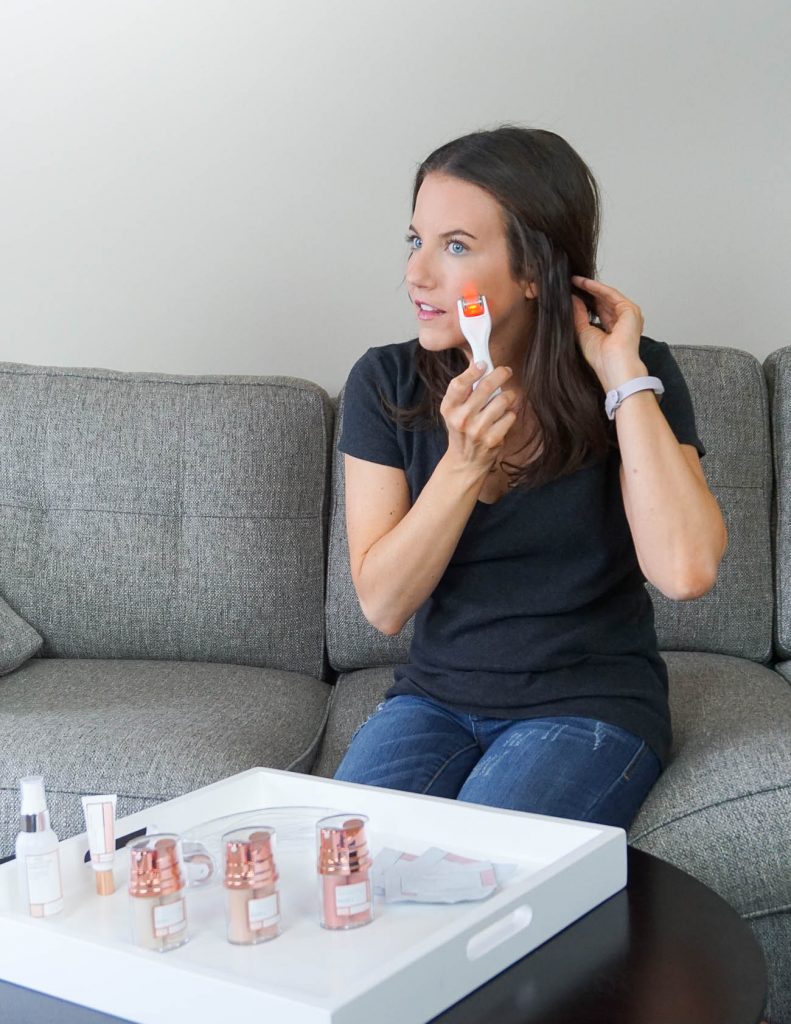 First off, let's talk about what exactly a GloPro does to your skin.  As you roll  the GloPro tool over your skin, tiny painless microneedles gently part your skin's cells and create mini channels into your skin. This triggers your skin's regeneration response and creates bouncy, new skin cells. Immediately after using your GloPro, your skin will absorb much more of all those fancy creams and serums we put on our face at night.
The process is super easy and takes less than 3 minutes each night.  After washing my face, I use a skin prep pad or a cotton pad with toner to give my skin a final cleanse before using my Glo Pro.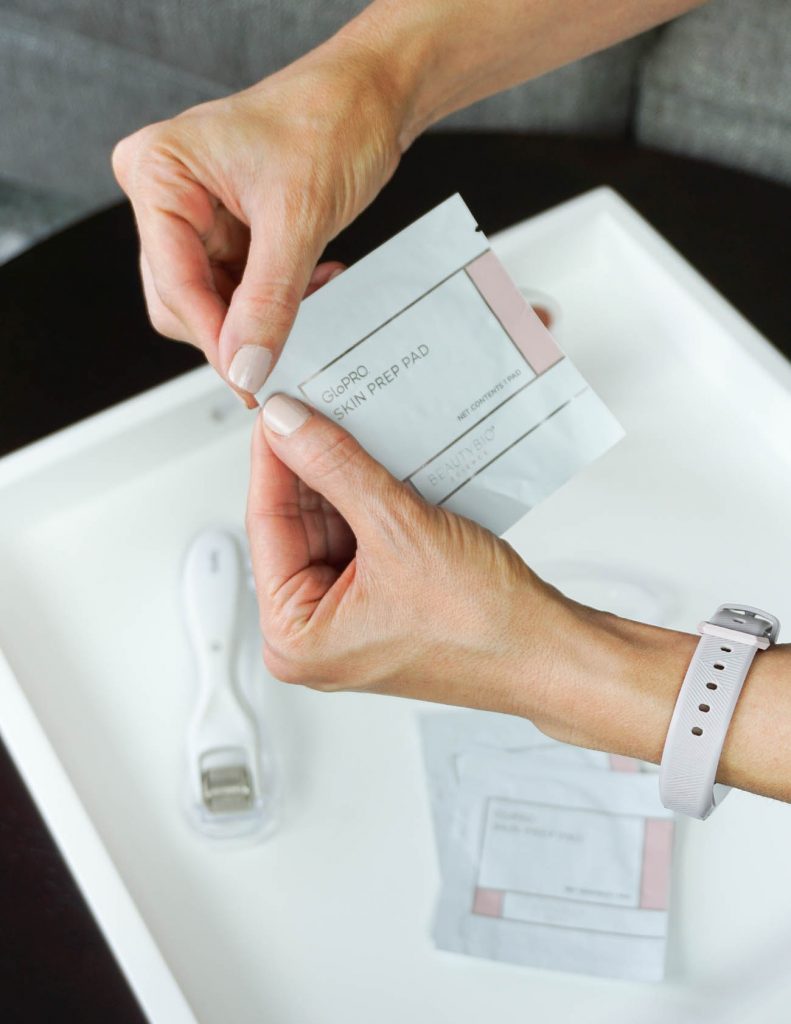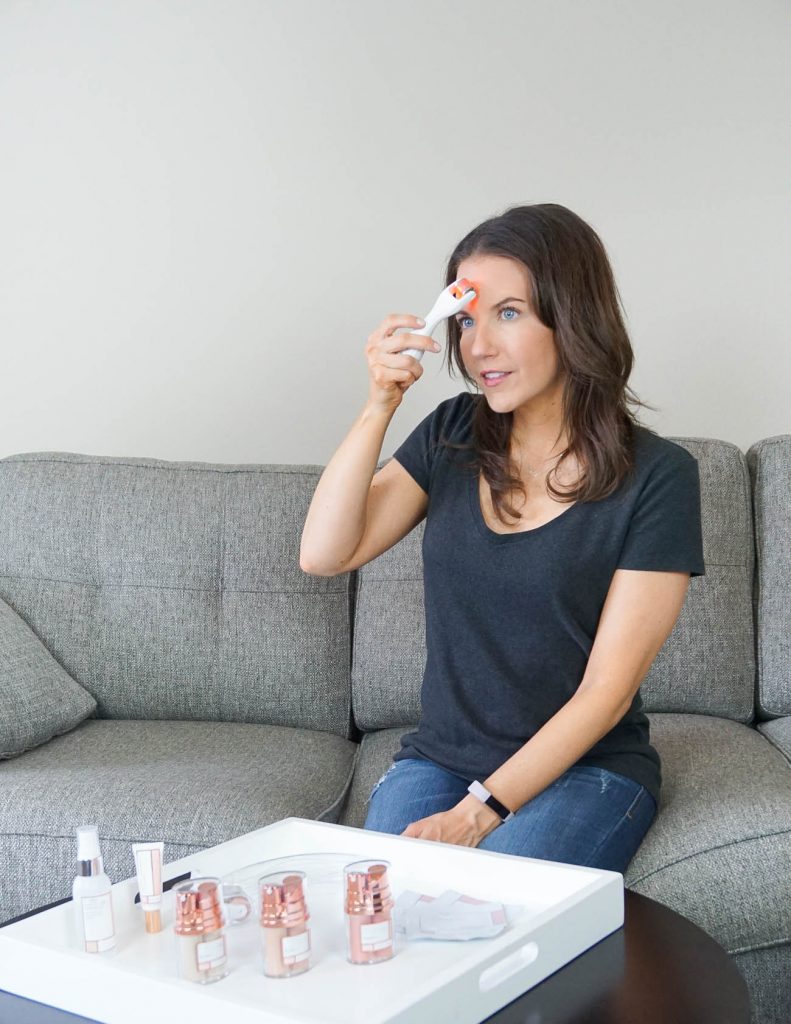 Then the fun begins, I turn on my GloPro and roll over my face for about 1 minute. While, I use the GloPro on my entire face, I focus on areas prone to wrinkles and fine lines like forehead, eyes, and around the lips.  I roll my GloPro both vertically and horizontally across all areas of my face working in sections.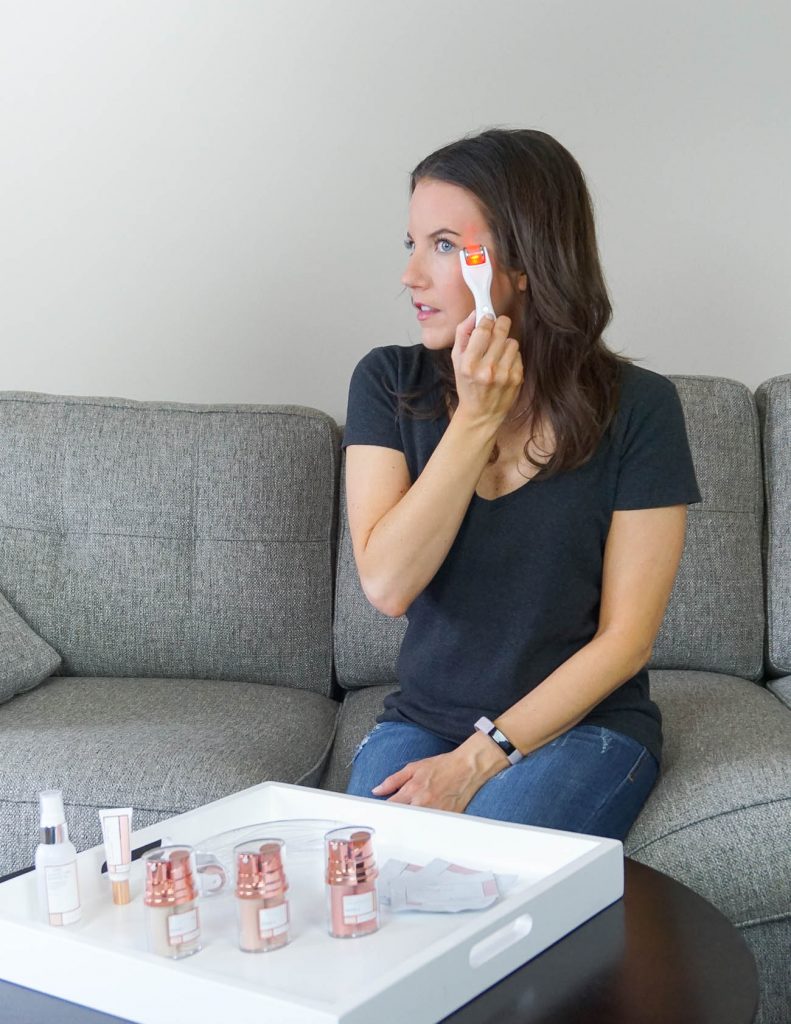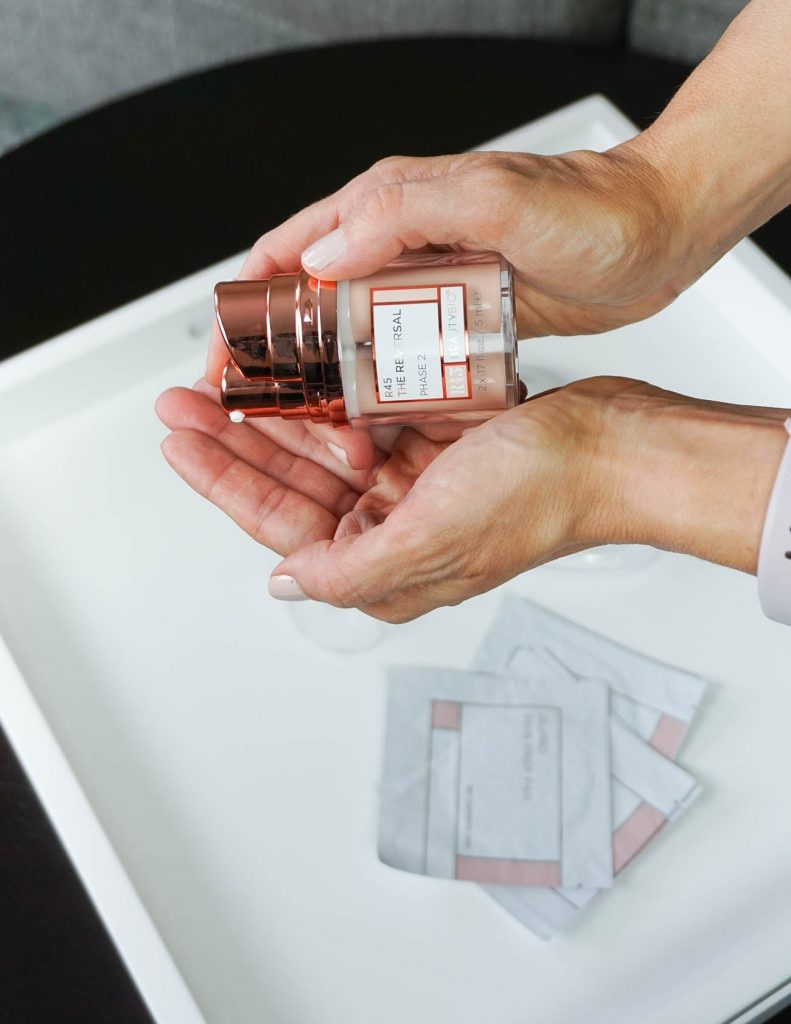 Once I'm done, I immediately apply my nighttime skincare routine.  For the past couple months, I have been using the R45 Reversal Retinol cream.  This retinol cream helps reduce fine lines and wrinkles, even skin tone, and lighten sun spots.  It works in 3 phases with each phase featuring a stronger concentration of retinol to help prevent irritation or dryness from starting out with a strong dosage.
This was my first time ever using a retinol product!  I loved the results of this one, and I plan to add it into my yearly skincare routine and do the system twice a year.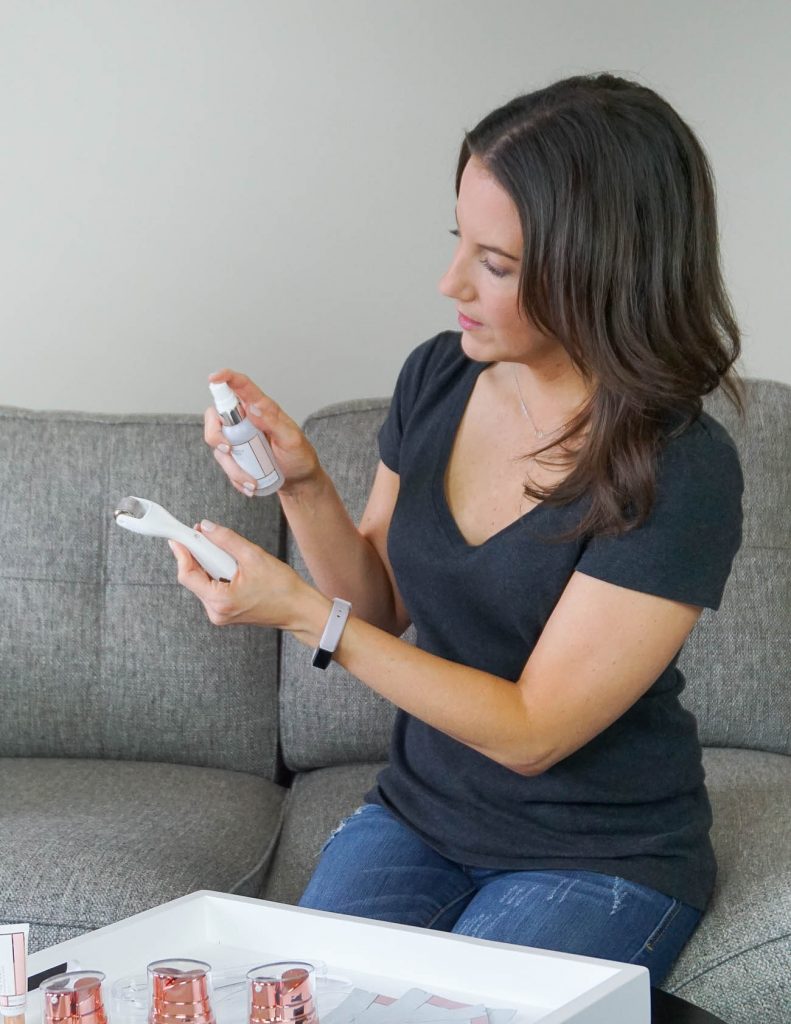 After I'm done, I clean my GloPro by spraying a little rubbing alcohol over the microneedling portion of the tool.  And that is it!  So easy, simple and quick.
So, what about my results?  I can definitely tell a difference in my skin tone and texture when I use this GloPro regularly.  I've also noticed my fine lines improving especially in the forehead area.  On a good week, I would use my GloPro and retinol cream about 4-5 times a week skipping nights I faux tan.  When I was diligent, my skin glowed.  I did have a few busy weeks when I would only GloPro once or twice a week which really showed me how the more consistent you are with use the better your results will be.
The microneedling process did not hurt at all or leave my skin red or irritated.  The first few nights, it did leave my skin feeling itchy.  This went away, so I assume it's just your skin adjusting to the new procedure.
The GloPro has a few other attachments for eyes, lips, and body.  I used the body one on a new scar on my arm and it disappeared after a few weeks of use.  The body attachment can also help with stretch marks and to firm skin a bit.  I just started using the lip attachment and will share my thoughts in a future post, so stay tuned for that one!
You do have to buy new microneedling heads about every 3 months, so there is a small upkeep cost.  You don't have to use a Beauty Bio skincare product after use to see the absorption results.  You can continue using your favorites and just add the GloPro to help your current products work better.  I just wrapped up the Retinol system and plan to start using my serums, oils, and moisturizers now.  The GloPro comes with a charger, but I haven't had to charge mine yet.
So do I think it's worth it?  If you are diligent about using it, absolutely!  I do think it has made a huge difference in my skin texture and glow.  I love the idea that it helps my fancy, sometimes pricey skincare products absorb even more into my skin.  I'm excited to see how it works now that I'm finished with the retinol and going back to my normal products.
If you have any other questions, feel free to leave them in the comments or email me!
SHOP THE PRODUCTS