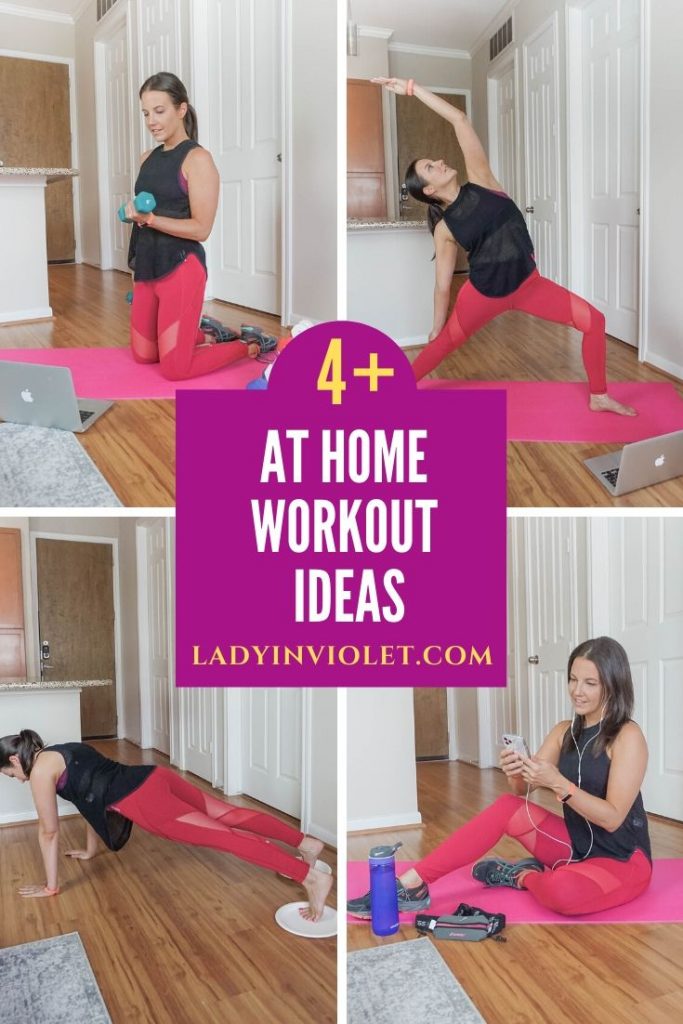 After my first week of staying home, I realized that I need movement and working out in my life! It gives me energy, calms me, and helps me sleep better just for starters.  Starting week 2, I began trying out different workout plans and types of workouts to find the best ones for my space and time.  I think it is so important right now to stay active and moving!I rounded up 4 at home workout ideas that I've found to work for me, plus a few extra ideas if mine aren't your cup of tea.
My daily workout schedule includes a daily walk, strength training or pilates, and yoga.  I included links to FREE videos, fitness apps offering free trials, and a few other resources that can all help you stay active everyday.  At the bottom of the post, I listed a few Houston area studios and my top club gym offering classes.  Some are free and some have a small fee.  If you are looking to support a small business, buying a few online classes from your favorite local studio is a great way to help them out!
GO FOR A RUN OR WALK OUTDOORS – If you have the ability to get outside and get some fresh air, a walk or run is a great way to get in cardio.  I have knee issues which prevent me from running long distances, so I will alternate between walking days and interval running.  You can use apps like RunKeeper to build in custom interval workouts.  This app also gives you time cues.  I set it when I go on my daily lunch break walks to give me the time every 15 minutes, so I know when to turn around or head back inside. To make an hour long walk go by fast, I listen to music on Spotify or audio books on Overdrive that I online borrow from my library.
CLIMB STAIRS AROUND YOUR BUILDING – If you live in a building, apartment or multi-story home, another cardio idea is to walk up and down the stairs.  If you have multiple sets of staircases, go up one walk to the next and go down that one.  Repeat your way around the building.
WALK THE PARKING GARAGE – I've seen people do this before, and I think it's a really smart idea!  It's a good way to get in some incline walking and stay covered on rainy days.  Just watch out for cars!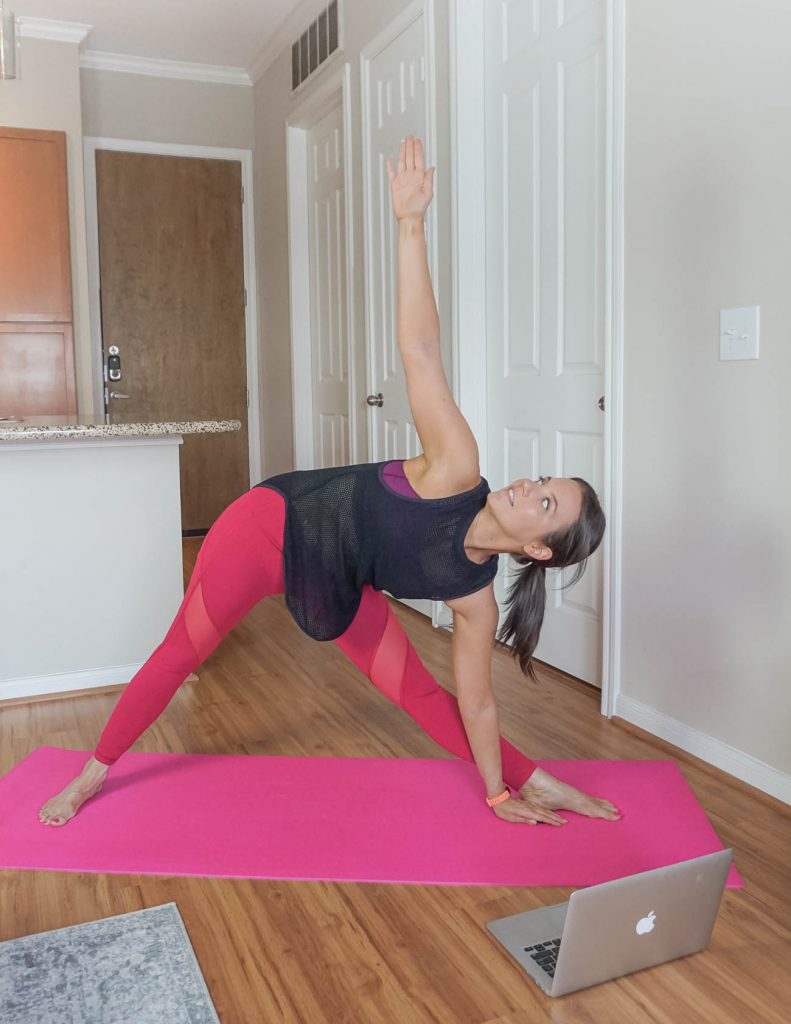 YOGA – This workout is great for both the body and mind.  I've been doing yoga almost every morning, and it has been the perfect start to my day.  Yoga can help you stretch out muscles that may be cramped from less activity, strengthen your muscles, and yoga breathing can help calm you and reduce anxiety.  Yoga With Adriene is a great free yoga option. I found her videos to be great for beginners! If you want something more advanced, I have been using the Intermediate Yoga Flow classes in the Peloton App.  These classes remind me of the classes that I take at yoga studios.  FYI – The Peloton App is running a FREE 90 day trial right now. I've been taking full advantage of it and their workouts!
STRETCHING – If yoga is not your thing, a few light stretches will help keep your muscles limber.  I like to stretch my legs and back the most especially after long walks or sitting all day.  If you type in Stretching to Pinterest, you will find tons of different stretches you can do.  Also, the peloton app has stretching workouts.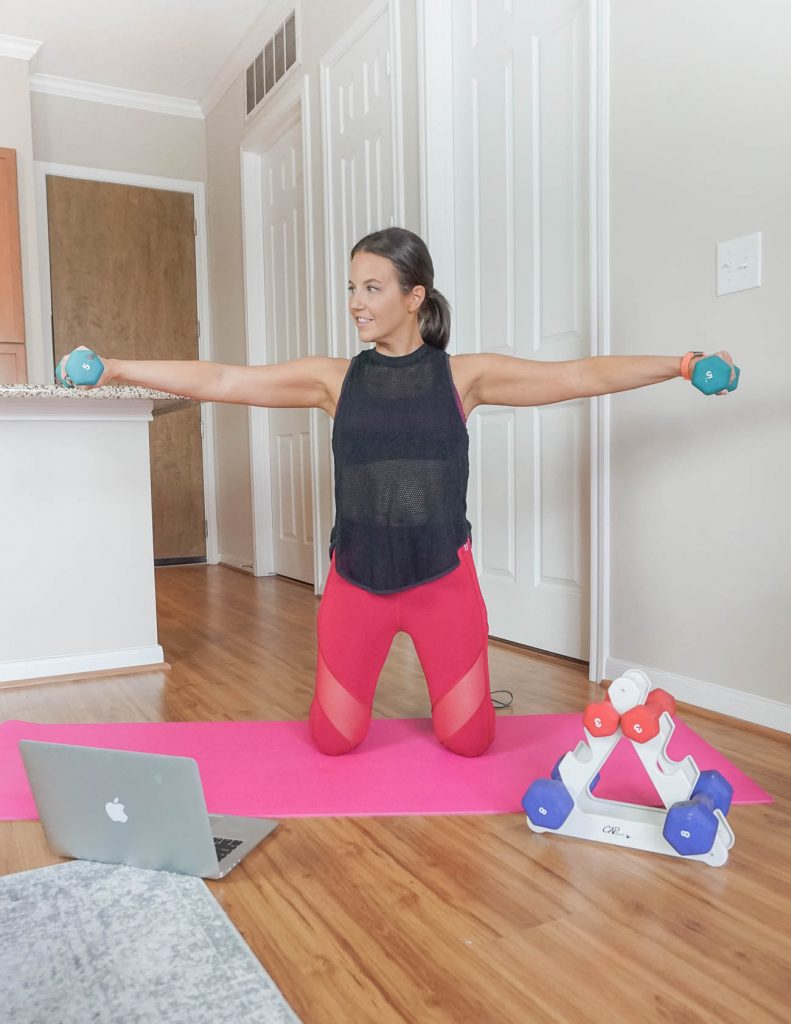 STRENGTH TRAINING – Keep your muscles strong and engaged with strength training.  You will need some weights for this one, although you can also look for bodyweight only moves too!  I have had this weight set FOREVER, and it's really come in handy this month!  You can pick up a similar set at a sporting good store, Target, or Walmart.  Below are some places I like to use for FREE workouts:
XHIT DAILY on YouTube – This arm video is my Favorite from this channel.
The Peloton App – A variety of class length options are great for getting in quick workouts.
Lauren Gleisberg – She posts lots of circuit workouts for both gym and at home.  I find them super easy to follow and effective.
Alexia Clark – She posts workout videos on her Instagram that are effective and easy to follow.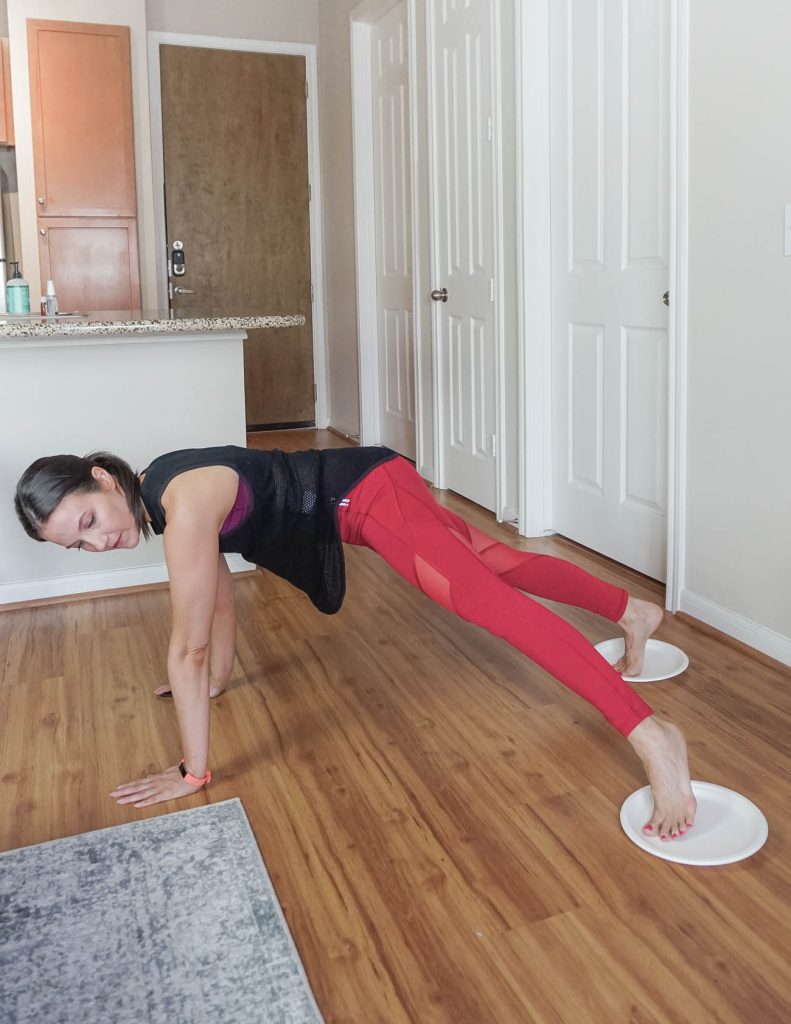 MAKE YOUR OWN PILATES/ REFORMER CLASS – I spent the first couple of months falling in love with MegaFormer class, and I had planned on trying out a reformer pilates class but then everything closed.  I have seen so many people post about simulating some of the moves using paper plates or socks.  Search Paper Plate Workout on Pinterest for workout ideas. This article also has some good moves. I did a few moves from my Megaformer class the other day, and man I could feel this in my abs!  I do the movements slow which is similar to the slow controlled movements of my megaformer class.
I live above someone in my apartment complex, so I'm choosing to be a good upstairs neighbor and not do too many jumping around workouts.  Below are a few other workout options that I think are awesome, but not good for my environment.
DANCE CLASS/JAZZERCISE – This You Tube channel offers a variety of dance classes for FREE!  The Sculpt Society App also has upbeat dance and cardio classes.  You can try Free with a 14 day trial.
UPBEAT CARDIO CLASS – You can find these in fitness apps like the Peloton App or Aaptiv.
CALL YOUR LOCAL STUDIO FOR EQUIPMENT – Many studios in my area rented out equipment like spin bikes, trampolines, and weights.  For most of them you had to have a monthly membership, but it may be worth looking into.  Many local studios are also offering online classes for a small fee or for FREE!
A few of my top studios offering classes:
Revolution Studio (this is where I take spin and yoga) – Fee Required offering strength, spin, and yoga
Define Body (I take their Barre classes) – free for one week, must enter email
Orange Theory – Daily Free Circuit Workouts
Atrium Yoga – Fee Required offering live yoga workouts
Black Swan Yoga – Free Yoga Workouts
Lifetime Fitness (my favorite club gym!) – offering free at home workouts
SHOP MY MINI GYM


PIN THIS PIC TO SAVE THIS POST FOR FUTURE USE!