Monthly Archives:
December 2019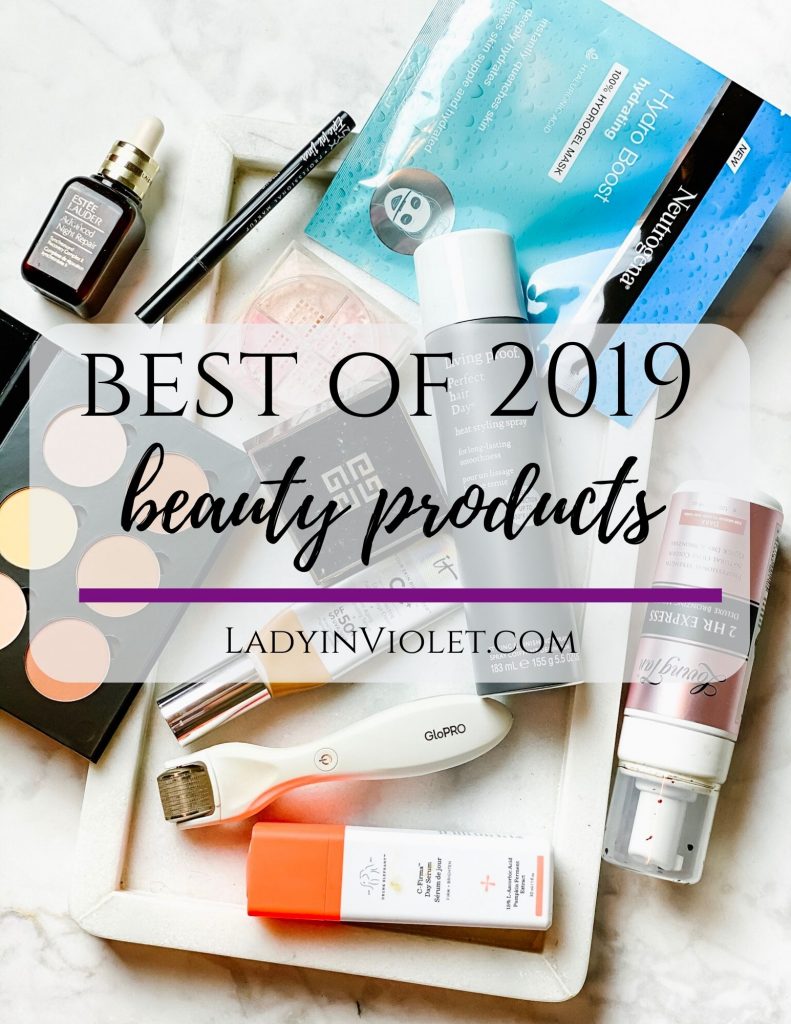 With 2019 coming to a close, it's time to look back at mine and your favorites from this past year.  This year, I upped my skincare game and tried tons of new products.  I also started trying out a few new makeup products and routines to try and find one that was quick and easy.  I found some hits and some misses, and some products that made there way into my regular rotation.  Keep scrolling to see which products made my list of the Top 10 Best Beauty Products of 2019!

NYX Epic Ink Eyeliner – My sister recommended this eyeliner to me, and I'm obsessed with it!  I have only used one other eyeliner since I started using this one.  It easily glides on and stays put all day long.  I never have issues with cross-transfer throughout the day.  I wear lots of shiny eyeshadows and this one goes over the shadow perfectly.

Living Proof Heat Spray – I have used the same drugstore heat spray for years.  Recently, I felt like my hair wasn't as healthy, so I decided to change out some of my old tried and true products. First up, my heat spray.  After just one use, I was hooked on this product.  I spray a light mist prior to heat straightening.  My hair looks smoother and has less frizz.  I think it even straightens quicker.  It's too soon to tell on overall health improvement, but I'm liking the results so far.

c/o It Cosmetics CC+ Cream Foundation – I've been using this foundation for a few years.  As much as a I experiment and try different foundation, I always come back to this one.  It goes on smooth and covers really well.  It has a natural look and lasts all day.

Anastasia Contour Kit – This contour kit is made for light/medium skintones.  It's perfect for me because I can use all the colors.  It blends smoothly and gives a natural contoured look.  Learn more about how I use this kit to contour my face HERE.

Beauty Bio Glo Pro – I started using this tool last December, and I'm still in love with it.  I use this tool several times a week prior to my night time skincare routine.  It helps your products soak in deeper and work more efficiently. I also use the body and lip attachment, and I've had good results with both.  Learn more about my GloPro and how to use it HERE.

c/o Drunk Elephant Vitamin C Day Serum –  Earlier this year, I committed to a month of a fully clean skincare routine.  My skin was glowing after that month, and I've been trying even more clean makeup and skincare products since then.  This vitamin c serum was one of my favorites in my clean skincare routine.  I used it in the morning under my moisturizer. I noticed a big difference in my skintone evening out while using this product and reduction of dark spots. My skin glowed and looked healthier.  Other Vitamin C products have irritated my skin, but I had no issues with this one.  Read more about my clean skincare routine HERE.

Loving Tan 2 Hour Express Tanning Mousse – I've spent most of the year trying out a variety of self-tanners, some hits and some misses.  (Spoiler – I have a full review of all the ones I tried coming next year!)  My sister has been telling about Loving Tan for about a year or so now.  I finally decided to spend the $50 and try it out myself. So far this tanner is top of my list.  The color goes on well and lasts the longest.  I didn't notice a selftanner smell and no sheet staining.  My only issue with this one is that it's really hard to get your hands perfect. I had heard that about this one, and I'm still working on perfecting the art.  Need help applying self tanning mousse? Check out my tutorial HERE.

Estee Lauder Advanced Night Repair – This serum is one of my favorites!  I received a sample as a bonus after purchasing some beauty products. I tried it out and before I went to bed, I started seeing this serum do its work.  My skin started looking almost instantly hydrated and glowing.  By morning, my skin looked refreshed, plumped, and smooth.  All adding to the reduction of fine lines.  I decided I need a full size bottle of this and having been loving it ever since.

c/o Givenchy Loose Powder –  I use this as a finishing powder to set my foundation and contouring.  You have a few different color options with this one, I like using the one with some pinks in it.  With all white powders, I find they do lighten up my ending makeup look a bit.  This one doesn't do that because of the addition of a little color.  This one in my opinion gives the best smooth and airbrushed look.

Neutrogena Hydro Sheet Mask – A friend of mine has an obsession with skincare products, so when she tells me to put something on my face I listen.  She insisted I try out this mask one night.  It was my first sheet mask.  The mask applied pretty easily and stayed in place slightly suctioning to your skin.  All the hydrating goodness transferred across in the time I had this mask on.  My skin looked hydrated and glowing, and I've been addicted to this mask ever since then.
TOP BEAUTY BLOG POSTS
With all my new products and routines, I shared a little more beauty reviews and tutorials this year.  Your favorites included:
How to Apply Dry Shampoo
GloPro Microneedling Tool & R45 Retinol Review
How to Clean Makeup Brushes
How to Self Tan at Home remained a favorite beauty post from last year!
MOST WANTED BEAUTY PRODUCTS
Lots of beauty products were shared here on the blog and on Instagram! The reader favorites included:
A Neutral Nail Polish
Self Tanning Mousse
Mascara
Leave In Conditioner
c/o Face Oil
I hope you enjoyed the extra beauty content this year!  I already have some posts in the works for next year, and I can't wait to share them with you.  Be sure to check back Friday when we recap the Best of 2019: Fashion Edition!