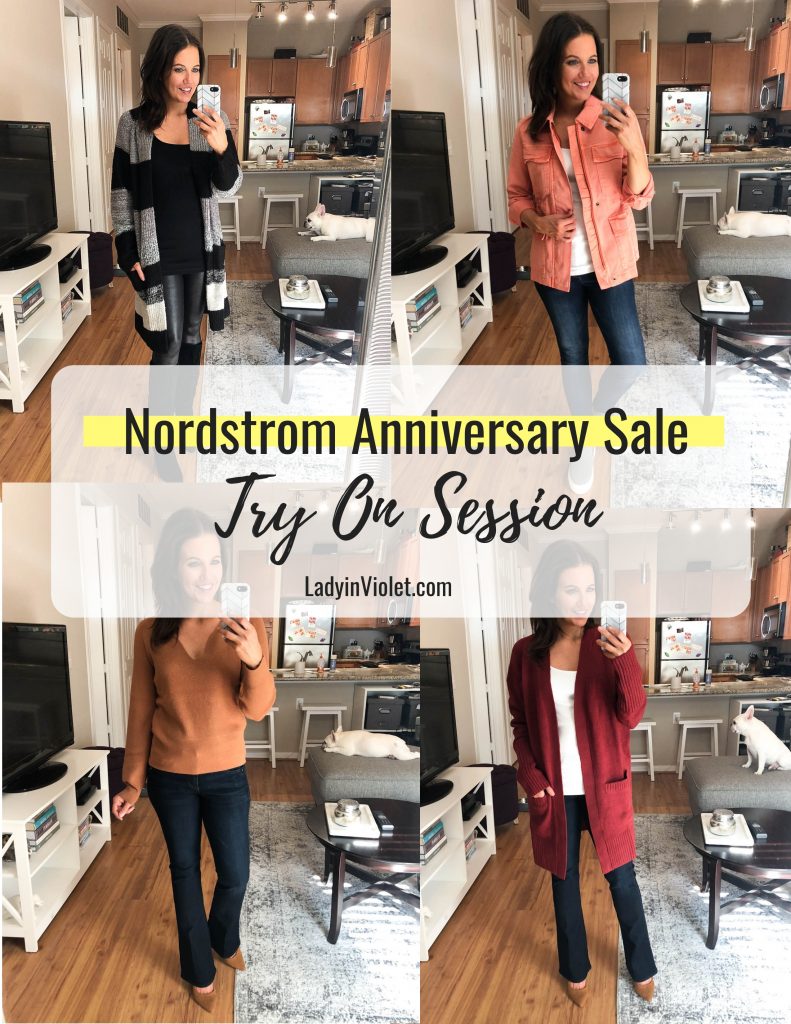 Hello and Happy Friday! I'm so excited to finally share a few items I picked up during the Nordstrom Anniversary Sale with you.  My package took a little longer to arrive this year, but I think it was worth the wait.  You will probably see a few of these pieces make their own individual outfit blog posts closer to fall, but I wanted to share with you now while everything is still on sale.
I added a few new shoes, a super affordable pair of jeans, a couple long cardigans, and a few cute tops so far.  I always place a second order after my items arrive. I give myself a budget every year, so order 2 will be spending the amount I have left after deciding what to keep and return. I have my eye on a pair of python heels and another pair of dark wash jeans for order round 2.
So take a scroll and find some shopping and fall outfit inspiration!
long striped cardigan | faux leather leggings
I picked up two long cardigans this year.  First up, this black and gray striped one. It's super thick and warm, so it's going to perfect for cold weather. I love that you can easily dress it up or down. I went with a chic evening look by pairing it with leather leggings and suede boots.  You can also pair with dark wash jeans and booties for a more casual look.
I mentioned these faux leather leggings in my Returning Favorites post as an item I regretted passing on last year.  It was a quick add to cart this year, and I cannot wait to style them this fall and winter season!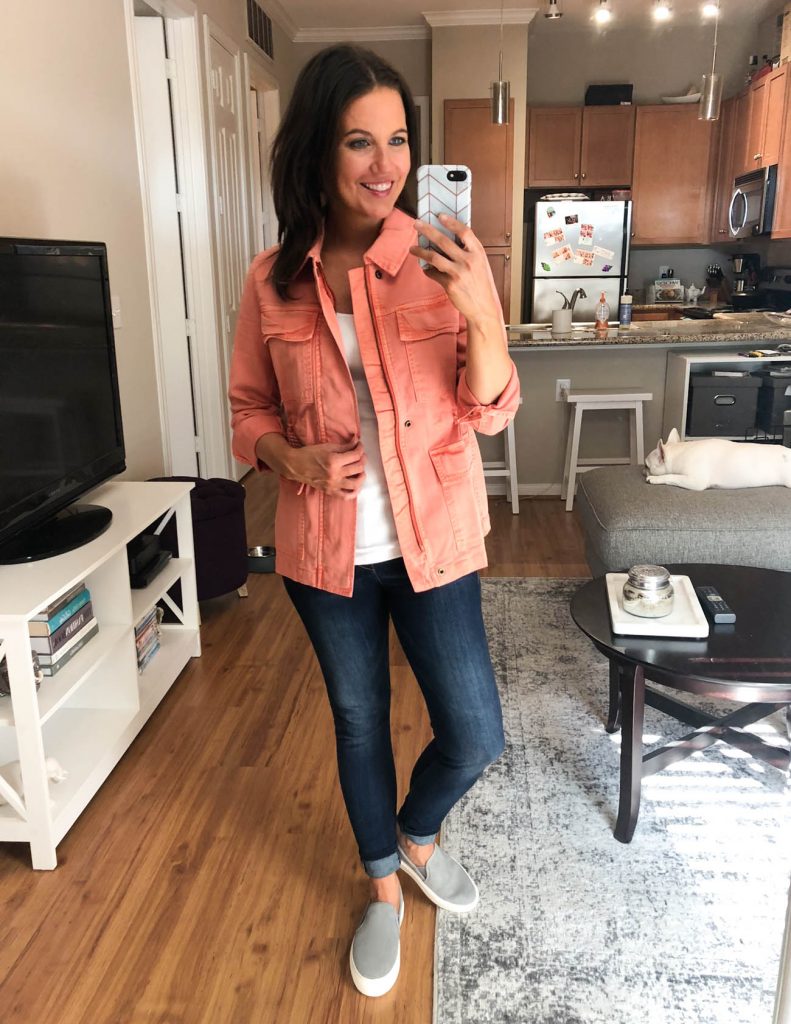 pink utility jacket | gray slip on sneakers
Since I am always cold, I really wanted another casual jacket. I stumbled up on this coral pink utility jacket.  I love the color and I think it will work for spring, summer and fall. I ordered the XS petite and it fits perfectly and the length is just right.
I purchased 2 pairs of casual sneakers from the sale.  I know everyone is shocked, lol.  My last pair from a few years ago really needed to be retired, so I knew this was something I was going to pick up this year.  I love these gray slip ons as a dressier sneaker. I went with gray because I felt it would work with my wardrobe the best.  I've only walked around my apartment in these, but so far super comfy.  The fit is TTS.
floral print dress | tan suede heels
I love the print and style of this dress, but I'm going to have to send it back.  The front is too low cut for me. I wouldn't be able to wear this to work without a cami underneath it.  Other than that, this dress is so adorable!  I'm wearing a small.
So far, I have only purchased one pair of heels but I have another pair on my wish list. I have been eyeing these tan suede heels since last fall.  I like them as an alternative to a nude colored heel for fall and winter.  They also look super cute with jeans!  The site says they run small, but I went with my normal size.  I almost feel they might stretch and be too big, so I don't agree with what the site says at all.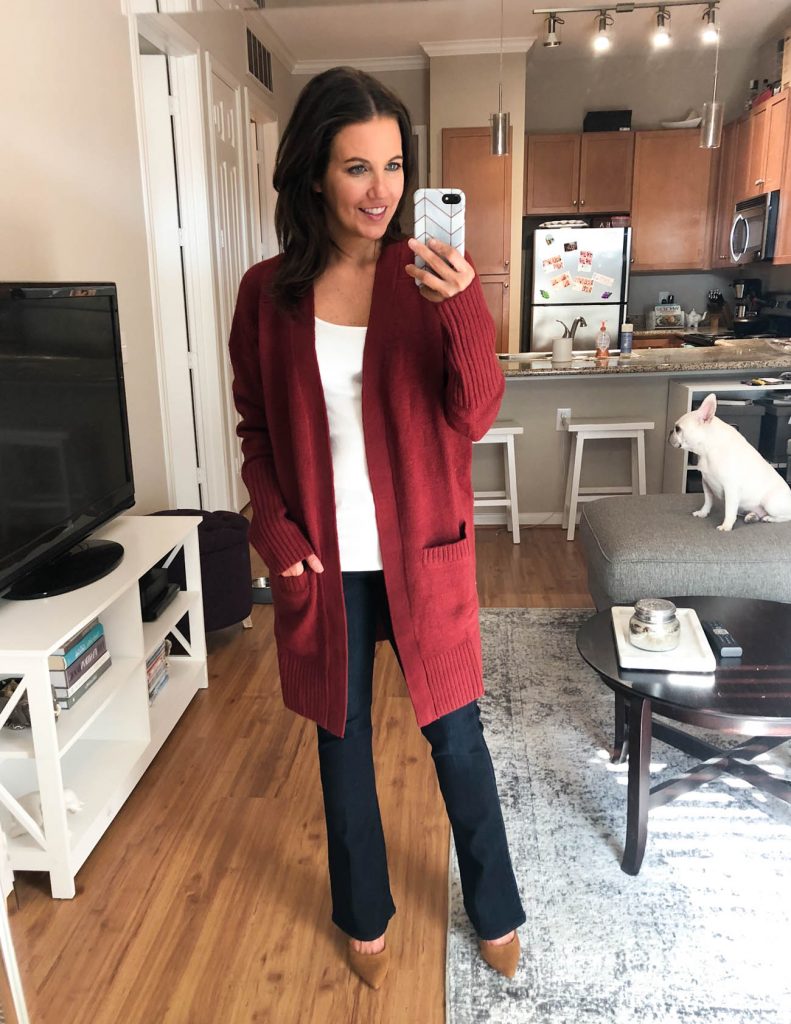 long red cardigan | flared leg jeans | brown suede heels
Oh this cardigan is so cozy and warm!  I love the red color too, perfect for fall! This would also be a great piece to layer over work dresses.
These are the Wit and Wisdom jeans I ordered. I'm wearing a 2 Petite which is my normal jean size.  I love the length on these, and that I will not have to have them altered.  The dark color is perfect for me.  I plan to wear these jeans to work and for dressier weekend events, so I wanted a good dark color.  I do think these might stretch a little with wear just because I could feel them getting looser while wearing.  Since these are for work though, I don't mind if they aren't super skinny.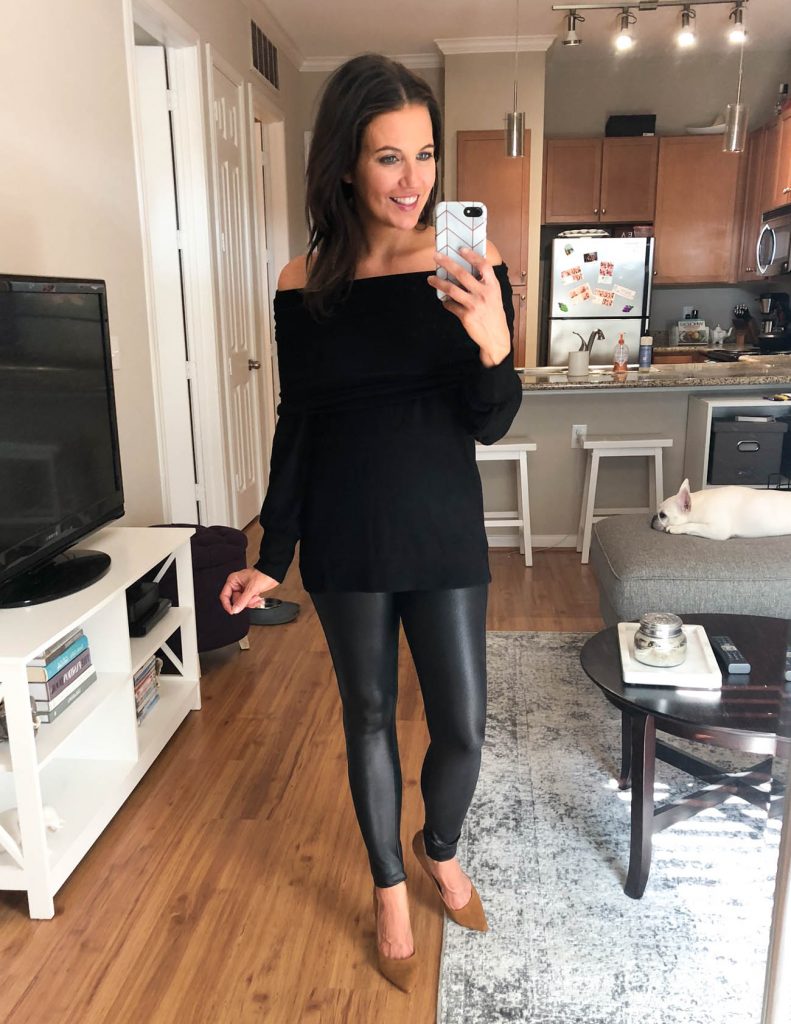 off the shoulder top | faux leather leggings | tan suede heels
Another look with my leather leggings. I went with a different shoe look and paired it with my brown suede heels. I love this shoe color with an all black outfit.  This off the shoulder top is so cozy and comfy! The top does come down low, so it may slightly restrict arm movement.  You can also wear it as a cowl neck.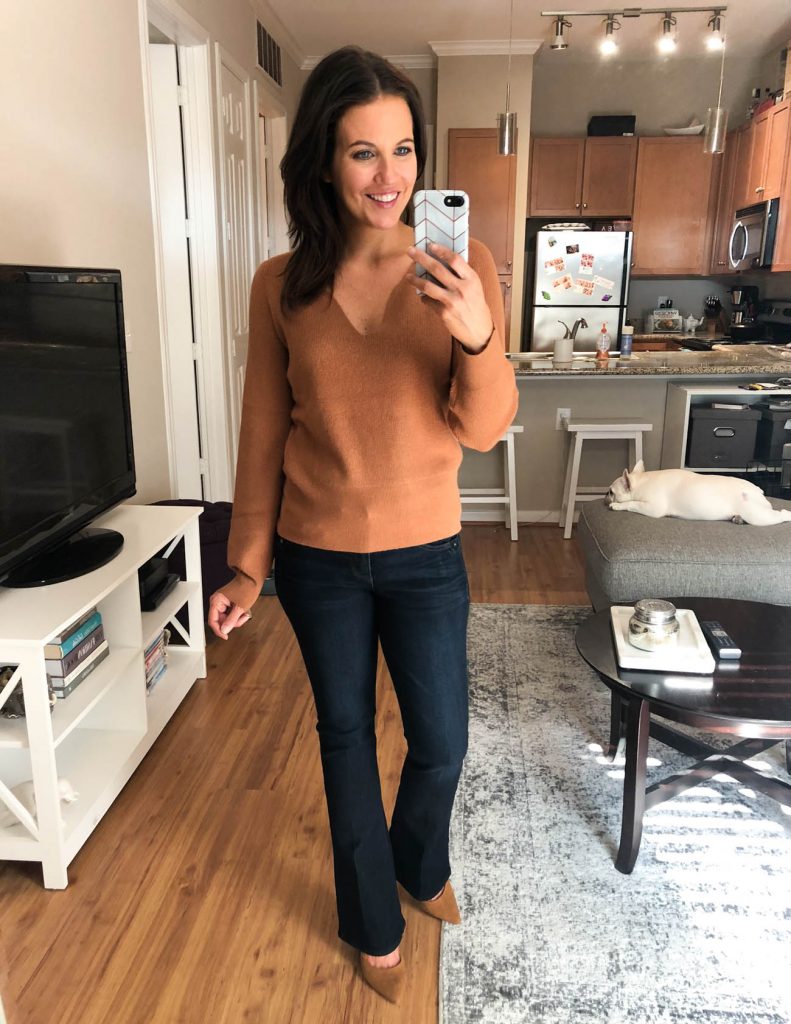 light brown sweater | dark wash boot cut jeans | suede heels
This tan sweater is going to be so perfect for fall! I love it with dark jeans, and I think the length will make it perfect to pair with pencil skirts and pleated midi skirts for work.  It's also really soft!!  I was worried it would be itchy because of the price and pics, but definitely not the case.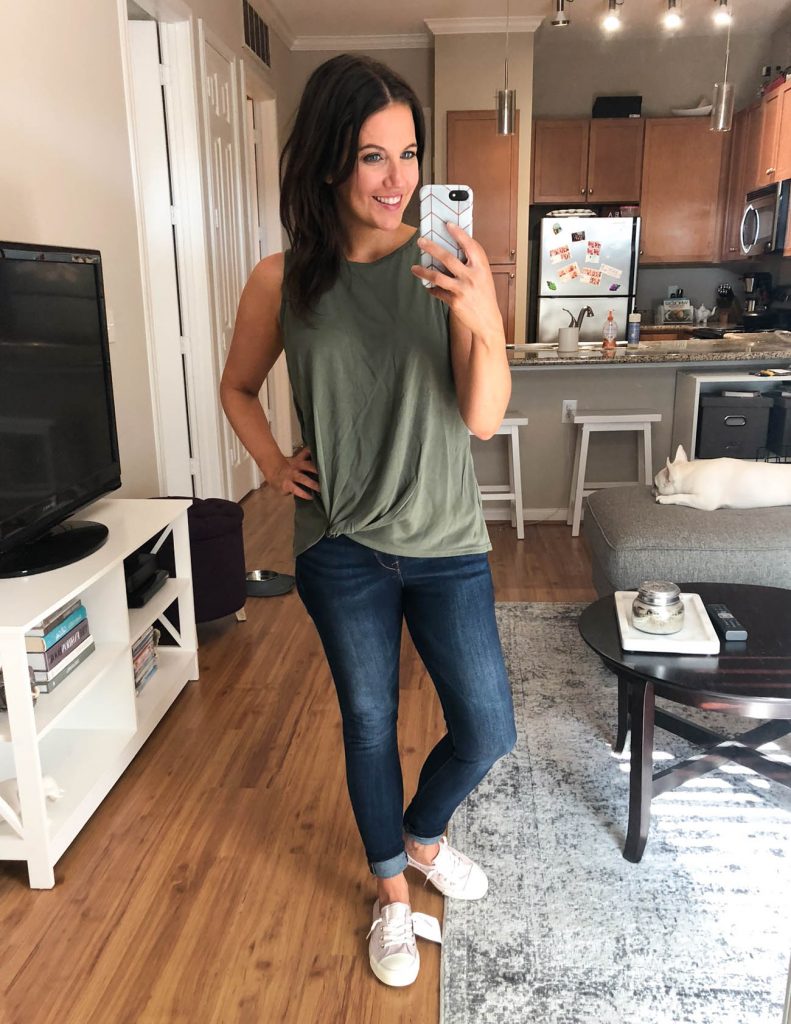 green twist waist tank top | pink converse sneakers
An easy tank top for summer and will be cute for layering in the fall. I love the twist waist detail on it too.  These are the other casual sneakers I purchased.  I'm still on the fence on these.  They are super cute, but rub the tops of my feet.  I have slightly high arches, so I sometimes have this issue with flat shoes.  I'm going to walk around my apartment a little bit more before making a final decision on these.
Thanks for stopping by ya'll!  Hope you have a fabulous weekend!
SHOP THE LOOKS

Love this post? You may also love: