Monthly Archives:
June 2019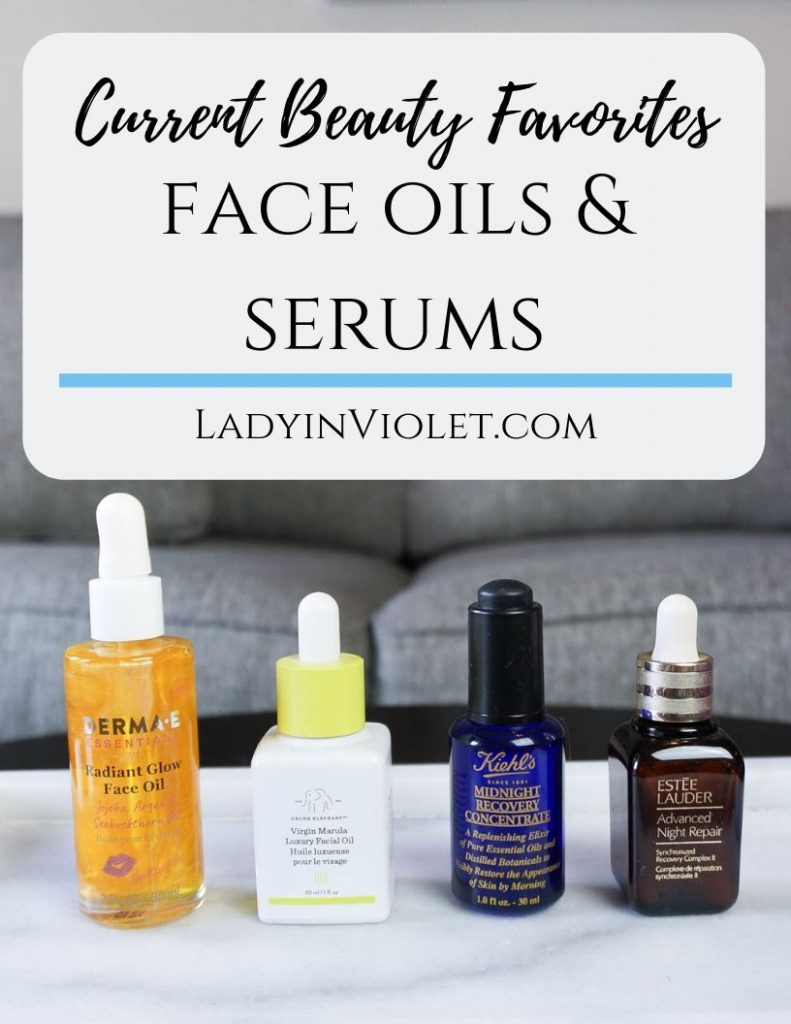 Face oils and serums are a staple in my skincare routine.  These skincare products are perfect for adding and locking in moisture while delivering anti-oxidants to gives skin a healthy glow and smooth look.  Face oils are the best for adding and locking in moisture.  I try to use one twice a week.  Oils are especially soothing after an exfoliating mask.  Serums add moisture and a good number of anti-aging ingredients to soak in to your skin while you sleep each night, so you wake up with glowing and more youthful looking skin.
I apply my face oils and serums in the evening, so they have all night to soak in and work there magic while I sleep.  While the word oil, probably makes you think greasy.  Most face oils are light in texture and quickly absorb.  I usually just look a little shiny before bed, and have a nice radiant glow in the morning.  These four are some of my current top favorites.  All of these oils and serums leave my skin looking refreshed, hydrated, and more youthful in the morning.  Most of them with just one use.
To Use: I wash off my makeup and then apply my oil or serum of choice. I use about 2-3 drops depending on the product.  For some serums, I do follow up with a moisturizer.

c/o DERMA RADIANT GLOW FACE OIL – This oil includes the essential oils Jojoba, Argan and Seabuckthorn.  These oils really help nourish your skin and add in moisture.  My skin soaks this stuff up!  It's very lightweight and absorbent.  This one takes a few uses to see the benefits, but over time I noticed a smoother and hydrated skin with a nice healthy glow.

c/o DRUNK ELEPHANT VIRGIN MARULA FACIAL OIL – This oil features a cold pressed process to extract the oil preserving the anti-oxidants to deliver your skin the best this oil has to offer.  After just a couple uses, my skin looked more plump and moisturized. This plump and moisturized effect really helps with fine lines and gave me a nice healthy glow.

KIEHL'S MIDNIGHT RECOVERY CONCENTRATE – This oil features a blend of the distilled oils Lavender Essential Oil, Evening Primrose Oil and Squalane.  After just one use, I noticed results with this one.  It added instant hydration and an amazing morning glow.  This oil improved fine lines and leaves my skin feeling soft in the morning.  The essential oils do give this one a very distinct smell that's going to be a love it or hate it thing.  It doesn't bother me at all.  Also, I had a friend use this and have a bad reaction to her skin with breakouts.  She ended up giving me her bottle just so it wouldn't go to waste.

ESTEE LAUDER ADVANCE NIGHT REPAIR – This serum is one of my favorites!  I received a sample as a bonus after purchasing some beauty products.  The sample was good for about two uses, but after one I went and purchased a bottle.  Even before I went to bed, I started seeing this serum do its work.  My skin started looking almost instantly hydrated and glowing.  By morning, my skin looked refreshed, plumped, and smooth.  All adding to the reduction of fine lines.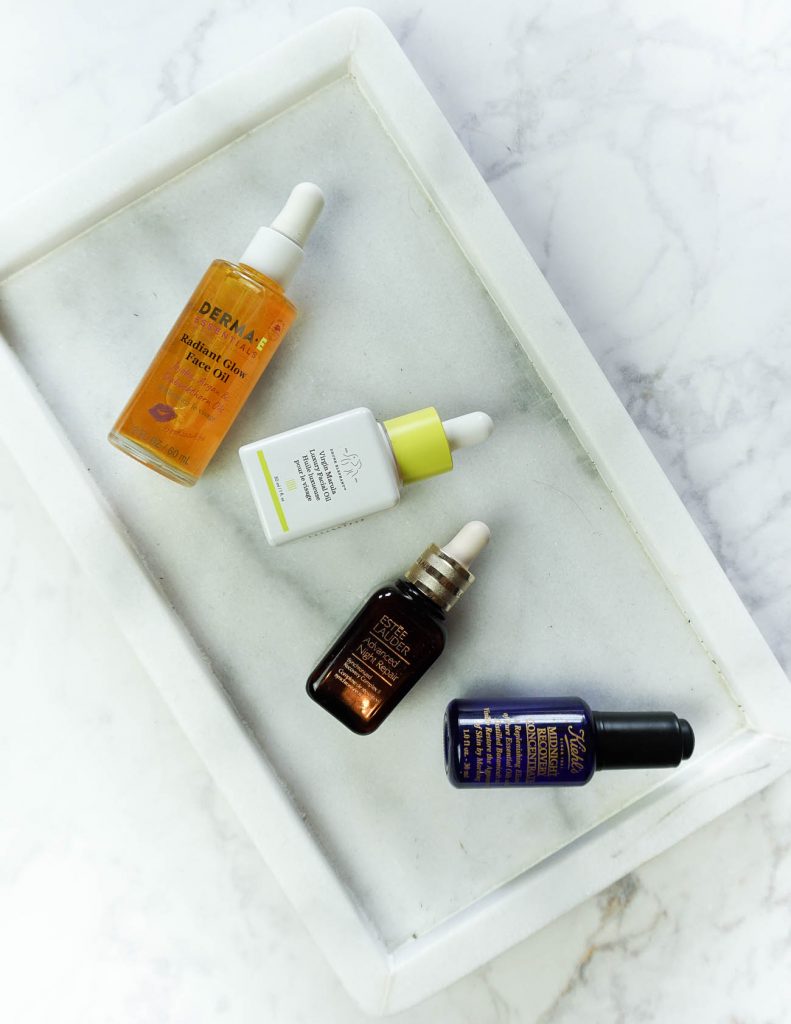 Face oils and serums do tend to be on the pricey side of skincare products.  I find them worth the price because they deliver the best results for hydration and anti-aging.   Since you only use a few drops at a time, all 4 of these will last you for awhile especially if you only use them a couple times a week.  My routine is to use an oil only 2-3 times a week and a serum and moisturizer combo the other days.
Do you include face oils and serums in your skincare routine?  What are some of your favorites?
SHOP THE PRODUCTS