Monthly Archives:
March 2020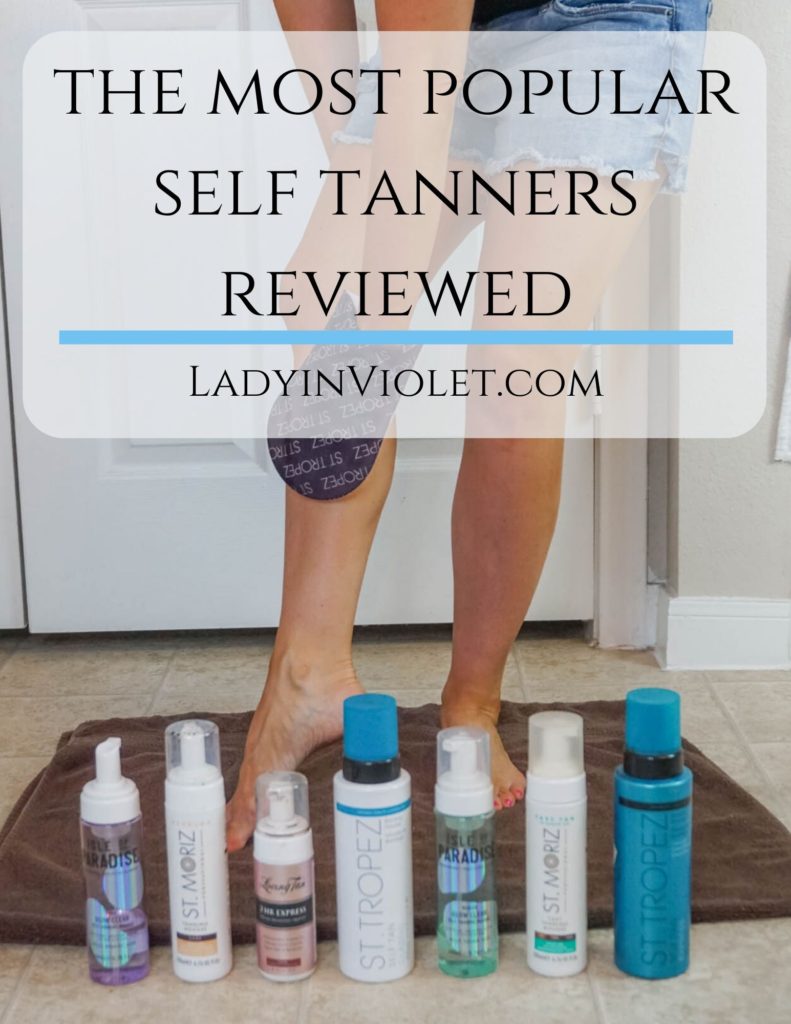 It's no lie that I love a good faux tan! It's safer than a tanning bed and quicker than laying by the pool.  A couple years ago, I shared exactly how to apply self tanning mousse.  After I wrote that post, I thought it would be fun to try out some of the more popular brands and products on the market.  I had always used the same product and wondered if something better existed out there.  I found some hits and misses along the way.
If you are still looking for the perfect self tanner or are curious about trying out one of these brands, I'm sharing my results and honest opinions on each one.
MOST POPULAR SELF TANNERS REVIEWED

LOVING TAN 2HR EXPRESS DARK
The Loving Tan mousse is one of the higher priced on the list.  It gives me a nice dark and natural looking color with little to no smell.  I use the 2Hr Express, but I will sometimes sleep in it for 6-8 hours. I find it works fine for both time frames.  When this one starts fading, it fades a little splotchy and uneven.  I always struggled with applying this one on my hands and feet.  It was often way darker or uneven.  I applied lotion prior which did help. Overall Opinion: Great for a dark color and quick tan.

ISLE OF PARADISE GLOW CLEAR MOUSSE
If sitting around in self tanner for 2-6 hours is not your thing, this might be the self tanner for you.  It contains no guide color, so you can apply and then go about your day.  I use this one before work.  I let it soak in for about 20 minutes before applying makeup and skincare products. You do have to be a little careful with washing your hands for the first couple hours. I tried both medium and dark, and prefer the dark shade.  It's also a clean beauty brand.  Downside to this one, no guide color so you really have to pay attention when applying.  It fades quicker than other products. I wrote a full review on this one, HERE.  Overall Opinion: Great for a busy lifestyle with a stain free formula.

ST MORIZ TANNING MOUSSE DARK
The lowest price self tanner on the list.  I've used this one for years.  After trying more expensive tanners, this one still is my favorite.  It gives me a natural dark tan that lasts the longest.  It fades evenly like a natural tan with no splotchiness and little to no smell.  It also has very little sheet staining when I sleep in it.  It does have some, but it washes out.  My downside to this one – I sleep with one of my elbows bent which causes slight discoloration.  I'm probably the only one that notices it, but this was the only self tanner that didn't fully develop in my inner elbow because of it. Overall Opinion: Great for a natural, dark tan for half the price of other self tan products.

ST TROPEZ EXPRESS BRONZING MOUSSE
As an express mousse, this one didn't work out for me.  I would wear it for a full 6 hours for the best results.  I also noticed it develops more after you wash it off.  The first couple of times I used this one, I was super disappointed in the color immediately after showering.  After a few hours, I notice the color had deepened into a nice dark tan.  I find the St Tropez self tanners to be the worst at sheet staining while you sleep.  It washes out, but over time it started to not fully wash out. Overall Opinion: I'm glad I tried it to see if it lived up to the hype, but the results didn't compare to others.  Leaving this one on the shelf for future tans.

ST TROPEZ SELF TAN CLASSIC
The most disappointing self tanner of all the ones I tried out.  I'm pretty sure this tanned my sheets more than it tanned me.  I noticed zero difference in color after using this product.  In addition, it stained my sheets the worst.  I used this product a few more times, but ended up stopping because of the lack of tanning results. Overall Opinion: I would not recommend.

ST MORIZ FAST TAN EXPRESS MOUSSE
I love the regular St. Moriz, but I was not a fan of their express mousse.  It had a little more orange tint to the end color and has the most noticeable smell.  It did develop quickly. I accidentally fell asleep and wore for 4 hours once.  It turned me way more orange than tan.  It's an affordable option with my most natural tan developing around the 2-2.5 hour mark.  Overall Opinion: Not the best express option for a natural tan, but it is an affordable option for express.  Just be careful not to go over the 3 hour limit.
After trying all of these self tanning mousses, I decided to stick with my St. Moriz Mousse for now. The price and results just can't be beat.  I do plan to keep the Isle of Paradise on hand for days when I need to tan and run.  If you are wanting to give self tanning a try this spring or summer, be sure to check out my post on the best way to apply self tanner for a detailed how to plus a few dos and dont's.
Hope ya'll have a great weekend! Thanks for spending some time with me this week!
SHOP THE PRODUCTS


SHARE THE LOVE! PIN ME!