Yearly Archives:
2018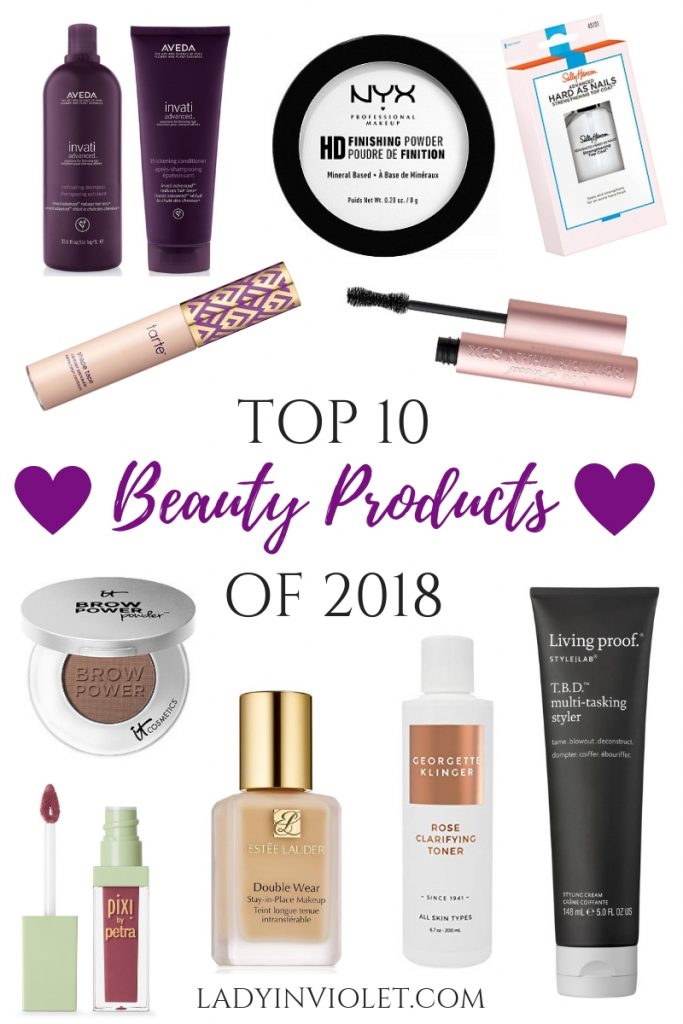 Ummm hi end of 2018….  I mean where did the year go.  I feel like I was just writing my January posts.  This year I sampled lots of beauty products, both PR samples and those I purchased on my own.  I'm rounding out my best beauty products of 2018 for you with a short review of each one.  I denoted which ones were gifted with the c/o, and I will say a requirement to make this list is that I must not only love it but must be highly interested in purchasing again.  All of these products will be making there way into my regular rotation well into 2019!
10) c/o Georgette Klinger Rose Clarifying Toner – I have never been a big toner person.  I always felt they dried out my skin and left it feeling tight, plus I think it wipes off my self tanner quicker.  When in NY, I met with the PR group for Georgette Klinger.  I picked up a few of their beauty products including an alcohol free toner.  This toner is perfect for my skin.  It doesn't leave it feeling dried out, but actually feels a little hydrated and softer with each use.  My skin tone has evened, and I don't feel like my faux tan is fading so quickly.  I have started using this product nightly to remove any excess dirt and makeup missed by washing my face.
9) Living Proof TBD Multi Tasking Styler –  When you order a beauty product online at Nordstrom, you get to pick free beauty samples!  This styling cream was one of my sample picks around mid year.  As soon as I was finished with the tiny sample and using another product, I noticed how much better this worked for my hair.  This is usually how I realize how fabulous something was…  I'm a big fan of Living Proof products, and this one is just an add to that list.  When I use this product, I feel like my hair is smoother, less frizzy, but also still has movement and is super soft.
8) c/0 Pixi Matte Last Liquid Lip in Evening Rose –  I have tried so many matte liquid lips.  I love the idea, but most leave my lips feeling so dry. This one does not and it lasts through a few happy hour drinks.  I'm currently obsessed with the evening rose shade for fall and winter.  I'm wearing it in this blog post.  I rarely do a darker lip, but this color is a perfect neutral dark color as I like to call it.
7) Estee Lauder Double Wear Foundation –  Warning, this is a splurge foundation, but ya'll it's worth it!  I picked this up with a gift card I received for my birthday.  It made me feel better about dropping $40 for foundation.  This goes on so smooth and light, and covers all the things from acne to uneven skin tone, dark spots, and under eye circles.  It's pricey, but I will definitely purchase again.  I went to the store and was color matched. It's a quick process, and the shade they picked is perfect.
6) c/o NYX HD Finishing Powder –  I have used loose finishing powders before, and they were ok.  This pressed one is perfect for my skin.  I think loose is great if you have oilier skin.  Mine is on the normal/dry side which looks better with a light pressed powder.  This pressed powder leaves my makeup looking airbrushed, photo ready, and stays looking good all day.
5) Tarte Shape Tape Concealer –  My sister has raved about this product to me for months.  I've been to Ulta multiple times, and it was always sold out.  I figured this product must be amazing.  I FINALLY got my hands on a tube last month, and yes I see why it's sold out.  I use it as an under eye concealer and highlight.  It doesn't crease or settle in fine lines making them look worse.  I'm pretty sure I may never purchase another concealer again.
4) c/o Aveda Exfoliating Shampoo & Thickening Conditioner –  Aveda sent me these products earlier this year, I loved them so much I have continued purchasing them on my own.  The thickening hair line has helped me shed less and get my hair to start growing again.  I noticed an increase in overall thickness and fullness.  My hair also looked healthier while using these two products.  I recently tried a different brand, and it made me realize how much these products where improving the health and growth of my hair.  My only con to the shampoo is that it doesn't get all of my product buildup out.  This was why I switched to a different product.  I purchased a charcoal shampoo, and I'm hoping using them one after another will be the fix to this problem.
3) Sally Hansen Hard as Nails Top Coat –  Earlier this year while I was getting a manicure at an event, the nail tech and I were discussing top coats.  She recommended Sally Hansen's Hard as Nails.  She said a client used it, and it worked better than some of the more expensive ones.   I immediately bought a bottle at the grocery store.  I use it every time I do my nails, and I definitely notice a difference in length of wear.  She recommended re-applying the top coat about every 2-3 days to increase the longevity of your nail polish.
2) c/o It Cosmetics Brow Powder –  This product was a game change for my brow game.  I've mentioned it before on the blog, and I think it's worth bringing up again.  I have had my powder for almost a year, and I still have not run out.  When I do, I will immediately be buying again.  This brow powder is perfect for filling in sparse brows for a natural look.
1)Too Faced Better Than Sex Mascara –  It was my favorite mascara for volume and length, and it's my number one product of 2018!  This mascara gives me full and long lashes with 1-3 coats depending on how dramatic I want to go.  When I do 2-3 coats, you would think I have had lash extensions done!  I have tried other mascaras, but this one stays on constant repeat in my makeup drawer.
What are some of your favorite beauty products of 2018?  Drop them in the comments and maybe your favorite will make the cut next year!
SHOP THE PRODUCTS