Yearly Archives:
2021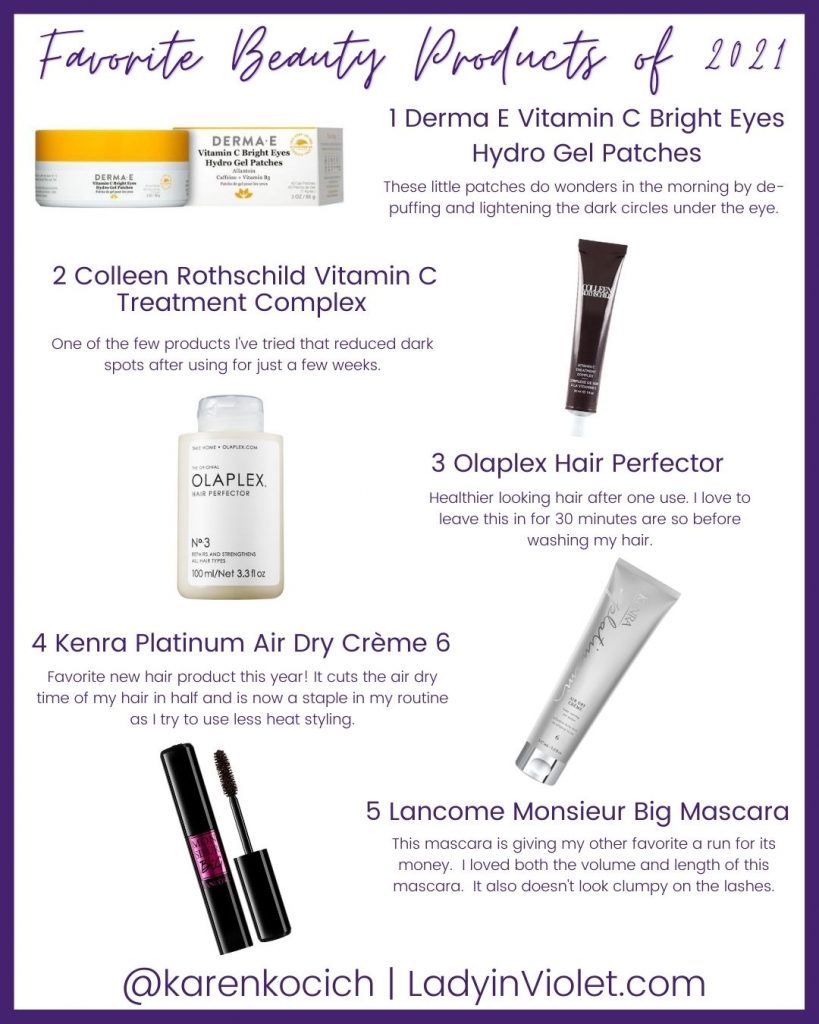 Ending the year with a beauty bang! I've been trying so many products this year both new to the market and new to me.  I've found a few favorites, and I can't wait to share some fun beauty reviews and tutorials with these favorites next year.  But first, I narrowed down the favorites list to my 5 favorite beauty products of 2021.  4 of the 5 were new to  my routine this year, and one I started using last year.  I will say all 5 have made their way in to my restock must haves list!
1 (c/o) Derma E Vitamin C Bright Eyes Hydro Gel Patches – These little eye patches are an absolute gem! I started using them last year here and there, and more regularly this year.  With regular use, I noticed a much brighter under eye with little dark circle left behind.  It also helped with de-puffing.
2 Colleen Rothschild Vitamin C Treatment Complex – I have two things I love about this Vitamin C.  First, it's more of a lotion than serum consistency so it goes on smooth with no stickiness after applying.  Second, it's one of the first products that I've tried that greatly reduced my dark spots!  I'll be honest the first few weeks I thought this wasn't doing much. Then around week 3 or 4, I noticed one of my most stubborn dark spots was getting lighter.
3 Olaplex Hair Perfector – I decided to give this hair mask/treatment a try after my other one ran out.  I really liked the results, but mostly I liked that it was a pre-wash mask vs in shower mask.  I apply this to my hair dry and leave in for 30 minutes or an hour before washing out.  My hair looks smoother and healthier each time I use it.
4 (c/o) Kenra Platinum Air Dry Crème 6 – Of all the new to me products that I tried this year, this one is my number one favorite. I've been trying to use less heat on my hair, and blowdrying is one of the main things that I have cut out.  I apply this creme to my hair after my styling products.  It does reduce air dry time. I would say it cut my dry time in about half.  If you air dry your hair, this product is a must have!
5 Lancome Monsieur Big Mascara – I decided to branch out and try some new mascaras this year.  This Lancome one is a definite winner! It provides both volume and length.  I can see definition between my lashes and little to no clumping.
SHOP THE PRODUCTS