Monthly Archives:
April 2019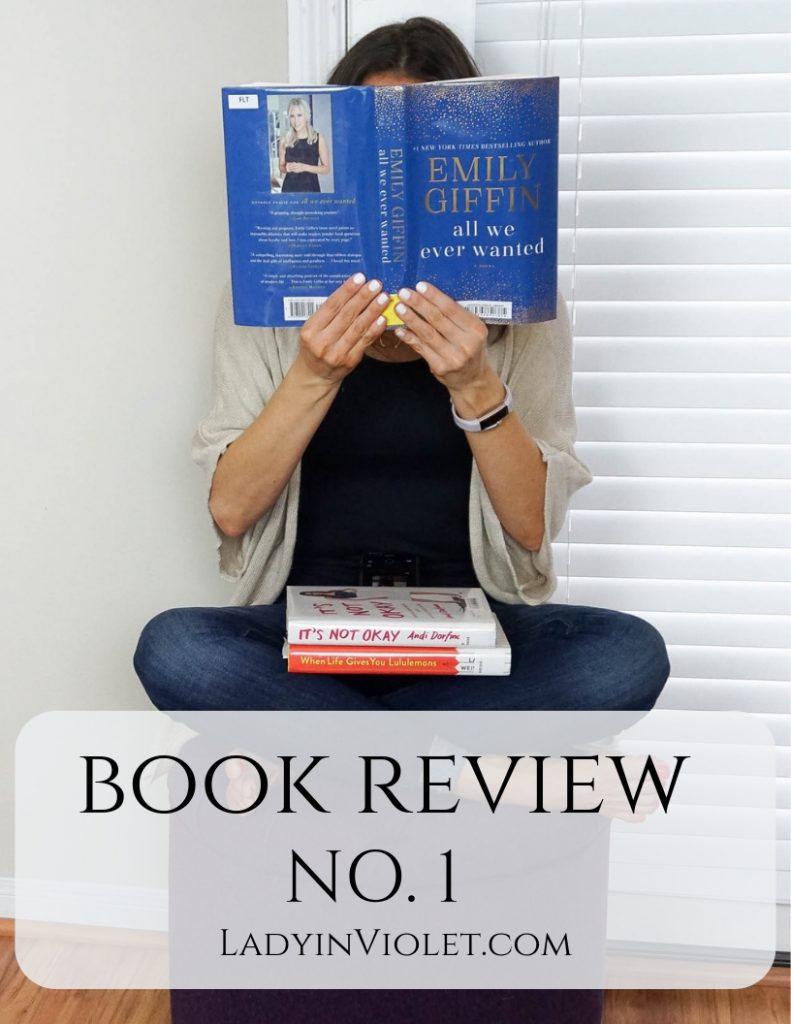 I am so excited for today's post!!  One of my favorite things to do on weekend mornings or right before bed is to sit down and relax with a good book.  One of my favorite ways to find good books is by reading recommendations from others, so I figured why not start sharing some of my own reviews too.  I'm also a part of a book club with a few girlfriends, so some of the books I read come from recommendations from that group of women.
I like a good mix of books from light and easy beach type reads to a good thriller or mystery to biographies.  I usually read about one book a month, usually a little more during pool season.  I'll try to get these reviews posted for ya'll when I have a good 4-5 books to share.  Hope ya'll enjoy and if you have any recommendation leave them in the comments below for me and anyone else who might be building their summer reading list!

All We Ever Wanted by Emily Giffin
I am a long time Emily Giffin fan and have read all her books!  I started following her on social media and have gotten to know her better through what she shares on Instagram.  When I was reading this book I really felt I could see her coming through in the main character Nina.  The book is about a wealthy high school boy who posts a partially naked photo of a middle class high school girl at a party and the fallout between the parents and the students.
The book narration flips between Nina who is the boy's mom,  the high school girl, and her father.  I think Emily Giffin does such a great job at character development.  She really connects you to her characters and makes you feel like you are on the journey with them.  This book captivated me and I read it pretty quickly because of that, always wanting to read the next chapter.  I loved reading the different viewpoints of the situation.  I did feel like the ending was a little rushed.  I felt like it was missing a chapter.  Overall, I would recommend this one!

The Last Mrs. Parrish by Liv Constantine
This book was one from my book club. A young woman, Amber,  befriends a wealthy woman, Daphne, in hopes of seducing her wealthy husband away from her.  Overall, I enjoyed this one.  It's an addictive thriller narrated by the two main female characters.   **slight spoiler info**  The first part of the book is narrated by Amber and her plan to seduce the husband away from his too trusting wife, and the second part is narrated by Daphne who catches on to Amber's plan.  I found Daphne a little naive during the first half, so I was happy to see the change over.  I don't want to give away too much, but after the change over you will stay up all night to finish this one!

I was looking for a different biography when I stumbled upon this book by a former Bachelorette.  It sounded interesting and I was hoping for some juicy inside info on life as The Bachelorette.  Andi discusses everything from her interview for The Bachelor to what it was like as The Bachelorette, and life after the show.  The book is written as a diary that Andi keeps after her engagement ends.  If you have ever gone through a big break up, you will understand and possibly recognize all or some of the emotions she's going through. She holds nothing back and really walks you through all of her post break up stages.
It's a very real and detailed account, and I had moments when I was ready for her to be over the break up already while also understanding that some relationships just take awhile to get over, and she was working through the healing process.  If you are a fan of The Bachelor/Bachelorette franchise, I think you will enjoy this book.  One of my biggest takeaways from reading this book is how the women on the show go looking for Mr. Right and end up with some amazing girlfriends.

Sharp Objects by Gillian Flynn
Oh this book was a good one!!!  Another pick from my book club, I read this book in just a few days.  It's an edge of your seat page turning thriller written by the author of Gone Girl.  Camille is a Chicago reporter forced to head back to her small hometown to cover the murder of two teen girls.  Heading home forces her to face the many demons from her past including her mother.  It's very dark and disturbing as you learn more and more about Camille, her family, and her past.  The ending is so amazing that once you finish this book, you will have to sit for a minute just to process what just happened.

When Life Gives You Lululemons by Lauren Weisberger
Well with two page turning thrillers and a heart break, I have to give you another light read.  This book is a spin off from The Devil Wears Prada with one of the main characters being Miranda's former assistant Emily.  Emily has left Runway and became a celebrity image consultant. While visiting a friend in Greenwich, Connecticut, Emily takes on a new client, a former supermodel who has just been accused of driving under the influence with children in her vehicle.  The book narration flips between three women, Emily, the supermodel Karolina, and their friend Miriam.
The first half of this book was kind of slow for me.  I loved Emily's chapters, but Karolina was kind of naive and annoying to me. Part 2 started and this booked suddenly grabbed my attention and had me quickly reading through chapters.  I loved Karolina much more in part 2 of this book.  The 3 woman team up for Karolina's comeback after her DUI scandal while sharing a little about life in a wealthy suburban town.  If you need a beach read, this would be a good one.

The Wife Between Us by Greer Hendricks and Sarah Pekkanen
I'm closing out my first review with one last suspense thriller about a woman who has just been left by her wealthy husband for a younger woman.  The first half of the book is narrated by the jealous ex-wife whose life seems to have fallen apart after the end of her marriage.  The middle of this book is by far the best part featuring a twist that will make you want to go back and re-read the first half of the book.  You suddenly see the book and characters in a whole new light.  This book does have a little predictability and a few move on already moments, but it also has some really good twists and turns.
Thanks for reading my first book review post! I hope you found a book or two to add to your summer reading list!  Don't forget to leave a book suggestion in the comments below!
SHOP THE BOOKS