Monthly Archives:
February 2015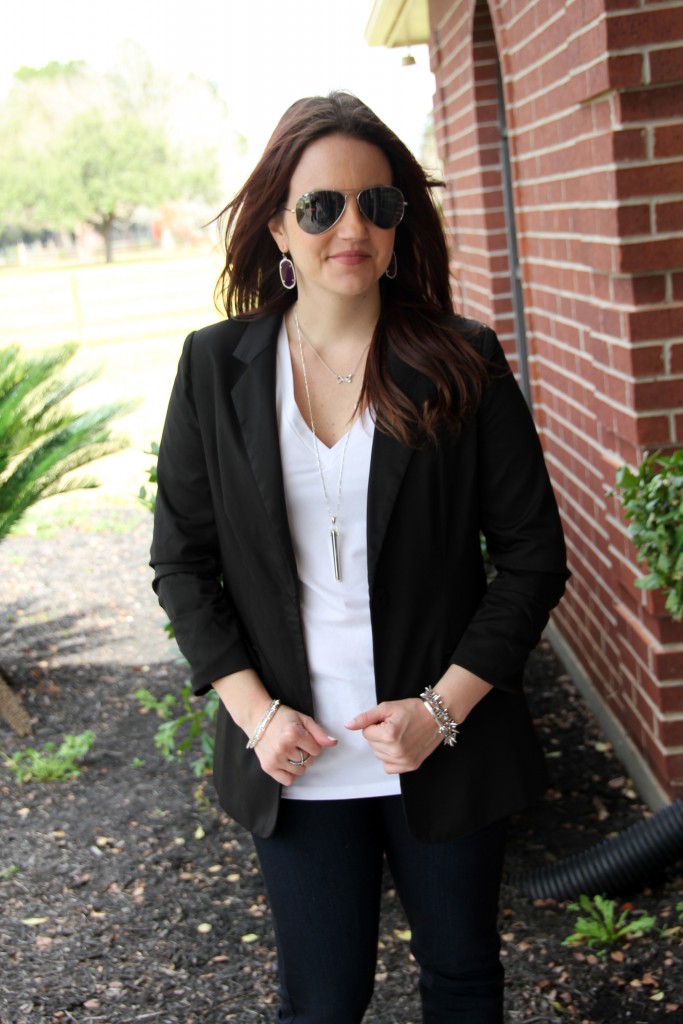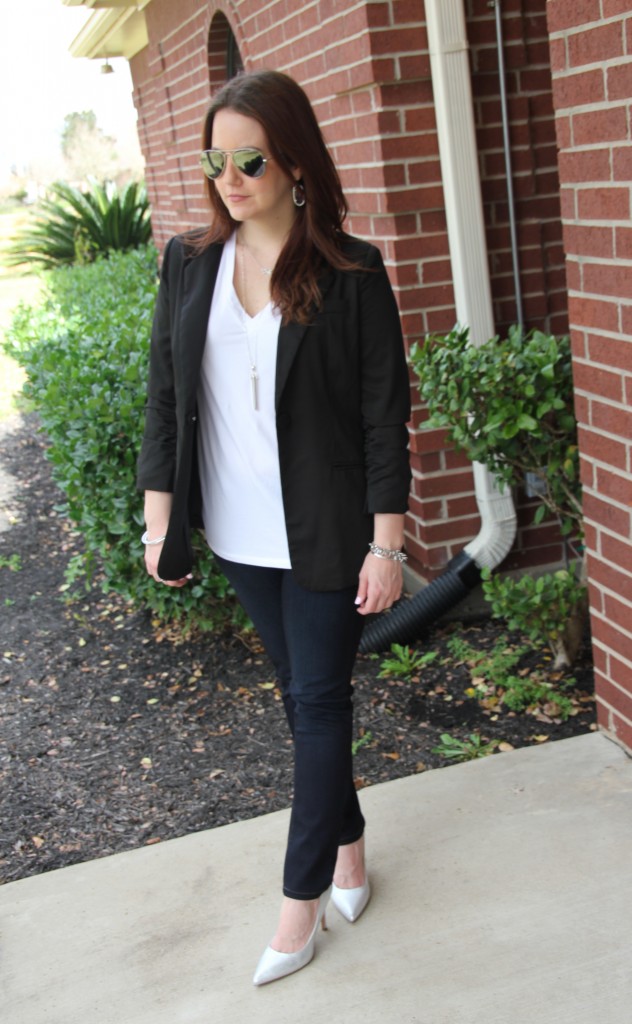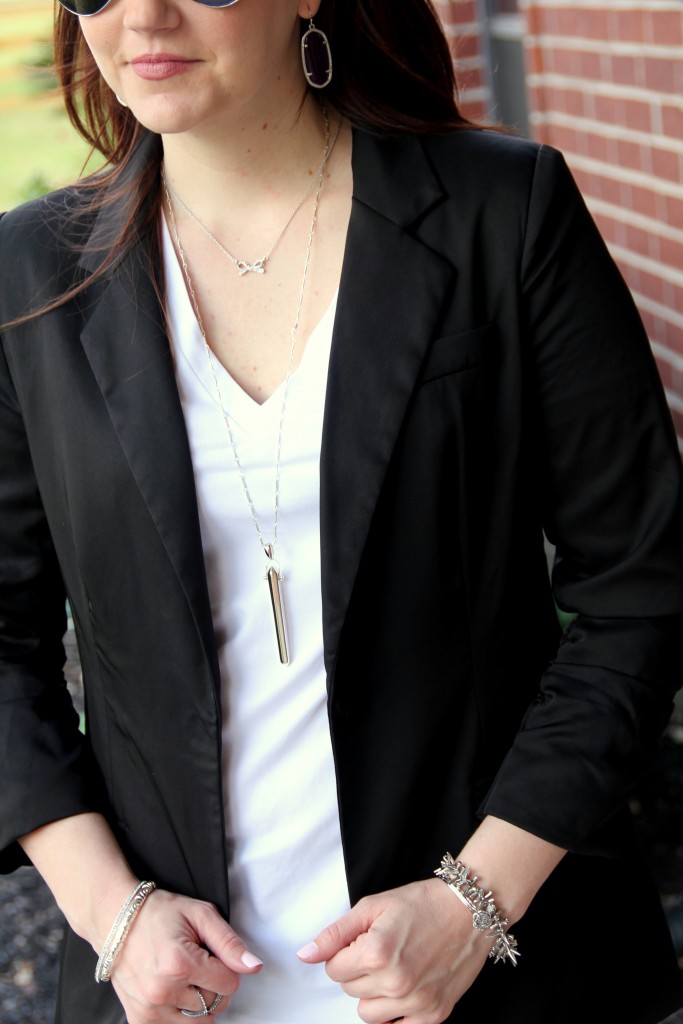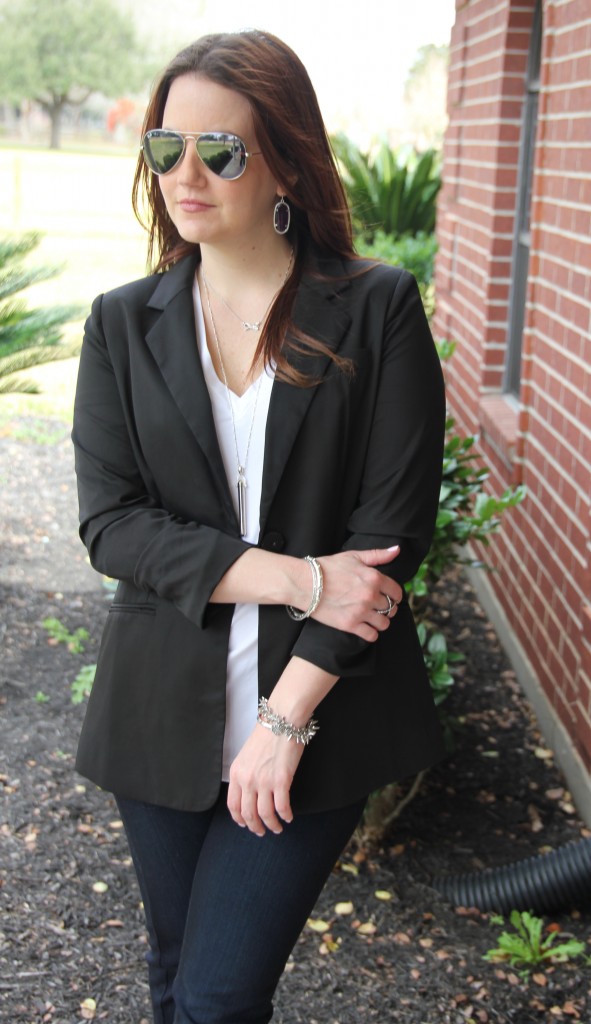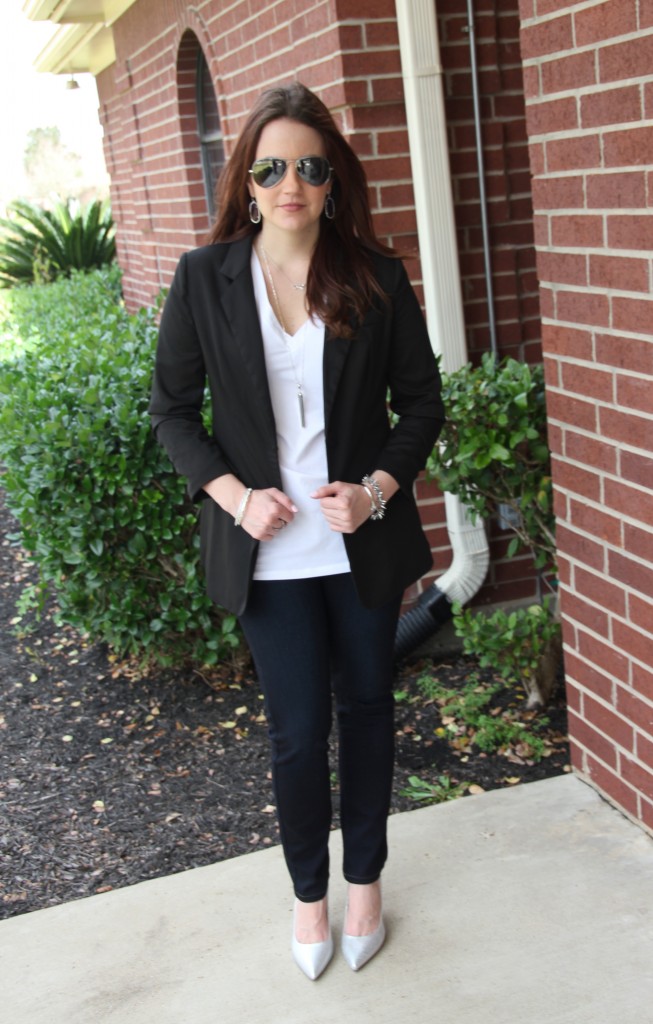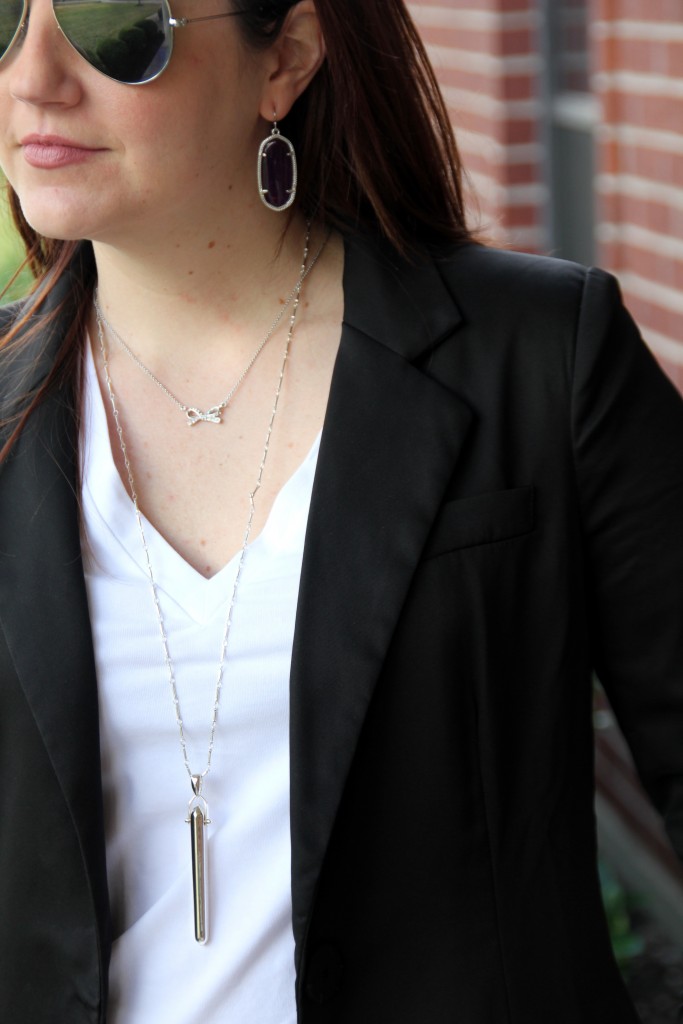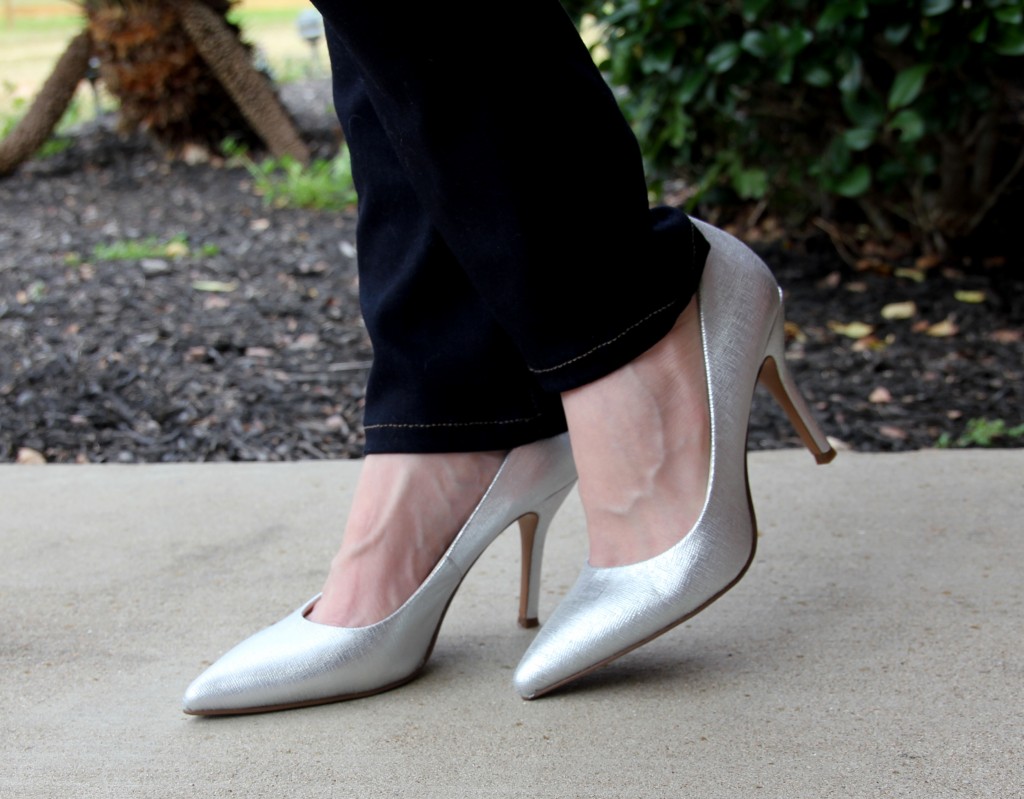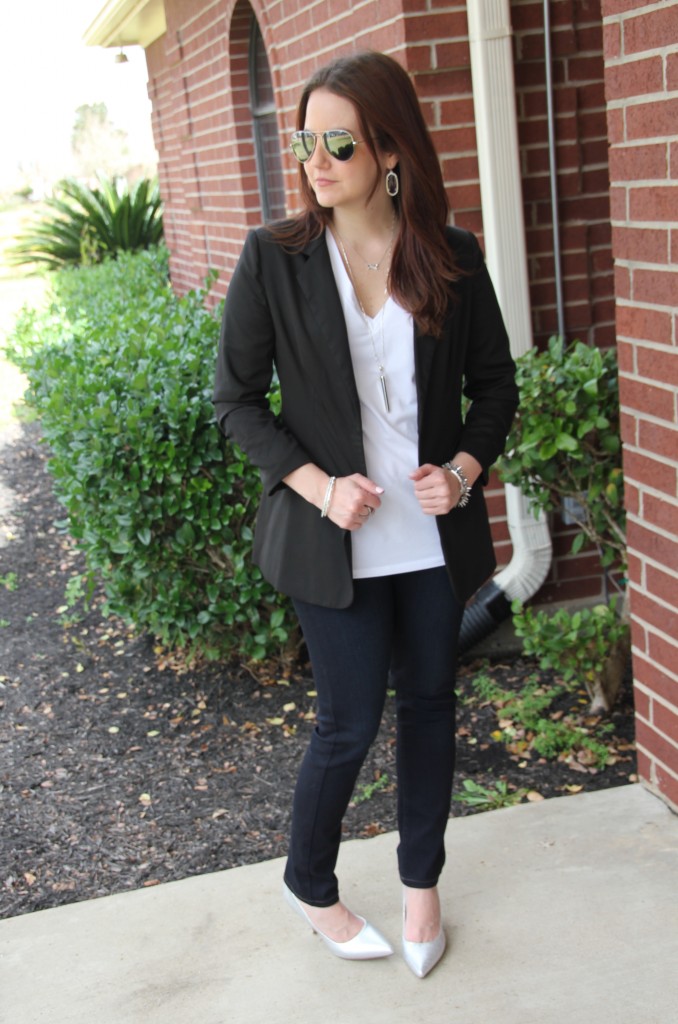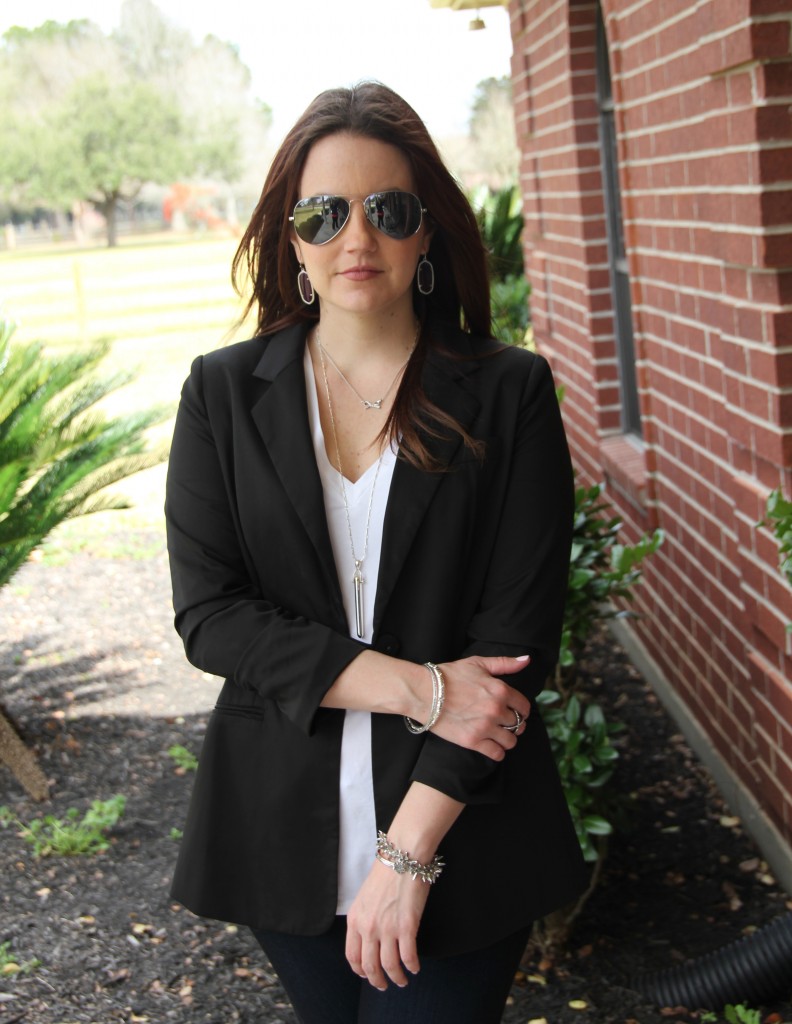 | DETAILS |
AUDREY Blazer, Old [SIMILAR] | H&M V-neck Jersey Top  | PAIGE DENIM Skyline Skinny Jeans | NINE WEST Flax in Silver Metallic  | STELLA & DOT Renegade Cluster Bracelet, Rebel Pendant  |  KENDRA SCOTT Arden Braceley in Platinum Drusy, Elle Silver Earrings in Purple Jade | KATE SPADE Pave Mini Bow Neclace, Old [SIMILAR] |  BAUBLEBAR Crystal Mason Ring  | NADRI Crystal Bangle  | RAY-BAN Original Aviator Sunglasses  | ESSIE Fiji | MAC Lipstick In Faux
Hello Friday!  I am so happy to see you!  I am kind of a little excited for this weekend.  I am headed to my first blog conference!  In my 4 months of blogging, I have really enjoyed sharing my personal style and outfits with you, but I have sooo many questions!  As soon as I heard there was a blog conference in the Houston area, I knew I had to sign up!  I think a person can always improve and learn more which is why I am so excited for this conference.  I am excited to meet other bloggers and learn ways to make my blog even better.  Plus, one of my bookmarked bloggers is going to be a speaker which doubles my excitement.  Of course now the problem, what does a new fashion blogger wear to a blog conference?
When thinking about my outfit, I wanted it to be comfortable to sit in all day, easy to move around in, and professional.  To keep with the comfortable aspect of my look, I of course start with a plain white tee. I like wearing v-neck tees because to me they are more comfortable.   To add a little glam to my plain tee, I add on a few layering necklaces and fun bracelets.   An easy way to help boost up the professional look of any outfit  – add a blazer.  Just throwing it on over a t-shirt instantly adds a more put together appearance to a look.  I also like to wear this look on casual Friday's at work to get away with wearing a t-shirt.  For work, I would add these amazing silver shoes, because they transition my look perfectly from work to happy hour!  I have been searching for the perfect silver shoes for close to a year!  I had a long list of requirements for them!  I wanted a brushed not too shiny silver, a low heel but not too low, comfortable to stand in, not over pricey since I will not being wearing them but once or twice a month, and in my size.  That last one may have been the hardest part!  When I finally found this pair and in my size, I almost hugged the shoe salesman I was so excited.   One casual professional outfit idea for this weekend down!  Of course the rainy cold weather is making me consider an oversized sweater or cardigan too.  By tomorrow morning, who knows what my final outfit will be.  Happy Friday ya'll!  Hope you have a great weekend!
Follow Lady in Violet INSTAGRAM | TWITTER | FACEBOOK | BLOGLOVIN | SUBSCRIBE