Monthly Archives:
July 2019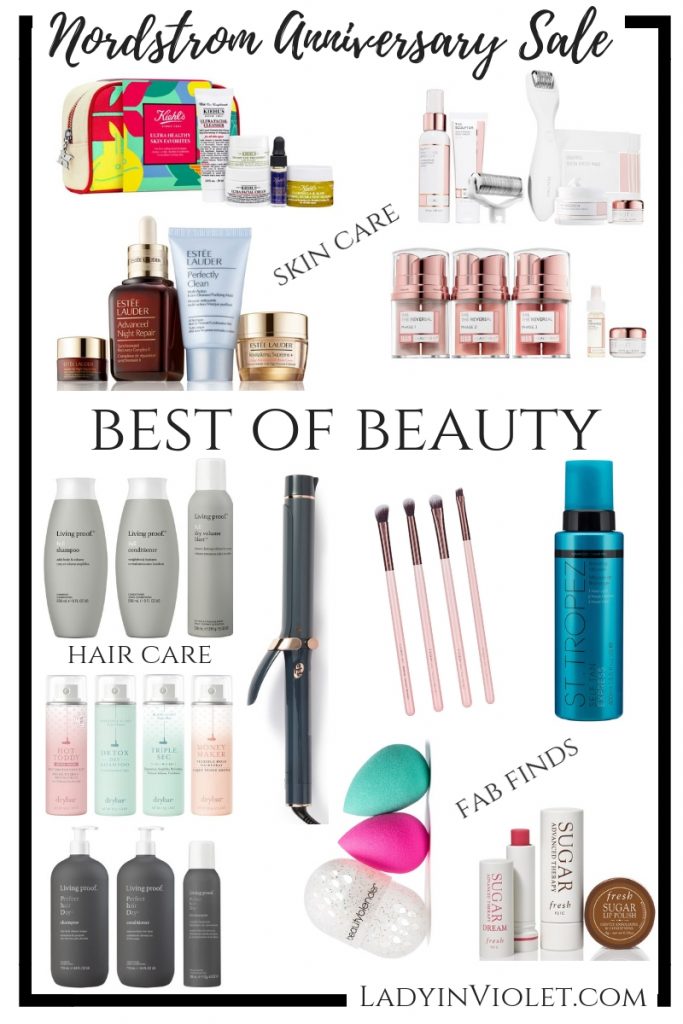 The Nordstrom Anniversary Sale is officially in it's final week with the sale ending on Sunday. It's your last chance to pick up any of those items you have wishlisted or to check back on any items previously out of stock.  One area of the sale I did want to share with ya'll this year is the Beauty section.  I found many of my favorite brands and products, and most of them are still available!
A few of my Nordstrom Anniversary Sale Beauty Favorites:
Skincare
Kiehl's and Estee Lauder are two brands that I love and keep in regular rotation. The Estee Lauder Advanced Night Repair Serum is amazing.  From Kiehl's, I love the face cleanser and Midnight Recovery Concentrate.  All of these are included in sets with a few more goodies for you to try out.  You can read more about my experience with the serum and concentrate HERE.
I'm excited to see a few Beauty Bio products in the sale this year.  I purchased both the Glo Pro System and Reversal Retinol 3 step program last winter.  I highly recommend both for some great anti-aging.  You can read more about my experience with these products HERE.
Haircare
I'm such a fan of both Living Proof and Drybar.  Both feature some of my top dry shampoos.  You can read more about them HERE.  The sets in the sale all look like great introductions to the brands and what they offer.  I also included the T3 Curling Wand.  I've heard so many rave reviews over this wand.  I'm hoping to try out a friends soon and see if it lives up to the hype!
Fab Finds
I found a good starter eye brush set in the sale.  I wanted to point it out because the brushes are pretty similar shape and style to the brushes I used in my eye makeup tutorial from a few months ago.  I picked up the St. Tropez express self tanner during last year's sale.  I really liked my results, so I purchased the classic 8 hour version to give it a try.  I really like the color and overall experience with the express one. I'll let you all know how the classic goes.  If you need any self-tanning tips, you can find them HERE.
A few other items I always have in my makeup drawer, beauty sponges and sugar lip therapy.  I use the beauty blender sponges for applying concealer and occasionally for foundation touchups.  The Fresh Sugar Lip Therapy is a must have for me.  I ran out of my old one like 2 weeks before the sale and was hoping to find it.  I already tried out the exfoliating scrub that came with the set.  My lips were a little dry and chapped, and it fixed that problem right up!
If you still plan to shop the sale, I hope what you are looking for is in stock!!  Remember prices go back up Monday, so make any remaining purchases by Sunday night!
SHOP THE LOOK