Monthly Archives:
June 2019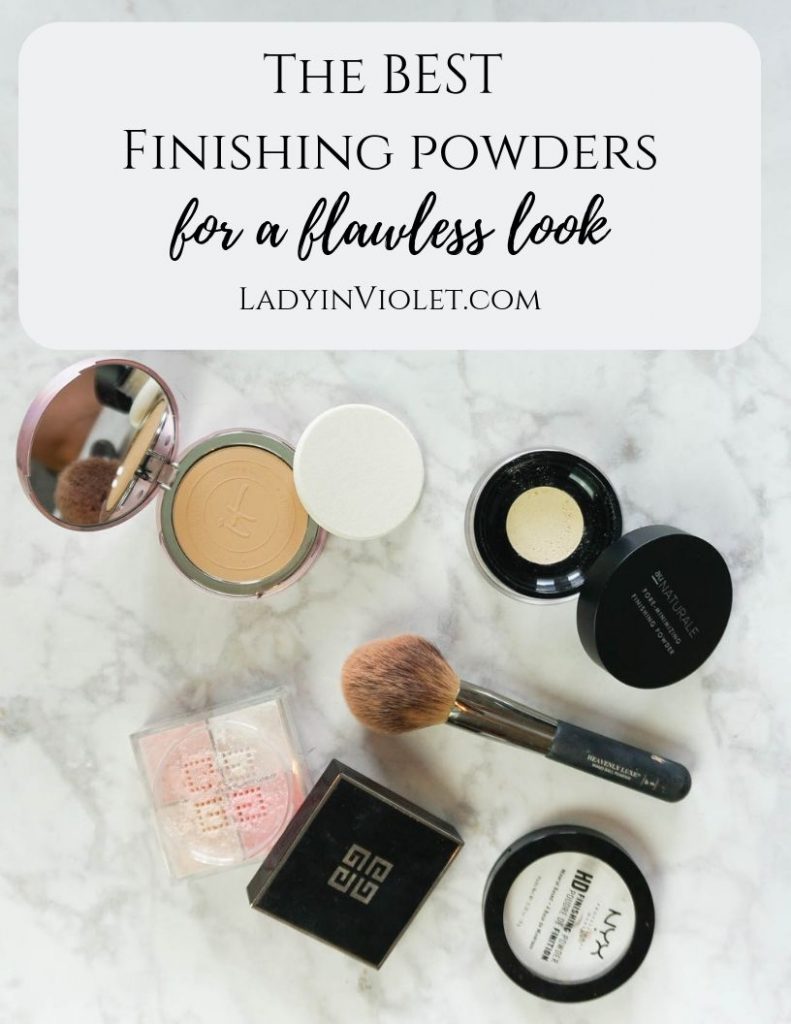 Hello friends!  Happy New Week!  I'm starting off this week with a little beauty post and sharing all about finishing powders.  I was first introduced to finishing powders a few years ago by It Cosmetics with their Bye Bye Pores Pressed Powder.  It was the first time I had tried using any kind of finishing powder and the results had me hooked.
I have experimented  a few different finishing powders since then, and I wanted to share a few of my favorites with ya'll.  I hit a variety of price points ranging from $10-$58.  Lately, I have been also introducing clean beauty products into my routine, so I included a clean option too.  But before we dive into my favorites, let's talk about why you need a finishing powder.
BENEFITS OF USING A FINISHING POWDER
+ sets makeup for a longer all day wear
+ gives a smooth airbrushed finish
+ smooths and blurs fine lines and wrinkles
+ absorbs oil and shine
All of the products that I am sharing with you today hit all 4 marks with flying colors.  For me, the biggest difference is how much do you want to spend.  So let's dive into my list of the best finishing powders for a flawless look.  I always apply my powder with my big powder brush.  I apply a light dusting all over my face.
HIGH END SPLURGE – c/o Givenchy Prisme Libre Loose Powder in 7 Voila Rose
Of course the most expensive is also going to be my favorite.  You have a few different color options with this one, I like using the one with some pinks in it.  With all white powders, I find they do lighten up my ending makeup look a bit.  This one doesn't do that because of the addition of a little color.  This one in my opinion gives the best smooth and airbrushed look.  When I was discussing new fave makeup products with a girlfriend, she raved about her favorite new finishing powder.  She sent me the link and I laughed a little because it was one I already loved too.
MID-PRICE RANGE – c/o  It Cosmetics Airbursh Perfecting Powder
This product can be used as a finishing powder or a light foundation.  It has build-able coverage if you want to use it as foundation.  I like that it is a tan color and doesn't wash me out.  One of my favorite things about It Cosmetics products is that they infuse skincare goodies into their products.  This one includes hydrolyzed collagen and peptides along with a few other anti-aging ingredients.  A flawless finish and helping improve my skin all at once.
DRUGSTORE – c/o NYX HD Finishing Powder
This option may be the most affordable option, but it doesn't make it any less fabulous!!  This finishing powder creates a beautiful smooth and airbrushed finish to my look.  It is a white powder, so it does wash me out just a bit.  I usually apply a little bronzer over it to add back in some of my color.  Honestly, I was super impressed when I started using this product at how well it worked for such a steal of a price tag.
CLEAN – c/o Au Naturale Pore Minimzing Finishing Powder
I mentioned that I recently started dipping my toe into the clean beauty world.  Clean beauty products are made without any proven or suspected toxic ingredients that are ethically sourced.   As someone who loves clean eating, clean beauty was an area I have been wanting to learn more about.  There is so much to learn, and right now I'm definitely in the early stages of learning.   I'm using a a few different brands and products to see the effects on my skin.  I love the slight tint of this finishing powder and the airbrushed look it gives me.  Bonus points for the healthy, good for the environment ingredient list too.
Have you used a finishing powder before?  What is your favorite?
SHOP THE MAKEUP