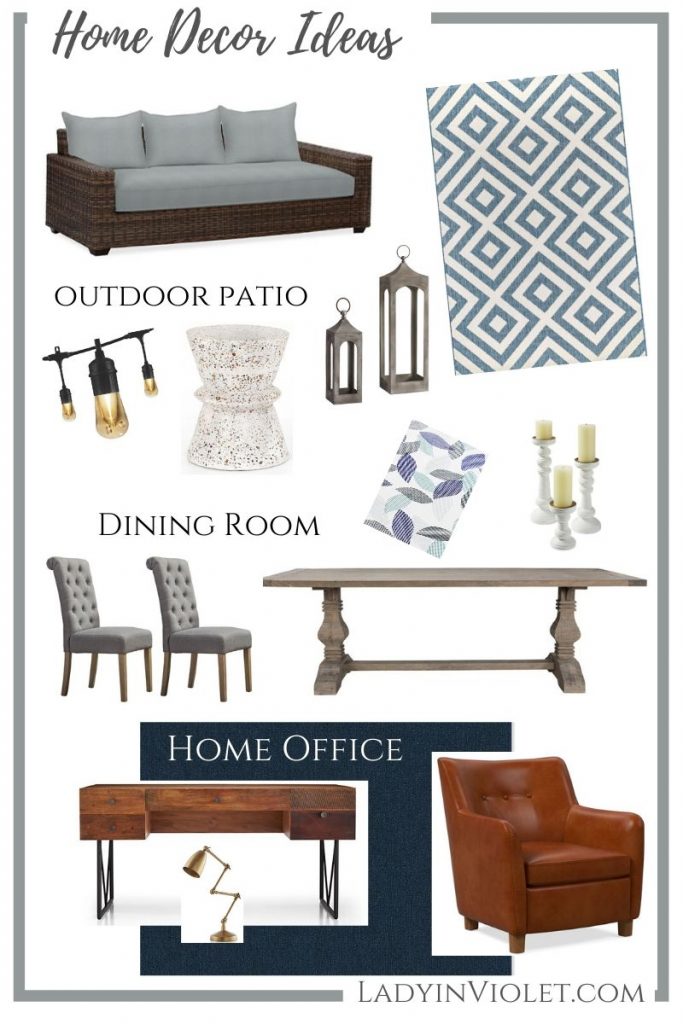 Happy Friday!  In case you missed the big news on Monday, Steve and I purchased a home in June and moved in last week.  We have spent the past couple of weeks unpacking and planning out what we need to buy.  We knew early on that we wanted to wait to buy big items until July 4th weekend, because of all the sales.  At some point we plan to replace almost all of our existing furniture with new, but we are starting with the areas that currently have no furniture or were the existing furniture needs the quickest update.  I wanted to share a look at our home decor ideas mood board that we've been working on over the past couple months.
The three rooms we plan to shop for first are the large outdoor patio, dining room, and office/man space. We both love a gray and white color theme and plan to carry this throughout the house.  We are still deciding on accent colors, but blue shades like navy are currently front runners.
Our outdoor patio area is huge, and we plan to spend lots of time out here relaxing and entertaining.  This area is first on our priority list.  We've already started looking around at furniture.  The plan is to get a sofa, chair and coffee table set, and add in a cute accent table.  Wicker is our top choice, and we are looking to get a gray cushion color.  With dogs and it being outdoors, I thought gray would be a low maintenance color choice.  I plan to add a bit of color with a geometric rug.  To add some ambiance in the evening, we also plan to hang string lights across the top of the patio balcony.  When we were window shopping, I found these lanterns that I thought were the perfect decor touch that I could feel with seasonal items or flameless candles.  One item we already purchased for this space is a grill.  We still need to buy a storage area for grilling supplies once we decide on furniture.
Neither of us have dining furniture, so this area is high on our priority list for when we can start entertaining friends and family.  We agreed on  rectangle table with a look similar to this one.  We are still trying to decide on the exact color we want in this space.  We also plan to have cushioned chairs, most likely in gray.  I like the idea of having a table runner to add color.  Our kitchen, dining room, and living room are one huge space, so I want to use the dining room to connect the color of the kitchen and living room.  I think the table runner and artwork decisions will be the perfect spot for that goal.
The last space we are currently working on is a multi-use room that will work as an office, workout area, and "man cave" sports watching space.  We have our peloton on order and already have some free weights in the room for the workout part.  Since this room is off the backyard where the dogs go in and out, we decided on a navy rug for this room to hide dirt stains.  A friend told me about this rug brand that makes machine-washable rugs.  The rug is in two parts and the top layer is washable.  I think this will be perfect for this room!  The wood desk and leather chair will add some masculine touches to the room.  While most of our home will probably feature silver accents, I really like how gold accents works with the navy and brown of what we plan for this room.
What do you think??  I'll share room reveals in future blog posts as we start turning our new house into our new home.
SHOP THE HOME
Love this post? You may also love: