Just a few days left to shop the Nordstrom Anniversary Sale!  Almost all of my purchases have arrived, so I wanted to do a quick try on for you guys.  I included my overall thoughts and sizing info.  I'm still waiting on a couple more items, so you will have to wait for a blog post debut on those items or InstaStories for my IG friends.
My purchases this year really leaned more towards casual items to wear around the house or to more casual events at a friend or family member's house.  I also added a few staples and basics that can be worn year round.  Enjoy my NSale try on session!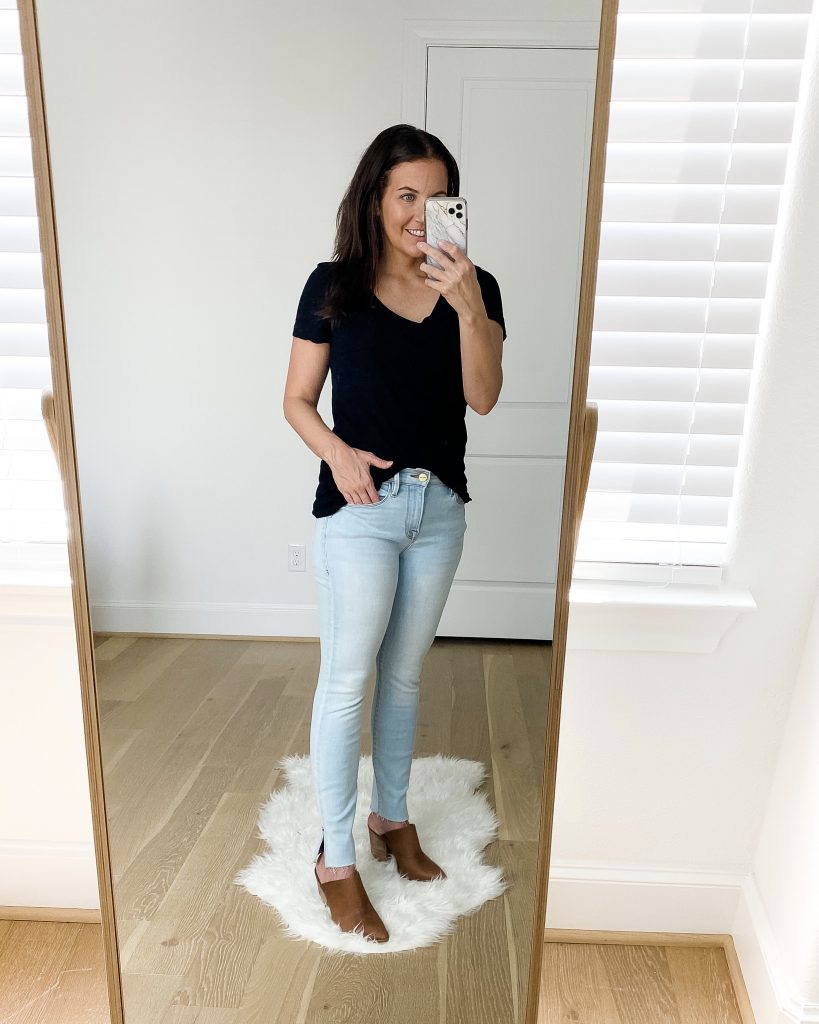 black tee | light wash jeans | mules
tee: This tee is a purchase from a couple year ago.  It's such a great basic to wear stand alone or layered under a cardigan or jacket.  Wearing a small.
jeans: these jeans are a crop length, but on my 5'3 height they fit at a normal length.  I usually have to alter my jeans, so I'm excited these will not need to be so I can keep the frayed hem and notch detail.  The material is thin which makes these perfect for warm and hot weather.  Fit is TTS.
mules:  LOVE these!!  My mules and slides collection is growing this season.  These are easy to slip on and a great alternative to booties for fall.  Fit is TTS.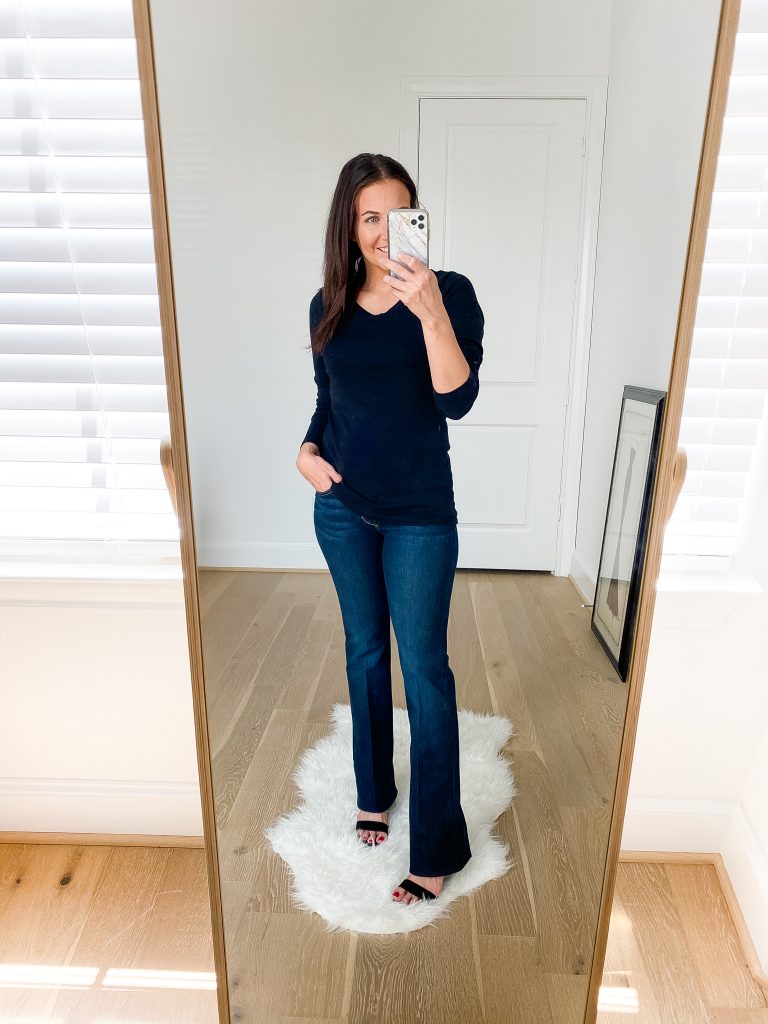 long sleeve black tee | flared jeans
long sleeve tee:  Another buy from a past sale, but one of my favorite basics.  I wear this stand alone around the house, out and about, and layered under jackets and cardigans.  It's good for all the things.  wearing a small.
flared jeans: I really want to add another pair of bootcut or flared jeans to my closet because I wear my other pair so much.  This pair is just too long.  I have them rolled up about 3 inches in the pic which completely erases the flared look at the bottom of the jean.  Otherwise, the fit on these is great with a little stretch.  Fit TTS.
side note: I have another pair on order same length, but wider flare.  Hopefully these will still have a flared look after alterations.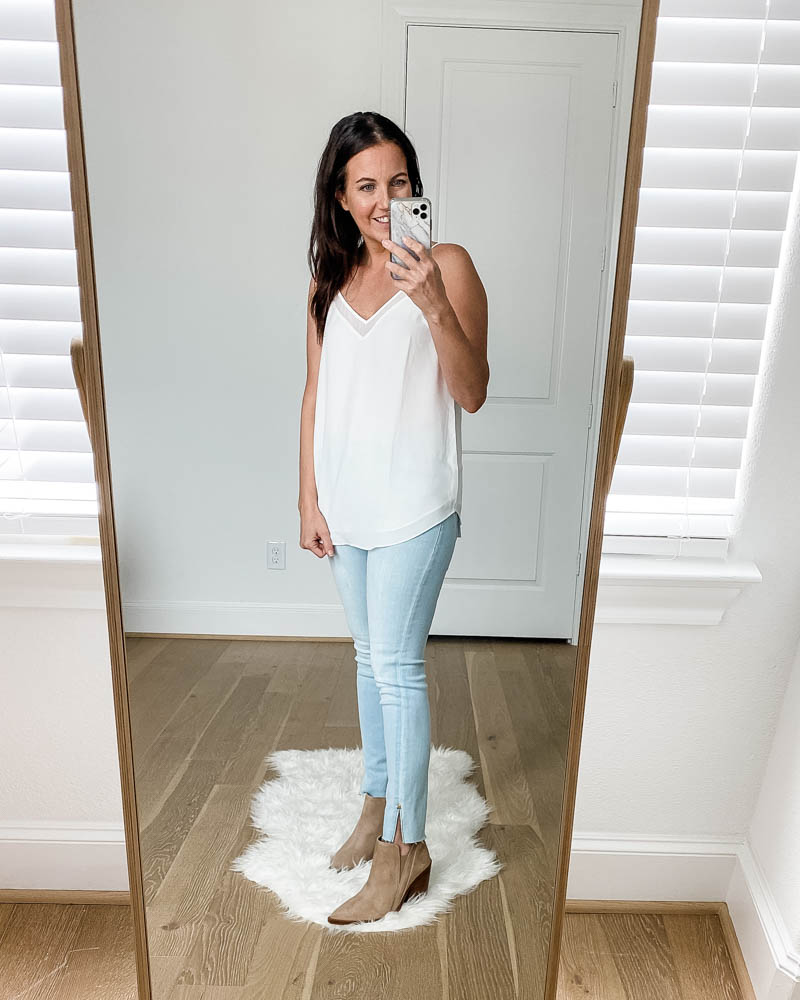 white cami | light wash jeans | booties
white cami:  A closet staple!!  I wear my ivory and black ones so much year round.  You can wear them buy themselves or layered in casual looks and office looks.  This one has adjustable straps which helps make sure my bra doesn't show under my arm.  It also has a fun sheer detail on the neckline.  Wearing a small.
booties: I opted for a lighter tan shade bootie this year.  This color will work fall, spring, and summer.  I love the lower front portion for balancing out my height a little.  These may need a little breaking in at the pointy toe area.  Fit is TTS.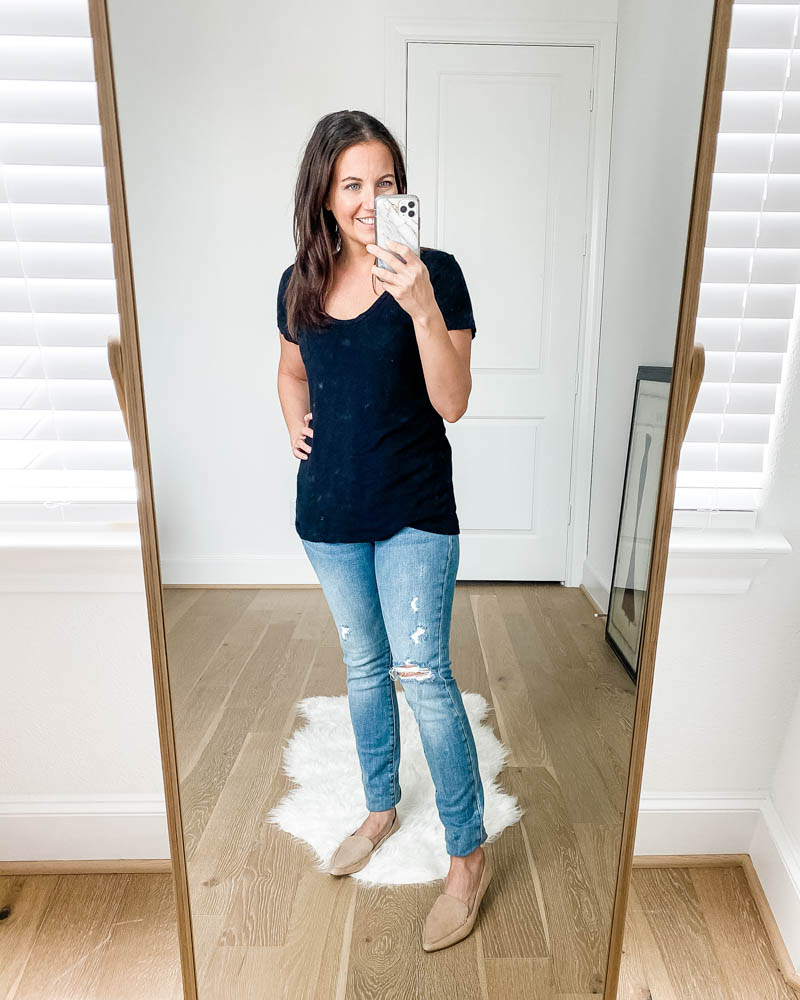 long sleeve tee | distressed jeans | loafers
distressed jeans: These were a last minute add to wish list.  I was drawn to the vintage faded blue color of them.  I also like the minimal distressing. The biggest section is over the knee.  I will have to have these altered about 2 inches.  Fit is TTS.
loafers: I needed a casual year round flat, and these have both a casual and office friendly look to them which ups their versatility factor.  You know I love my nude colors, so I went with that shade.  These do feel slightly loose around the sides of my feet, but I don't think I could size down for  length purposes.  I will have to see if they stretch with wear which may make them feel big.  Fit TTS for now.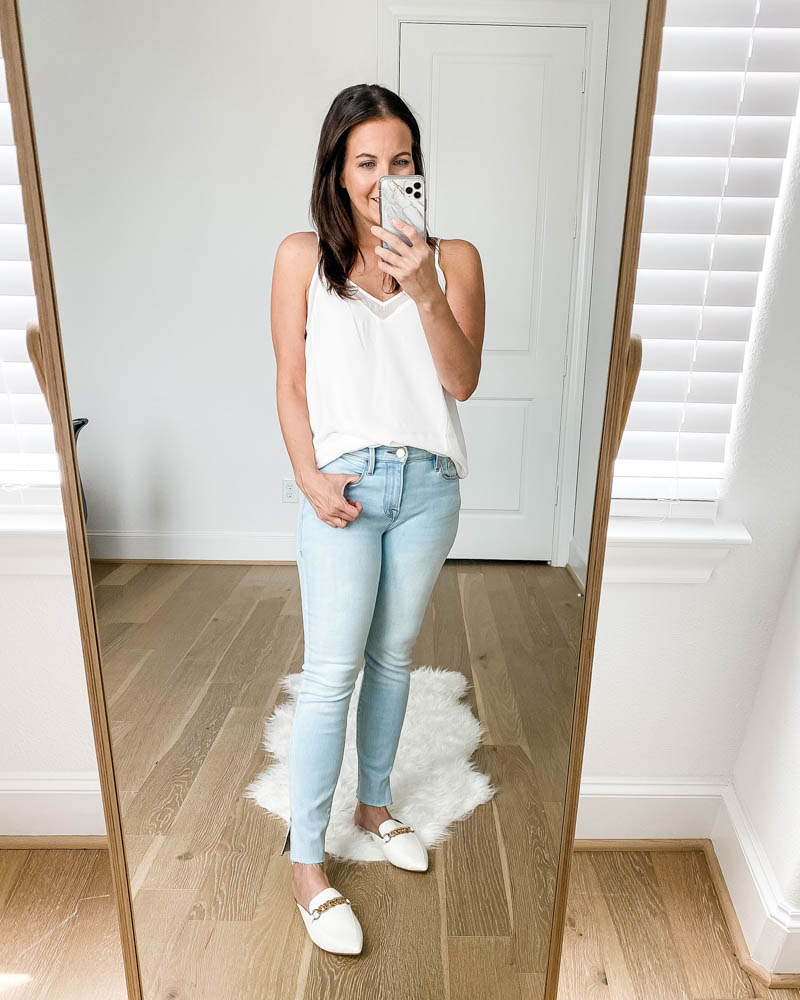 white cami | light wash jeans | white slides
white slides: Yep another backless shoe and another flat shoe.  I'm braving the white shoe trend this season.  I think it's a fun addition to the shoe closet to wear for work or casual events.  These also come in a light tan similar to my loafers.  These are pretty comfy, and I can see wearing them quite a bit year round.  Fit – ordered 1/2 size up.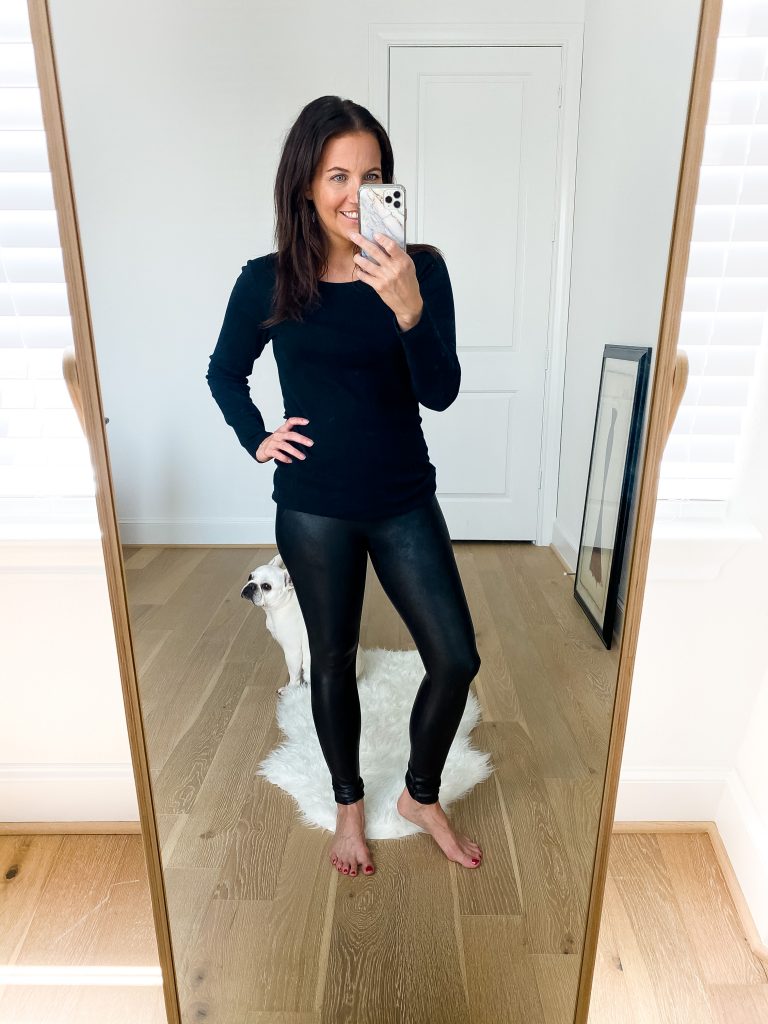 black long sleeve tee | faux leather leggings
faux leather leggings: Guess who's back!  I purchased a pair last year and then accidentally through them out.  I've been patiently waiting to find them for this price again.  After a year of watching, this is the lowest that I saw (doesn't mean they were not lower and  I missed it).  Another staple for the fall and winter closet that can easily be dressed up or down.  These are the regular length and a little long.  I'm hoping the petite come back in stock so I can exchange.  Wearing a small, but could also wear a medium for a less snug fit.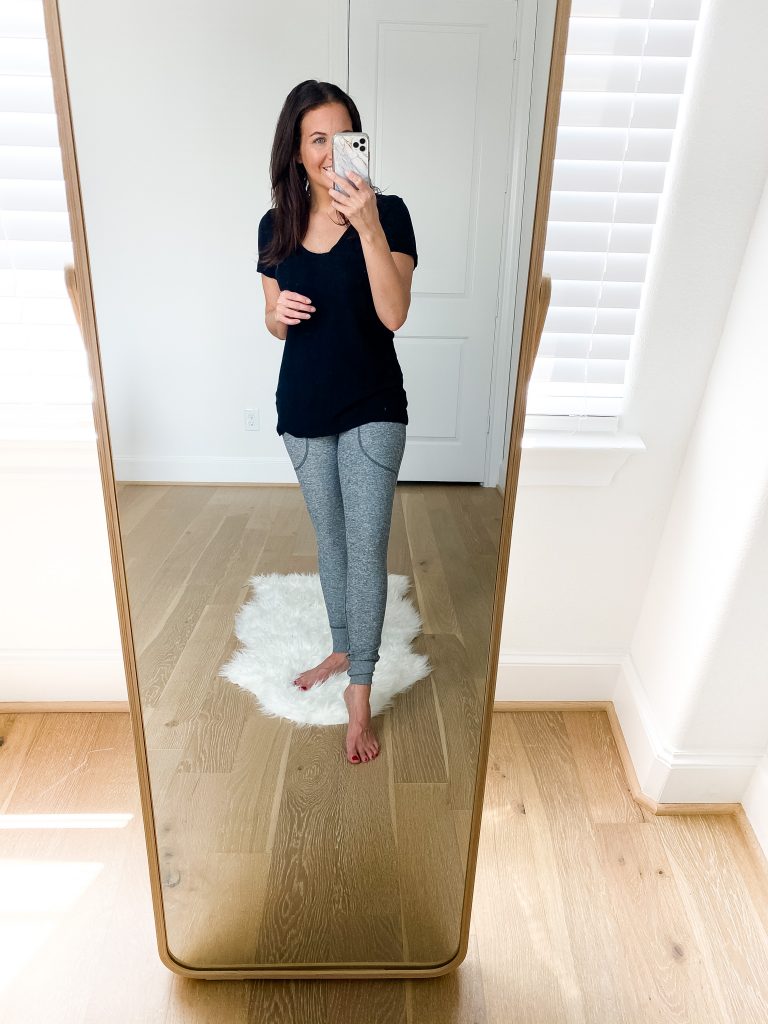 short sleeve tee | gray leggings
gray leggings:  Loungewear went kinda fast this year!  I guess we all want more comfies while spending so much time at home.  I like lounge pants that are tighter around the ankle like leggings and joggers.  I have 2 flights of stairs in my house and tend to trip on looser pants especially with dogs in tow.  These are super soft and comfy.  I also love that they have pockets!  Wearing a small.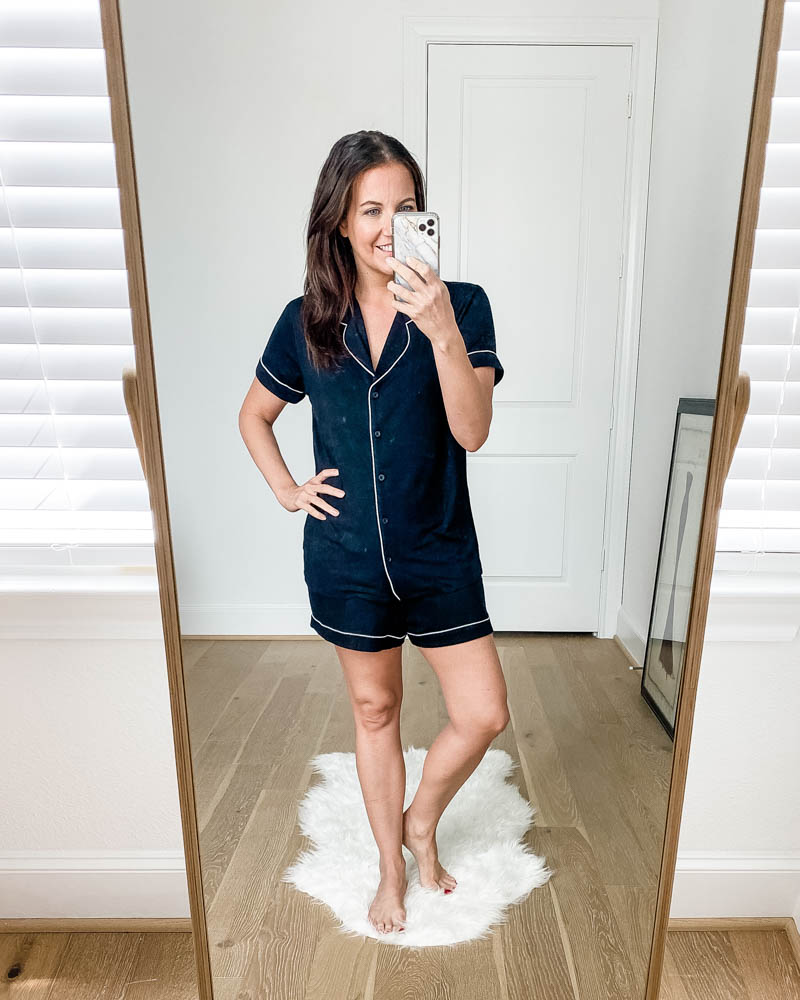 pj set: A matching pj set was high on my list this year.  I wanted something I could spend the day in on weekends or work from home days.  This pair is perfect!  The material is thick, soft, and so cozy.  Wearing an XS.
SHOP THE LOOKS

Love this post? You may also love: